Best Carpet Tapes in 2022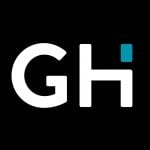 This product guide was written by GearHungry Staff
Last Updated
June 19, 2020
GearHungry Staff
GearHungry Staff posts are a compilation of work by various members of our editorial team. We update old articles regularly to provide you the most current information. You can learn more about our staff
here
.
GearHungry may earn a small commission from affiliate links in this article.
Learn more
If you're looking to protect your floors from kids, dogs, and general wear and tear, you might want carpets around the house. But how do you keep the carpet rugs from slipping on tile or hardwood floors? Carpet tape is the answer. Many people don't realize the benefits of carpet tape; we aim to change that with our list of the best carpet tapes.
Why would you need carpet tape, then? Securing your rugs and carpets with carpet tape is an excellent way to keep your floors scuff-free and secure, to prevent tripping hazards, and to keep your house looking neat and organized. We understand how proud you are of your home; our list of the best carpet tapes could be the missing piece to make your home perfect.
The Best Carpet Tape
XFasten Double Sided Carpet Tape
If you're looking for a surefire solution for the best carpet tape, the XFasten Double Sided Carpet Tape is a product that you can rely on. It is available in a variety of reel sizes to provide versatile applications for homes, businesses, restaurants, schools, and care facilities. The secure and dependable construction with silicone adhesive ensures a powerful grip that will last.
It is compatible with a variety of surfaces, including wood, tiles, vinyl, and carpet. You'll find that it's easy to install, preventing creases or folds while providing the ideal application. If you ever need to remove it, there won't be any residue left behind, keeping your surfaces in top condition. You may also be interested in some of the best carpet powders from our list that will help you keep your carpets in perfect shape, so check them out.
Key Features:
Range of roll sizes
Poly-carbonate base with fabric finish
Compatible with a variety of materials
Easy to install
Heavy duty construction
No residue upon removal
Specification:
Brand

XFasten

Model

CT430

Weight

2.23 Pounds
YYXLIFE Double Sided Carpet Tape
The YYXLIFE Double Sided Carpet Tape will serve you well through a variety of carpet taping needs, thanks to its compatibility with a wide range of floor materials. Aside from carpet, you can also feel confident securing anything to wood and tile (among others) making it suitable for an array of environments.
The reel measures two inches wide by ten yards long, so you can guarantee a secured stick while also giving you enough tape to cover plenty of space, making this tape perfect for home improvement or interior development projects. It boasts a residue-free removal without a harsh chemical scent. Durable, heavy-duty, and with a lifetime guarantee, this tape is one to look out for. Our guide to the best carpet cleaner solutions offers more useful products for carpet owners, so check them out.
Key Features:
2 inches x 10 yards
Compatible with variety of surfaces
Residue-free removal
Safe adhesive
Heavy-duty design
Lifetime guarantee
Specification:
Brand

YYXLIFE

Model

DSNYYXLIFE10

Weight

7.2 Ounces
Sugarman Creations Strongest Double Sided Carpet Tape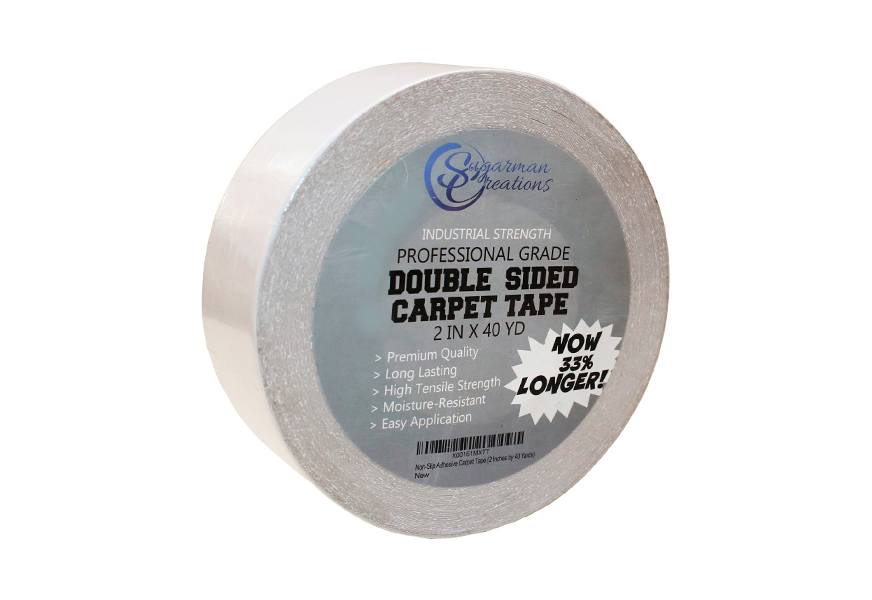 The Sugarman Creations Strongest Double Sided Carpet Tape is an excellent option for anyone undertaking substantial carpeting jobs, whether at home, hotels, schools, or restaurants. It comes with 40 yards of tape, and each inch boasts a unique high-tension adhesive that will secure it to the floor with confidence.
The long-lasting hold provides excellent value for the money, while the straightforward application will take the hassle out of any project. It's perfect for professional and home use, and with wide compatibility with a variety of surfaces, there is no problem it can't solve. If you are also looking for the perfect carpet steam cleaner for your home, be sure to check out our guide to the best ones on the market.
Key Features:
2 inch x 40 yards
Ideal for range of environments and surfaces
Suitable for professional and home projects
Unique high-tension adhesive
Long-lasting hold
Easy to apply
Specification:
Brand

Sugarman Creations

Model

B01JB0J226

Weight

1.6 pounds
Kraftex Double Sided Carpet Tape
The Kraftex Double Sided Carpet Tape will provide a thorough and professional job regardless of how or where you use it. The 90-foot reel gives you plenty to work with, while its secure and safe design makes it useful for securing carpets around your home and upgrading the aesthetic appeal.
It's strong on any surface, delivering the confidence you need from carpet tape, thanks in part to the fiber-web mesh backing (that works harder than standard tape adhesive) to ensure security. Its easy-peel backing will also make setup and application simple. Suitable for both indoor and outdoor use, there is no limit to what you can use the tape to secure. You may also be interested in some of the best commercial carpet cleaners from our list, so check them out.
Key Features:
90 feet
Secure and safe adhesion
Super strong on any surface
Fiber-web mesh backing
Easy peel design
Works indoors or outdoors
Specification:
Brand

Kraftex

Model

CECOMINOD066136

Weight

1.37 Pounds
AmazonCommercial Heavy Duty Double Sided Fiberglass Carpet Tape
Designed for professional applications but also suitable for home improvement hobbyists, the AmazonCommercial Heavy Duty Double Sided Fiberglass Carpet Tape can cover just about every project for carpet tape.
It is available in a range of reel and pack sizes for a variety of tasks. This double-sided uses a one-step process that eliminates stress and hassle to ensure a reliable application. The flexible fiberglass construction ensures excellent grip, and it can also adhere to a variety of surfaces with ease. This carpet tape will let you protect your home from tripping hazards for the entire family. If you are looking for some cleaning tools that will make your life easier, check out our selection of the top carpet rakes and find the one for your home.
Key Features:
Broad range of pack sizes
Double-sided one-step process
Eliminates trip hazards
Flexible fiberglass construction
Sticks to a variety of surfaces
Suitable for indoors and outdoors
Specification:
Brand

AmazonCommercial

Model

DS-TPAMZ002-16

Weight

15.6 Ounces
Duck Indoor/Outdoor Carpet Tape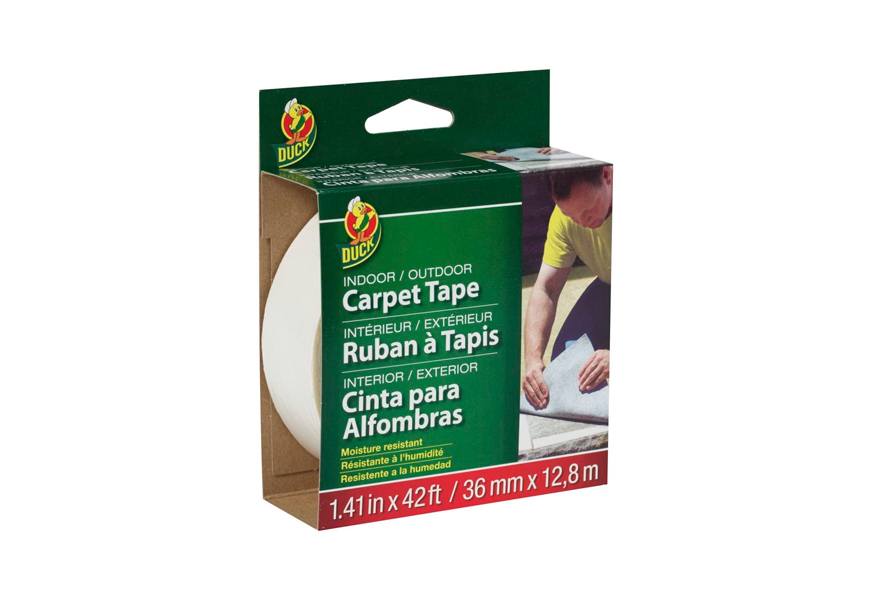 You'll recognize Duck as a brand that often takes the top spot in the tape world. The Duck Indoor/Outdoor Carpet Tape is likely to impress you with its durability and ease of use. This option comes with multiple reel sizes to suit all applications and demands and can be used anywhere you need.
The durable adhesive provides peace of mind; this is because of the reinforced fiberglass construction which is built to last. You can use it on both smooth and rough surfaces without any obvious differences in quality, while the mildew and moisture resistance means it's just as suitable for cold and damp parts of the world as it is hot, dry places. Whatever the weather, you're assured a fantastic, long-lasting grip. Carpet owners will also be interested in some of these amazing carpet cleaners from our list.
Key Features:
Multiple reel sizes
Suitable for indoors and outdoors
Durable adhesive
Reinforced fiberglass
Suitable for smooth and rough surfaces
Mildew and moisture resistant
Specification:
Brand

Duck

Model

286373

Weight

2.11 Ounces
EdenProducts REAL Professional Grade Gaffer Tape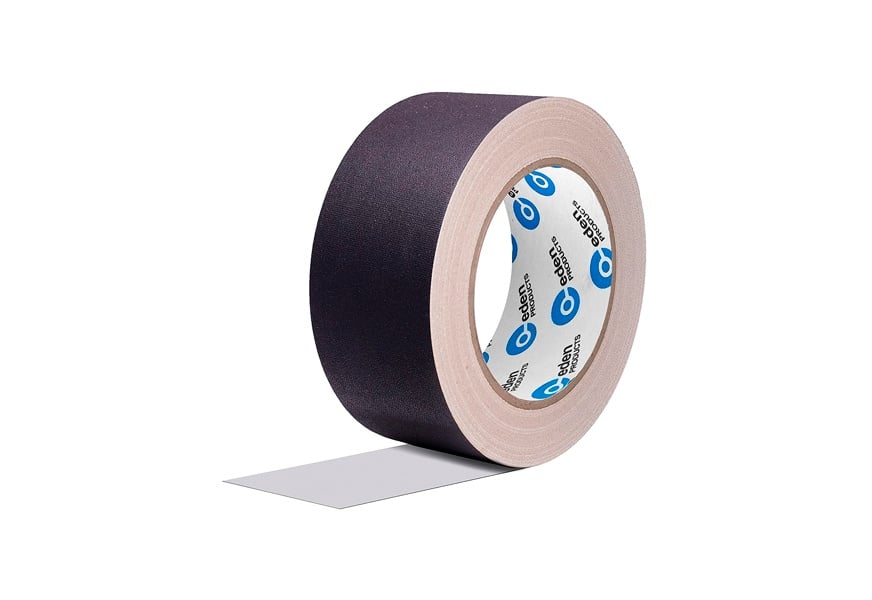 The EdenProducts REAL Professional Grade Gaffer Tape can cover a vast range of demands and applications, making it one of the most versatile choices around. This one-sided tape is suitable for more than just securing pieces of carpet together: you can also use like you would electrical tape or duct tape to prevent tripping hazards in busy areas.
The sturdy adhesive construction maintains its quality for days, weeks, months, and even years, and it boasts a 54 pound-per-inch tensile strength. It also features a heat resistance between 50 and 200 degrees Fahrenheit. When you remove it, you also won't need to worry about residue or damage to floors or carpets; it's just as easy to peel away as it is to install. You may also be interested in some of these useful carpet protectors from our list. Check them out.
Key Features:
3 colors
Multipurpose application
Sturdy adhesive construction
Safe to use
Heat resistant between 50 – 200 degrees Fahrenheit
Residue-free
Specification:
Brand

EdenProducts

Model

EP-G1

Weight

12.7 Ounces
Meister Double-Sided XL Floor Mat Tape
An extra-large option for enormous demands, the Meister Double-Sided XL Floor Mat Tape is the perfect choice for substantial jobs. Need to install floor or yoga mats at the gym or vast swathes of carpet flooring? This carpet tape will guarantee safe footing and minimal residue.
Its oversized design will immediately provide confidence in its adhesive qualities, but despite the heavy-duty design, it's also easy to apply. Plus, it also won't leave a residue if you ever need to remove it. With this quality and reliability, we would be surprised if it didn't last for many years to come.
Key Features:
Oversized design
30 yards x 3 inches
No residue on removal
Fast one-second application by hand
Suitable for a range of surfaces
Easy peel backing
Specification:
Brand

Meister

Model

1130FMTXL

Weight

1.8 Pounds
QTAR Removable Double Sided Carpet Tape
The QTAR Removable Double Sided Carpet Tape boasts a variety of fantastic qualities that make it a wonderful choice for a range of secure-floor needs. Measuring two inches by thirty yards, you will have plenty of carpet tape to use for commercial and personal projects. The no-residue, waterproof design means you'll have peace of mind in a variety of environments.
It is non-slip and safety-oriented, so it's perfect for care homes, schools, retail stores, and similar locations that get heavy foot traffic throughout the day. With a simple application, you can ensure the area is safe for everybody as soon as you apply the tape. For more useful products for your home, check out our selection of the top door draft stoppers.
Key Features:
2 inches x 30 yards
No residue
Waterproof
Non-slip and safe
Ideal for high-traffic areas
Simple application
Specification:
Brand

QTAR

Model

B07DW4SR5M

Weight

14.1 Ounces
Gaffer Power New Clear Double Sided Nano Tape
The Gaffer Power New Clear Double Sided Nano Tape is a perfect example of the very best carpet tape you will come across. It is available in two sizes to appeal to a range of demands, and the traceless and easily removable design will prevent floor damage while still ensuring excellent results.
The non-toxic adhesive means it's safe to use around pets and kids, but the real value is in its reusable qualities. When you don't need it in one area, simply peel it away, run it under the tap, wait for it to dry, and apply it anywhere else. Because of this, you may never need to buy another roll of carpet tape ever again.
Key Features:
2 sizes
Traceless and removable
Non-toxic adhesive
Washable and reusable
Compatible with indoor and outdoor surfaces
No damage to floors
Specification:
Brand

Gaffer Power

Model

B07Z1LKX26

Weight

2.39 Ounces
Carpet Tape Buying Guide & FAQ
Features To Look For In Carpet Tapes
Quality - It shouldn't be any surprise that the better the quality of the carpet tape, the more effective it will be. High-quality tape is a key component for businesses with lots of foot traffic to maintain and secure carpets, and especially important if you have kids, pets, or live with elderly relatives. With quality tape, you can ensure your carpets stay secure and last longer, meaning you'll spend less time and money on replacement tape.
Strength - While you might think you should look for the strongest carpet tape available, but this isn't always the case. It all depends on what you plan to use the tape on. If you want to secure a rug or carpet in place for the long-term, then higher strength tape is ideal.
However, if you are using it temporarily (like in a short-term rental or to keep the dog's food and water bowls in place) then a medium- to low-strength carpet tape will be easy to remove or adjust when you don't need it anymore.
Use - There is a wide range of uses for your carpet tape. Some may use a roll of carpet tape for rugs, whereas others will use it for securing carpet to the hardwood floor after redecorating their home. Other uses include securing pet bowls or binding two separate pieces of carpet together. This makes carpet tape more versatile than you might expect, and despite the name, it's suitable for a variety of applications besides just carpets.
Types Of Carpet Tape
Single-Sided Carpet Tape - The name doesn't make it too tricky to figure out, so you can probably decipher what single-sided carpet tape is. This type of tape is suitable for binding carpets, tiles, and other floor materials together to increase the length, width, or design if you want to get creative.
Double-Sided Carpet Tape - Double-sided carpet tape is the most common type of carpet tape you will find. You can use it for pretty much everything, from securing raw carpet edges to the floorboards to keeping rugs and bowls in place.
Carpet Tape FAQ
Q: What is carpet tape?
A: Carpet tape, sometimes referred to as carpet protection tape, is not as simple as the name suggests. While you'd expect it to be tape for simply carpets, it actually refers to three separate types of tape.
The primary type of carpet tape is for keeping carpets, rugs, and mats secure. Here, you find the adhesive on both sides of the tape to secure both the rug and the floor. This strong adhesive keeps materials in place against the floor. With this, you can prevent carpets and rugs from shifting underfoot, which maintains the aesthetics you want for your house while drastically reducing the risks of trips and injuries.
Other carpet tape types are used to flatten and secure loose carpet ends around the perimeter to keep them in place and prevent them from coming loose. While this isn't as durable as other carpet tape options, it is still effective. Finally, single-sided carpet tape, as mentioned above, is used for binding two pieces of carpet together, which is useful for unusual room shapes or areas that are too long to order a single piece of carpet.
Q: How to use double-sided carpet tape?
A: As double-sided carpet tape is arguably the most common type of carpet tape, and likely the one you will encounter and use for the majority of projects, you should know how to use it. Luckily, it's easy to use regardless of application, so even if you've never used it before, you shouldn't have any issues.
All you need to do with double-sided tape is find the rug, mat, or carpet you want to secure to the floor and unravel the tape, cutting it to the preferred length. When you have done this, attach it to the edge of the carpet as close to the seam as possible — placing the tape too far towards the center of the mat could still cause trip hazards. The goal is to secure the edges down to avoid cutting and tripping.
When you are satisfied with your placement, you can peel away the paper backing from the tape to reveal the adhesive. Place it carefully on the surface and allow it time to stick.
You could also measure the rug and follow the reverse procedure. Rather than attach the tape to the rug, place it along the floor, remove the backing, and then place the rug or mat on top. In both scenarios, you must be careful to get it right, as you could ruin the adhesive (and potentially the floor) if you tear it up and readjust it too often.
Q: Does carpet tape ruin hardwood floors?
A: If you've ever tried to peel a sticker from a CD case, then you'll be well aware of the adhesive residue that it leaves behind. When thinking about applying carpet tape to hardwood floors, you may have a fear that the same thing could happen.
While lower-quality tape brands might leave residue behind and damage your hardwood floors, top-quality carpet tape like the products we have recommended in our selection will not do this. The adhesive has been designed specially to prevent leaving residue after being removed, and in some products, you can even reuse the tape.
Q: Will double-sided tape damage carpet?
A: Double-sided tape from an established and reliable brand is highly unlikely to damage your carpet. However, unlikely is perhaps not good enough for some people to hear, especially if their carpets are expensive. When removing the tape from the carpet, you do not want to (a) leave behind residue and (b) tear up carpets along the way.
Because of this, it's essential that you invest in a high-quality carpet tape. For further peace of mind, you may also want to use an oil-based solvent to help remove any leftover residue. You also do not want to aggressively tear the rug from the carpet, but instead gently pull.
With a gentle process, you can check whether the adhesive is damaging the carpet during removal. If it is, then you can use the solvent to loosen the adhesive particles and allow it to be removed more easily. Take care not to remove the rug too violently just in case it tears away chunks of your favorite carpet.
Q: How do you anchor carpet on carpet?
A: To anchor one carpet to another, you will need a type of adhesive tape suitable for sticking to carpets. It's as simple as that. Knowing this, you can specifically search for brands suitable for a variety of surfaces.
The majority of carpet tape brands will provide this possibility, as they are manufactured and designed to work on a range of surfaces. Besides carpet, they are also useful for vinyl and tiles to keep these materials secure, as well.
Sources:
5 Best Tips How to Keep Rugs From Slipping - Rug Knots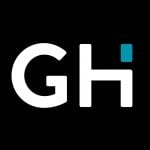 GearHungry Staff posts are a compilation of work by various members of our editorial team. We update old articles regularly to provide you the most current information. You can learn more about our staff
here
.
Sign Up Now
GET THE VERY BEST OF GEARHUNGRY STRAIGHT TO YOUR INBOX