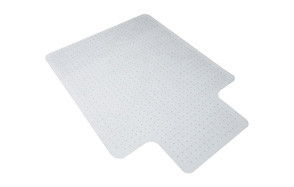 OFM Essentials Collection Desk Chair Mat For Carpet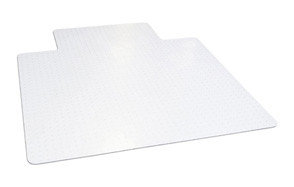 Dimex Desk Chair Mat For Carpet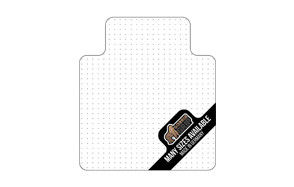 Gorilla Grip Premium Desk Chair Mat For Carpet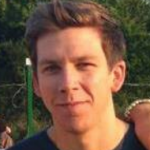 Desk chair mats protect your carpet from the wheels of your chair. They also allow you to more easily maneuver your wheeled chair over carpet in your home office.
For many people, setting up a home office is straightforward. But beyond a desk, chair, computer, printer, and other storage and office supplies, a few other niceties will make your workday a breeze. And while often overlooked, a desk chair mat is an excellent addition to carpeted floors.
If your occupation requires you to be seated, having a comfortable office chair is a necessity. However, not many folks initially consider their home office flooring. Most office chairs come with wheels so you can quickly and efficiently move around your workspace.
If you have hard floors like tile or wood, you may be able to spin around quite effortlessly. However, carpeted floors and wheeled chairs generally don't mix as well. To save your carpets and make working at an office chair easier, all you need is to lay a desk chair mat for carpet under your chair. We've wheeled our office chairs on several to find the best desk chair mat for carpet for your home office, or the one you need to drive to every morning.
The Best Desk Chair Mat For Carpet
Desk Chair Mat For Carpet Buying Guide & FAQ
Features To Look For In Desk Chair Mats For Carpet
Type of Carpet – Most commercial offices have low pile carpets that cater to high volumes of foot traffic. However, when it comes to the home office, there could be a variety of carpet types in your home. If you have thicker carpet, you should check the specifications of your desk chair mat to make sure it is compatible with the kind of carpet you have. The cleats or bumps on the underside of the desk chair mat are essential to keep the mat from sliding around on your carpet.
Material – When choosing a desk chair, you need to consider the strength, durability, and quality of the materials used in making them. Office chair mats for carpet come in a variety of materials such as PVC, polycarbonate, or even-tempered glass. Your choice of materials should be compatible with the size of your chair and the weight of the people using it. You want a desk chair mat that is durable enough for everyday use and is free from materials that emit toxic fumes or smells.
Size – Office chair mats for carpet come in a variety of sizes. Measure the floor space of your work area to get an idea of the size you need.
Shape – Desk chair mats for carpet are generally rectangular, but square options do exist. The most common form for a desk chair mat is those with a lip in front of your feet. The rest of the mat is a stable surface for the wheels of your chair to move on.
Maintenance – The beauty of desk chair mats for carpet is their simplicity. Installation is just a matter of setting the mat down under your office chair and positioning it so that you can move around with ease. With most mats, all you need is a damp cloth to wipe off any marks or spills, keeping maintenance simple.

Types Of Desk Chair Mats For Carpet
Choosing the right type of desk chair mats for carpet can be a difficult decision to make as there are a variety of things to consider. Check your carpet first and choose a desk chair mat that will protect that particular type of carpet without compromising your ability to move freely around your workspace in your chair. Polycarbonate and tempered glass are great options if your workspace is in use for eight or more hours per day. Make sure there are cleats on the underside of your desk chair mat, especially if the carpet is a little thicker to prevent the mat from skidding beneath you. The main factor to consider here will be your floor type.
Desk Chair Mat For Carpet FAQ
Q: What is a desk chair mat for carpet?
A: A desk chair mat for carpet is simply a square or rectangle-shaped piece of plastic (PVC, polycarbonate, etc.) or tempered glass that on a carpeted area under your desk as a stable, sturdy platform or surface for your office chair.
Q: Why do you need a carpet chair mat?
A: Floor coverings can be quite expensive, and carpets are generally costly and inconvenient to replace. The first use of a carpet chair mat is to minimize and prevent wear on your carpets as a result of an office chair constantly rolling over a confined area.
If you've ever tried to roll your office chair over the carpet, you know it can be quite a workout. After an average of eight hours trying unsuccessfully to roll within the area of your carpeted workspace, your legs are going to be tired and sore. This issue is called leg fatigue. It might not be a big issue if you experience this occasionally, but 8 hours a day for five days a week and leg fatigue can become a real problem for you. By putting a carpet chair mat under your chair in your workspace, your chair will roll around the area effortlessly, and your legs won't need to do all that hard work. You'll also protect your carpet and other surfaces from wear and tear.

Q: How do you use a desk chair mat for carpet?
A: Using a desk chair mat on your carpet is quick and easy. All you need to do is find the right mat for your type of carpet. Then, ensure it is the right size for your workspace and place it under your desk in a position that makes it easy for your to roll around in your office chair without the chair leaving the mat. That's it!
Q: How do you clean a desk chair mat for carpet?
A: Keeping your desk chair mat for carpet clean is easy. You can pass over it with a mop, but that can be messy around carpeted areas. All you need to do to clean your desk chair mat for carpet is soak a cloth in a solution of mild detergent and water. Wring out the excess liquid and wipe the chair mat down, paying close attention to spots from spills or scuff marks from the chair wheels or your shoes.
Whether you work in a home office or a commercial one, a desk chair mat for carpet can make your workday a lot easier. When you can move freely around your workstation, you can be more productive, and you'll protect the carpet from being destroyed by the wheels of your office chair. Take a look at the ones in our buying guide and look after your legs and your carpets.