There's little doubt that beards are back with a vengeance. And why not? Facial hair when done right is a true masculine touchstone, capable of transforming the average male visage into something profound, mysterious, intellectual, sexy, tough and more. But just as guys want to ensure the hair on the top of their head always looks its best they want to make sure that when they're sporting facial hair that it's helping present them in the best light too. One way to perfect the look of your beard is to use a beard dye to give it just the right appearance and below we're going to take a look at the 5 best beard dyes on the market today.
Our Top Picks Of The Best Beard Dye
1. Just For Men Mustache & Beard Brush-In Color Gel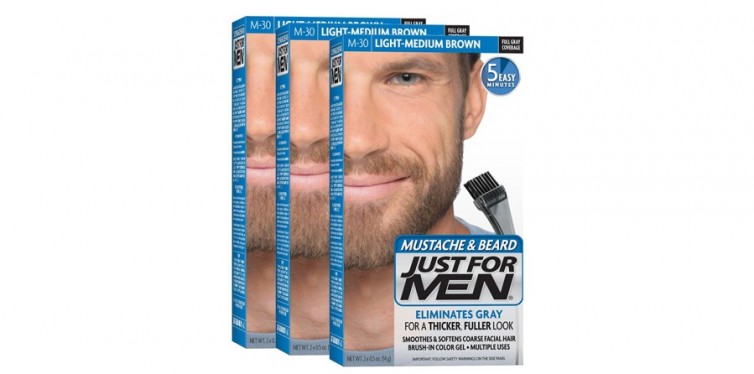 Just for Men is a product of Combe Co, the same company that makes Grecian Formula. Combe has been around nearly 70 years and has a ton of experience with men's grooming products. So it's no real surprise that their Just for Men Beard Dye 3 Pack would make this list. This Mustache and Beard Brush-in Color Gel is easy to use and made specifically to penetrate and color coarse facial hair. The formula is ammonia free and contains aloe, Vitamin E and chamomile to help protect your skin.
Our experience with the product is that it's easy to apply, doesn't make the kind of mess you associate with dying the hair on the top of your head and the color stays put for a good long time. Don't expect, however, to get everything perfect the first time. Like most things there's a learning curve involved, though typically a short one to be sure. The company advise that if you can't decide which shade of brown to use try the lighter shade first and we'd concur. Just For Men Mustache & Beard Brush-In Color Gel is probably best suited to guys looking to eliminate grey in the beard rather than guys looking to transition from one color to the next. So keep that in mind.
Specification:
Brand

Just for Men

Model

011509049100

Weight

2.4 ounces
2. Grizzly Mountain Organic & Natural Brown Beard Dye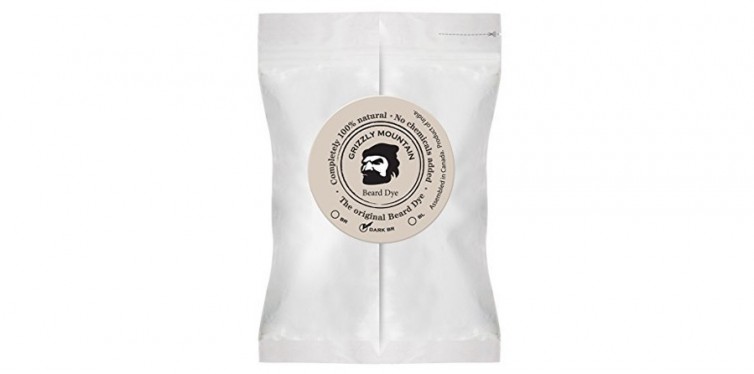 Grizzly Mountain markets itself as "the original beard dye" although the ancient Egyptians might take issue with that. Nonetheless it's a quality all-natural product. Like the Just for Men beard dye profiled above this one is designed for men with thick, coarse beards. The ingredients list sounds like the song list for a new age album – False Daisy, Neem Tree, Henna, Emblic and Indigo – but when combined in just the right amounts a strange kind of alchemy occurs and you end up with a great looking beard.
For best results you'll want to mix the dye with water and apply. Wait for about 30 minutes and then wash it out. It takes the color a couple of days to settle down, then after that it will be good to go for anywhere from 7 to 10 days. If you are looking to cover a lot of grey or change colors entirely you may want to use the company's base product before applying the dye.
Specification:
Brand

Grizzly Mountain Beard Dye

Model

Brown

Weight

3.52 ounces
3. RefectoCil Cream Hair Dye (Natural Brown)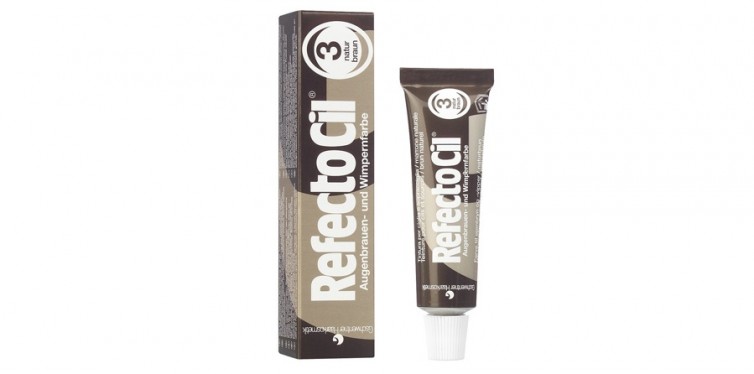 RefectoCil has been around for many years and cut their teeth producing popular eyelash and eyebrow tints. These days they've ventured into the land of beard dyes and their Cream Hair Dye reflects the company's experience and determination to get it right. Once you apply the RefectoCil color it only takes about 10 minutes to take hold and the color you'll get will last up to 6 weeks, which is pretty amazing.
You will need to buy the company's Refectocil Oxidant 3% 10 Volume Creme Developer to use with it. (Not sure why they don't include it since it's necessary.) Other than that this is a pretty remarkable beard dye that you can also use on your eyebrows if you want to bring everything on your face into the same color universe. We wouldn't recommend using on your eyelashes however as the chemicals involved are pretty strong and you don't want to end up getting any in your eyes.
Specification:
Brand

RefectoCil

Model

0501003

Weight

0.6 ounces
4. The Henna Guys Henna Hair and Beard Color/Dye, Medium Brown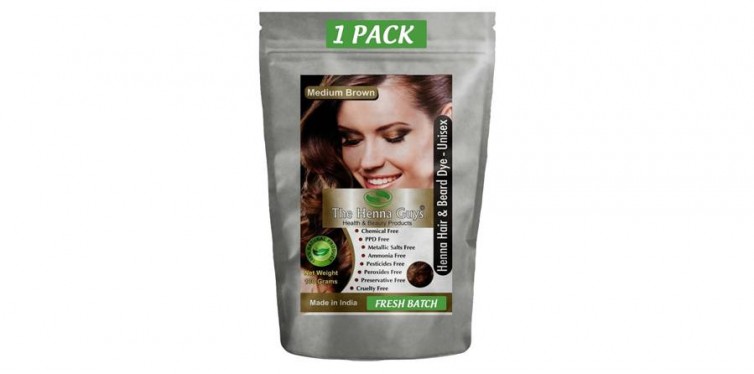 This is an all-natural product that's not dissimilar in both composition and results from that of the Grizzly Mountain beard dye reviewed above. The Henna Guys beard dye product can also be used on sideburns, moustaches and the hair on the top of your head as well as your beard. Just in case you're a stickler for color consistency.
Using the product is as simple as mixing and applying with your (gloved) hands. If you want you can do your hair and beard at the same time. Once the paste is in place just wait about 10 minutes and rinse. In most cases you'll have all the coverage you need. The company recommend a spot check just to be sure you don't have an allergic reaction to any of the ingredients; though in truth that seems unlikely. This is a cruelty free product so keep that in mind if you don't want your grooming products tested on animals.
Specification:
Brand

The Henna Guys

Model

MB-100

Weight

2.4 ounces
5. Blackbeard for Men Formula X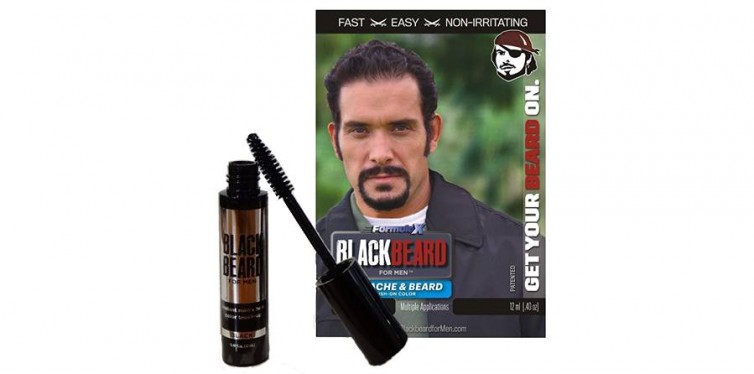 Black Beard has kind of a cheesy marketing campaign, complete with eyepatch-wearing pirate type, but the results you'll get from using it are anything but cheesy. It provides nice, full coverage and does so in an instant. For those of you who like the dark, mysterious look, but who loathe the idea of putting aside an hour or so to dye your beard Black Beard could be just what the doctor ordered.
Make sure your beard is clean and dry before applying with the mascara style applicator brush. By the time you've completed a few swipes and checked yourself out in the mirror Black Beard should be dry and your color in place. As you might imagine however this is not color that's going to last for weeks, or even a week. You'll likely have to reapply it every day. But since it only takes a minute that's not really such a hassle. Hypoallergenic and non-toxic Black Beard is instant color when you need it.
Specification:
Brand

Blackbeard for Men

Weight

0.8 ounces
Keep These 5 Things in Mind When Dying Your Beard
Prep - Beard dyes work best when they have nice healthy hair to work on. As such you'll want to make sure your beard is clean and oil free before applying any of the above products. You should consider trimming it back too if it's at all unruly. This will help you distribute the color more evenly throughout your beard. In addition you may want to think about applying Vaseline to the skin around your beard just to protect it from absorbing any color from the beard dye. And lastly, always do a patch test to ensure your skin isn't going to react badly to the dye.
Make sure you've chosen the right type of dye - Temp color like Black Beard will help you touch things up quickly before a big meeting, date or presentation. Some of the more subtle dyes like henna are good for making gradual changes to your beard so that people aren't shocked by a sudden, obvious change. And "permanent" beard dyes like RefectoCil will allow you to maintain a nice stable color palette for up to six weeks. Also, if natural and/or cruelty free products are important to you make sure you check packages and promotional materials carefully.
Application method - Some beard dyes come in gel form, others have to be mixed while still others (though none of our favorites) are washed in like shampoo during your shower. If mixing beard dye isn't your forte make sure you find a product that's pre-mixed like Just for Men.
Remember there's more to facial hair than your beard - Sometimes guys achieve the perfect color for their beard only to scope themselves in the mirror and realize it doesn't match with their eyebrows. If you're going to go ahead and change the color of your facial hair then go ahead and change it all. If, however you're just adding a bit of tint to your beard to mask a bit of grey then you may not have to do your brows.
Take care of your beard after dyeing it - The process of dyeing your beard can take a lot out of it. As such it's not uncommon for a beard to feel dry and rough after you've applied color. So be sure to treat it right by using a nice beard balm or beard oil after the coloring process is complete just to ensure that it always feels as good as it looks.
There's more to dyeing a beard than picking a random product off the shelf and going to work. Make sure the product is to your liking as far as the manufacturer's attitude toward animal testing goes, that it's the right type of dye for your purposes and that the process doesn't involve more work than you're willing to do.