Welcome To The Barber Shop: Best Hair Clippers For Men In 2022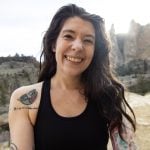 This product guide was written by Tuesday Kirby Kahl
Last Updated
April 5, 2022
Tuesday Kirby Kahl
Tuesday Kirby Kahl is a contributor at Gear Hungry. Her fierce love for the outdoors fuels everything she does. Her professional pursuits include writing, creating art, and photography. These professional passions allow her the time to live life outside as a rock climber, skier, runner, backpacker, paddle boarder, swimmer, and explorer. When Kirby is indoors, she enjoys tea, whisky, old films, cooking, and baking. Her product testing and feedback have shaped the design of everything from climbing shoes to candles.
GearHungry may earn a small commission from affiliate links in this article.
Learn more
Cutting your own hair has been a growing trend; you don't have to go to a school for training in barbering or anything, you just need to apply some patience and common sense, and maybe watch a couple of Youtube videos. That being said, your equipment matters quite a bit – quality professional clippers can change the way you cut your hair and make your life much easier. Sure, your sleight of hand is going to play into the actual cut, but you can only do so much with dull, lesser-quality clippers. If you're going to take the financially-rewarding route of cutting your own hair, or your friends, these are the best hair clippers for men you need to look at.
My partner, Patrick, hopped on the pandemic hair cutting trend and being the incredibly smart human and fast learner he is, he's gotten so good at cutting hair that he's the barber all of our friends now go to and he's gotten good enough, I even let him trim my hair! These tools are quite powerful and easy to learn how to use. You too can become as talented as Patrick, but you need a pair of the best hair clippers to get started.
The Best Hair Clipper For Men
Wahl Professional 5 Star Series Senior Clipper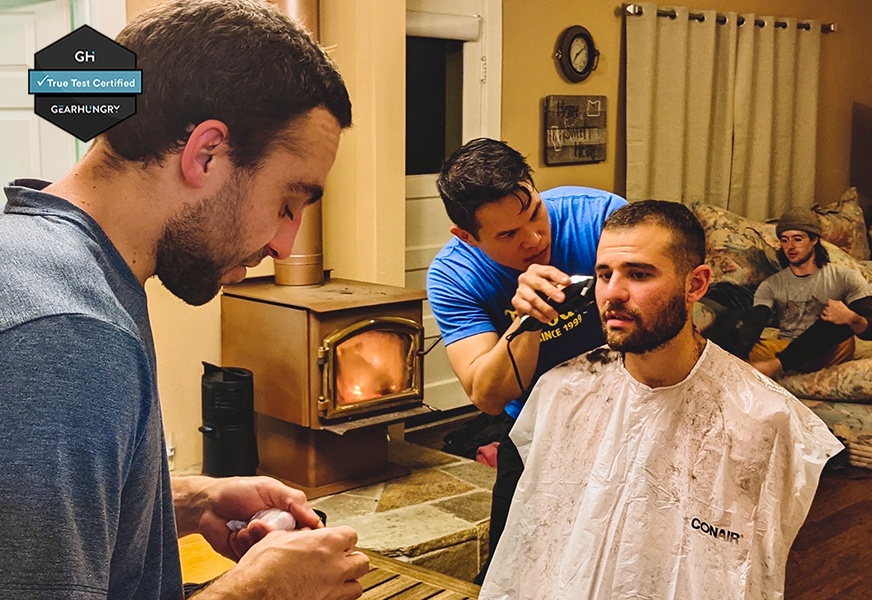 The Wahl Professional 5 Star Series Senior Clipper might feature a campy name, but this is a heavy-duty clipper featuring a wonderful array of accessories and a nice heft in your hand while still providing exceptional maneuverability for a precision cut. My partner Patrick has used this for over 1.5 hours cutting hair on his own head and our friends' hair and has been absolutely in love. While the buzz is a bit loud, it's all part of that powerful motor; plus, it's not so loud you can't talk over it comfortably.
One of the biggest pluses is the accessories as this set comes with a barber's comb, clipper blade oil, red blade guard, and several guide combs. The only downside in the accessories is that you get very few guide combs and only in small sizes. It would be better to get up to eight or nine guide combs to offer multiple options for cutting length. Be sure to also check out our comprehensive guide to the best beard trimmers on the market.
Key Features:
Adjustable, sharp blades with zero-overlap capabilites
8 foot chemical resistant power cord
Ergonomic design and exceptional maneuverability
Three guide combs, a barber's comb, blade oil, and red blade guard included
Specification:
Brand

Wahl

Model

8545

Weight

1 Pound
Wahl Color Pro Cordless Rechargeable Hair Clipper & Trimmer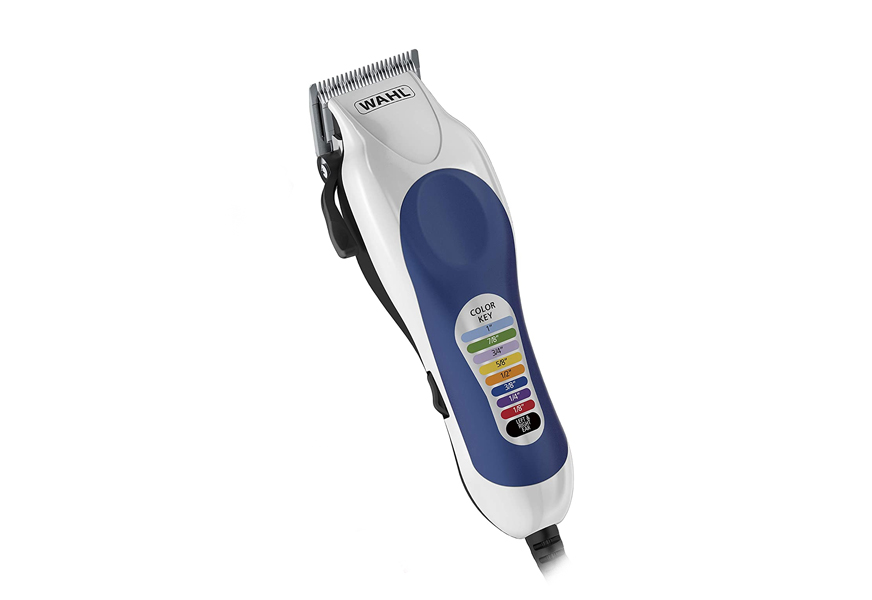 If you're after quality cordless clippers, definitely check out the Wahl Color Pro Cordless Trimmer Kit. It features many of the same aesthetic designs as the corded trimmer; save for the little red indicator light at the very bottom. There is also a power button, just above the color-coded keys that you can use to toggle the trimmer on and off. It comes with the NiMH battery technology rather than lithium, but still provides a decent 60 minutes of use per charge.
Due to its cordless nature, it is easy to carry about and this is where it outmatches its sister trimmer. Unlike its corded counterpart, which is partial to American electrical outlets and carries the warning not to be used with other outlets, the Wahl cordless clipper can work wherever you are, making it great for travel. This trimmer is also easy to clean and take care of. Easily used for various hairstyles and lengths, including head hair and facial hair, the Wahl Color Pro Cordless is definitely a trimmer worth considering. You may also like some of these handy hot air brushes from our list, so check them out.
Key Features:
Cordless trimmer that can be used anywhere, anytime
NiMH battery that can last up to 60 minutes per charge
Easy to wash and clean
Color-coded guide combs and keys to ease the stress of remembering the right level when cutting hair
Specification:
Brand

Wahl

Model

9649

Weight

1.36 Pounds
Remington PG6025 All-in-1 Lithium Powered Grooming Kit
With its obsidian-colored frame and attractively curved exterior, the Remington PG6025 Grooming Kit is pretty to look at, but this product isn't all looks. It has a power button on the front and three green bars that let you know just how your battery is doing. There are two large indents on the side that allow you to grip the shaver firmly and it even comes with a drawstring bag which makes it an ideal travel partner for wherever you go. But the biggest plus of the Remington cordless clipper is the accessories it comes with: six different attachments, plus fourteen different settings. This trimmer has some of the best attachment combs and can be used as a nose hair trimmer, a beard trimmer, or even an ear hair trimmer.
Another great point of the Remington is the steel blades. They are self-sharpening with added precision and also strong enough to last for a long period of time. The Remington is also cordless and rechargeable coming with a lithium ion battery that when charged, can easily give you between 65-70 minutes of use. It also offers optimum performance, so, whether you have three green bars or one, it will keep working at its best until it dies out. For those who might require more than 70 minutes of use, the Remington can be used while plugged in, however, once the battery dies out, it has to be charged to be used again even when plugged in. The steel blades also ensure that you don't have any skin irritation and you never have to worry about the blades getting dull. Highly affordable, the Remington is an excellent option for those who want a great shaver but also want to be frugal. You may also be interested in some of the top back shavers from our list, so check them out.
Key Features:
Lithium battery that lasts up to 70 minutes
Sleek design with obsidian colored exterior and indented sides for easier handling
Six different attachments that make it usable in a number of situations
14 length and style settings for all hair types
Self-sharpening blades for smoother trim
Specification:
Brand

Remington

Model

PG6025

Weight

13.4 Ounces
Andis Professional T-Outliner Beard/Hair Trimmer
Andis Professional T-Outliner Beard/Hair Trimmer is one of the best trimmers for facial hair. The first thing you notice out of the gate is its lovely design. The grey, hard plastic casing complete with contours on the side make it very easy to handle and comfortable to use. It comes with an 8-foot cord that's sturdy and allows you to move freely. You might feel that with this much cord tripping over might be a problem, but that's not the case with the Andis as the cord has a hanger loop that prevents this.
It is equipped with an electromagnetic motor that can achieve an astonishing 7200 strokes per minute. The T-Blade is also hardened with carbon, therefore, you can get the cleanest look with a smoothness that you might not get with other blades. The Andis is also capable of the zero-gap, however, you will need to possess some level of skill to pull this off. The carbon steel blade is tough and can handle different types of hair with ease. You might want to be careful of prolonged use though as Andis can get rather hot after a while. This trimmer can be used in various ways but is especially great for fading as the blade design allows it to reach otherwise difficult places. For more quality products like this, check out our selection of the most popular pubic hair trimmers.
Key Features:
Carbon steel blades that are suitable for tougher types of hair
An 8-foot cord for easy maneuverability
Contours at the sides to comfortably fit your hand
The electromagnetic motor can achieve 7200 strokes per minute
Specification:
Brand

Andis

Model

04710

Weight

11.2 Ounces
Oster Classic Professional Barber Clippers
There are no plastic guards here; nothing but high-quality, sustainable, and durable stainless steel blades. This kit includes the classic 76 detachable blades, as well as a 10pc comb guide set. Equipped with a highly durable motor that stands up to the toughest of tests, the Oster Model 10 comes with a shatterproof exterior case, keeping everything tucked away nicely inside. Hands down, one of the best clippers for men on the market!
The retro-looking, industrial-style Oster clipper is one of the longest-living clippers out there – for good reason. Extremely durable, stylish, and easy to use, this model is perfect for cutting hair and detailing facial hair. There's no hold on quality; use this versatile trimmer on your chest, back, or anywhere you see fit. Oster Classic Professional Barber Clipper comes with a 10ft power cord, so you'll have space to move around wherever you are without tugging on the thing. This is one of the best professional hair clippers around, so it's ideal for barbershops as it is for home use. For more must-have products for men, be sure to browse our list of top-rated straight razors.
Key Features:
Highly versatile with 76 detachable blades
Durable, break-resistant housing
Ten guide combs f0r any desired length
Ten-foot power cord
Specification:
Brand

Oster

Model

76010-010-001

Weight

2.56 Pounds
Wahl 5 Star Magic Clip Clipper
If you've been to the barbershop recently, you've probably noticed one thing: a lot of professional barbers love using Wahl products. This specific model is seen in barbershops all around the United States because it's durable and very cost-effective for those looking to start up their own in-home shop, or who want the very best precision blades to clip their hair.
Not only does Wahl 5 Star Magic Clip deliver professional quality (they recommend this just for professional use), but it comes with professional-grade materials. Your cord is durable and able to withstand every kind of beating imaginable, including harsh chemicals, right alongside the sturdy chassis housing the motor. High-precision blade with crunch technology provides professional cuts and is ideal for creating texture. The kits come with eight guide combs, blade oil, a cleaning brush, styling comb—so everything you need for a salon or barbershop level cut and grooming.
Key Features:
Comes with cord/cordless capability
Eight blade guards, cleaning brush, styling comb, blade oil
Professional, durable contruction
Chemical resistant power cord
Specification:
Brand

Wahl

Model

8451

Weight

1 Pounds
Wahl Professional Peanut Clipper
Go minimalist, but stick with the best brand in the United States, and you've got the Wahl Peanut Clipper. It's a professional-grade corded clipper and detail trimmer, meaning it is mostly for commercial use—but if you can't afford to hit the barbershop all that often, this is a solid choice. Purchasing a budget-friendly commercial-grade Wahl clipper means you get the same great quality (with a little bit of training, which we have included in our buying guide down below) at the fraction of the cost. Professional hair clippers, in general, pay for themselves in 4-5 uses.
Wahl's Peanut Clipper is the best hair trimmer for men that are looking to keep their wallet fat and happy while ensuring that they get the most trusted motor in the hair clipper industry. Complete with guards and a brush for cleaning hair out of the blades, this trimmer is guaranteed to last you a lifetime (with proper care). However, Wahl understands that accidents do happen, even on the manufacturing line, and they bring a full, long-lasting warranty with every single product. Perfect to have in your Dopp kit wherever you go.
Key Features:
Wahl rotary motor, acts as a clipper and trimmer
Four guide combs, red blade guide, cleaning brush, oil
12 foot power cord
Lightweight and compact design
Specification:
Brand

Wahl

Model

8655-200

Weight

4 Ounces
Hatteker Cordless Hair Trimmer
If you go off the beaten track a bit, you can find a ton of amazing hair trimmers from lesser-known brands like Hatteker. This company sells mainly on Amazon, which means they put a ton of effort into keeping their reviews positive. That means, as well as a great hair trimmer, you get excellent customer service if something goes wrong. 
The most impressive features of the Hatteker Cordless Hair Trimmer include a ceramic-titanium blade, a powerful and reliable motor, an LCD battery-life display, USB charging, and a 100% waterproof design. It also comes with a ton of useful attachments including six guide combs and a docking station. Sure, it's not the kind of hair trimmer you'd find at a professional barber, but for DIY haircutting, it's got everything you need. 
Key Features:
Ceramic titanium blade
USB charging
100% waterproof design
Includes six guide combs 
LCD display
Specification:
Brand

Hatteker

Model

710328911758

Weight

1.6 Pounds
Why Trust Us
While I'm an expert product tester, my partner Patrick is really the one with more experience in this realm. You should trust him because he's exactly like you. He wanted to learn to cut his hair, so he got a set of clippers and did. From there, he's turned into quite the experienced barber and learned a lot about how to be effective with a set of clippers through experience and youtube.
Who This Is For
This guide is mostly geared towards the chap who is interested in cutting his own hair or that of his friends. Several of these options are great for professional use but we're mostly speaking from and to an amateur perspective here.
How We Picked
To curate a selection of the best hair clippers for men, I started by consulting my partner and other men in my life who cut their own hair. Then I looked to our testing team and lastly, the internet. Our research included looking for the best hair clipper brands, Amazon reviews and a deep dive into the internet world around the DIY cut.
How We Tested
I'm not sure there are many other ways to test men's hair clippers than by cutting hair. While I didn't do the testing personally, I was present for it. My partner in life, crime and testing, Patrick, picked up the pandemic hobby of cutting hair and his dining room is now our friend group's favorite barbershop. He had used some cheaper plasticy clippers before but agreed to give me feedback as he upgraded to a Wahl clipper.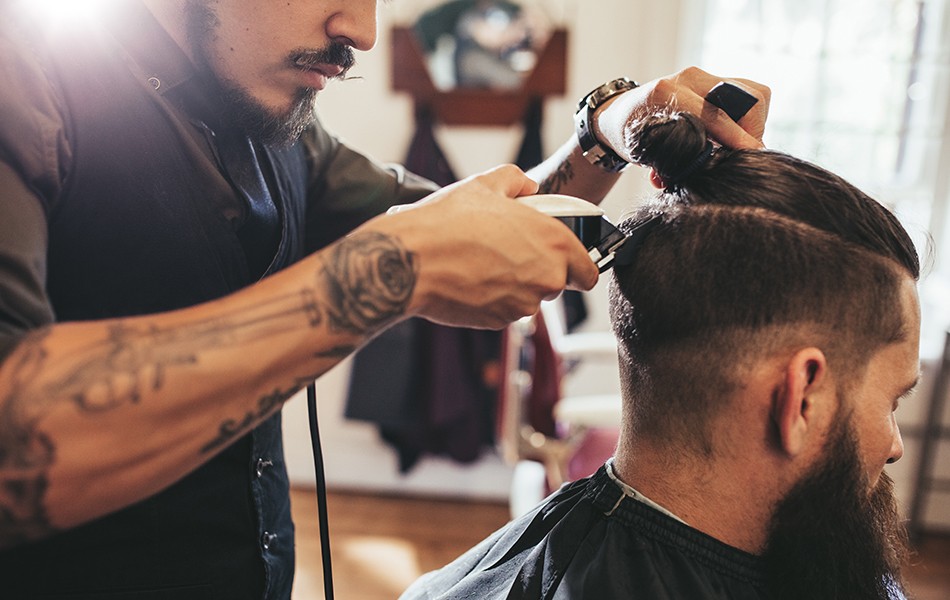 Features To Look For In Hair Clippers For Men
Motor - A powerful motor makes for a longer-lasting product and is an investment in your personal grooming. If you purchase a clipper with an inferior motor, you won't get the best use out of it and they have a tendency to die out faster. Also, motors that aren't of the highest quality tend to overheat after prolonged use, so always keep an eye on the motor for whatever clipper you buy.
Ease and frequency of use - This mostly deals with the design of the clipper. Some clippers are easier to handle than others, so take a look at whatever clipper you want to buy and ask yourself how long you can hold on to it for while cutting hair. Ergonomic designs will be helpful for lengthier cuts and reduce fatigue and hair clippers with sturdier designs will last longer.
Accessories - Always have a look at the accessories that come with the clippers, whether they're corded or cordless clippers. Bear in mind that the number of accessories that come with a clipper doesn't necessarily mean that the clipper is of superior quality. A better gauge will be the quality of accessories and the quality of the blades. Make sure you have a large range of sizes on your clipper heads. Gowns that catch hair, a barber comb, clips and hair scissors are other helpful tools that can enhance your cutting experience. Guiding combs are of particular importance as they will help you get the exact hair length you want.
Blade quality -Blade quality is key for durability and a precise cut. If your blades are cheap and flimsy, they will easily break and won't be able to cut through hair as easily, especially thick hair.
Durability -Some products are not made to be durable, and that's okay. Hair clippers? That's not one of those products. Durability is a must, no one wants clippers that fall apart after one cut.
Hair Clipper FAQ
Q: How long do hair clippers last?
A: With the right maintenance, your clipper can last for a very long time. Clipper maintenance and frequency of use are the most important factors to consider when pondering how long your clipper will last. Your clippers can last you a decade if well-maintained.
Q: How often do I need to oil my clipper blades?
A: While some would suggest that you oil your blades with blade oil every couple of cuts, it might be best to oil it with every cut as this helps maintain the integrity of the blades and keeps them from rusting or dulling.
Q: How do I align my blades?
A: Aligning your blade is a simple enough task. Simply hold the clipper sideways and look closely at it. If everything is as it should be, there would be no teeth standing out neither will there be any crooked blade or loose tooth; if there are, simply loosen the blade screws with a screwdriver, wiggle the blades back into place and make sure they are properly aligned, then screw it tight and you can resume usage.
Q: Can new blades be purchased?
A: Yes. You shouldn't need them if your clippers are well maintained, and blades can last a very long time, but in the event of an accident or something, a new blade can always be purchased.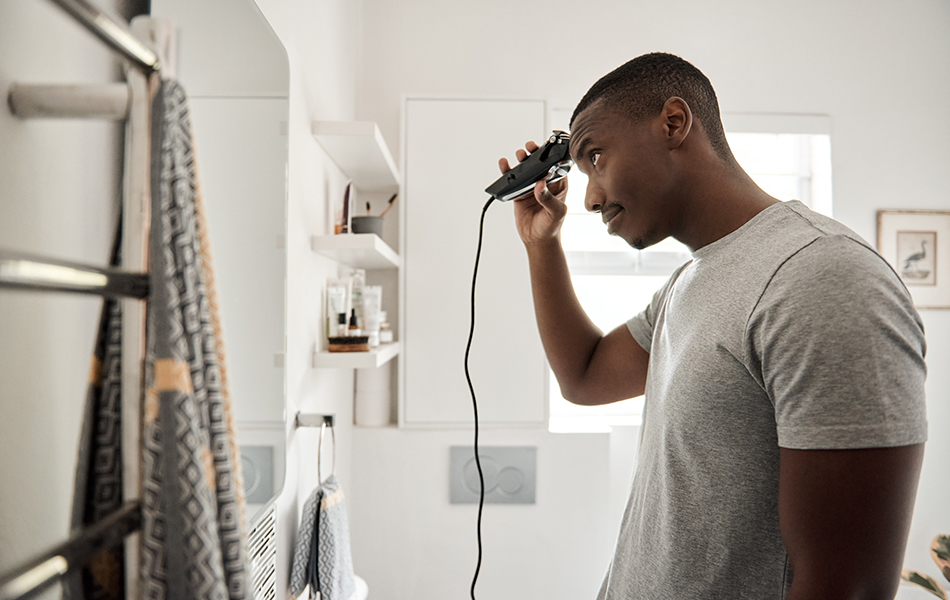 Q: How do I cut my own hair?
A: When cutting your own hair, use the following tips:
Wash and comb your hair. This is necessary as softer hair is easier to shave.
Decide what length you want your hair to be and adjust your clipper accordingly.
If you're going for a low cut, take on the front part first. Move the clipper from front to back.
Shave one side at a time. If you have them, make use of 'ear tapers' as the area around the ear could be slightly problematic. If you don't and are using only the blade, then make sure your strokes are slow and deliberate as you would want to avoid nicking your ear.
Shave the back of your head moving the clipper from the bottom to the top in even rhythmic movements. Use a mirror so you don't end up missing anything.
Work on your sideburns and your neckline.
Look over your work and put finishing touches where necessary.
Q: Are cordless hair clippers powerful enough?
A: Yes! A corded clipper is generally more powerful than a cordless hair clipper, but cordless options are definitely powerful enough to cut hair. Just don't forget to recharge them!
Q: Are all hair clipper blades the same?
A: No, not all clipper blades are the same. Some clippers come with detachable blades in varying sizes while other options will have blade guards in varying lengths. All brands also have different sizing so ask your barber what clipper they are using before you cut your own hair and ensure the sizing is comparable.
Sources:
How To Use Hair Clippers - WikiHow
How Do Electric Hair Clippers Work? - LEAFtv
How To Care For Your Barber Clippers - Salons Direct
Sign Up Now
GET THE VERY BEST OF GEARHUNGRY STRAIGHT TO YOUR INBOX