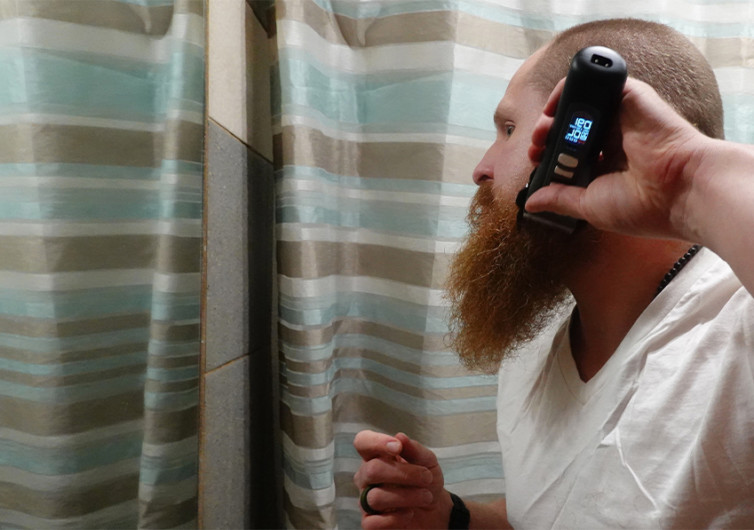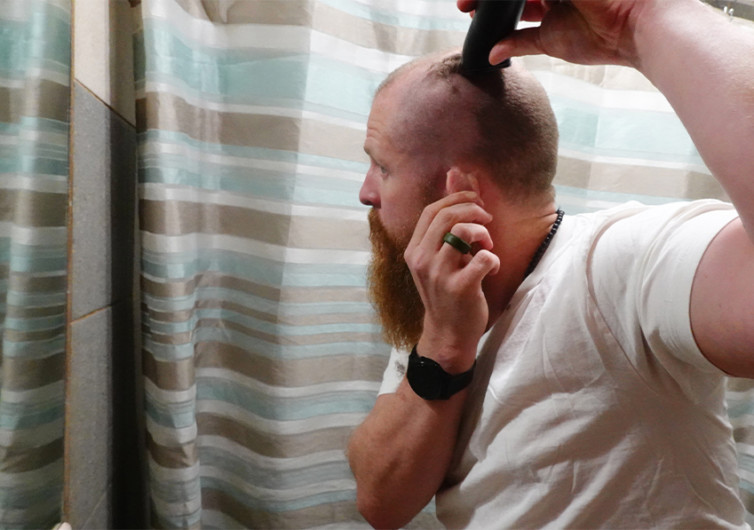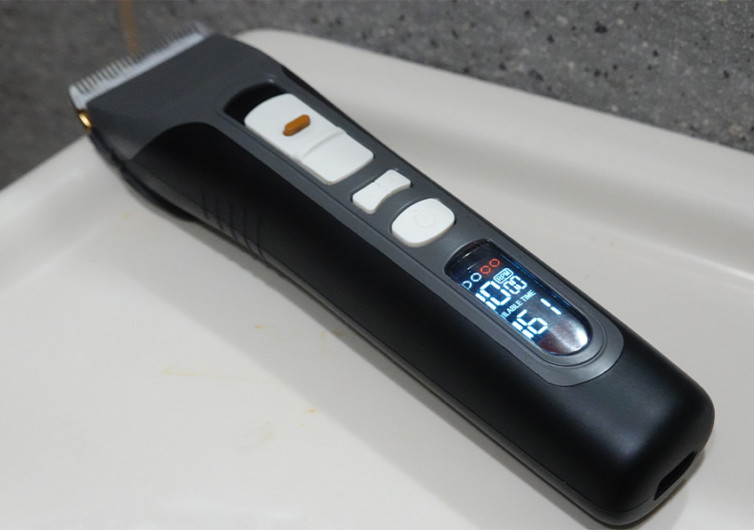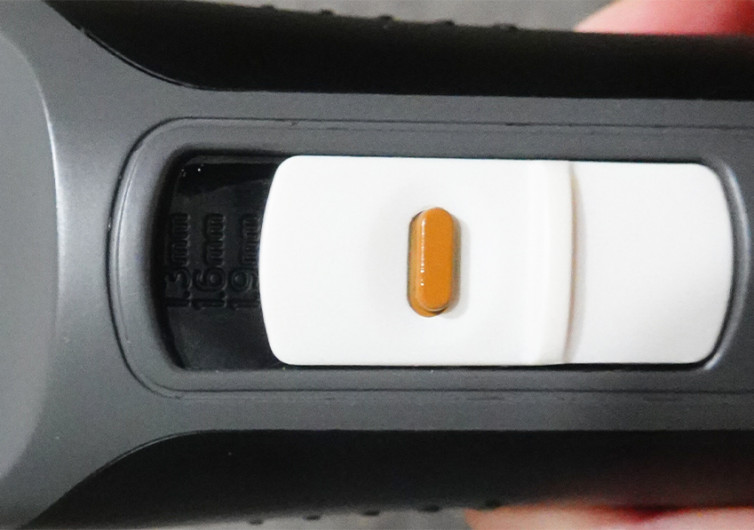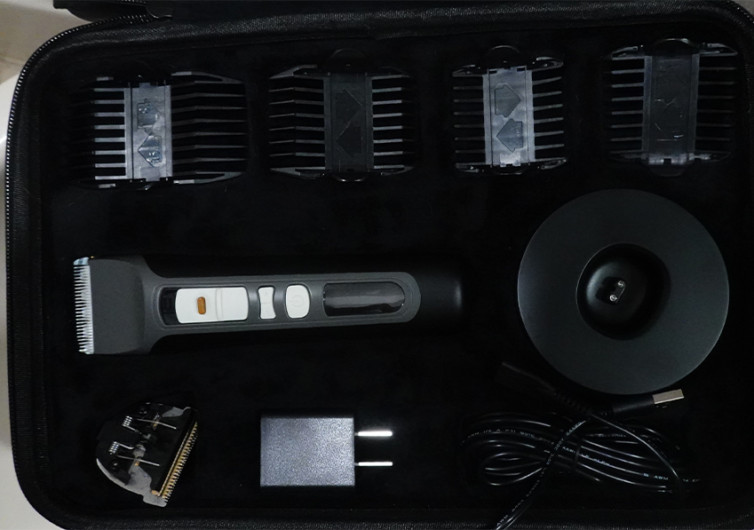 GearHungry may earn a small commission from affiliate links in this article.
Learn more
Brio Beardscape Pro – A Trimmer That Goes the Distance
The Brio Beardscape Pro is a prosumer level beard trimmer with a ceramic blade, titanium rake, digital readout, variable speed, and fine-tuned adjustment capabilities. It boasts a long battery life and is usable while charging. It retails for around $110 and comes with four reversible guards, cleaning tools, and a USB compatible charging dock.
The Beardscape Pro is the premium version of the Beardscape, Brio's base-level beard trimmer. The difference between the Beardscape and the Beardscape Pro is that the Pro comes with a Zero blade and a semi-rigid, fairly large carrying case. The Beardscape Pro is large and powerful enough to function as a hair clipper but is likely too bulky to be used as a precision edger or mustache trimmer.
The Beardscape Pro's Battery and Motor
The Beardscape Pro features a variable-speed motor capable of going as low as 5000 RPM and as high as 7000 RPM. I used the Beardscape Pro primarily at the highest RPM setting and found the battery life matched the manufacturer claims of 180 minutes at that setting. That's impressive battery life – even if you take 10 minutes per day trimming your beard (you don't), you could expect the Beardscape Pro to last for 18 days on a single charge at the highest RPM setting.
I've used other trimmers before and run out of charge halfway through a trim, which is not good if you are trying to get out the door in a hurry. The battery life on the Beardscape Pro minimizes the chances of that happening, as does the digital readout, which gives you estimated battery life in minutes and updates as you change the RPM. But even if you have bad luck (or poor planning) and your battery dies on you mid-trim, the Beardscape Pro will work while plugged in and charging. That's a great touch and not one you see in all rechargeable beard trimmers.
The Beardscape Pro is USB compatible and ships with a USB-to-standard outlet converter – another nice feature with the traveling man in mind.
Blades, Adjustability, and Guards on the Beardscape Pro
Brio claims that the ceramic blade built into the Beardscape Pro makes for a low-noise, low-heat trimming experience. I found this claim to be true. The Beardscape Pro is such a quiet trimmer, even at high speeds, that I kept checking to see if it was on the highest setting or not. The blade assembly remained (relatively) cool against my head as I shaved and trimmed at the highest RPM and closest trim settings.
The primary blade assembly comes with an adjustable feature and ranges from 1.0 to 1.9-mm settings. Each setting clicks visibly and audibly into place when adjusting. I'm less of a stubble man and more of a full-on beard guy, but if you wanted to fine-tune your stubble, this tool would do the job for you. I also used the Beardscape Pro to shave my head and found it quite effective at covering a lot of territory quickly and with no nicks or cuts. The blade assembly sits at a comfortable angle, and the trimmer fits comfortably into the hand.
That being said, this beard trimmer probably isn't super effective for precision edging or as a mustache trimmer. You'll probably want a dedicated tool for that – the Beardscape Pro is adjustable but still features a wide blade assembly that won't fair so well in tight quarters.
I was more interested in the guards, which stood out because they are reversible, meaning you get two sizes built into one guard. I love this feature. If you've got a long beard, you are probably using two, three, sometimes even four guards for different areas of your beard. Traveling with all those guards is a pain in the butt (they are bulky and rattle around inside your Dopp kit). But a little clever engineering here halves the number of guards you have to take and manage when traveling. Brilliant.
Beardscape vs. Beardscape Pro
As I said at the top of the review, the Beardscape Pro ships with a Zero blade for the closest trim you can get short of an electric or analog razor. I used this blade to shave my head and was impressed with how close to the skin it got. The blade assemblies pop out easily but take a little maneuvering to fit back in. It's possible to put the blade assembly back on in such a way that it snaps into place but doesn't connect correctly on the inside. In this case, the Beardscape Pro won't turn on, and you have to pop the assembly back out and try again.
The Beardscape Pro also ships with a large semi-rigid carrying case. This case is great for keeping all the parts organized, but I wish it were a little smaller (there's a lot of unused space in there). In fairness to Brio, they don't intend this case for travel (they sell a travel-specific case), but it would be nice if it were just a bit smaller for more portability.
Final Thoughts
I found the Brio Beardscape Pro more than sufficient to shave my head and trim my beard to my satisfaction. The extended battery life and ceramic low-heat blades are the biggest selling points, followed closely by the adjustable blade assembly (for stubble management) and reversible guards.
My only gripes (and they are minor) are that the professional style carrying case is a little bulky, the blade assemblies are difficult to re-insert, and the tool lacks utility as a mustache trimmer or precision edger. If you can live with that, you might consider giving the Beardscape Pro a look – particularly if you are the kind of guy whose current trimmer never has a charge.