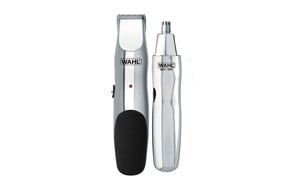 Wahl Groomsman Nose Hair Trimmer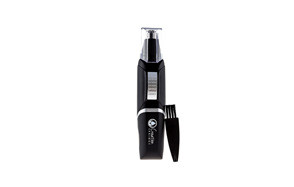 Creation Springs Electra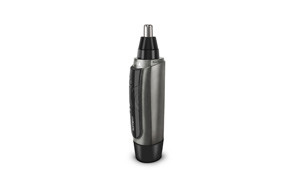 Suprent Nose & Ear Hair Trimmer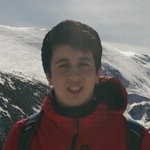 Grooming – an industry that's constantly witnessing improvements and innovations. Grooming products are a must for any man of the modern world. In order to keep a pleasant appearance, you must purchase a wide array of products that are meant to improve your look and, let's face it, that doesn't bother most of us. Grooming can be fun and it will most certainly improve your self esteem and even comfort levels. As previously stated, there are a lot of grooming products that men use on different parts of their bodies. As we progress in age, hair starts popping up all over the place.
Nose hairs are particularly annoying, as they attract more dust and have a big negative impact on your appearance and confidence. It's important that you use proper tools to get rid of them, to avoid injuries or dryness, which can really mess with your comfort. Using sharp, small scissors or clippers can really damage your tissue, resulting in bleeding and even infections. Luckily for us, nose hair trimmers have been designed in such manner that you won't be cutting too deep, avoiding stupid grooming-related injuries while achieving optimal results.
Throughout this product round up, we're going to take a closer look at the best nose hair trimmers on the market. We'll briefly explain each product's features and offer our biased opinion regarding their value and utility.
The Best Nose Hair Trimmer
Nose Hair Trimmer Buyers Guide and FAQs
Because for most of you nose hair trimming is probably a new thing that you have to put up with, after listing the best nose hair trimmers out there, we've decided to provide a buying guide and some instructions about how you should proceed. While you might think it's all intuitive, try to go through it as we'll be revealing some neat tips and tricks.
How We Chose Our Selection of Nose Hair Trimmers
For starters, let's focus on what you should know before making an informed purchase. The fact that there are so many similar products on the market is very confusing, so quality will be the main factor that separates them.
Blade System – When shopping for a nose hair trimmer, make sure you pick something that's got a good blade system – usually, manufacturers will mention "double-edged" on the packaging. Double-edged blades are really great for trimming hairs without pulling, so in order to avoid pain and discomfort, go for one of those.
LED's – Secondly, LED lights are very useful in avoiding harming yourself. While you put more pressure on your tissue, the LED light will intensify, so you'll know when you're overdoing it and might damage your skin. That's also useful for noticing hairs that you've overlooked.
Vacuum System – An integrated vacuuming system can also be very useful at cleaning your nostrils, so that you don't get any of the discomfort associated with left-over hairs. Additionally, the vacuuming system will also help you keep a clean and tidy bathroom, which you'll appreciate.
Batteries – Either go for rechargeable or batteries – this one's up to you. Batteries have the advantage of being widely-available, so you won't be having any issues if you run out of power while you're on a trip. USB charging requires an active USB port, and you might not have that on-hand when going for a light trip.
Accessories – Additional accessories are also nice. If you're going to travel a lot, some companies bundle a traveling case to fit the trimmer and its accessories. If you don't really enjoy going to beauty salons and plan or growing a beard, getting a trimmer that comes with additional interchangeable heads will be very useful. After you use your scissors or trimmer to cut down excess hair, you can use a detailed hair trimmer accessory to give a nice shape to your beard, shave your sideburns and trim down your bushy brows. Nose trimmers are also great for shaving ear hairs.
Waterproof – Lastly, waterproof. Arguably the most important feature to have in a nose hair trimmer. Try to focus on models that allow you to trim in the shower, as it's cleaner and won't have to lift a finger. In addition to that, you know that all of the parts are tightly fit, so the body of the trimmer is a bit tougher. The blades can be easily-cleaned under a running tap, so bacteria won't accumulate in the tip, which could've lead to an infection.
Price – Price isn't really an issue, as most of them are surprisingly tight when it comes to that. Just make sure you pick one that has all or most of the above-mentioned features in order to have the best grooming experience.

Nose Hair Trimmer FAQ
Q: How to use a nose hair trimmer?
A: Ever since man first established settlements and started caring about how he looked the issue of nose hair has loomed over the grooming landscape. Unfortunately, if we live long enough we'll all come face to face with nasal undergrowth at some time. Some of us will notice it ourselves while others will be made aware of the issue when that special someone recoils in horror after approaching for a kiss. But however awareness is presented to you you'll need to deal with it, and there are three more or less accepted methods of doing so: nose hair scissors, manual trimmers or mechanical trimmers. (There is a fourth way - plucking - but as a society and as individuals we should be well beyond the stage of pulling hairs out of our nose by the root, regardless of whether we're using our fingers or a lovely pair of tweezers.) Below are step by step guides to each of the three best techniques.
Scissors - There are plenty of places where one can purchase a pair of nose hair trimming scissors. These were in fact the preferred method of dealing with excess nose hair for many centuries. Today the advent of mechanical nose hair trimmers has caused their popularity to wane. Though to be sure it can't hurt to have a pair in your grooming kit, just in case. Removing nose hair using scissors typically proceeds in the following manner:
Flush out your nose as best you can first to remove any mucus and loose debris that might interfere with the process. Let your nasal passages dry thoroughly. This should only take a few minutes.
Position yourself in front of the bathroom mirror with plenty of light on your nose. It doesn't really matter if you're standing or sitting as long as you are comfortable and still.
Carefully insert the scissors into your nose and start clipping away the growth as you go. Work your way in slowly, pulling the scissors out from time to time to assess progress. Once you are sure all the hairs near the opening of the nostril have been trimmed back move to the other nostril and repeat. Don't try and trim too far in as you could wind up cutting the sensitive tissue deep inside the nose and cause an infection.
Manual trimmer - The manual nose hair trimmer doesn't get a lot of press these days but there are some guys who swear by them. They typically look like an SR-71 Blackbird (although they're incapable of traveling at 3x the speed of sound) and require a steady hand just like scissors. They're fairly easy to work and operate on the same basic principles as the mechanized trimmer, just slower and potentially more painful. Here are the steps normally involved in removing nose hair with a manual trimmer:
Again, you'll want to flush out your nostrils to remove any lingering mucus or other debris and to fluff up the hairs as much as possible to make them agreeable to being cut. Use a bit of warm water and if, you have some, a mild soap. Dip a washcloth in the solution and have at it.
Let your nostrils dry out thoroughly before introducing the manual trimmer to the nostril as this will give you the best chance of getting a clean effective cut.
Slowly insert the business end of the manual trimmer into your nostril until the blade portion is fully inside. Just make sure to insert it slowly and to stop if you meet resistance.
Now turn the trimmer gently back and forth to allow the cutting head to snag and cut the hairs.
You should be able to get a fairly thorough cut with this type of trimmer. But beware, they do have a tendency to pull hairs out by the roots if you turn too aggressively. Also, don't expect to get the same type of clean, comprehensive cut you'll get with a mechanical nose hair trimmer. Still, in many cases just a few seconds of relatively gently back and forth motion should get rid of much of the excess hair.
Electric trimmer - The electric trimmer, or mechanical trimmer as it's just as often called, is based on the same idea as the manual trimmer but typically produces a cleaner, more satisfying cut with less pain and fewer hairs pulled out by the root. Mechanical trimmers have come quite a long way in recent years and without question represent the current state of the nose grooming art. Here are the steps typically involved in using an electric nose hair trimmer:
Once again, take some warm water and mild soap, moisten a clean washcloth with it and gently scour your nostrils to remove and debris and/or mucus that might be in there and that could interfere with the cutting process. It doesn't take much to sully up the works so make sure you get each nostril nice and clean.
Once the nostrils are completely dry gently insert the nose hair trimmer just inside the rim of the nostril and switch it on. Unlike the manual nose hair trimmer you don't want to start with the mechanical trimmer completely inserted. You're going to start at the opening and gradually work your way inside, trimming as you go.
It shouldn't take more than 10 or 15 seconds to do its job, at which time gently remove the trimmer from your nostril and turn it off. Check to see if it's collected and mucus or other debris before inserting it into the other nostril. If it has then place the cutting tip under the tap for a few seconds and clean it off. Let it dry for a minute or two before inserting it into the other nostril.
Mechanical nose hair trimmers take much of the pain and guesswork out of the process of trimming your nasal hair. They're faster than scissors and less painful and more thorough than manual nose hair trimmers.
Q: How often do you trim nose hair?
A: On average hair grows at anywhere from five to six inches per year. That's true whether the hair is on top of your head or inside you nasal cavity. At that rate the average guy will need to insert the nose hair trimmer about every two weeks. To be sure factors such as race, diet and even the amount of water you drink can have an impact on the speed of hair growth. But on average most guys are going to want to go in for a trim every two weeks or so. There's no law that says you can't do it every week. But unless the hair is long enough for the trimmer to get a hold of it's not going to be very effective. So mark it down for every two weeks to start and see how that works.

Q: Are nose hair trimmers painful?
A: As we mentioned above manual nose hair trimmers can often be painful as they have a nasty tendency to grab hairs and rip them out by the root instead of trimming them. And anyone who has ever tweezed their nose hair can testify what an unpleasant experience that is. Electric nose trimmers though are typically pretty painless devices, especially so after you've used them a few times and gotten the hang of the whole thing. Here are a few general tips to making the process of trimming nasal hair as painless as possible regardless of whether you use scissors or the best nose hair trimmer on the market.
Bring plenty of light to bear - It's really important that you be able to see what you're doing whether you're using scissors or a manual or electric trimmer. Adequate light will allow you to assess the situation prior to trimming and to tell when enough hair has been removed that you can confidently stop. If you're sticking sharp nose hair scissors into your nostril without being able to see what you're doing you're unnecessarily flirting with cuts and infection. And you don't want a nasal/sinus infection.
Always use a mirror - Being able to see inside your nostrils to safely remove hair requires both light and a mirror. Ideally you'd be doing the trimming at home in the privacy of your own bathroom with plenty of time so that you're not rushed. Set up comfortably in front of the bathroom mirror (whether that means standing or seated is up to you) and make sure you can see clearly via the mirror into your nostril before you start. If you can't then adjust your stance or seat, or bring more light to bear if that's what's needed.
Read any instructions - If you're using a trimmer, whether manual or electric, make sure you read the instruction manual before starting. The manufacturer may have device specific instructions that will have an influence on the final results or have specific warnings to issue about using their product in a particular way.
Keep it clean - While cleaning the nose hair trimmer isn't as glamorous as walking the red carpet at the Academy Awards it's nonetheless something that needs to be done after every use. No buts. Few things are as gross as a nose hair trimmer that's become clogged with snot and hair fragments over time. A clogged trimmer will also do a lousy job of trimming your nose hair and will likely pull and yank at hairs instead of cutting them.
Q: Will your nose hairs grow longer after you trim them?
A: The science says "no" but the experience says otherwise. While it's hard to argue with the science of hair growth it certainly seems as though cutting or shaving hair regularly does cause it to grow back both faster and fuller. The fact is however that it doesn't matter. That's right, it doesn't matter if cutting hair causes it to grow back faster or not. You can't have tree roots extending from your nostrils and expect to have much success in the modern world whether in business or personal affairs. So if hairs extending from your nose have become an issue (as they will with most guys eventually) man up and trim them back whether or not this trimming is going to cause accelerated growth. Not doing so is just gross.
Just remember however, that we said "trim" not "pluck". Plucking nose hairs is not the answer as the hairs in your nose are there for a reason. That reason is to filter dust, dirt and allergens from the air before it enters your lungs. Simply ripping them out exposes your lungs to all manner of pollutants and can make you more susceptible to respiratory illnesses. So stash the tweezers and get a good mechanical nose trimmer.
Q: How to maintain and clean a nose hair trimmer?
A: Regular cleaning of the cutting heads on most nose trimmers is a simple process that involves nothing more than holding them under the water for a few seconds or blowing them out with compressed air. Still, even the best nose hair trimmer should be cleaned more thoroughly every once in a while (check your owner's manual to determine just how often). So,
Remove any screws that are holding the blade covering in place. In some cases there will be no screws and the cover may just be snapped on.
Remove the blades and wash them in warm soapy water. If your trimmer came with a cleaning brush use it to clean the blades. Then let the blades dry thoroughly.
Pour some rubbing alcohol into a bowl and drop the blades into the alcohol. Let is sit for a few minutes then use the cleaning brush again to remove the last vestiges of debris.
Rinse the newly cleaned blades in alcohol once more before setting them aside and letting them dry.
Reassemble the nose hair trimmer.

Q: Will trimming nose hairs make you more susceptible to diseases?
A: As we touched on above plucking nose hairs out by the roots is a bad idea because those hairs are there for a reason: to protect your lungs from airborne contaminants. In addition, plucking nose hairs leaves you susceptible to infections and will also impact the quality of the skin on the outside of the nose, above the area inside where you plucked the hairs. Using an electric trimmer, however, should not present any particular health risks if done properly.
Conclusion
Grooming is important and it adds health benefits, not just aesthetic ones. That being said, make sure you use proper trimmers to shorten your nose hairs, as you can really damage the tissue and it's a literal nightmare to live with a dry nose. Make sure you follow our general guidelines for shopping and using nose hair trimmers and you're going to be fine. All of the products featured in our review section have been well-received by users and offer the perfect amount of value and utility.