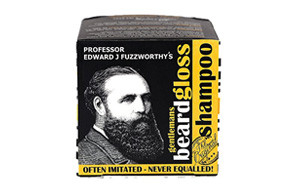 Professor Fuzzworthy's Beard Shampoo with All Natural Oils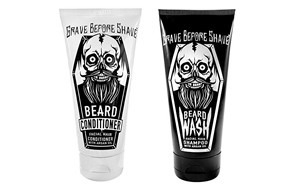 Grave Before Shave Beard Wash & Conditioner Pack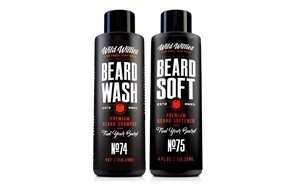 Wild Willies Beard Wash and Conditioner Bundle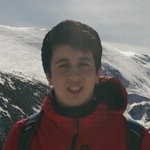 Keeping your beard looking, feeling and smelling great takes commitment. You can't expect to just grow it out and let it fend for itself. If you want a beard that makes the right impression you're going to have to familiarize yourself with some basic beard grooming tools. And nothing is more fundamental to beard care than the right beard shampoo. Beard shampoos are specially formulated to contend with the specific characteristics of facial hair as well as the skin on your face and neck, so no beard grooming kit should be without it. Below are the 6 best beard shampoos for 2019.
The Best Beard Shampoo
Beard Shampoo For Men Buying Guide & FAQs
Q: Should I use Regular Shampoo or Beard Shampoo?
A: Because the hair that grows on your face is typically of a more robust quality than that which grows on your head it's imperative that you treat it as such. In addition, the skin on your face is likely not used to playing host to a beard which means that with some guys that skin will become dry and flaky if they don't care for it properly. The most effective way to counteract dry, flaky facial skin is buying a beard wash or beard shampoo that contains effective moisturizers. Something standard shampoos don't typically include. Facial hair is also prone to split ends for reasons no one is quite sure about. As a result, the texture of the beard can feel even coarser than it already is. Most top of the line beard shampoos will address this issue.
Finally, standard hair shampoo almost always contains harsh detergents that don't bother the thick, tough skin on top of your head but which can strip the thinner, more sensitive skin on your face of much needed moisture. Standard shampoos also tend to employ synthetic fragrances that you really don't want to have wafting up from your beard into your nose all day long.

Q: What Type of Ingredients Will You Find in Beard Shampoos and Washes?
A: The ingredients used in the best beard shampoos are aimed at softening the coarse nature of your facial hair while respecting the underlying skin and preventing it from drying out or otherwise having an adverse reaction to your new hirsute profile. The quality of ingredients varies widely but, as with most things, the cheaper brands use the cheaper ingredients. The result is often beard dandruff, itching, flaking and widespread irritation of the underlying skin on the face and neck. Thus, if you see any of the following ingredients listed on a beard shampoo you'll want to give it a pass.
Sodium Lauryl Sulfate
DEA (Diethanolamine)
TEA (Triethanolamine)
Formaldehyde
Sodium Chloride
Propylene Glycol
Ammonium lauryl sulfate
Artificial fragrances
Propylene Glycol is better known to most people as antifreeze. Believe it or not the same chemical compound that keeps your engine from freezing is also used in some cheap beard shampoos.
Q: What is the Right Way to Apply Beard Wash or Shampoo?
A: This type of product will work best if you use it while taking a nice hot shower.
Let the steam in the shower open up your pores for a while before rubbing a dollop of shampoo between your hands to generate a lather.
Once you have a decent lather going work it into your beard thoroughly. This is crucial, especially if you have a long thick beard.
Take all the time you need to make sure you work the shampoo right down to skin and then into the skin itself so the essential oils, aloe and other ingredients can do their job.
Once you're sure you've worked the shampoo in completely and you've taken an extra minute to massage it into the skin under the beard, let it sit and soak in for anywhere from 2 to 3 minutes.
Rinse thoroughly. There's typically no need to repeat. Once should be enough.
Pat dry your beard when you get out of the shower and avoid using a hair dryer as that could really do a number on the skin under your beard.
You won't be shampooing your beard every day so on those non-shampoo days make sure you brush it out and use a high-quality beard oil to keep it looking and feeling fresh.
Q: How Often Should I Wash my Beard?
A: How often you wash your beard will depend on your skin type as well as the character of your beard.
If you have oily skin you'll want to wash your beard every other day, minimum. On the other hand, if your skin is dry don't overdo it with the shampooing. Every 3 days should do the trick. Same with combination skin.
If your beard is comprised of thick coarse hair don't wait more than 3 days to wash it, regardless of your skin type. On the other hand, if your beard is somewhat thin you might get away with washing it every day if your skin can handle it. If you have a thin beard and dry skin try washing every other day and see how your skin reacts. If it's too much go back every 3 days. You might also want to consider keeping your beard closely cropped in such situations.