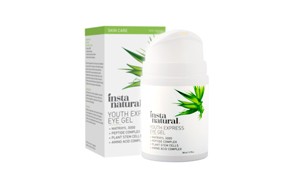 Insta Natural Eye Gel Cream for Men and Women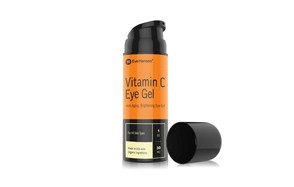 Eve Hansen Vitamin C Eye Gel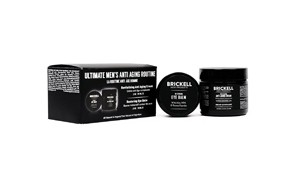 Brickell Men's Ultimate Anti-Wrinkle Night Face Cream and Eye Cream
The skin around the eyes is some of the most sensitive on the body. The reason for this is that it's so thin. In fact it's as much as 10 time thinner than the skin on your cheeks, chin and forehead. To make matters worse collagen begins to break down as we age and this already thin skin becomes even thinner. All the while there are other factors working to undermine our skin including UV rays from the sun, wintertime cold, air pollution, movement of the facial muscles, lack of sleep, dehydration and more. That's why it's important to find a really good eye cream. And below are 8 of the best.
Our Top Picks Of The Best Eye Cream For Men
1. Brickell Men's Ultimate Anti-Wrinkle Night Face Cream and Eye Cream
See More Reviews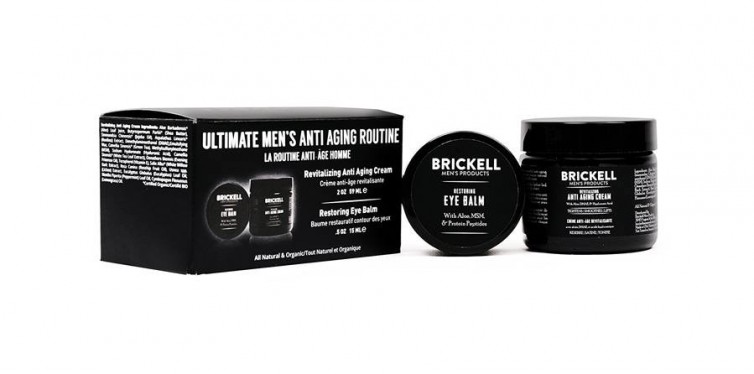 Brickell makes a full line of male grooming products that are all-natural and highly effective. Their Ultimate Anti-Wrinkle Night Face Cream and Eye Cream uses environmentally responsible and sustainable ingredients to create a product that turns the tired, dry, sagging skin around your eyes into the supple, tight skin it should be. Brickell's eye cream for men is blissfully free of the fragrances that are all too often overdone in such products. So instead of hiding behind a pretty smell it gets in there and does the job of protecting and rejuvenating your tired, worn out skin.
Brickell men's eye cream isn't greasy and in most cases shouldn't irritate too much if you wind up getting some in your eyes. It's going to cost you more than some of the other eye creams on the market though, there's no doubt about that, but we believe that after using it for a few weeks you'll come to realize it was money very well spent.
Key Features:
Reduces wrinkles, dark circles and other signs of aging around the eyes
Specification:
Brand

Brickell Men's Products

Weight

3.04 ounces

Key Ingredients

Aloe, MSM, hyaluronic acid, protein peptides
2. Pure Biology Total Eye Anti Aging Eye Cream
See More Reviews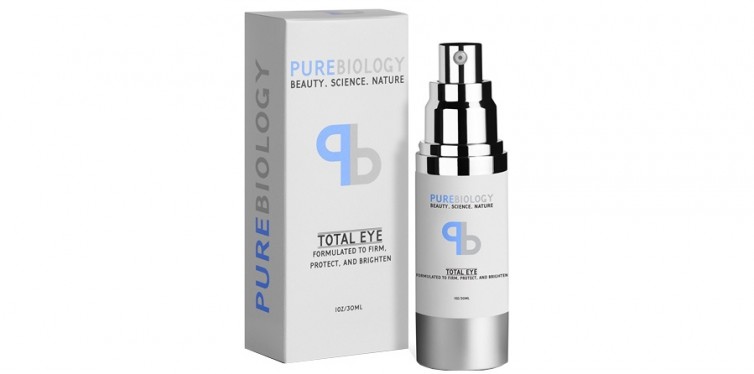 Pure Biology Total Eye Anti Aging Eye Cream uses 2 of the company's proprietary ingredients: Fision Instant Lift and Baobab Tien. The first helps pull your skin tight and smooth out wrinkles and sags, the second protects your skin from the sun's harmful UV rays while promoting proper hydration and speeding the recovery of damaged areas.
This is one of the more effective anti-aging creams on the market and one of the few that actually delivers on the promise to plump your skin up. It feels great when you apply it; nice and light. You can almost feel it being absorbed by the skin. And while it will take repeated applications to obtain the most impressive anti-wrinkle, anti-aging results if you stick with it your eyes are going to look and feel noticeably better and stay that way. There's no doubt this product belongs on our list of best eye creams, right at or near the top.
Key Features:
Reduces fine lines around the eye and protects surrounding skin from UV rays
Specification:
Brand

Pure Biology

Weight

3.2 ounces

Key Ingredients

Proteins and polysaccharides
3. FineVine Natural Multi Effect Eye Gel
See More Reviews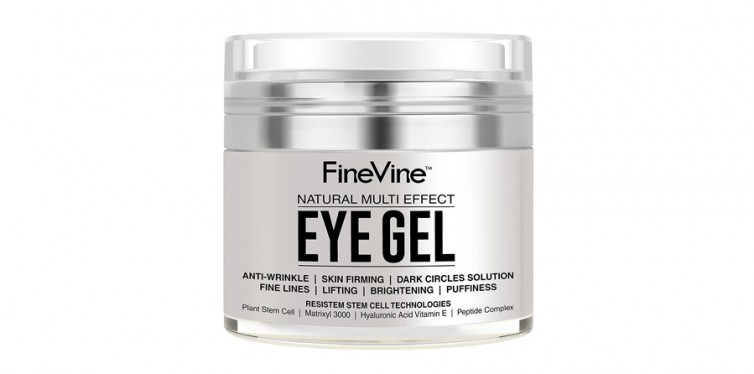 FineVine has produced a wonderful, multi-effect eye gel here, one that is free of artificial fragrances, parabens and other ingredients that can irritate sensitive skin. Its ingredient list is familiar but you could say the same thing about almost any men's eye cream products on the market today. However, FineVine must be doing something right with their particular formulation of those ingredients because this is, among other things, one of the best men's eye creams around for reducing dark lines under the eyes and tightening up bags.
The skin around your eyes just feels better after using this for a few days. It will also look less dry and crinkly, less saggy and more responsive. Toss in the fact that it's one of the most affordable high quality men's eye creams out there and you've got one of the best value propositions in men's' skin care. Other creams might do a slightly better overall job but few if any will provide the combination of price and performance.
Key Features:
Encourages and promotes hydration around the eyes all day long.
Specification:
Brand

FineVine

Weight

5.1 ounces

Key Ingredients

Hyaluronic acid, aloe, jojoba. No parabens or dyes
4. Rugged & Dapper – Eye Cream for Men
See More Reviews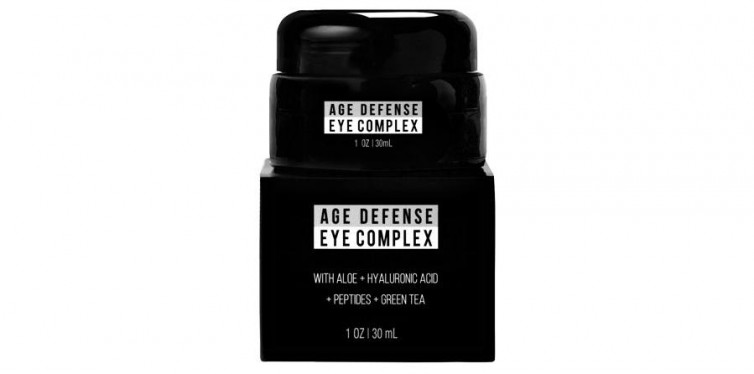 Rugged & Dapper Eye Cream for Men takes our prize for having both one of the worst designed eye cream packages on the market and one of the best eye cream contents on the market at the same time. And that's not an easy feat to pull off. But let's focus on what's inside and leave the package design to the marketing department.
It's difficult to determine if Rugged & Dapper refers to the target demographic or the cream itself because this stuff has some body to it. It's thick and it will take some working in but the payoff is outstanding. It smooths fine wrinkles as well as any of the other top brands and there's no overwhelming fragrance to deal with, just a light green tea aura that dissipates slowly over the course of a couple of hours.
Key Features:
Hydrates, soothes and revives problem areas to create a fresh, healthy appearance.
Specification:
Brand

Rugged & Dapper

Weight

5.6 ounces

Key Ingredients

Aloe, hyaluronic acid, peptides and green tea
5. Insta Natural Eye Gel Cream for Men and Women
See More Reviews
Insta Natural Eye Gel Cream for Men and Women does an outstanding job of battling crow's feet and those super fine lines that always wind up blossoming into the much loathed "character lines". Insta Natural uses hyaluronic acid along with amino acid complex to bolster that thin, fragile skin around the eyes and keep them looking fresh and youthful. Men with sun ravaged skin shouldn't expect to obtain much relief from an eye cream but for those with normal wear and tear around the eyes Insta Natural should do a good job of keeping the forces of decay at bay.
With mostly organic ingredients Insta Natural won't irritate the skin and just a few dabs a day should have your face looking and feeling better than it has in years. It's not a miracle cream but does fulfill most of the promises the marketing makes. And how many products can you say that about?
Key Features:
Advanced organic ingredients strengthen skin while preventing wrinkles
Specification:
Brand

InstaNatural

Weight

2.4 ounces

Key Ingredients

Aloe, glycerin, hydroxyethylcellulose, chinensis seed oil
6. Clinique Anti-age Eye Cream for Men
See More Reviews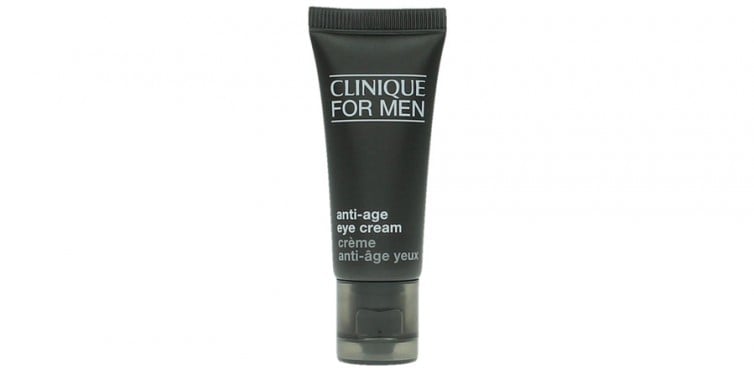 Clinique anti-aging eye cream is the type of product you invariably find on the shelf in the bathrooms of those people that always inexplicably look great. Clinique has a well-earned reputation for producing high quality skin care products and this simple but effective anti-age eye cream is a good example. It slides on nice and easy, is absorbed effectively by the skin and leaves that much maligned skin around your eyes feeling tight and bouncy.
Because the best things invariably cost more you're going to pay more for this anti-age eye cream then you'll pay for others. But the results speak for themselves. We love the job it does reducing and even eliminating dark circles, we love the job it does smoothing out fine lines and reducing crow's feet and we love the fact that its effects don't fade after a few hours. This is an effective all-day eye cream and one any man serious about looking better should invest in.
Key Features:
SPF20 protects the area around the eyes from harmful UV rays.
Specification:
Brand

Clinique

Model

0.48 ounces

Weight

CLINIQUE-382742
7. Eve Hansen Vitamin C Eye Gel
See More Reviews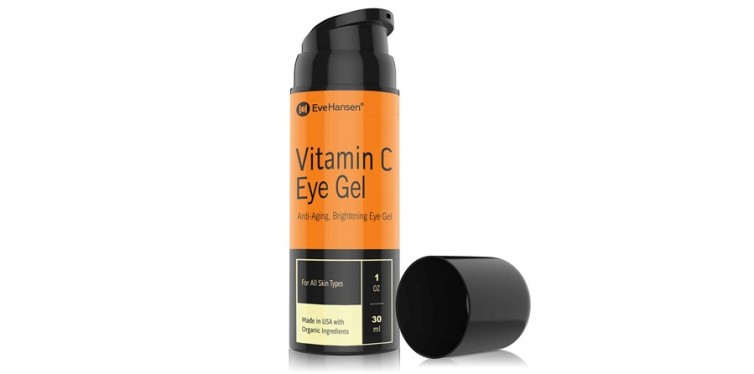 This Eve Hansen Vitamin C Eye Gel makes use of all the usual suspects when it comes to skin care around the eyes: hyaluronic acid, peptides and Vitamin C. As such you can expect it to do a good job restoring vibrancy to the skin around and particularly beneath your eyes, and that it does. It also feels great both while you're working it into the skin and hours later when you're at work and blurry eyed from staring at the computer screen all day.
This is a first class moisturizer that really breathes new life into facial skin you may have given up on. Just remember to wash your face thoroughly before applying, and apply the eye gel only to the area around the eyes until it's entirely absorbed. For best results with fine lines and crow's feet they recommend you use the product twice a day; once in the morning and once in the evening.
Key Features:
Heals overexposed skin, reduces the appearance of bags while boosting collagen.
Specification:
Brand

Eve Hansen

Weight

1.6 ounces

Key Ingredients

Vitamin C, chinensis seed oil, jojoba, antioxidants
8. Jack Black Protein Booster Eye Rescue
See More Reviews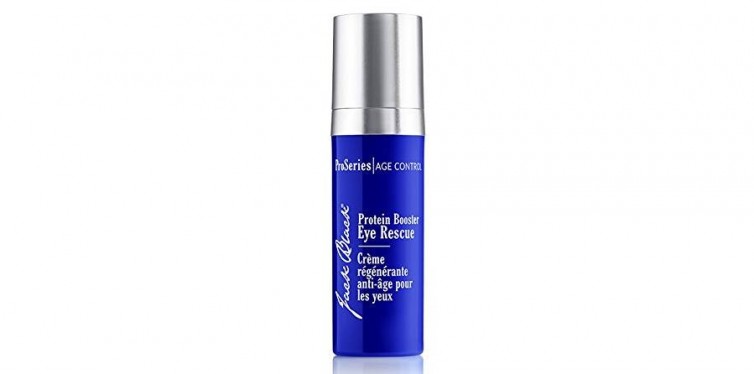 Jack Black Protein Booster Eye Rescue contains no synthetic fragrances or dyes, no triclosan, sulfates or parabens and is completely cruelty free. It's as easy on your skin as it is good for it. The manufacturer claims clinical proof that this eye cream will reduce wrinkles around the eyes by as much as 45 percent after just 8 weeks of use. So in essence you'll be doing your Benjamin Button routine while everyone around you is getting older.
This eye cream does an excellent job reducing puffiness, smoothing out wrinkles and keeping your skin moist and supple. If it has a drawback it's that it's on par cost-wise with the Nivea; although for our money it's not quite in the same league.
Key Features:
Helps improve intercellular communication to enhance skin's responsiveness.
Specification:
Brand

Jack Black

Model

2011

Weight

0.48 ounces

Key Ingredients

Collagen boosting peptides, oat kernel sugars, pea peptides, Vitamins A, C and E, omega 3 botanicals
Eye Cream Buying Guide/FAQs
How Does Eye Cream Work?
As we progress through life we see and feel the effects of cell degradation as well as the enervating effects of environmental and physical stresses on the skin of our face. There's simply no way to avoid it. Men in particular tend to suffer badly from wrinkles, dark patches, crow's feet and dry, almost brittle skin. Especially if their work takes them outdoors on a regular basis. While it's sometimes possible to aid our skin in recovering from excess wear and tear through proper hydration and plenty of sleep there's just no escaping the fact that the skin needs help once in a while.
The best eye creams help you stave off premature wrinkles, restore a taut responsive feel to the skin around your eyes and make you look and feel 10 years younger. How? By employing a 1-2 punch of emollients and humectants. Emollients have the ability to bridge the space between skin cells, making the surface look younger and feel smoother. Shea butter, mineral oil, lanolin, paraffin, beeswax and cocoa butter are several different types of emollients. Humectants on the other hand help the skin to lock in the moisture it absorbs. Glycol, aloe vera, egg yolk, urea, honey and alpha hydroxy acids are different types of humectants.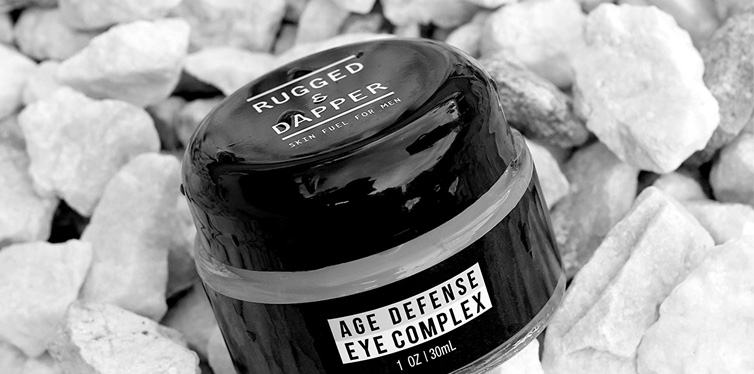 What Are the Best Ingredients to Look For in an Eye Cream
The best eye creams for men will all include at least some of the following ingredients. If you are tempted to purchase a discount eye cream that has none of them don't waste your money. Spend a little more and get the real thing.
Hyaluronic Acid – Hyaluronic acid has the ability to smooth out the damaged layers of skin immediately beneath the surface and, in this way, make the surface itself smoother. If your eye cream does not address these hidden layers of derma no real wrinkle relief it possible.
Vitamin C - Vitamin C works with Retinol to help increase the production of collagen in the skin. Increased collagen means increased elasticity which should be one of the primary goals of any eye cream be it for men or women.
Ceramides - Ceramides are a type of naturally occurring fat or lipid. They're a major component of the structure of skin playing both primary and supporting roles in buttressing the structural integrity of your skin. Without ceramides moisture is quickly lost and sagging skin becomes an everyday part of life.
Retinol - Retinol plays an important role in collagen production and is therefore a popular ingredient in anti-aging products like eye creams. Skin that lacks sufficient collagen is typically loose and grainy looking and wrinkles quickly. Permanent damage to the skin by way of collagen loss is a state that not even the most effective eye creams or facial moisturizers can completely reverse.
Peptides - No it's not a soft drink. Peptides are commonly used in place of retinol to pick up the mantle of collagen production. If your skin is sensitive to retinol then you don't have to give up the notion that it will ever look good again. Simply look for an eye cream that contains peptides instead.
Tips To Properly Apply Eye Cream
Clean your face thoroughly - You don't work moisturizer into dirty hands and you shouldn't apply eye cream to a dirty face. Make sure your face is always squeaky clean before applying eye cream. Otherwise you give the cream approximately 0% chance of working as it's designed to.
Apply strategically - Applying eye cream is not just a matter of squeezing some into your hand and then rubbing it on your face. In order for it to work properly you'll need to concentrate your application efforts on the boney structure of the upper cheek and the area directly under the eyebrow. Just make sure you don't apply too much at once or else you could wind up with some in your eye. And while several of the all-natural eye creams aren't overtly harmful to your eyes some of those with harsher, artificial ingredients could leave you with bloodshot or teary eyes for an hour or so.
Don't use your palms to apply it - In order to get the most out of your eye cream it's important to apply it with the fingertips and not the palm of your hand the way you might apply regular moisturizer to your face. The best approach is typically to employ your index finger along the cheek bone and maybe your little finger along the orbital bone both above and to the outer edge of the eye socket. Be sure to rub the cream in until it's fully absorbed.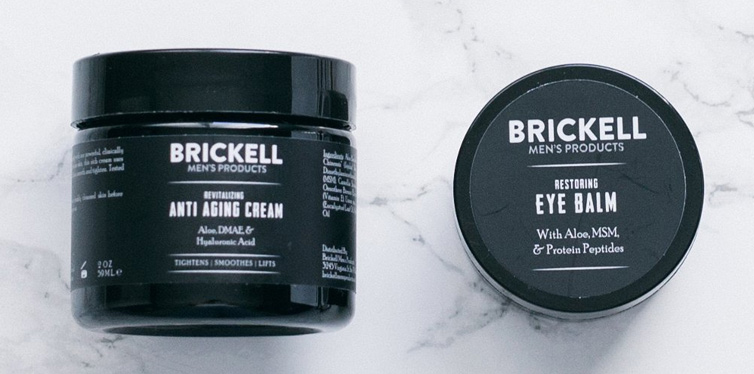 Our Top Pick
Clinique Anti-age Eye Cream for Men
While all of the above eye creams for men are first rate products there are nonetheless some minute differences between them and so a conclusion is still possible when it comes to the question "which is best?" For our money Clinique Anti-age Eye Cream for Men rises above the fray and grabs the brass ring for a number reasons: it glides on easy and absorbs effectively leaving no greasy residue, it does an excellent job ridding your eyes of dark circles and it leaves the skin around your eyes looking and feeling great from dawn to dusk. It's true you're going to fork over more for this product but in the end it's truly a matter of getting what you pay for.