Best Window Fans in 2022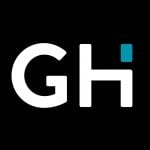 This product guide was written by GearHungry Staff
Last Updated
July 7, 2020
GearHungry Staff
GearHungry Staff posts are a compilation of work by various members of our editorial team. We update old articles regularly to provide you the most current information. You can learn more about our staff
here
.
GearHungry may earn a small commission from affiliate links in this article.
Learn more
I don't know about you, but I can't sleep if I don't have some level of white noise. I don't like it when the bedroom gets stuffy, and I kick the covers off twelve times throughout the middle of the night. That's why I sought out the best window fans on the market to kill two birds with one stone. Sucking all the hot air out of the room and creating an ambient level of white noise at the same time to make it more comfortable.
But what goes into window fans? More than you might think. We've here to talk about cord length, noise levels, power, square footage ratings, and everything else so that you can find what's best for you without going through a million pages of window fans online. If you're after a bit of peace and a lot of cooling power to keep your bathroom ventilated or your bedroom nice and cool at night, you've come to the right place.
The Best Window Fan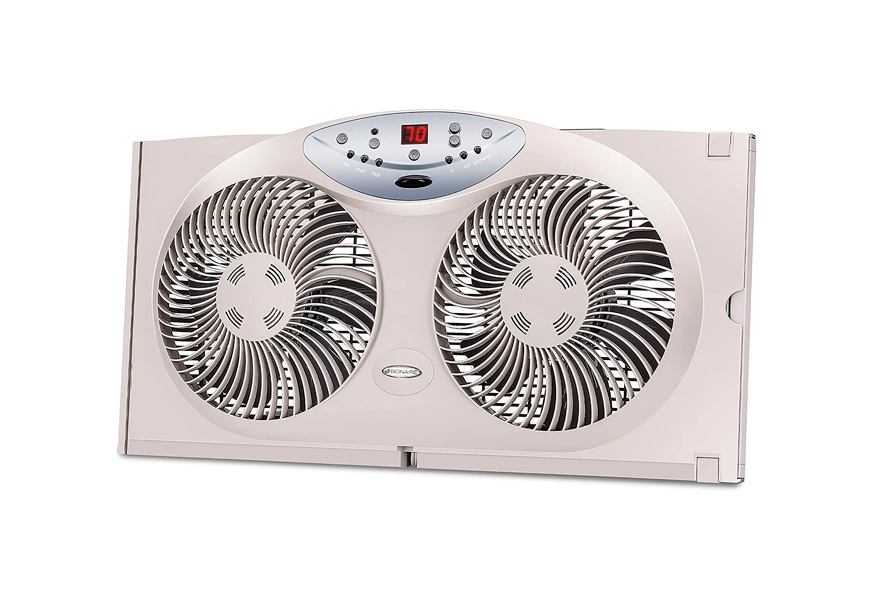 Bionaire took the top spot in our quest to find the best window fans, but not just because of how sleek and sturdy it looks. You get a reversible function to push cool air into the room or pull out the warm air to effectively cool down your room. Every one of your controls appears on the LCD screen included along the top of the fan, where you have plenty of buttons to customize your settings from fan speeds to temperature control and more.
While Bionaire Twin Window Fan is one of the more expensive window fans on our list, it comes with everything you need. The side slats extend past the 24.25-inch total width of the base fan itself, and the programmable thermostat allows you to auto-adjust the room temperature even when you're not there. You can keep the room nice and cool while also being energy-efficient, so you come home to a comfortable atmosphere.
Activate your fan from across the room with the included remote control, which controls the temperature, fan speed, and airflow controls. Installation is a breeze, and Bionaire goes above and beyond by providing a five-year warranty against manufacturer defects, which is unheard of for small appliances like window fans. For more quality products for your home, check out our list of the best ceiling fans on the market.
Key Features:
Reversible airflow blades to suck the air out of the room
Numerous controls via an LCD screen
24.25 inches wide to 37 inches when extended
Thermostat reacts to air temperature and kicks on automatically, and is programmable. 
Specification:
Brand

Bionaire

Model

BW2300-N

Weight

8.4 Pounds
Holmes Dual Blade Twin Window Fan
Holmes brings us a series of window exhaust fans with some delightful levels of power, and plenty of functionality through the control panel located between the two fan blades, at the top of the chassis. With up to 37 inches of window clearance with your extenders, this will fit most windows in homes and apartments across the United States.
One common question that people have about their window fans is if they'll still work even if it's raining out. Holmes made these Dual Blade Twin Window Fans water-resistant, even in the motors, so even if it's drizzling out, you'll still be good to go.
Holmes includes a three-year warranty along with this fan, which will protect you from manufacturer defects. Overall, you get a lot of power, multiple fan speed options, and the One Touch thermostat to set your preferred room temperature ahead of time.
Key Features:
One-touch thermostat for ease of use
Works vertically as well as horizontally
Fits up to 37 inches of width with extenders
Includes a three-year limited warranty
Specification:
Brand

Holmes

Model

HAWF2043-N

Weight

7.5 pounds
Comfort Zone CZ3 Three-Speed Twin Window Fan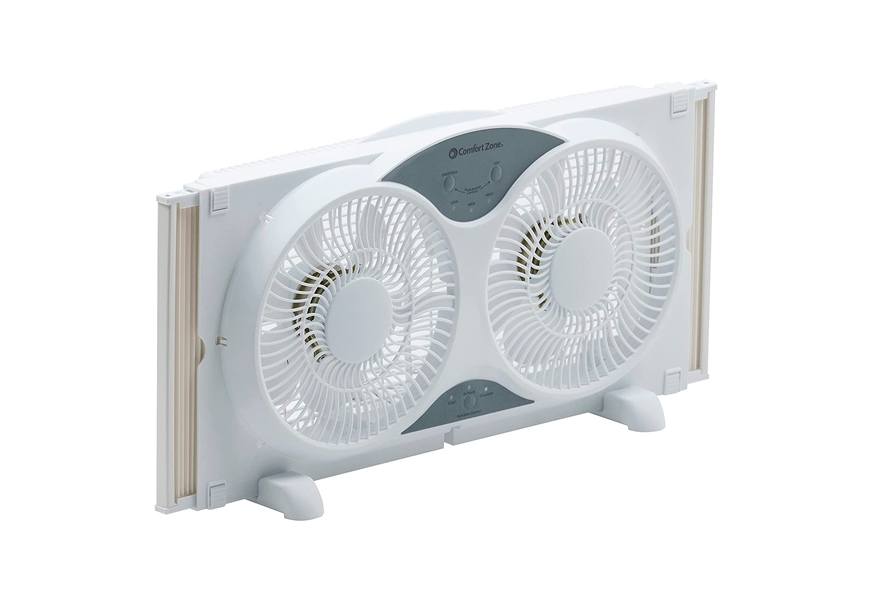 Most window fans have four or five blades on each of the twin fans, but Comfort Zone said, "You know what? Let's make it six." This powerful little package comes with three separate speeds, as well as up to 37 inches of clearance with the extenders. Along the back, there's a screen that prevents bugs from entering your fan compartment and getting into your room, which is ultra-important for summer months. You can remove that screen if you wish, or if you just plan on using your existing window screen.
Use the reversible function to pull air out of your room and cool it down, or bring cool air indoors. Comfort Zone CZ3 Three-Speed Twin Window Fan includes a limited one-year warranty, so it will cover any major manufacturing defects. Thankfully, the chassis is a rugged, solid plastic, so you shouldn't run into any problems. If you need a cooling device for a larger space, browse our list of the top cooling tower fans.
Key Features:
Three-speed functionality
Fits up to 37 inc window slats with extenders
Includes removable screen to prohibit bugs from entering
Reversible to suck warm, muggy air out of the room
Specification:
Brand

CCC COMFORT ZONE

Model

10958221

Weight

6.59 Pounds
Portable Twin Window Fan w/ Remote Control
HowPlumb is a brand name that you'd expect to hear if you were, you know, plumbing. However, they have a tremendous middle-of-the-road option on price and power in their Portable Twin Window Fan w/ Remote Control.
Utilize the remote control to adjust your speed and coolness settings from around 25 feet away. While the remote isn't super advanced, it does the trick (but the buttons get dusty like nothing else). This fanmade it to the middle point on our list because it's powerful, just not as much as the top four picks.
The only major gripe is the buttons on the actual fan itself, but when it comes to cooling down your room, it works a treat. Everything is ETL-listed for safety and quality, so you know you're getting the best that HowPlumb has to offer. Use the two removable covers to keep bugs out, and there are even snap-on stands that allow you to prop this up on its own. If you are on the market for a portable device, check out our guide on the best pedestal fans to buy.
Key Features:
Comes with two removable covers and snap-on stands for standalone use
Includes fabric front cover to keep the hot air out
ETL-listed for safety and quality
Fits up to 37 inch wide windows
Specification:
Brand

HowPlumb

Model

HB-CZ310R-A

Weight

1.8 pounds
Air King Whole House Window Fan
The only reason that Air King didn't make it higher on our list is that it can get expensive, and we wanted to keep a blend of quality and budget-friendly options available. This seriously powerful Air King Whole House Window Fan is only 20 inches in diameter, but it can cool down most of your house. It's a little bit loud, but that's what happens when you have this much power pulling air in from the outside.
You can use this as a window fan, or hang it up to circulate air indoors if it's raining out. The design of the blade cage allows for maximum airflow: the knob is in the center of the cage, there are no unnecessary pieces that block air, and the cord doesn't obstruct anything. OSHA-approved and permanently lubricated, this box fan is as safe as you can get while being low-maintenance. While it's unlikely that you can go twenty years without a little tune-up every now and again, you won't have to do much in the meantime.
Key Features:
Thin blade cage allows for maximum airflow
Enough power to cool down most of your home with a single fan
Permanently lubricated working parts require no maintenance
Fully OSHA approved design and construction
Specification:
Brand

Air King

Model

9166

Weight

8.16 Pounds
Genesis did something interesting here, with LED indicator lights on the low, medium, and high settings on your Twin Window Fan so that you can see it from across the room. No more, "Did I set that right?" while you're across the house because now you can just see it. There are also five separate LED indicator lights to tell you what the temperature is, between 60°F and 80°F in five-degree increments.
That LED system runs off of the thermostat included in the Max Cool technology. Your window fan detects when the temp hits an undesirable level, and then it kicks on automatically. With this fan, you can come home to a cool house, or at least a cooled-down bedroom at the end of a long, hectic workday.
The window slats extend quite a fair distance, so even if you have a wider-than-average window, you'll still be good to go. Everything is ETL-certified for safety, and the overall design is very lightweight and easy to install yourself. If you end up moving the party into a different room, you can just grab this by the convenient carry handle and move it with you. If you need a cooling solution for your patio, here are some excellent outdoor ceiling fans you might like.
Key Features:
Max Cool technology helps maintain the room temperature with a built-in thermostat
The ultralight design doesn't warp your windowsills in the slightest
The copper motor can take a beating
Widely expandable slats for wider window application
Specification:
Brand

Genesis

Model

A1WINDOWFAN

Weight

7.98 pounds
Lasko Electric Reverse Window Fan
Lasko is the everyman's brand when it comes to fans. Their W16900 model is basic and provides one three-blade fan to cool down your room. The blades are a malleable plastic, which may warp over time, but you've got about five years of hardcore use before that happens. It's one of the cheapest options on our list, but it still comes with that ETL listing for safety that we all want.
The window slats expand nicely, making window installation a sinch. The Lasko isn't as high-powered as some of the other fans on our list, but it gets the job done for a small bedroom of around 120-150 square feet. I wouldn't recommend it to cool down an entire living room, but for what it's worth, it performs well. For some more modern and practical products that will help you fight the summer heat, check out our choice of the top bladeless fans.
Key Features:
ETL listed for assurance and safety
The single fan propels air without any outside disruption
Expandable for wider windows
Inexpensive thanks to plastic and light use of metal
Specification:
Brand

Lasko

Model

W16900

Weight

14 pounds
Window Fan Buying Guide & FAQ
Features To Look For In Window Fans
Window Fit - Getting a secure window fit is easy if you pay attention to the details. Look for the maximum extended window size, and the minimum size, which is without extenders. People have made the mistake of saying, "I don't need 43 inches of clearance," not realizing the fan itself is 31" wide for a 28" window. Get the extended and standard dimensions before buying.
Safety - You want screen protectors for the back end, blade caps on the front, and tight-knit electrical wiring. You want every single aspect of your fan to be safe to use. Sometimes you'll see plastic construction and even plastic fan blades.
Durability - You're looking at primarily plastic components because a window fan isn't supposed to be ridiculously expensive. It's supposed to be cheap and affordable, but if a fan is too malleable, it's going to crack under the pressure of the window frame coming down on it. You're looking at plastic, but it's important to know just how thick and sturdy that plastic is.
Reversibility - The whole point of getting a window fan over a tower fan is that you want to blow air into the room to cool it down, and remove hot air from the room. Getting a fan that comes with a two-way forward/reverse fan blade operation is a great idea.

Window Fan FAQ
Q: What is a window fan?
A: Window fans are wall-plug powered fans that fill up a space between your window sill and the bottom of your window frame. Extenders block any gaps on either side of your fan while a single or dual fan blade system cools down the room, or pulls air out of the room in reverse mode to help control humidity.
Q: How to install an extractor fan in a window?
A: The fan above your stove is an extractor fan, designed to remove humidity from the air, control steam, and assist in smoke removal. An extractor fan and a window fan are two different things, but a window fan with a reversible option can at least help with extraction.
Start by opening your window. Pull it all the way up, so you have wiggle room while installing the extenders later. If your window fan is too large and will protrude from your window on the outside, make sure your fan has a screen, and remove the window screen (place it somewhere safely).
Put your window fan in the window area. Focus on running the cable properly and ensuring it isn't going to be pinched by the bottom of the fan. Most manufacturers intelligently place the wire output so that it doesn't get squished. Close the window down on the top of your fan until it's snug.
Use the extenders. Make them stretch as much as you need until they hit the ends of the window sill. Go over this area with a fine-toothed comb. You want to make sure there are no cracks or missed alignment because this is going to act like a gateway between your indoor air and the outside air.
If this is a permanent installation, you can screw your extenders into the window frame. Most manufacturers will include screws with your purchase. However, it's advised to find an alternative way to attach your fan, such as with heavy-duty double back tape between the extender and the frame, still keeping in mind that you want no gaps. It makes it easier to clean your fans, and these will get dusty quickly.
Once everything is affixed and in place, plug your fan in, and choose the mode you plan to use. Let it rip.
Q: Do window fans work?
A: Window fans work for cooling down the room, helping to cut the humidity, and circulating air to make things feel less stuffy and congested. Window fans work, but they're not deployable in the same sense that tower fans are, so you're going to be using them for different applications.
You can put a window fan in the bathroom window to pull air out, or the kitchen window to pull air out when cooking, but one window fan isn't going to cool down your entire home. Window fans still leave an opening to the outside world, even if it's screened in—air conditioning may dispense outside, effectively raising the temperature in your home. But, if it's not quite so hot that you need to turn the AC on, then you can opt for a window fan to get the job done without ramping up your electric bill. They're useful, and they work, they just don't have the same utility of a tower fan or personal fan.
Q: Is it better to have a window fan blowing in or out?
A: It all depends on the situation, which is why it's always a good idea to have a reversible fan.
When it's super hot inside, and you can feel the humidity creeping up on you (especially when you're trying to sleep), then it's a good idea to suck that hot air out of the room and get it outside.
If it's a dry heat, blow some air inside of that room and circulate it. Air circulation is essential to prevent a stuffy, uncomfortable feeling in the room.
Sign Up Now
GET THE VERY BEST OF GEARHUNGRY STRAIGHT TO YOUR INBOX