Fancy Footwork: The Best Boxing Shoes of 2022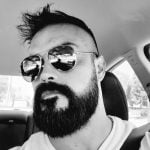 This product guide was written by Billy Brown
Last Updated
April 29, 2021
Billy Brown
Billy Brown has a problem sitting still. His constant search for the next challenge has him doing everything from running ultramarathons and climbing 14er's to gaining 40 pounds to compete in powerlifting, breaking several state records and growing a killer beard in the process. With over a decade of writing under his belt, his work, covering action sports, gear, and beer, can be found in a variety of publications. He lives with his wife and their two cats in Sacramento, California.
GearHungry may earn a small commission from affiliate links in this article.
Learn more
Headshots and liver hooks may get all the attention when it comes to boxing, but anyone who knows the sport is aware that footwork is literally and figuratively the foundation to everything you see upstairs. Being able to transition from being light and mobile to planting and throwing a solid punch is a skill that is almost universal among the top boxers in the world, and your footwear is a huge part of that.
We've talked about gloves and mouthguards, but you're not likely to make it past the first right without the right gear on your feet. The best boxing shoes are lightweight yet supportive, can provide traction on canvas that's slick with sweat and/or blood, and versatile enough to let you both bob and weave and plant and throw.
We scoured the market for the best boxing shoes on the market, checked out user reviews, and laced up a few pairs to work out in, and came up with the list below. Read on for the best boxing shoes you'll find, and let us know in our social channels if there are any we missed.
The Best Boxing Shoe Review
Title Boxing Velocity KO Boxing Shoe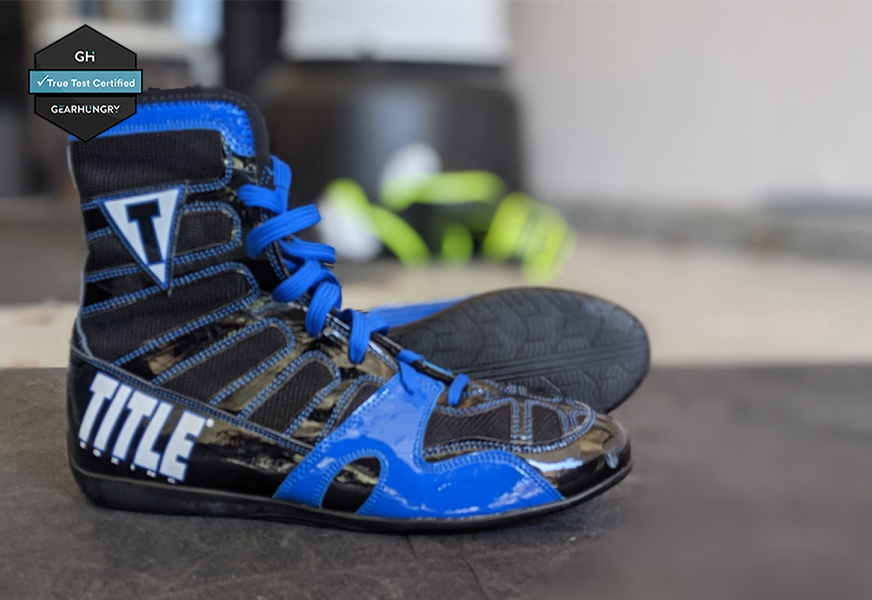 If you're looking for a shoe that may outlast your boxing career, the Velocity KO from Title Boxing is a great contender. What makes this shoe stand out is the shiny engineered leather overlays that run from the toecap of the shoe all the way to the top cuff. These tough overlays added more structure and support to the shoe and provided an abrasion-resistant shield to most of the surface area.
One downside to all of this protection is that the overlays didn't breathe well. But Title mitigated this by interspersing the protective areas with mesh panels that allowed built-up heat and moisture to escape. Combined with a low-profile midsole with just enough cushion to add comfort to a workout and a reinforced heel for extra support, and I had a shoe that could go the distance. Read the in-depth review here.
Key Features:
Padded Nylon Mesh
Gum Rubber Outsole
Firm overlays on exterior add support and durability
Low Profile EVA midsole
Reinforced Heel
Specification:
Brand

Title Boxing

Weight

11 oz. per size 10.5 shoe (verified)
Adidas Boss Hog 3 Boxing Shoe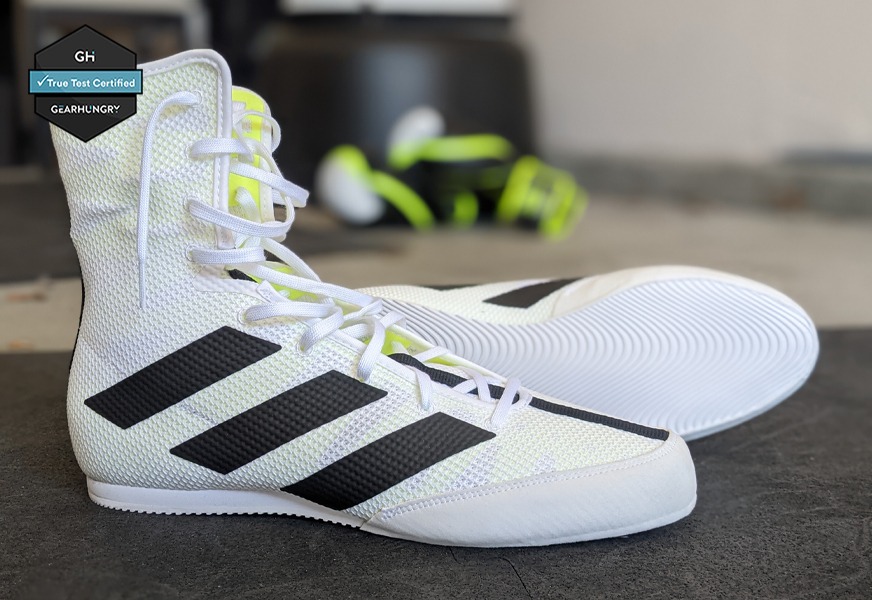 In the ring, I'm a fan of gear that does its job without calling attention to itself. The Boss Hog II from Adidas is a perfect example of this with its simple design and understated utility. The gum rubber outsole provided excellent grip, while the cushioned and slightly elevated heel kept my weight on my toes while I moved around the ring. The all-mesh upper allowed excess heat to move freely outside the shoe, which kept my feet cool and as dry as possible, and the synthetic suede toe cap added durability. 
During test workouts, these Adidas shoes felt amazing. The gum rubber outsole never dragged on the ground during ladder drills but stuck like glue when I planted and threw a punch. That all-mesh upper was the real standout here. Not only did it prevent overheating (and I run hot, especially when I work out), but it also allowed the shoe to conform completely to my foot, eliminating pressure points and hotspots. It was a comfortable shoe that never made its presence known. It did its job and let me do mine without getting in the way, just like the perfect piece of gear should. Read the in-depth review here.
Key Features:
Mesh upper
Lace-up closure
Cushioned Midsole
Gum rubber outsole
Specification:
Brand

Adidas

Weight

10 oz. per size 10.5 shoe (verified)
Ringside Undefeated Boxing Shoe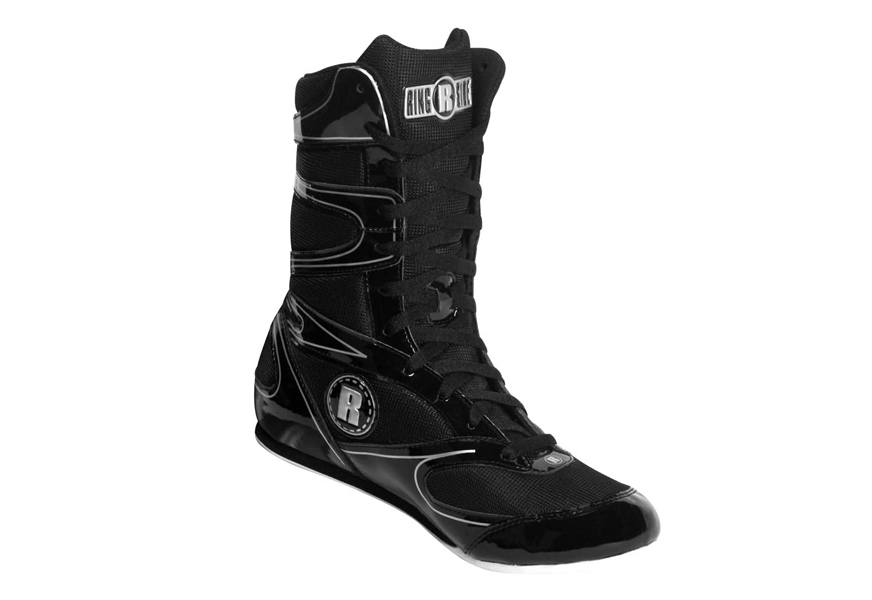 Boxers looking for maximum ankle support should take a good, long look at the high-top Undefeated Boxing Shoe from Ringside. "Undefeated" is a lofty claim, but if anyone has earned the right to the name, it's this lauded boxing gear company. The shoe's high profile secures the leg well past the ankle, providing support for the plants and pivots that the ankle goes through every time you throw a punch.
The patent leather vinyl overlays add to the support and make the outer more durable, while integrated mesh panels provide breathability. The non-slip rubber sole gives you grip on the canvas, ensuring that the only time you hit the ground is when you take a solid shot to the chin. So keep those hands up. To complete your boxing gear, choose any of these reliable mouthguards from our list.
Key Features:
High top ankle for added support
Non-slip rubber sole
Nylon mesh upper
Patent leather vinyl finish
Low Profile EVA midsole
Reinforced Heel
Specification:
Brand

Ringside

Weight

10 oz. per shoe
Otomix Men's Ninja Warrior Bodybuilding Boxing Shoes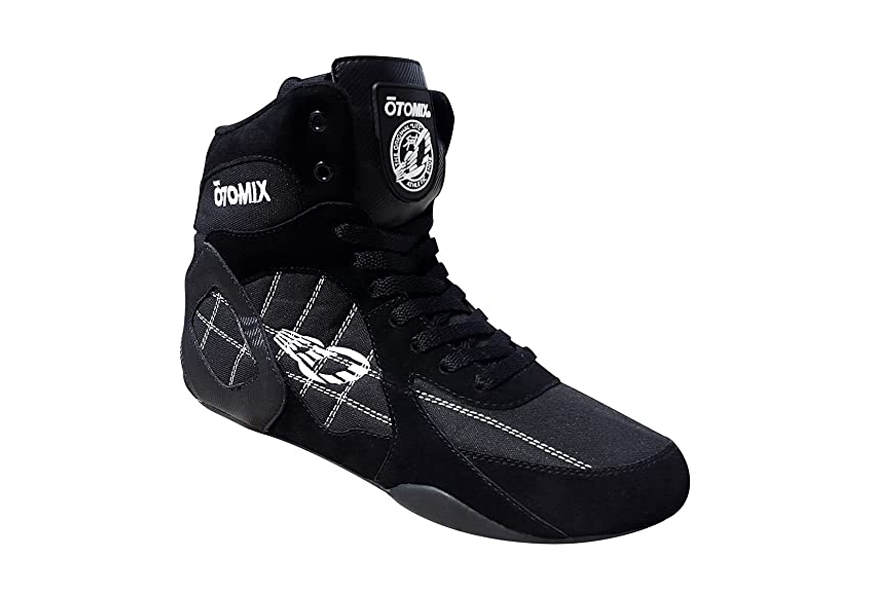 Looking for a shoe for a wide range of sports or wide boxing shoes to fit your wide feet? Then check out the Ninja Warrior Shoe from Otomix. I know this brand from my old wrestling days, and these have a similar profile because if it ain't broke, don't fix it, right?
Designed for a wide array of applications like weightlifting, wrestling, and boxing, these cool boxing shoes sport a low, padded ankle cuff and a wide toebox. The minimal sole gives you a perfect platform for heavy lifts like deadlifts and squats (if your ankles are flexible enough), and the non-slip rubber sole provides excellent grip on canvas, concrete, and wrestling mats. If the guys I wrestled in high school were any indication, these shoes are perfect for throwing punches in the ring and throwing newcomers around a wrestling mat. For more must-have boxing equipment, check out our list of the best speed bags on the market.
Key Features:
Wide toebox
Non-slip rubber sole
Padded ankle
Extremely flexible
Specification:
Brand

Otomix

Weight

11.3 oz. per shoe
Adidas Men's Adizero Boxing Shoes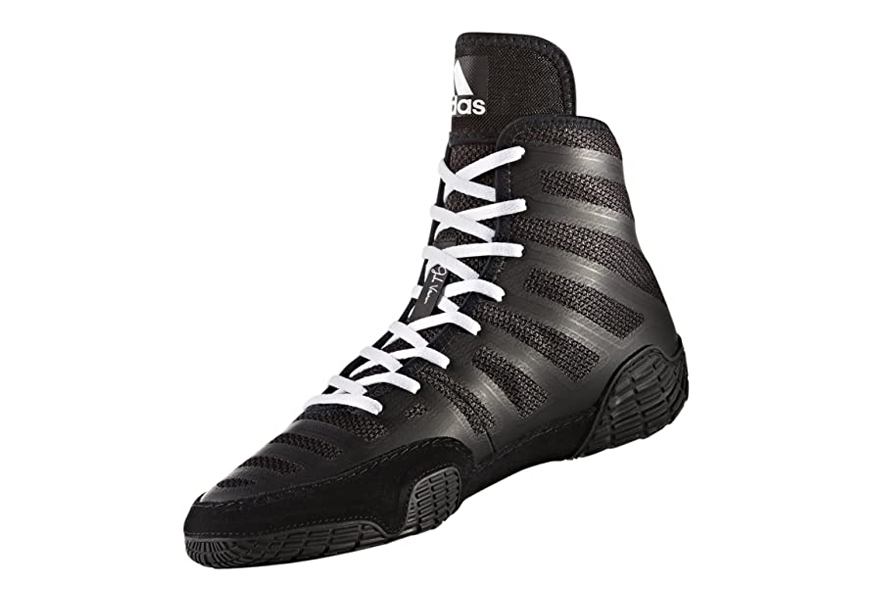 Yes, this is a wrestling-specific shoe. But for people who are training and not necessarily fighting, this shoe has terrific traction for those high-intensity boxing workouts. Plus, it looks cool as hell. Despite its lower cut, it provides plenty of ankle support, thanks to the reinforced eyelets, which let you crank down for a snug fit, and the flexible wrestling outsole provides a natural feel as well as a sock-like fit.
But the main selling point of this shoe is the unique rubber outsole. The split-sole construction adds to the flexibility, while the unique tread pattern helps grip the floor. I mean, look at that thing. Looks like an off-road truck tire. This grip is going to come in handy during boxing-style workouts that require calisthenics combined with throwing punches at a bag or shadowboxing. Nobody wants to slip during a side lunge and fall into a split. These grippy kicks will make sure that your feet stay planted where they belong.
Key Features:
Grippy rubber outsole
Breathable Mesh
Split-suede outsole wrap
Quick drying
Specification:
Brand

Adidas

Weight

10 oz. per shoe
Ringside Diablo Boxing Shoes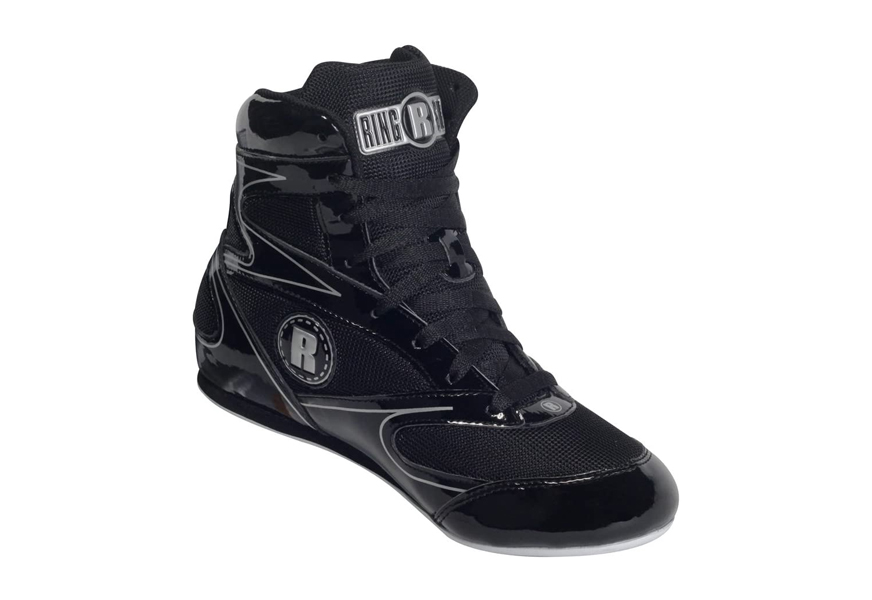 High-top boxing shoes provide plenty of support, but they're almost universally a pain in the ass to put on. If you're looking for a shoe that you can whip on and off with ease but doesn't skimp on support, Ringside's Diablo Boxing Shoes could be a perfect choice.
Unlike many other boxing shoes, the Diablo's cuff ends just above the ankle. Not only does this make the shoe easier to get on, but it should also make for a much more lightweight shoe. We couldn't find any specific weights on the shoes, but the similarly built high top from Ringside weighs in at 12 ounces per shoe, so we'd guess that these are in the 9- to 10-ounce range. The patent leather overlays provide support through the midfoot, heel, and ankle cuff, while the non-slip rubber sole keeps your feet steady while you work. If you are also a fan of kickboxing, be sure to check out these amazing kickboxing gloves, too.
Key Features:
Patent leather vinyl upper
Low top ankle
Breathable Mesh
Non-slip rubber sole
Specification:
Brand

Ringside

Weight

12 oz. per shoe
Adidas Men's Combat Speed 5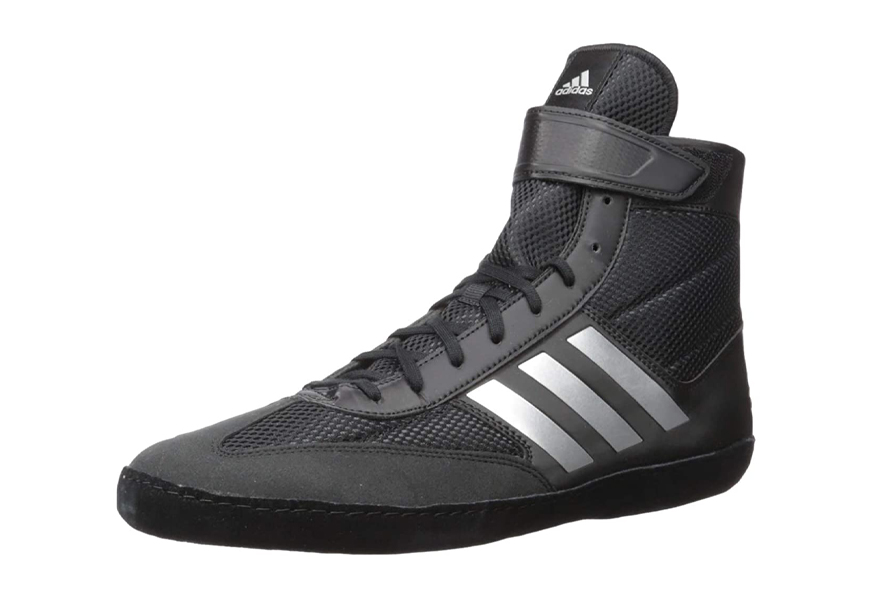 It feels weird to say that comfort is a big deal in a sport where being punched in the face is inevitable. Still, really, any bit of comfort in an otherwise uncomfortable situation is a blessing.
Case in point: the Combat Speed 5 shoe from Adidas. Thanks to the super flexible outsole, single-layer mesh body, and supporting TPU stripes on the midfoot, these boxing shoes sport a sock-like fit. The shoes wrap around your feet and conform to your foot shape, making it feel like you're not wearing any shoes at all. The result is a shoe that fits on your foot like they were custom-made. On top of that, features like leather reinforcements, a Velcro lace tie-down, and a wide range of colors make this a killer overall boxing shoe.
Key Features:
Textile and synthetic upper
Velcro lace securing
Breathable mesh
TPU support on midfoot
Leather and rubber sole
Specification:
Brand

Adidas

Weight

9.8 oz. per shoe
Title Speed-Flex Encore Mid Boxing Shoes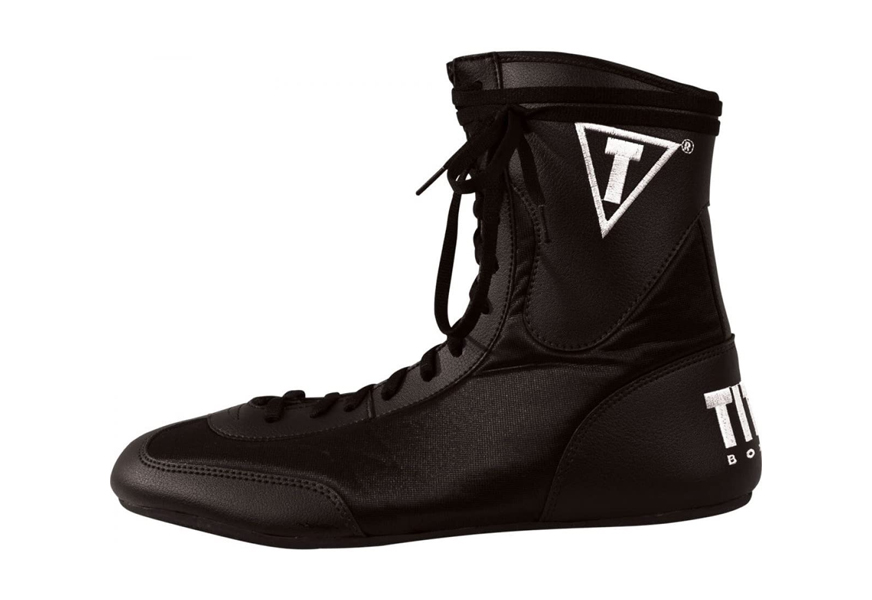 If you're new to boxing and don't know what kind of shoe you want, going with a classic is a safe bet. Title Boxing is one of the most well-regarded companies in the boxing world, and the Speed-Flex Encore Mid is a great classic shoe. The shoe's upper is a blend of tight-weave nylon and leather, creating a durable (if not extremely breathable) upper, and the polyurethane outsole is designed specifically for boxing.
The sculpted sole and tough-as-nails upper make this shoe a great option for newbies looking to start training and crafty veterans looking to speed up their footwork. Not only is the shoe built for quick footwork and speed, but it's also less than fifty bones, so you can take a shot on these shoes and still have money left over for some wrist wraps or some decent headgear.
Key Features:
Synthetic leather upper
Tight weave nylon panels
Polyurethane soles
6-inch height
Contoured ankle cuff
Specification:
Brand

Title Boxing

Weight

10 oz. per shoe
How We Tested & Why You Can Trust Us
To give you an in-depth look at each boxing shoe on this list, I researched the best products online, recalled what I've loved about boxing shoes that I've used in the past and called in a few pairs to test and evaluate any pieces that were new to me.
I rounded out my first-person impressions with user reviews online to gather a comprehensive view.
I also spent several years training as a boxer in a competitive gym.
Who This Is For
This article is intended for people who are looking to find the best boxing shoes for fitness, training, or competition. The shoes on this list range in cuff height, breathability, and price range.
How We Picked
I tried to find boxing shoes that would be useful in all kinds of situations and for a range of priorities and ones that would fit different budgets.
I looked at the grip, fit, durability, and breathability, among a few other factors and categorized them according to what priorities readers may be looking for in a good pair of boxing shoes.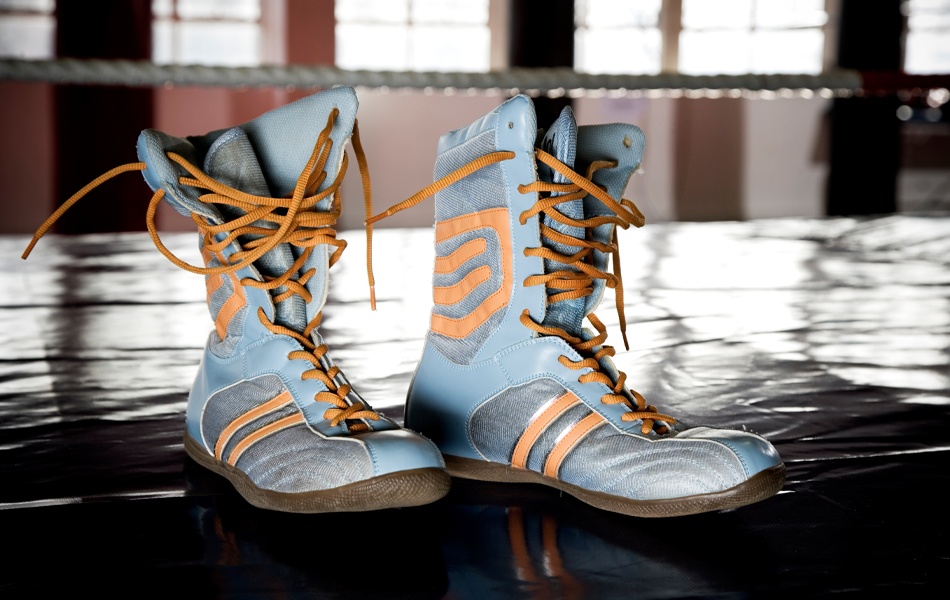 Features to Look for in Boxing Shoes
Material - The materials that you'll find in a boxing shoe are similar to what you'd find in many other kinds of performance footwear.
Durable materials like leather and tight-weave synthetics are combined with more breathable materials like open-weave synthetic mesh to help vent excess heat.
After that, the upper is generally paired with a thin EVA midsole and a grippy, flat rubber or polyurethane outsole for a better grip of the canvas or workout area.
Grip - You'll be moving around a lot when you train, spar, or fight, bobbing and weaving, and throwing counterpunches. All of this requires speedy footwork and a grippy sole.
A good rubber or polyurethane outsole is essential for maintaining your footing whether you tend to dance around the ring or you're more of a plant your feet and slug it out kind of puncher.
A grippy outsole is especially key to keeping your footing on a surface that can become slick with sweat or blood or with the beers that the fans throw in the ring if you keep running from your opponent. Get in there and hit the guy. Geez.
Ankle Support - Okay, this is a big deal, and it's one of the reasons why you see so many tall boxing shoes. When you think about it, the ankles take a surprising about of punishment in training sessions and fights.
From stepping into a punch to pivoting on a big hook to slipping your opponent's punches, your ankles play a huge part in your success as a boxer. So it makes sense to support them with a higher shoe.
Even if you have strong ankles, it pays to have a shoe that comes up to at least mid-height to keep them from rolling or spraining.
Fit - Like the outsole, a great fit is essential to maintain traction on the canvas, as well as delivering power when you punch.
While many boxing shoes fit true to size, I've seen lots of reports of shoes coming in a half size too big, so be sure to check out user reviews before you make a purchase.
Sole Thickness and Texture - Most boxing shoes have a thinner sole to allow you to have a good feel for the ground under you and to help prevent ankle rolling due to all the lateral movement you'll be making. Also, look for a sole with a grippy texture, whether it's a split sole or one with treads, like the Adidas Combat Speed 5 or the Lonsdale Contender.
Weight and Thickness - Whether you're going through a 12-round fight or a few hours of training, a heavy pair of shoes is going to cause fatigue. Most boxing shoes will weigh somewhere around 10 to 12 ounces, so look for a pair in that range. If you're in love with a pair, but don't see a listed weight, remember that they're usually within that range. Just make sure it has a decent return policy if they're too heavy.
Thicker shoes can be more comfortable, but they often sacrifice breathability. Be on the lookout for boxing shoes with some textile or mesh panels to help vent excess heat.
Stationary Stability - As more of a slugger than a boxer, I'm a fan of shoes that help me pin someone into a corner so I can tenderize them. Shoes with stationary stability help you to plant your feet and put as much power into every punch so you can do as much damage as possible before your opponent slips back into the middle of the ring.
If this fits your style as well, look for a shoe with a wider, more stable outsole. Search for soles that are slightly flared out to provide a stable base for putting all of your punching power into a heavy bag (or a liver).
Structure - The build of a shoe's upper should reflect your priorities: do you need a more breathable shoe? Pick up one with plenty of mesh ventilation.
Want a more supportive feel? Go for one with plenty of vinyl or patent leather on the upper since more robust materials like these add structure.
If you're somewhere in the middle, look for a mesh upper with more supportive reinforcements. Title Boxing has plenty of shoes with a mix of both, so you might want to start your search there.
Style - Nothing wrong with wanting to look good. Look for a shoe with the styling that speaks to you, whether that's a more classic look like leather boxing boots or a flashier patent leather or vinyl.
Strap - Okay, this isn't really essential, but it's worth a mention. Mid-height and tall boxing boots are a pain to get on and off, and a shoe sporting those little looped tabs on the back of the ankle cuff and the tongue make life a lot easier. It's not something that you absolutely need to have, but they definitely come in handy.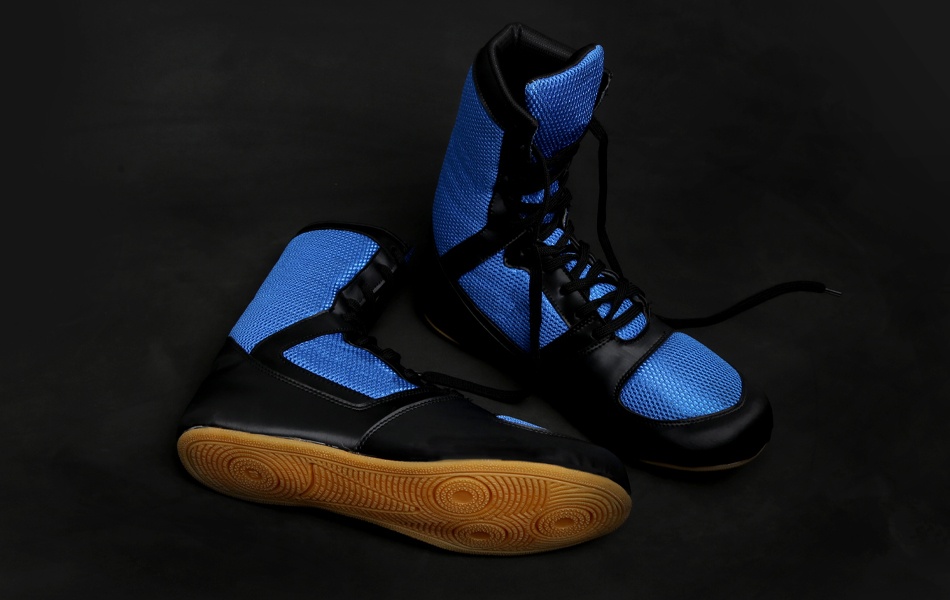 Boxing Shoe FAQ
Q: What's special about boxing shoes?
A: Designed specifically for boxing, these shoes are made to provide lightweight support and excellent grip to help the fighter combine constant motion with sudden plants to throw punches.
The top boxing shoes are specifically designed to protect, support the ankle and provide excellent traction.
Q: Why are boxing shoes so high?
A: Most come as mid-height or high-top boxing shoes to provide extra support for the ankle. However, there are low-top boxing shoes for people who prefer them.
Q: Do you wear socks with boxing shoes?
A: It's generally a good idea to wear socks with shoes for boxing, as the sock material will lessen friction between your feet and the shoe. This helps to minimize blisters. Also, it helps to minimize shoe stank.
Q: Why are boxing shoes flat?
A: Boxing footwear is usually flat to help fighters maintain balance in a wide range of stances and movements. Any added heel lift like you'd see in running shoes, or lifters risk canting the fighter forward and throwing off their movement.
Q: Can you wear boxing shoes casually?
A: You can wear professional boxing shoes casually, but if there's anyone who can pull it off, I haven't met them yet. Also, these shoes are made for work inside a gym.
Frequent exposure to abrasive surfaces like concrete will shorten the outsole's lifespan.
Q: How should boxing shoes fit?
A: Good boxing shoes should feel snug around the midfoot but with no contact between your toes and the front of the shoe. A well-fitting boxing shoe won't allow the foot to slide around in the interior.
Q: Can you run in boxing shoes?
A: It's recommended that you do not run in boxing shoes. The thin soles don't provide much cushioning from foot-strike impact, and it will add wear and tear to your shoes and wear them out quicker.
Sources:
The Complete History of Boxing Equipment - Title Boxing
Sign Up Now
GET THE VERY BEST OF GEARHUNGRY STRAIGHT TO YOUR INBOX