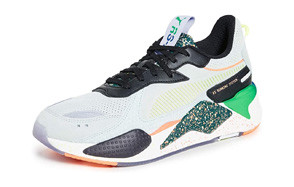 PUMA Select Men's RS-X FD Sneakers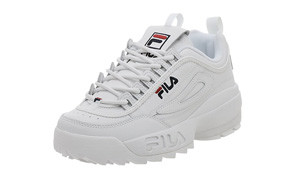 Fila Men's Strada Disruptor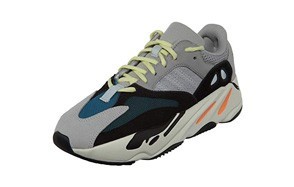 Adidas Yeezy Boost 700 Wave Runner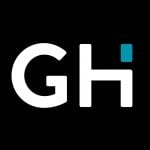 Remember when you used to be so embarrassed by your Dad sporting his favorite chunky monkey trainers back in the day with his high waisted jeans? You know the ones, probably the only "label" that he owned and a little bit on the Michelin Man side! Well, they're back with a vengeance and more popular than ever and have been taken over by all the biggest, brashest and boldest of the brands. We're talking Balenciaga, Nike, Louis Vuitton, and New Balance. Now, very much a symbol of street style cool, the old school Dad shoe has been high-jacked and re-invented by the urban fashion elite! So let's put our best shiny white high top foot forward and check out the Best Dad Shoes and the reason why this retro sneaker style is selling in its millions with price tags that your old Dad would never have dreamt of spending. We're blaming Kanye!
The Best Dad Shoe
Dad Shoe Buying Guide & FAQ
How to match streetwear
Trainers are no longer only appropriate to wear for the gym or when participating in professional sports. If you have the swag and the confidence, you can pull off a pair of sneakers, especially a pair of the currently fashionable Dad style shoes wearing your civvies too. Hell, some of your fashion aficionados might even don them with a suit.
There's so much choice out there today, and a pair of trainers is undoubtedly a comfortable option too. There are some rules to follow when it comes to matching your trainers with your clothing but you are in luck, when it comes to streetwear, the trend for chunky style Dad shoes is most definitely one that works and that is very much accepted. In fact, the bolder, the better when it comes to matching with your streetwear so no need to be shy and retiring.
We'd just say, if you have invested in a luxury pair of attention seeking trainers, allow them to do the talking. Keep the rest of your outfit fairly minimalist with a simple t-shirt, hoodie and a pair of jeans and really show off the investment sneakers that you have on your feet. After all, if you've gone all out Louis Vuitton or Balenciaga, chances are they'll have cost more than the rest of your entire streetwear ensemble combined so let them bask in their glory and keep your Dad style to a pair of classic jeans with an inoffensive, simple sweatshirt.

Dad Shoe FAQ
Q: What are dad shoes?
A: Dad shoes are the latest sneaker craze to hit the stores, selling out in their millions but really there' nothing new about them and the jury is out as to whether they are trendy and totally amazing or downright hideous and best locked up with your shell-suit and memories of the 80's and 90's. In a nutshell, Dad Shoes (as they have been affectionately dubbed) are that old-school style, chunky and bulky trainers that, you guessed it, your Dad used to wear when you were a kid. You could see him coming a mile with his bouncy white Nike's, sports socks and those horrendous light-wash jeans that he used to wear too high with an OTT leather belt and his t-shirt firmly tucked inside. They were, and are, very much on the bulky side and certainly far from subtle. They are however undeniably popular, seriously comfortable and hugely coveted by the fashion pack. Your Dad's eyes will no doubt be watering at some of the price tags too. They're by no means sleek or discreet, and they have their fair share of haters, but with Kanye West's Yeezy label doing Dad shoes, they've certainly got our attention. They're the high fashion sneakers of today, the streetwear shoes of choice for many an urban Daddy Cool! Oh yes, and they are still mostly white, just like your old Pa used to wear.
Q: What is streetwear?
A: Streetwear is more than fashion or a set of products, it's almost its own subculture and way of living and being. It's historically been defined and associated with an urban style and vibe of low key, relaxed and comfortable clothing with its origins in music (especially hip hop) and sports (like skateboarding or if you live on the West Coast, surfing). Commonly streetwear is a term used to refer to baseball caps, sneakers, hoodies, and basic tees. It's a design aesthetic that is both athletic but also fashion orientated. These days the boundaries between high fashion and what we call street fashion have become more blurred as designers like Hedi Slimane for Dior have changed the rules of engagement, but certainly, when it started out, streetwear had no conventions, no big stake financial backers and was all about self-expression.
Q: Why are dad shoes so popular?
A: Well, first up they are undeniably comfortable. Your Dad would never have worn them so frequently in the past if that wasn't the case. They're a great go-to option for a lazy, dress down day when you just want to chill with the still!  Really though, they're popular because they have been reinvented, resurrected and popularized by the plethora of big brand collaborations with the stars of screen, track, and the recording studio. They're a nod to the retro days of old, with a vintage appeal but modernized entirely. When Louis Vuitton decides to do a Dad Shoe, you know that the scene is set for a sneaker comeback of the highest order. If you're lucky, your old man might still have a pair of proper old-school Fila kicks still hiding in his wardrobe that your Mum has long since forbidden him from ever wearing again. If so, we suggest you hot foot it round there now and bag them for yourself as the more iconic and dad like, quite frankly, the better, when it comes to this classic dad shoe revival.
Related Reads: Gifts For New Dads