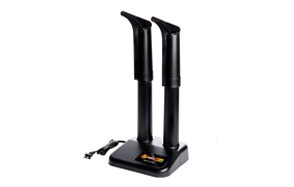 PEET Dryer Boot & Shoe Dryer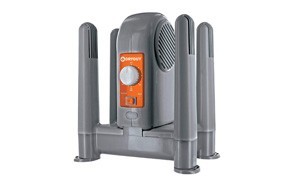 DryGuy DX Forced Air Boot Dryer and Garment Dryer
Dr. Dry Electric Shoe/Boot Dryer and Warmer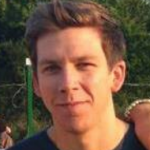 Soaking wet shoes are no fun and can actually cause damage to the material of your footwear, so it's no wonder that electric boot and shoe dryers have found their way onto the market in recent years.
If you're keen to try out the advantages of a boot and shoe dryer for yourself, you will need to know which are the best models available for purchase on the market today. We give you advice about the top eight best shoes boot dryers so that you can make an informed purchasing decision.
The Best Shoe & Boot Dryer
Things To Consider When Purchasing A Shoe Dryer
Q: Why Use A Shoe And Boot Dryer?
A: Traditionally, getting your damp shoes dry has always been a pain – having to the loosen laces, pull out the tongues, remove insoles and then rely on natural air circulation to dry out your footwear was a time-consuming process and quite frequently resulted in shoes still being wet the next time they were worn, resulting in discomfort and bad odors.
With wet shoes being prone to mold and bacteria growth that can result in irritating skin conditions, it's surprising that so few people are aware that there is such a thing out there as a shoe dryer, and yet with both traditional warm air models and modern electric insert warmers available these days, there's no longer any need to worry about going out in the rain in your favorite shoes or boots – these handy gadgets can get your footwear bone dry in no time.
Going out in the rain or snow leaves your shoes and boots soaked through, and quite often you find that the next time you pull them on they're still damp and uncomfortable, as well as possibly smelly and riddled with bacteria. However, if you use a shoe and boot dryer, you can find that all of the problems associated with wet footwear is eliminated.
For a start, warm, dry shoes are much more comfortable to put on and wear than wet ones- especially if you have to work in them - and not only that, but wet footwear also often causes blistering and allows fungus and bacteria to grow that can then result in skin problems such as athlete's foot. Shoe and boot dryers eliminate these contaminants for a more comfortable and pleasant environment for feet.
Another advantage of using a boot dryer is that it can make your footwear last a lot longer. By eradicating mildew and mold which flourishes in wet and damp environments and which can damage materials causing their premature deterioration, you can be confident that your shoes and boots will last a lot longer, saving you the time, hassle and money of shopping for footwear more regularly. Your shoes will feel and look newer for longer giving you better value for money overall.
As sweat can also be effectively removed by a shoe and boot dryer, there'll be no more unwanted odors in your home. As these gadgets can also be used on all kinds of different shoe materials, you can easily use them on all of the different footwear in your wardrobe without having to worry about accidental damage, even if it is made from delicate materials like vinyl.
Things To Consider
If you've decided that you're ready to invest in a boot and shoe dryer so that you can enjoy the benefits of having cosy and comfortably warm and dry footwear, you need to know which factors you should bear in mind before making a final decision over which is the best model for your needs. Some of the factors to keep in mind before making your purchase include:
Heat levels – not all shoe and boot dryers are capable of achieving the same temperature, and looking at which temperature they are able to reach is important. Some models have adjustable temperature modes, making them more versatile and safer for use with certain footwear materials, while some models use only low heat and although these take longer to dry your shoes thoroughly, they are also often safer than those which produce higher heat levels. This may be something you wish to consider when choosing the right device for you,
Capacity – depending on your needs, you may wish to choose a model that is capable of drying several items at the same time. This is especially important for families with several members who all have boots or shoes which need drying after a day outdoors. Some models are larger and have extra tubes which enable drying of up to four separate garments or two pairs of boots to be dried simultaneously, saving time and energy.
Drip tray/reservoir – whenever possible, it's best to choose a model which comes with its own drip try as this is especially useful in drying shoes and boots which are soaking wet, protecting your floors and surfaces from the damage and hazards which can occur due to pools of water from footwear.
Dry time – if you need to get your shoes and boots dry in as short a time as possible, you need to check out the drying time for your chosen model of boot dryer. Some models are able to get garments dry in under an hour while others will take as long all night to ensure that your footwear is completely dry. If time is of the essence, you need to make sure you choose a model which suits your needs.
If you're looking for a quicker and easier way of making sure that your footwear remains dry and comfortable, a boot and shoe dryer is the perfect solution for you. Saving you the time of waiting for your footwear to air dry naturally, and helping to protect the investment that you've made in your shoes, these handy devices are an affordable way to ensure your footwear stays in good condition and lasts a lot longer.
The best shoe and boot dryers on the market today  are cost effective, low energy and high performance. Any of the eight gadgets we (Gear Hungry) recommended here are a great way of ensuring that the next time you pull on your boots after a walk in the rain you won't have to suffer from the discomfort of wet and uncomfortable feet.