Dry & Toasty: The Best Shoe & Boot Dryers Of 2022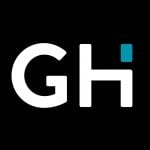 This product guide was written by GearHungry Staff
Last Updated
December 24, 2021
GearHungry Staff
GearHungry Staff posts are a compilation of work by various members of our editorial team. We update old articles regularly to provide you the most current information. You can learn more about our staff
here
.
GearHungry may earn a small commission from affiliate links in this article.
Learn more
There are many reasons you may want to invest in shoe and boot dryers, especially if you live in the wet or snowy parts of the world. Firstly, soaking wet shoes aren't much fun and if you've ever been unfortunate enough to spend a day in wet shoes or boots, you know how uncomfortable and miserable the experience can be. It can be even worse if you happen to be on a snowy mountain for the weekend with only one pair of boots. If they get wet during your outdoor activities, having a shoe and boot dryer with you can be the difference between having dry footwear the next day, or spending the day inside watching everyone else have fun.
Having wet footwear and not being able to dry it quickly and efficiently before you wear it again not only creates a breeding ground for bacteria and fungus to develop (which leads to smelly footwear and can even affect the health of your feet), but it can also lead to your shoes wearing out and becoming ruined a lot faster than usual.
If you're tired of dealing with soggy shoes and boots, it may be time to invest in your very own shoe and boot dryer. But how does one find the best boot dryer? From one-hour dryers to overnight units to deodorizing dryers to portable boot dryers- the options are many and the tyranny of choice can feel overwhelming. To help you get the right unit for your needs and budget, we've rounded up some of the best shoe and boot dryers currently available on the market. Pick one and put an end to ruined shoes and damp feet.
The Best Shoe & Boot Dryer
DryGuy DX Forced Air Shoe, Boot and Garment Dryer
Get the DryGuy DX Forced Air Boot Dryer and say goodbye to damp shoes and ruined boots today. This high-quality boot and glove dryer uses forced air to dry as many as 4 different garments, or two pairs of shoes, at the same time. It also features two removable extension tubes that are ideal for drying tall boots.
This versatile little electric shoe dryer is also exceptionally quiet. The central rotary fan works silently and delivers air to all parts of your footwear and circulates airflow for faster drying. It is powerful enough to dry most items in under 2 hours without causing any shrinkage, warping or damage. This dryer has the ability to heat up to 40.5° C/105°F which is just enough heat for use on shoes, boots, liners, gloves and hats, without being too hot as to damage your gear. It can also help to eliminate odors as well as inhibit the growth of mold and bacteria.
Designed to be used all year round, the DryGuy DX Forced Air dryer is perfect for drying your work boots from snow, rain-soaked hiking shoes, sweaty sports cleats and equipment, and even swimsuits. This is because it uses gentle forced air that won't damage some of the more delicate materials but will dry even the soaking wet boots rather quickly and very evenly. Easily one of the best boot dryers on the market!
Key Features:
Quiet central rotary fan
Two extension tubes for taller boots
Dry 4 items at the same time
Dries shoes in 3 hours or less
Heat/no heat option
Specification:
Brand

DryGuy

Model

2129

Weight

5 Pounds
Energy-efficient and safe thanks to the timer and on/off switch
Dries 4 separate garments (or 2 pairs)
Removable extension tubes for drying tall boots
Quiet running rotary blower
Dries most items in less than two hours
No covers for the tubes which are not being used so hot air is wasted
Weak airflow
The PEET Boot & Shoe Dryer does a lot more than just dry your footwear – it also neutralizes odors as well as minimizes bacteria that cause the bad smell often associated with damp shoes. More importantly, this PEET boot dryer is one of the safest on the market so you can leave it on all night or even longer. The warm air circulates gently around the interior of the shoes and it's not too hot so you won't need to worry about an overheating short circuit. This is one of the best boot dryers in this price range because you can leave it on indefinitely and it won't use up more energy than your average lightbulb.
One of the best aspects of this electric boot dryer is that is it safe to use on most types of materials, including leather, fleece, canvas, rubber and synthetic materials. The unit can be easily assembled without tools and it has a secure, strong base to support most types of shoes and boots.
If you live in a snowy or rainy area and love to spend time outdoors, this is a must-have. It is energy efficient and is protected by a 25-year manufacturer's warranty. It's also very quiet and the sharp angle of the drying ports ensures even the toebox can receive enough dry air to thoroughly dry the interior of your footwear. The only downside? It does take a while to dry boots, which is why it's best when used overnight. Make sure you also check out our guide to the best shoe stretchers.
Key Features:
Safe to use on most materials including leather and canvas
25-year warranty
Works silently
Gently circulates warm air making it safe to use
Uses very little electricity
Specification:
Brand

Peet Dryer

Model

M97-FSB

Weight

4.86 Pounds
Sharp angled dryer ports efficiently dry the toebox area
Energy efficient
Easy to assemble
Strong and secure base
Gentle and safe to use on most shoe materials
Suitable for all shoe materials
Must be unplugged following use
No on/off switch
Often takes a long time to dry boots
OdorStop Boot and Shoe Dryer and Deodorizer
Nothing can clear a room faster than a person removing smelly shoes. It's embarrassing for the offender and brings tears to the eyes of everyone else. The key to eliminating foot and shoe odor is to ensure your footwear is kept clean and properly dried. The OdorStop Boot and Shoe Dryer is one of the best boot dryers to get your boots, shoes and gloves completely dry but what you'll really love about this model is that also neutralizes odors and deodorizes footwear. It does this by killing the bacteria, mold and fungus that cause athlete's foot and other ailments. This dryer can be set for up to three hours so you can dry your footwear, hats, gloves and more.
You get 8 ventilation tubes that can be stacked so you can dry taller shoes and boots without compromising their shape. There are also 4 boot brackets and 2 air outlet caps so you can use this dryer in a variety of ways and for different clothing items. The back of the unit has a convenient on/off switch as well as a separate one for the deodorizer.
If you love your outdoor winter activities but hate wet shoes, this shoe and boot dryer will be a great addition to your home's mudroom. Keep your feet and shoes fresh and dry all year round with this excellent dryer that comes with a 3-year warranty.
Key Features:
Neutralizes and deodorizes shoe odor
Can be used in multiple ways
3-year warranty
High-output fan that gently dries your boots and gloves
Specification:
Brand

OdorStop

Model

OSOBSDD

Weight

7.55 Pounds
Eliminates odors as it dries shoes and boots
Turns off automatically after 3 hours
Low noise output
Adjustable tube configuration works for most footwear, gloves and gear
A slight smell can be detected during operation
The timer is only 3 hours so you may need to run it twice for soaking wet boots
MaxxDry SD Boot, Shoe and Glove Dryer
One of the best features of this boot dryer is its compact size (as well as its budget-friendly price). This compact model works a treat at drying soaked boots and things like gloves and hats. The MaxxDry SD Dryer can get your wet boots dry overnight so they are toasty warm when you put them on in the morning.
This dryer is a little slower than other convection dryers, but it does the job of getting your footwear dry while you sleep. It is energy efficient and it's pretty quiet too. The warm thermal air gently works at drying without compromising the quality and integrity of your footwear, no matter what material they are made from. It works exceptionally well at getting all types of boots and shoes bone dry, including specialist water shoes for hiking.
According to some boot dryer reviews, it may take a little longer to get your items fully dry, but it does the job quite well and eliminates bacteria, mold and perspiration during the drying process. If you're short on space, this is a great option.
Key Features:
Thermal convection dryer
Energy efficient
Silent fan
Uses gentle warm air
Specification:
Brand

MaxxDry

Model

2147

Assembled Dimensions (LxWxH)

11.38×10.88×4.63 Inches
Suitable for drying a variety of materials
Low consumption of electricity
Conveniently dries footwear overnight
Won't shrink or stiffen shoes or boots
Compact and portable boot dryer
Slow operation
Has no timer or switch
Doesn't have a glove adapter
DryGuy Simple Dry Shoe, Boot and Glove Dryer
The DryGuy Simple Boot and Glove Dryer is a light and efficient device that is simple to use and incredibly effective at drying and removing odors from shoes. DryGuy operates on thermal convection, heating up to 105°F. It's also silent and can get work boots, rain boots and other damp footwear dry in 6 to 8 hours.
This shoe and boot dryer draws a minuscule 25.5 watt of energy so you won't notice a significant increase in your energy bills. Within 20 minutes, this unit reaches its maximum temperature and then you are ready to start drying those winter boots, gloves, and other gear. The fluted tubes improve air circulation that gently but effectively dries your footwear and it's suitable for use on almost all types of materials, including delicate ones. There is even a drip tray at the base to catch the water coming off the wet shoes, while the sturdy fluted tubes keep the unit upright even when drying heavy or tall boots.
This convection boot dryer is ideal for winter boots, heavy work boots as well as everyday shoes. As a bonus, it's quite affordable. If you've never owned a boot dryer before and don't want to spend a fortune on your first unit, this is a solid option.
Key Features:
Ideal for drying gloves, shoes, boots and more
Fluted tubes improve circulation
Holds up heavier footwear with ease
Drip tray catches excess water from wet footwear
6 – 8 hours drying time
Specification:
Brand

DryGuy

Model

2136

Weight

3.4 Lbs
Lightweight yet sturdy
Silent running
Odor reducing capabilities
Suitable for virtually all shoe materials
Low energy consumption
Has no timer or switch
Takes longer to thoroughly dry shoes than other models
Manledio Electric Shoe & Boot Dryer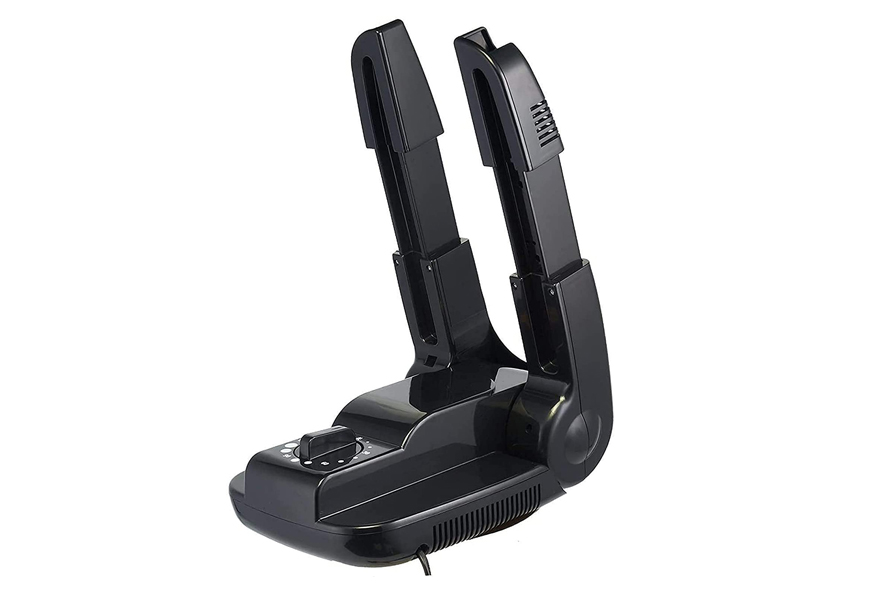 When you spend a day frolicking in the snow or playing a game of football in the rain, you need a boot dryer that works on more than just footwear. The Manledio Electric Shoe and Boot Dryer gives you the option to set a different drying time (10 to 120 minutes) for each different pair of shoes or boots so you don't need to worry about accidentally burning or damaging any of your valuable footwear. With 200 watts of power, you can also dry sweaty or rain-soaked shoes quickly and efficiently while neutralizing odors.
This electric boot dryer works at a constant temperature of 42°C or a little over 107°F. This produces air that is warm enough to get your footwear dry, but gentle enough to be used for delicate materials such as leather or suede.
While this may not technically be a small portable boot dryer, the stretchable and foldable bracket allows for easy storage when you don't need the dryer on a regular basis. And while it's not tiny, you can also take it with you when you hit the snowfields to dry boots at the end of each fun day so you can have them dry and ready to hit the slopes again the next morning. This model is large enough to dry multiple items together and you can dry short or tall boots, as well as other shoes, gloves, hats and more. Best of all, it's one of the cheapest boot dryers on the market!
Key Features:
Portable fold-up design is ideal for travel or storage
Intelligent timer to set different times for different items and materials
Quick-drying with an adjustable rack
Ideal for sports gear, rain shoes and more
Specification:
Brand

Manledio

Weight

2.3 Lbs

Dimensions

11.4 x 7.3 x 3.8 Inches
Integrated timer allows for safe drying overnight
200 Watts of power for efficient drying
Neutralizes odors
Can be easily stored away
Excellent value for money
The extension arms can be hard to lock into position
Kendal Shoes, Boots, Gloves Dryer
If you're looking for a versatile electric boot and shoe dryer, you can't go wrong with the Kendal Shoes, Boots, and Gloves Dryer. Not only can you use this unit for shoes and boots, but also other gear such as gloves, mittens and even pants. This is also the best ski boot dryer you'll find on the market and it's super easy to use.
When you're out enjoying the fun in a winter wonderland, you're bound to get some snow in your ski boots which can be fine for a while, but it will inevitably send you indoors to get warm and dry. While you're warming up with a hot beverage, you can connect your snow gear to the dangling tubes of this handy shoe and boot dryer while you get comfy next to a crackling fire. The 4 dry ports can be placed inside tall boots as well as shorter ones, but also the legs of your ski pants so when you're ready to hit the slopes again all of your gear will be dry.
You won't find a more convenient electric shoe dryerthan this one. It's lightweight and can be mounted on the wall where it's always ready and waiting to be used. It comes with its own wall mount kit which is a must for the family cabin in the mountains, but also mudrooms, laundries, garages and wherever else you usually leave your wet footwear and other gear. Not only will this boot dryer get your shoes and boots nice and dry, but it also features Aroma Active Carbon which absorbs nasty odors for fresher smelling footwear. This also eliminates the growth of bacteria and mold which is great for the health of your feet. Choose from two modes with a high or low-temperature setting and you can leave it on overnight, or if you step out as it has a three-hour timer for safety. Pack up this dryer when you go on your winter vacations so you can ensure everyone always has dry footwear. It weighs a mere 3.5 lbs making it portable and easy to take with you wherever you go.
Key Features:
Wall mountable, space-saving design
Aroma active carbon eliminates odors
Dry 2 pairs of boots, shoes, gloves or pants simultaneously
3-hour timer
Specification:
Brand

Kendal

Weight

3.5 Lbs

Power

AC 110-120V
Lightweight at just 3.5lbs
Aroma active carbon to absorb odors
Wall mounting kit included
3-hour timer for extra safety
2 temperature levels
Can dry 2 pairs of boots or other garments simultaneously
Can be cumbersome to mount
No covers for the unused tubes so warm air is wasted
Can emit a bit of a smell during operation
Whether you're getting ready for work or a snowy/rainy adventure, start your day on the right foot with the MaxxDry Shoe Dryer XL. Developed in rainy Seattle, this relatively compact boot dryer will have your footwear and gear dry and ready quickly and safely.
This glove and boot dryer can get most boots, shoes and gloves dry in about an hour and it can dry up to 4 garments at a time. There are removable extension tubes that you can add for taller shoes or boots, as well as hats or gloves. It also eliminates odors in soggy work shoes or ski boots so you won't offend your company when you remove your footwear at the end of a rigorous day outdoors. It's ideal for heavy boots and it dries gently so you won't need to worry about shrinkage or damage to your footwear.
To add to the versatility of this unit, you can use it all year round to dry your sneakers after a sweaty session of basketball with your buddies as well as surf shoes or any other footwear you get wet. It has a quiet full ball-bearing motor. All you need to do is select the ideal temperature depending on the material your footwear is made from, or you can take the safe option and choose no heat to dry your shoes. The drying process you choose is entirely up to you but do follow the instructions to set the right temperature and times.
Key Features:
Temperature selection dial
Heat or no heat option
Removable extension tubes for tall shoes or boots
Quiet full ball bearing Motor rated at 80,000 hours
Eliminates odors, perspiration and bacteria
Specification:
Brand

MaxxDry

Model

02000

Dimensions

9 x 6.25 x 21 Inches
Dries most garments in an hour or less
Eliminates odors from perspiration and bacteria
Compact and easy to store
Ideal for heavy boots
A little noisy to operate
No covers for the unused tubes
Shoe & Boot Dryer Buying Guide
Why Trust Us
We love spending time outdoors all year round and winter is one of our favorite seasons because we love snowy sports and activities. However, nothing can put a stop to the fun as quickly as cold, wet boots or shoes can. At this point you basically have one of two choices - spend the rest of your time watching from a warm room or get your gear dry and get out there again.
We always choose the latter so we know the benefits of using a shoe and booty dryer as opposed to trying to dry wet footwear and other gear by an open fireplace or scattering them on every available radiator. Shoe and boot dryers get our gear dry fast so we can spend more time on the slopes enjoying activities such as skiing, snowboarding or a serious snowball fight.
Who This Is For
This guide is for anyone who finds themselves in wet shoes or boots on a regular basis. While boot dryers are the ultimate device to have during snowy winters and rainy falls, they are also incredibly useful in the middle of the summer if you get caught out in the rain.
Nobody likes wearing wet footwear. It's uncomfortable and it can be detrimental to your feet as well as your shoes. Having a shoe and boot dryer in your home ensures you can dry your footwear quickly or, at the very least, overnight so if you have a comfy pair of everyday shoes or work boots, you won't have to wait for days before you can wear them again.
How We Picked
We looked at a variety of different shoe and boot dryers and shortlisted the ones in this guide with a number of key features in mind. Firstly, a shoe dryer needs to be easy to use. We also looked at temperature settings, drying times, and the versatility to dry more than just footwear. Safety is always an essential feature, so we took it into consideration when compiling this guide. We are working with heat, after all, so we also looked at energy efficiency.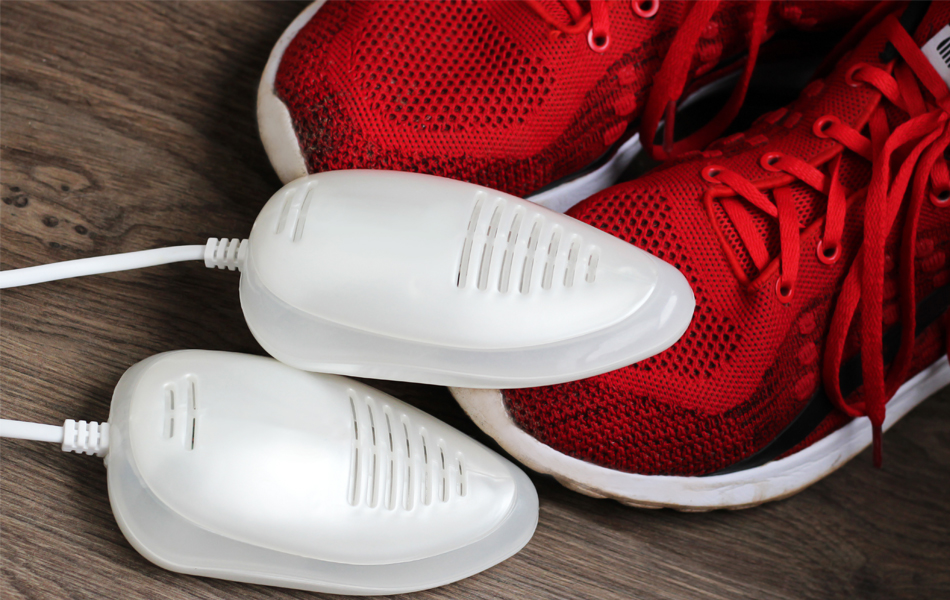 Features To Look For In Shoe & Boot Dryers
If you've decided that you're ready to invest in an electric shoe dryer so that you can enjoy the benefits of having cozy and comfortably warm and dry footwear, you need to know which factors you should bear in mind before making a final decision over which is the best model for your needs. Some of the factors to keep in mind before making your purchase include:
Heat levels – Not all shoe and boot dryers are capable of achieving the same temperature and looking at which temperature the unit you're eyeing is able to reach is important. Some models have adjustable temperature modes, making them more versatile and safer for use with certain footwear materials. Some models use only low heat and although these take longer to dry your shoes and ski boots thoroughly, they are also often safer than those which produce higher heat levels. This may be something you wish to consider when choosing the right electric boot dryer for your needs.
Capacity – Depending on your needs, you may wish to choose a model that is capable of drying several items at the same time, damp boots, gloves, helmets, and other gear included. This is especially important for families with several members who all have boots or shoes that need drying after a day outdoors. Some boot dryers are larger and have extra tubes which enable drying of up to four separate garments or two pairs of boots to be dried simultaneously, saving time and energy.
Drip tray/reservoir – Whenever possible, it's best to choose a model that comes with its own drip tray as this is especially useful in drying shoes and boots that are soaking wet. Not only does this protect your floors and surfaces from water damage, but it also prevents a puddle of water from collecting around the unit which can be hazardous for those passing by during drying. Of course, if your footwear doesn't normally get soaking wet but rather damp, this feature is not a must-have.
Dry time – If you need to get your shoes and boots dry in as short a time as possible, you need to check out the drying time for your chosen model of boot dryer. Some units are able to get garments dry in under an hour while others will take as long all night to ensure that your footwear is completely dry. If time is of the essence, pick a shoe and glove dryer that dries quickly and efficiently. If safe drying and durability of your boots is your No.1 concern and you don't mind waiting longer for your footwear to get completely dry, we recommend getting a boot dryer that dries slowly and gently, typically overnight.
Overall, if you're looking for a quicker and easier way to make your shoes, boots, gloves and other gear dry and ready, a boot and shoe dryer is the perfect solution for you. Saving you the time of waiting for your footwear to air dry naturally, and helping to protect the investment that you've made in your shoes, boot dryers are an affordable way to ensure your footwear stays in good condition and lasts a lot longer.
Safety Tips For Using Shoe & Boot Dryers
For the most part, boot dryers are quite safe to use and shouldn't pose any hazards to people or property. However, this is a device that produces heat so it is essential to follow a few safety tips when using a shoe dryer.
Keep your shoe dryer away from other heat sources such as room heaters or open fireplaces. The exterior of most boot dryers is made of plastic which can deteriorate if they are constantly exposed to high heat.
Avoid using shoe dryers to dry soaking wet shoes or boots. While some models can take soaking wet footwear, others may not be able to. Whenever possible, allow the excess water to drip out of the shoes before placing them on the boot dryer, or use a towel to soak up as much water as possible.
Ensure the air ducts are not clogged with lint or dust.
Don't use your shoe dryer in a cramped place. Place it in a room with plenty of ventilation.
Check your shoe dryer for damage as often as possible.
Avoid cheap, inferior boot dryers.
Unplug your shoe dryer when you're not using it.
Avoid running the shoe dryer for periods longer than the automatic shut-off timer allows. If you have more shoes to dry, allow the unit to cool off a little before using it again.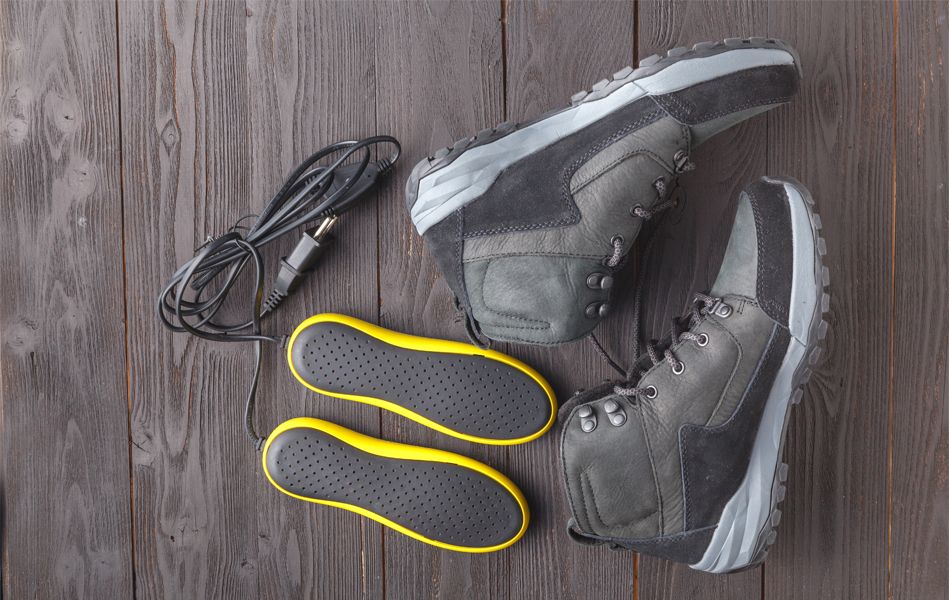 Shoe & Boot Dryer FAQ
Q: Can you put socks on a boot dryer?
A: With most boot dryers you can definitely put socks on them to dry, as well as other garments such as gloves, helmets, hats, and more. However, it's always best to check the User Manual of your boot dryer beforehand, just to be sure.
Q: How long can I leave a shoe dryer on?
A: This really depends on the make and model of the shoe dryer you have. The best boot dryers have a timer limit in which case they automatically turn themselves off once that time has passed. However, not all boot and shoe dryer units come with a timer, and you may need to turn them off manually when your footwear is dry and ready. As always, it's best to follow the instructions provided by the manufacturer of your particular shoe, boot and glove dryer.
Q: Is it safe to leave a boot dryer on all night?
A: Again, this depends on the make and model of the boot dryer you own. If the drying temperature is low enough and the unit has been designed to work overnight, then it should be quite safe to leave the boot dryer on all night. Just make sure it's away from other heat sources.
Q: Are shoe dryers bad for the shoe?
A: No! In fact, the exact opposite is true. Shoe dryers use gentle heat to dry shoes and most models also eliminate bacteria, mold and perspiration odor. Left unchecked, these issues can cause the materials of most shoes to deteriorate faster so removing the sources can actually increase the lifespan of your shoes while keeping them fresh and dry.
Sources:
Tips And Tricks For Keeping Your Shoes Shipshape - The Seattle Times
Winter Foot Care Mistakes To Avoid - Patient
Sign Up Now
GET THE VERY BEST OF GEARHUNGRY STRAIGHT TO YOUR INBOX