Skate Right, Skate Hard: The Best Skateboard Shoes In 2022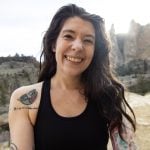 This product guide was written by Tuesday Kirby Kahl
Last Updated
April 30, 2022
Tuesday Kirby Kahl
Tuesday Kirby Kahl is a contributor at Gear Hungry. Her fierce love for the outdoors fuels everything she does. Her professional pursuits include writing, creating art, and photography. These professional passions allow her the time to live life outside as a rock climber, skier, runner, backpacker, paddle boarder, swimmer, and explorer. When Kirby is indoors, she enjoys tea, whisky, old films, cooking, and baking. Her product testing and feedback have shaped the design of everything from climbing shoes to candles.
GearHungry may earn a small commission from affiliate links in this article.
Learn more
Grab your longboard or electric skateboard and flip on Blink and Avril, because we're slipping back in time to find the ten best skateboard shoes on the market. Proper grips, traction, comfort, and above all else, keeping it close to that California 80's/90's style.
We've done full guides on Converse shoes and Vans shoes, two notably iconic brands in the skateboard shoe space, but for this guide, we're taking a look across the aisle to find the best of the best. Whether it's for function (you want shoes that will keep you secured as you perform stunts and flip tricks), or for style (because let's face it, nothing beats the chill and practical skater style) you're in for a wild ride. From Vans to Adidas to Nike to DC shoes, we've rounded up some of the comfiest, most durable, and yes, highly stylish skate shoes currently on the market.
Stick through to the buying guide to find out everything from the insole to the eyelets, what makes it all work together, and how to find the best, most comfortable skateboard shoes for your needs and budget.
The Best Skateboard Shoe
You can't escape the fact that Vans is the classic silhouette we all think about when it comes to skateboarding footwear at the skate park, on the streets and almost every classic skate movie. Not only did they claim our top spot for the best skate shoes, but they've stolen our hearts one more time with their Classic Slip-On. This canvas shoe is my go-to shoe for everyday wear whether I'm routesetting, coaching, skating or running errands.
These comfortable shoes are my absolute favorite and the show you'll see me in most. Slip them on and head out the door, drop the board and you're ready to roll. Vans has, of course, thrown their waffle outsole for the best board traction in the industry, and made these out of durable canvas for a quick and easy clean. Diamond weave along the bottom helps mount your movements to stay in place, even when your board is trying to slip out from under you. Don't forget to also check our guide to the top Puma shoes.
Key Features:
Canvas construction with classic outsole stripe along the edge
Vans signature waffle outsole for maximum board grip
Classic checkerboard design with rubber insole
Slip-on design for fast action
Abrasion-resistant
Great for casual footwear
Specification:
Brand

Vans

Model

Classic Slip-On

Weight

2.09 Pounds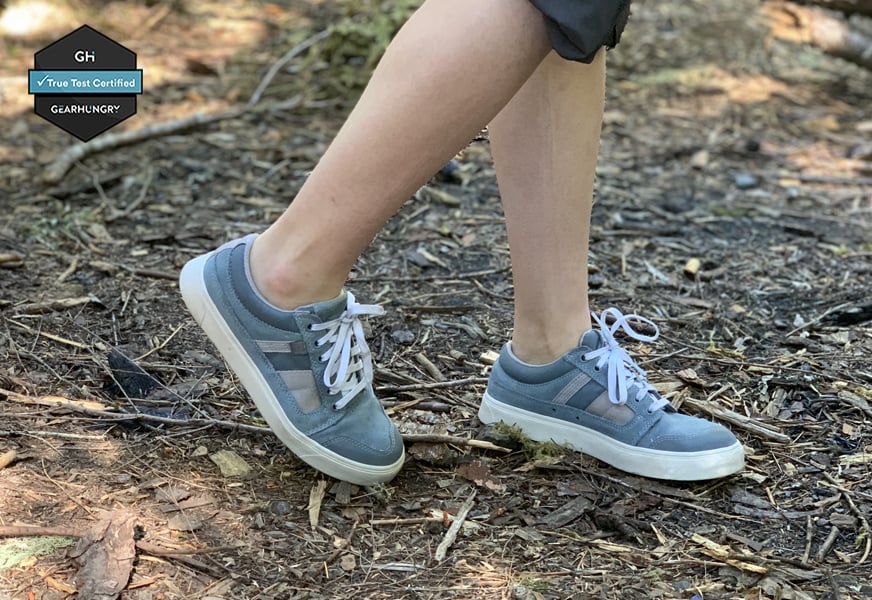 When I was young, you couldn't get me out of high top skate shoes, but now, I like to rock low tops more than anything and the 5.11 Norris Low surprised me with its board feel, durable suede upper and padded tongue. I wore these daily for a few weeks and went on some cruisy longboard rides to really get a feel for them. I wore them for 12-hour days routesetting and coaching without much fatigue. My only complaint? The tongue could be a bit wider as there's a rub spot on the inner foot side of the shoe.
For a non-skate brand, 5.11 really brought some nice durability details to the table. These features include Vibram rubber outsoles, padding on the collar and tongue, rubber toe cap, and an Ortholite footbed for breathability and arch support. All in all, I was stoked to wear these, they drip skater vibes with the durability only a tactical brand knows how to do.
Key Features:
Suede and nylon upper material
Comfortable Ortholite insole
Vibram rubber outsoles
Stitched rubber toe cap for extra durability
Puncture-resistant construction for added protection
Specification:
Brand

Tactical

Model

5.11 Norris Low
Vans Sk8-Hi Casual Skate Shoes
You can't really beat Vans when it comes to men's skate shoes. From the top to the bottom, these drip quality, and that classic 1992 design that we've all been infatuated with. You get a durable rubber sole that's perfectly contoured to the unique shape of this Vans shoe, and some added ankle support from the skeleton heel case along the back. It's there to help keep your posture, while also reducing wear and tear from thumbing your shoes on without undoing the laces.
Vulcanized canvas upper, waffle outsole, and a diamond pattern along the bottom for added board grip and superior board feel make this classic shoe both durable and comfy. There's always a bit of hesitation when you're buying high-top skate shoes online, but Vans boasts a high fit-as-expected rating on Sk8-Hi and add a whole bunch of flair to your walk-in as well. If you're into high-top vulcanized shoes, this is a fantastic option.
Key Features:
Vulcanized canvas adds comfort and durability
Rubber insole
Vans signature waffle exterior keeps a great grip on your board
Skeleton heel for advanced support
Excellent grip
Abrasion-resistant
Specification:
Brand

Vans

Model

SK8-Hi

Weight

12 Ounces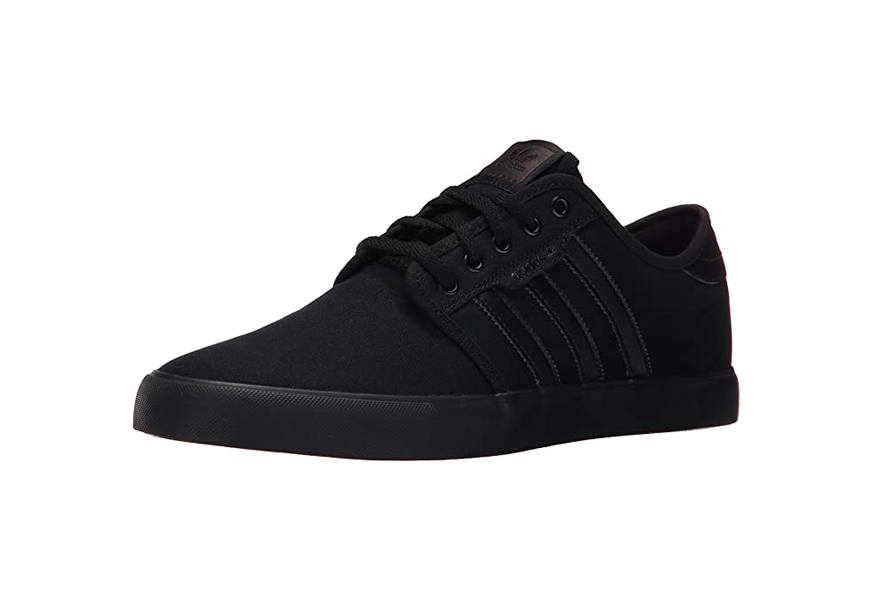 Adidas has a unique look and even when they're going for a cult classic-style sneaker, they still manage to put their own unique twist on it so they're unmistakable. The Seeley is no exception. Our favorite part about these men's skate shoes is the unique bottom: there's not only a zig-zag design for added traction but circular designs to lock onto your pressure points and provide extra dexterous movements when you're on your board. With these, you'll be able to perform your flip tricks with ease.
Adidas threw in a high-quality rubber insole, as well as a synthetic upper construction that is simple to keep clean. If you're not a fan of the basic black, there are half-a-dozen different styles that these Adidas shoes come in, and a high fit-as-expected rating as well. However, we should mention that some folks find the shoe to be a little tight in the toe box in the beginning.
Key Features:
Primary synthetic fiber construction
Rubber insole
Lightly padded ankle
Vulcanized rubber outsole grips to your board; excellent traction while walking as well
Ridge and circular design along the bottom puts extra dexterity at key pressure points
Specification:
Brand

Adidas

Model

SEELEY

Weight

3 Pounds
DC Men's Court Graffik Skate Shoe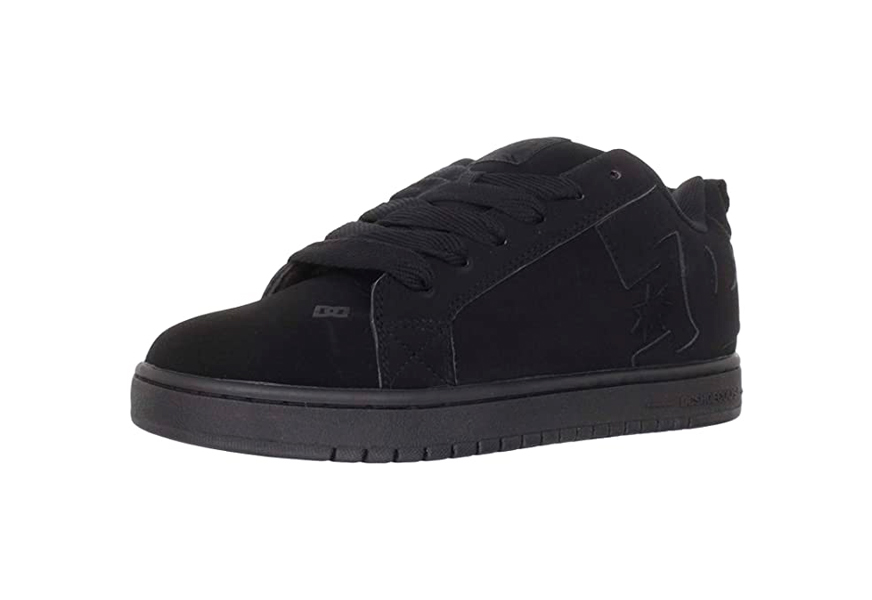 DC likes to keep its prices on the low side, and we couldn't be happier about that. With a notoriously long lifespan, Court Graffik Skate Shoes are the best skate shoes for gents on a budget who want to see extended use. Some users have even reported seven full years before needing to replace them! If your skate shoes wear out quickly, these are a great choice.
From the collar with extra padding to the outsole, everything is on-point. You get a padded tongue and collar to keep it nice and comfortable throughout your ride, accompanied by a rubber insole for added support. You'll notice a few holes punched into the leather exterior: that's intentional, they're compression vents to help keep it cool and reduce foot stink. Last but not least, the bottom is a beaded rubber design (which kind of looks like the DC logo if you squint) to keep you in full control of your board and movements. Be sure to also check out our list of the best Under Armour shoes for more great items like this.
Key Features:
Leather exterior
Rubber sole construction
Padded collar and tongue
Compression vents for breathability
Beaded rubber support grips along the bottom
Specification:
Brand

DC

Model

COURT GRAFFIK-M

Weight

2.5 Pounds
Nike Zoom Stefan Janoski Skate Shoe
You know Nike: they like to keep it simple and durable, and the Nike SB Collection is no different. Slipping into their canvas skate shoes for men puts you a world apart from any other pair you've tried because they shined the spotlight on mobility. It isn't just about the skate shoe style for them, they wanted you to get the most out of your run.
With Zoom Stefan Janoski Skate Shoe you get a comfortable rubber insole as well as a Nike Zoom sock liner, which contours to your feet quite nicely and reduces sweat stink. You'll notice the classic triple lace setup (with one additional eyelet near the tongue), but what you don't see is heel padding or a cupping strip along the back. They left that wide open for you to gyrate as much as needed, bending and sweeping with the lay of the land to retain your footing on your board. Our handy guide to the best Nike sneakers features more great products like this.
Key Features:
Canvas construction w/ classic three-lace setup
Vulcanized rubber outsole
Soft textile lined interior
Rubber insole
Nike Zoom sockliner included, contours to your foot
Specification:
Brand

NIKE

Model

615957-201-115

Weight

3 Pounds
We're suckers for the classic skate shoe look, and this is packing every bit of style you could ask for. If you don't dig the basic black, there are over twenty styles to choose from, each with a subtle element that's been swapped out to make it dapper as hell.
You get the construction of predominantly synthetic material with some leather accents, keeping it durable yet comfortable enough to move with you. Depending on your preference when riding, you might go for no padding on the tongue and collar. Etnies Fader Skate Shoe is versatile as an everyday set of kicks, thanks to the padding along the tongue and ample cushioning system built into the heel. Durable, very tough against dirt, and cleans up like a dream. For these Etnies shoes, we'd recommend getting some shoe waterproofing spray as well.
Key Features:
Leather and synthetic construction; durable, easy to clean
Durable rubber outsole grips your board
Padded collar and tongue for increased comfort
Impact Protection
Abrasion-resistant
Specification:
Brand

Etnies

Model

4101000203-983-M-8-A

Weight

3.2 Pounds
Globe Tilt Skateboarding Shoe
Globe has been a worldwide phenomenon, and it's clear to see why. Not only do they land a perfect ten in terms of that true skateboard shoe style, but they really make it their own at the same time. You get a durable midsole that's built to withstand the shock and awe that comes with sudden movements, mini ramps and drops on your board. Pair that with the form-fitting and solid leather and synthetic construction, and you've got yourself a recipe for swagger and skating success.
Globe threw a one-of-a-kind S-Trac grip system on the bottom of these, making them the best shoes for those who are light on their feet. Last but not least, with Globe Tilt Skateboarding Shoe you get a supple padded tongue and firm cushioning along the collar and heel, avoiding all blisters and aching from a long day on the half-pipe as well as added durability.
Key Features:
S-Trac gripping system keeps you strong and steady on your feet
Leather and synthetic construction
Padded collar and comfortable tongue for impact protection
Durable midsole reduces shock and impact
Specification:
Brand

Globe

Model

Tilt

Weight

1 Pounds
Lakai Men's Sheffield Skate Shoe
You're on a bit more of a budget, and we respect that. So does Lakai. They've gone to excessive lengths to ensure that you're still equipped for that grip on the board without burning a hole through your wallet. You get the basics that everyone needs in a skateboard shoe: rubber insole, wide rubber outsole, but the real trick is in the base grip. They've included a zig-zag design to really grip the board, but these also work wonders simply walking on the pavement as well.
If you're a skater with a wide foot, Lakai accommodates your needs, fitted to work with you through every maneuver. Padding along the tongue and collar keeps you in full comfort, whether you're grabbing these for all-day use or not, you'll appreciate the sense of walking on air after extended use. Love this product? Check out our review of the top New Balance shoes for our top picks.
Key Features:
Stretchable construction w/ suede elements
Zig-zag pattern on the bottom for proper board and pavement grip
Rubber sole
Padded tongue and collar
The perfect solution for a wide-footed skater
Specification:
Brand

Lakai

Model

329043

Weight

3 Pounds
Osiris Men's D3 Skate Shoe
Osiris puts some luxury into their skateboard shoes, and trust us, these will spoil you rotten. First and foremost, you've got a ruggedly reinforced outsole that withstands road rash and some serious wipeouts. That protection transcends into your collar, where you're provided with excellent padding and comfort. If you're not a fan of the style we've picked out, that's cool: you can click through and find over fifteen different styles, all with the same great skate shoe build.
Quickly lace up, hit the road, and the day is yours to command. Osiris developed Men's D3 Skate Shoe out of synthetic components for the exterior, making them extremely simple to clean and maintain. For more durable shoes, check out these Gore-Tex running shoes. 
Key Features:
Synthetic exterior with rubber insole
Outsole is designed to resist scrapes and wipeouts
Padded collar with reinforced heel for better posture
Quick lacing system gets you on your board faster
Available in fifteen different styles
Specification:
Brand

Osiris

Model

D3 2001

Weight

1.6 Ounces
Why Trust Us
I've been skating, or longboarding, for the past 16 years. While I've never been particularly good, I've always enjoyed it and kept at it. My teenage years were filled with skatepark days and as an adult, I've found a crew of ladies that can be found longboarding around Portland now.
Who This Is For
This guide is for anyone looking for a new pair of great skate shoes. We've got high tops and low tops and tons of different grip patterns for every kind of skater. Whether you just cruise or you're hitting halfpipes and drops, we've got you covered.
How We Picked
Selecting the best skate shoes started with my own personal favorites and those of my skating friends and our testing team. After we had personal experience and testing covered, we looked at best sellers and past models we love but that ultimately met their untimely death.
How We Tested
I wear skate shoes daily. They are sticky, comfortable, and a great all-around choice. While I don't use a proper skateboard, I do longboard around my neighborhood with regularity. Each of the durable skate shoes I tested spent days coaching and routesetting in a climbing with me, went for at least half a dozen longboard rides and walked all over rainy Portland.
Features To Look For In Skateboard Shoes
You didn't think we'd leave you hanging, did you? We showed you the best skateboard shoes, but now it's time to talk about what makes them the best. Keep reading to figure out what we focused on to make this selection, as well as information on cleaning and caring for your skate shoes.
Materials - You're going to run into a lot of leather and synthetic materials. That's a good thing: it's what these skateboard shoe companies should be aiming for. These are the most durable materials that hold up against wipeouts and incorrect footing. If your skate shoes develop some battle scars, that's awesome, just so long as those scars don't tear through the material entirely.
Stitching - Ever paid attention to the stitching on your shoes before? You will now. You can easily spot shoddy stitch work on a pair of inexpensive department store kicks, and the even, thorough stitches of a prime skate shoe. It seems insignificant, but if they can't get the stitches down (you know, the things holding your shoes together), then what else did they skimp out on that you can't see?
Sole type - Your shoes are going to withstand some impacts, at least more than an average Joe would while just walking around. Your board can be brutal on your feet, as is concrete, which is why you'll see a lot of rubber soles on most of these shoes. They give you shock absorption, while also keeping your heel support to keep it nice and comfortable at the same time.
Fit - Buying shoes online always comes with at least one fear: what if they don't fit? Because of their unique design, skate shoes have a bit more room to swim than traditional sneakers, so even if you're half a size off, you should still be good to go. Most of these brands have had enough item returns that they've ironed out the sizing charts.
Traction - You've got grip tape on your board but that's probably not enough. You also need to have grip and traction on the sole of your shoe. This is what helps you not slide all the time when walking around and gives you extra grip on your board. Traction can be increased with rubber quality and tread patterns. A vulcanized shoe, for example, offers excellent board feel and traction, as well as flexibility. In general though, all good skateboard shoes (and certainly all in this guide) offer decent traction.
Breathability - When we participate in physical activities, we sweat - it just happens. So, you want a pair of shoes that allows your feet to breathe while you skate. Breathability helps reduce blisters and stinky shoes too.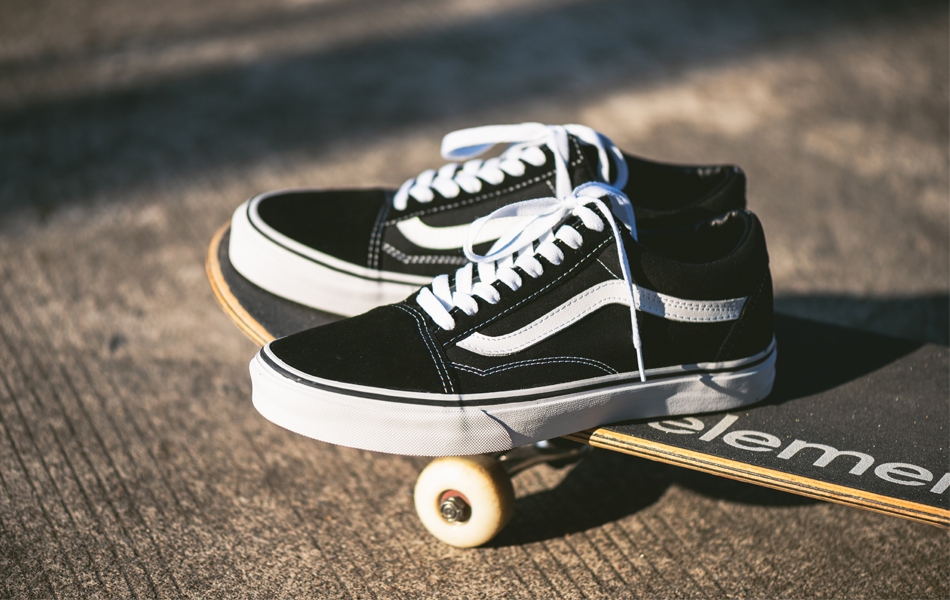 Types Of Skateboard Shoes
High-Cut - The old-school Converse look that everyone rocked in the 90's punk rock scene, myself included. High-cut or high-top sneakers give you less mobility around your ankles, but also provide you with more coverage in case of a nasty spill. They provide some ankle support but it's minimal. Yeah, you have socks, but cotton thread versus leather colliding with pavement? Give me a break.
Mid-Cut - Somewhere in between high and low, mid-cut or mid-top sneakers are the perfect blend between ankle protection, and retaining mobility. You have to display your dexterity when you're zipping down the road, you have to be up for anything. Mid-cuts are a great way to achieve a balance.
Low-Cut - Low-cuts, low-tops, call them whatever you want. These are a fan favorite for their epic look, and give you the most mobility for your ankles. If you're pulling some sneaky maneuvers, you'll want as much movement as possible. Just keep in mind that you'll have the least amount of leg protection.
Differences Between Skate Shoes And Standard Shoes
They're not just titled differently, they're built differently. Skateboard shoes come with a few differentiating features that really give you an entirely different feel while wearing them.
For one, you have padded collars and tongues which you don't find as often on standard trainers. Your ankles are undergoing some quick jerking motions, and when they're bending forward, the padding helps to cushion any joint damage you might incur while providing extra ankle support and impact protection. As for the collars, that adds comfort, and when you're grinding on the board for three-and-a-half hours, you'll take every bit of cushioning you can get.
Next, we get onto the outer sole or bottom grip that helps you maintain proper contact with the board. Most sneakers have this weird, not-really-helpful tread underneath that works on the pavement, and not much else. Skateboard shoes are designed to remain on grip tape with little to no problem, but also help with traction on the pavement so you can come to a stop instead of skidding on the asphalt. If you wipe out, you want to get back on your feet and stay there. Standard shoes will have you slipping around from the momentum.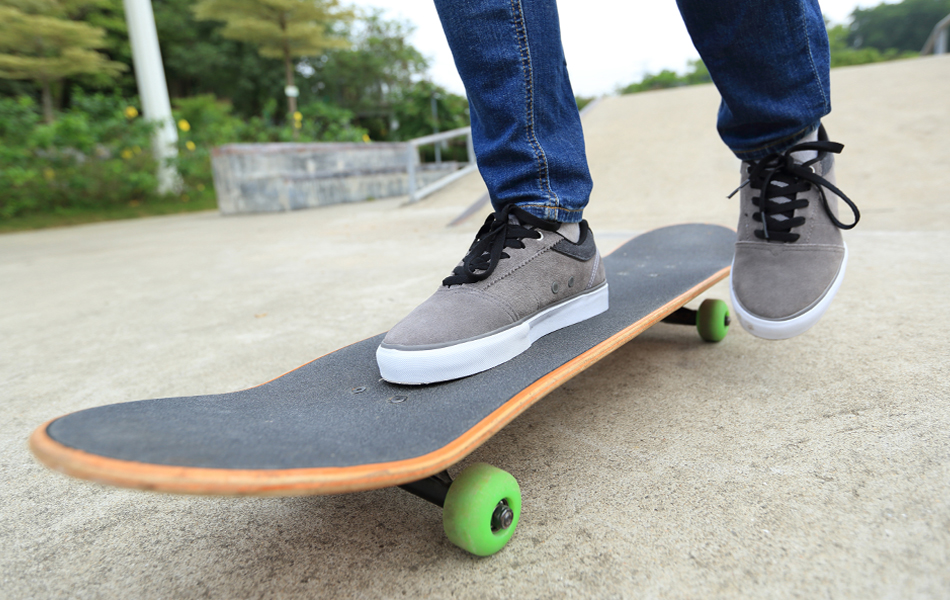 Skateboard Shoe FAQ
Q: What are skateboard shoes?
A: Skateboard shoes are sneakers designed with nothing but skateboarding in mind. You might find some pairs that are also great for walking or casual wear, but they're primarily used to skate. Skate shoes come with specific grips along the bottom, as well as a thicker outsole to help keep your stance on the grip tape of your skateboard. They also have a style all their own which is far too often emulated in dollar-store brands, making genuine brands really stand out.
Q: Are skateboard shoes good for walking?
A: They're not exactly built for it, but when you look at the features in skate shoes, they actually make decent walking shoes. That is if you're solely sticking to the city.
Skateboard shoes help to keep major traction and retain your stance when you're on rough concrete. They often have vulcanized rubber along the outsole, which basically means they're going to hold up very well against contact with man-made materials.
So in short, if you're going on a nature walk or up a dirt path, your skate shoes are going to get stuck-up with dirt and not be very useful at all. They're best in their natural environment: on grip tape, and on concrete, and that's about it.
Q: Do skateboard shoes make a difference?
A: If you're actually a skater, then yes absolutely, otherwise you're just trendy. These shoes help you keep your center of gravity on your board, which is absolutely huge. You'll see the best pro skaters in the world wipeout because they doubted themselves for a half-a-second. Why did they doubt themselves? They felt their center of gravity being thrown off.
Now picture that while you're grinding or you've just launched from the half-pipe. It's a lot scarier, and you need every bit of help you can get. We're talking about a vulcanized sole, arch support outsole designs, a toe cap, extra cushioning, sometimes lace protection - all that good stuff, but they all help with maintaining control and grip on your board. You're not going to get that with standard trainers.
Q: How should I tie the laces on my skateboard shoes?
A: When it comes to tying laces, you've got a couple of options. Your main goal is to keep the laces out of your way while skating, but you also don't want to look like a dork and duck them into the collar of the shoe. Besides it looking bad, it usually doesn't hold up very well.
You'll want to stick to three different lacing methods: cross lace, zipper lace, and straight lace. We've provided a video below to show you the best way to lace up.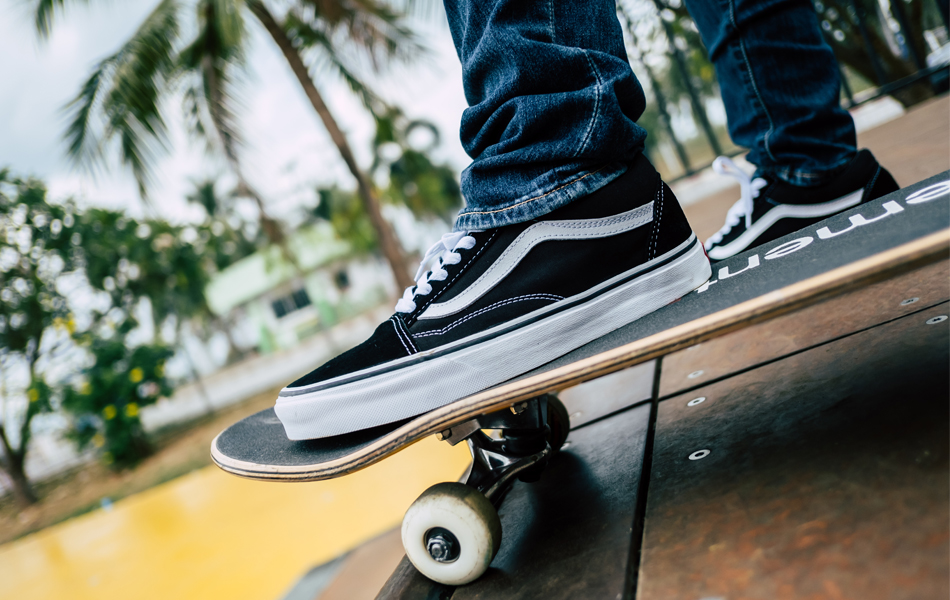 Q: How long does a pair of skateboard shoes usually last?
A: Well, that's up to you. You can find average life expectancies and all that good stuff, but it's all about how much you use them, and how rough you are on your footwear.
If you're skating every single day, then you're going to burn through even the best shoes for skateboarding pretty fast. Even though they're better for contact with the grip tape on your board, you still have to imagine that grinding against it for hours on end is going to begin to wear down the rubber.
A good quality pair of skate shoes, ones that you use for about ten hours a week on your board, should be able to last you between three to five years. That means proper care, giving them a little rinse and scrub every now and again, and not letting bacterial growth eat away at the interior. Grab odor eaters, use the baking soda trick, but do not let them fall out of sorts. 
Q: How do I make skate shoes last longer?
A: One way to make your skate shoes last longer is to ensure they're properly protected. You'll need to get a high-quality waterproof shoe spray to withstand unexpected puddles and rainfall that you'll undoubtedly endure from time to time before you're able to get indoors.
You should also be airing them out instead of letting them sit in a cubby. After all, ventilated areas are essential to preventing bacterial growth. One of the most common reasons that you have to retire your skate shoes is that bacterial damage has burned through the insole, and then worked its way into the midsole. Combined with the inevitable wear and tear from the bottom of your shoes versus grip tape and concrete, it's not something you want.
Sources:
Skate Shoe - Wikipedia
How To Buy Good Skate Shoes - WikiHow
Sign Up Now
GET THE VERY BEST OF GEARHUNGRY STRAIGHT TO YOUR INBOX