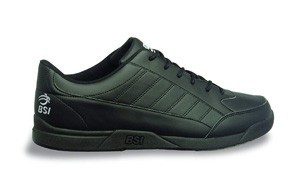 BSI Men's Basic #521 Bowling Shoes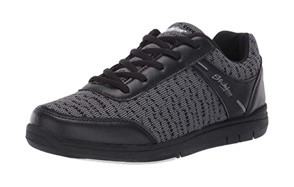 KR Strikeforce Mens Flyer Mesh Bowling Shoes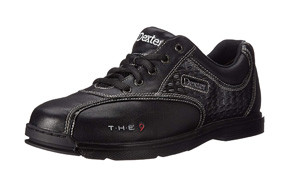 Dexter The 9 Bowling Shoes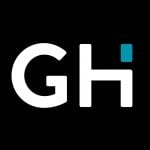 If you've just started out bowling and already you are hooked, then you are probably thinking about investing in your own shoes. Not everyone likes the idea of renting shoes that are worn day in day out by a host of different people, not to mention the rental costs you'll also be incurring if you intend going regularly. You might think that your usual sneakers will suffice and they might be just fine while you are in the beginner phase or if you only ever intend playing casually. However, to improve your game and in particular, to ensure consistent results, the best bowling shoes will support you on that all-important approach, as well as assisting with both the sliding and breaking action.  So if you're already a regular bowler or you are ready to take your game to the next level, stick around and read our review on the best bowling shoes that will soon have you striking like a Pro.
The Best Bowling Shoe
Bowling Shoes Buying Guide & FAQ
How We Chose Our Selection Of Bowling Shoes
To compile our comprehensive selection of the best Bowling Shoes we looked at Brands, Reviews and also Price. When it comes to brands, it's important that we select a representative range from manufacturer's specializing in the genre. A bowling shoe, after all, is quite a technical product, and so not all the sportswear shoes make them.
Reviews, of course, are also of utmost importance, as only by reading what other customers have to say about something do you get a proper unbiased and impartial view of what you can expect to experience function and form wise from wearing your new bowling shoes.
Finally, we consider Price. Our main concern is to ensure that we have a selection of high-quality shoes that will accommodate all budgets. The price isn't so much the driving force as the quality of the goods and their key features, relevant to that selling price.

Features To Look For In Bowling Shoes
We've cherry-picked some excellent recommendations for you in our product guide but in case you still aren't sure exactly what you should be looking for features wise in the best bowling shoes, we've selected some of the main criteria to be aware of.
Durability - Durability, of course, has to be one of the most essential factors in any pair of shoes you purchase, especially if they are more expensive than usual or specialized in nature meaning your usage will be limited. You want to invest in a pair that will last you for years to come. Keep in mind that while the cheaper models that are constructed from synthetic leather might look great and will certainly be lightweight and flexible, they won't last you as long as a premium pair of leather uppers. Textile uppers are also another popular choice, and while these can look stylishly retro, they may be lacking in some of the athletic style support that gives the more substantial sneaker style looking shoe its comfort.
Design - It has to be said that bowling shoes per se aren't known for their trend-setting styles. That said, some of the more popular brands are coming up with ranges that have more appeal away from the lane although normally, you won't find yourself transitioning from the bowling alley to the bar! Chances are that you will only ever wear your bowling shoes when you go bowling. There are plenty of options through from leather to synthetic and also textile with chunky athletic styling versus slimmer retro looks, so it is possible to match your bowling shoes to your own style and personality.
Inner Sole - As with any shoes you purchase, but especially those designed to support your feet during physical activity, comfort is going to be key. The inner sole needs to be snug yet breathable and supportive while providing flexible motion. EVA is an excellent option as it molds effectively to the wearer's foot and is both comfortable but relatively inexpensive too. The other option is memory foam which can be particularly useful for anyone suppering with any particular foot issues or problems. It is overall more expensive though than EVA. Polyurethane is your third option, and while it's budget-friendly, it may encourage your feet to sweat too much and isn't as flexible so could take a bit more breaking in.
Outer Sole - The outer sole is of the utmost importance in bowling, and it's for this very reason that specialized bowling shoes are recommended. It's all about the slide and technique, and to achieve that perfect sliding motion, as opposed to slipping and falling over which is entirely something different, you need your bowling shoes to be made of rubber but without grip and traction. Instead, the keyword is microfibre. The addition of microfibre is that will give those soles the perfect slide when executing that strike.

Size - There's lots of debate about bowling shoes running too small or too large, and in truth, they're no different to any other form of a sports shoe in that different manufacturers use their own guidelines and standards when covering sizes. What we do know is that if your shoes are too big, they will be uncomfortable and slip on your feet when playing whereas is they're too small, they might conjure up more than a bit of pain which can also be off-putting. So do try on your shoes before you purchase them, walking around in them and of course replicating the bowling action to ensure that they are a good appropriate fit offering comfort, support, and stability.
Ventilation - If you're playing competitively or in a league where you might have repeated games, chances are your feet will get hot and so ventilation will then be a consideration. It totally depends what material you go for, but we highly recommend that you go for options that offer breathability.
Bowling Shoes FAQ
Q: Do bowling shoes make a difference?
A: A bowling shoe has been purposefully constructed to support the game and in particular, the bowling approach and action which needs to be smooth and unobstructed. What mostly sets a bowling shoe apart from something like a regular sneaker is the sole which is soft and supportive and won't have a physical heel. Bowling shoes not only help protect your feet on the approach but also the floor of the alley too, ensuring a safe environment for all. Bowling shoes feature sliding soles on each side that have been designed to support both right and left handed bowlers. Additionally, in a good, quality pair of bowling shoes, the wearer should have the flexibility of being able to adjust the sliding pad so that the friction level can be changed. This attention to detail can make a world of difference, improving your gameplay and taking your results and consistency to a whole new level.

Q: Do bowling shoes run small?
A: It's more likely the case that the manufacturer is using a different sizing system as opposed to the fact that bowling shoes per se run small. Bowling shoes, much like any other form of footwear, is not immune from the fact that brand around the world use slightly different sizing metrics, so your best bet is always to refer to the conversion chart to ensure that you are buying a well-fitting bowling shoe. The best fitting shoes will help avoid injury on that all-important approach and should improve your striking and delivery consistency. The best general measurement to go by is the length in inches of your foot and then to cross-reference that against the conversion chart. For example, if your heel to toe length is 11 inches, then the size of bowling shoe that is most likely going to offer the best fit will be a USA 12, which is a UK 9.5 and a European 44. Where possible, especially if you are purchasing online, make sure that the retailer offers a money back guarantee so that you can buy and try.
Q: Do you have to wear bowling shoes?
A: Strictly speaking, bowling shoes aren't absolutely necessary, but you wouldn't go out for a long run in your golf shoes, and you wouldn't play tennis in your mountaineering shoes. While a multi-purpose sneaker can support a whole of general pastimes, if you are serious about your sport and excelling in it, stands to reason that you will want to invest in technical equipment and sportswear to support your on-going progress and the shoes you wear are certainly no exception. So if you enjoy bowling and you have the budget, you should definitely consider investing in a pair of proper bowling shoes.