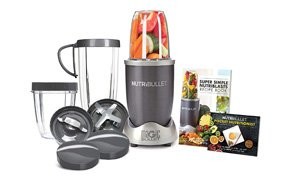 Nutri Bullet NBR 1201 Smoothie Blender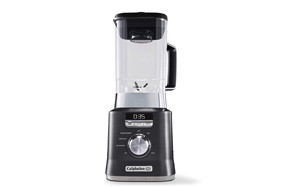 Calphalon Auto-Speed Blender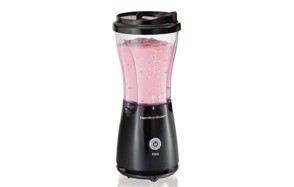 Hamilton Beach Blender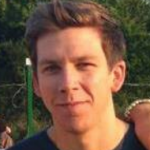 Is there anything more delicious or nutritious than a smoothie? They make a great breakfast alternative or to have as a healthy liquid snack throughout the day and are a fantastic way of ensuring that you consume your pre-requisite five a day. Having a good smoothie blender is essential if you want to enjoy the maximum taste, flavor and also retain all of that nutritional goodness. The texture of the smoothie needs to be just right, perfectly blended and you got it, seriously smooth! You need a blender that won't destroy the goodness and nutrients of your ingredients, and that can easily liquefy fruits, vegetables, nuts, seeds and other tasty additions to your smoothie. It's a bit of a turn off when you take a big glug of that green smoothie only to encounter a chunky piece of kale. There's no way you're getting that past the kids! They can spot spinach and kale from miles away. With that in mind, some of the most important features to be on the lookout for in the best smoothie blenders are powerful blades and a fast and efficient motor. So let's review out pick of the best smoothie blenders around that will have you whipping up delicious, nutritious and healthy concoctions in next to no time.
The Best Smoothie Blender
Smoothie Blender Buying Guide & FAQ
How We Chose Our Selection of Smoothie Blenders
When it comes to recommending any household electrical appliances, there are so many factors to be considered. We'll go on below to run you through some of the most important key features. Our team of researchers spends hours reviewing all the best products in that given category, looking at reviews, evaluating the best brands around and ensuring that there is a representative cross-section of price points so that there is something that everyone can realistically afford. Whether you are looking to pick up a cost-effective personal single, serve smoothie maker or what a commercial style model, our list will have something for everyone. Quality is of the utmost importance along with performance and durability. All our smoothie blender recommendations have been tried, tested and extensively reviewed.
Features To Look For In Smoothie Makers
If you are looking to prepare a fresh smoothie on pretty much a daily basis, then you are going to need to invest in a blender that can conveniently sit on your countertop, is powerful enough to use regularly as well as being easy to clean up. If it doesn't tick these boxes, then you may end up just not getting your money's worth out of it. Also, it's important to decide, especially given the space that you do have available in your kitchen to fit in another new appliance, whether you are mostly going to be making single servings of smoothies or need to whisk up a larger quantity for the family to enjoy at the weekend. If it's the former, you can get something like a blender bullet that will take up limited space and perfectly do the job. Height, size, and appearance are important along with a whole host of other features including of course power, speed and functionality. Let's quickly review below some of the key elements to be on the lookout for before you in invest in a new fruit smoothie blender.
Power - Motor size is the most significant indicator of how you can realistically expect your new smoothie machine to work and if you know that you are going to want to blend lots of nutritionally dense fibrous vegetables, you will require a motor that is up to the task. Pulverise ice, seeds, and ready vegetables isn't a job for a small motor. The average blenders feature motors anywhere from 300 to 600 watts of power, whereas the higher performing units will feature at least 1100 watts. If you do want to produce thick frozen cocktails, sorbets and granitas, then you need to invest in the most powerful motor that you can afford.
Blades - Blades are important of course too, and it's not so much how sharp the blades are but more how durable and sturdy they are. Plastic will wear out quickly so we recommend that you got for stainless steel blades and look out for features like dual direction technology which will help to pulverize those ingredients more efficiently and quickly.

Container Material Size - Blenders, of course, need a container in which to whip up all those delicious ingredients, and they can range from small and portable 8-ounce travel cups on mini single serve blenders, to 10 to 64 ounces on your traditional blenders, all the way up to 80 ounces for commercial style high-performance blenders. Clearly the bigger the capacity container, the more countertop space, and height you will require to operate it without obstruction.
Containers are typically constructed from three principles materials so again, you have a decision to make there in terms of which is your preference. It may be a budgetary decision or an environmental one. Your choices are as follows.
Plastic - the least expensive and a lightweight and chip proof choice
Glass - durable and won't discolor or absorb odors and tastes but prone to breakages
Stainless steel - the most expensive option found in commercial models and is highly durable
Pulsing Action - If you are planning to make iced drinks in your blender, then a pulsing action is essential; otherwise, you just won't be able to crush that ice. Without a pulsing motion, you might find yourself continually stopping and starting your machine to manually mix up the ice to achieve the desired slushy results.  Better still, go for a model that actually features a specific ice crushing program if you are going to be regularly making blended frozen drinks.
Variable Speeds - Being able to start out slow and build the momentum not only ensures more consistent and evenly blended results but it also puts less stress and stain on your blender's motor. Likewise, the ability to slow down and reverse the speed easily means that you can add in ingredients towards the end of the program which don't require quite so much liquidizing as the rest.

Smoothie Blender FAQ
Q: Do you need a special blender to make smoothies?
A: While strictly speaking you don't need a specific smoothie bender, there are certainly some advantages to investing in one that has been specifically designed to handle the ingredients you'd commonly want to include in a delicious and highly nutritious smoothie or shake. The most important things are speed, power and pulverizing efficiency. To create that rich non-grainy smoothie-like texture you need your ingredients to be perfectly blended together. The more powerful the motor and efficient the blades, the better the results. If you are wanting to include highly fibrous and healthy leafy green vegetables or frozen fruits and seeds into your smoothies, then you need power and superior blending action. It's also a great idea to invest in a smoothie blender which also features at least one travel cup with a sip and seal lid so that you can enjoy a breakfast smoothie or post workout shake conveniently on the go.

Q: Can you make smoothies the night before?
A: Prepping your smoothies the night before is an excellent decision and will ensure that the next morning, your family can quickly grab and go with a delicious, healthy and nutritious breakfast or snack that takes no preparation time or cleaning up on your part. Making smoothies ahead of time is a great idea and will ensure that the start the day the right way with plenty of minerals, vitamins, and nutrients that will nourish from within. You can blend together favorite fruits, veggies, probiotics, nuts, and seeds and put your smoothie to chill overnight, so it's there, just waiting to be enjoyed when you wake up. You will need freezer or fridge safe containers depending upon whether you're blending up a smoothie batch to freeze or to have ready to consume the next morning. Making smoothies the night before makes a whole lot of sense and can certainly save you lots of time and stress on those inevitably busy mornings.