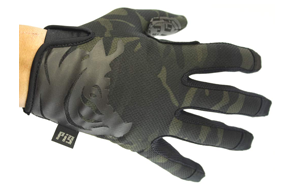 PIG Full Dexterity Tactical Gloves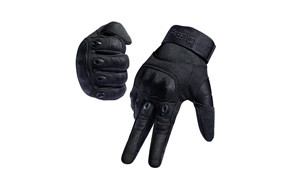 Freetoo Tactical Rubber Knuckle Gloves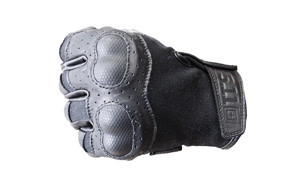 5.11 Tactical Hard Time Gloves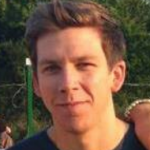 You're all about the tactical, the logistics of how you're going to carry out your goals and recreational activities. Whether you're a frequent visitor at the shooting range, or you're just spending time with the kids in a paintball arena, tactical gloves are going to be the best friend you never knew you needed. Protection doesn't have to be that expensive; we're about to show you the ins and outs of tactical gloves, their frequent questions, pros and cons, and the eight best pairs we've ever had the pleasure of using.
The Best Tactical Glove
Tactical Gloves Buying Guide & FAQs
We absolutely hate when you find an awesome product, but nobody answers all the must-know questions about them. The main thing that a lot of guides lack is the answer to the most simple question: what are tactical gloves? We're all about keeping you as informed as possible, and with that, we've answered the tough questions, and given you a broader range of understanding regarding tactical gloves, and all the reasons that we use them today. You sided with Gear Hungry because you know we bring everything out into the light - time to strap in.

Q: What Are Tactical Gloves Used For?
A: Initially, they were developed for police and special operations units to provide between traction and handling for their weapons and knives. They also protect the users from a wide array of various threats, from puncture wounds to dog bites, and more. Today, with the range of sports at our disposal, they're also used by the masses for the following activities:
Airsoft - In recent years, airsoft arenas have become one of the go-to weekender activities that are seriously fun, but can seriously hurt if you're not careful. Tactical gloves / Tactical vests & pens are primarily used for protection along your hands in airsoft battles.
Paintball - One of America's greatest sports: paintball. You're going to be sore after a few good rounds in a paintball pit or our in the marsh with your mates, but you don't want to sport bruises and stiffness in your hands. That's not going to help anyone out.
Motorcycle Riding - The right set of tactical gloves will improve your grip on the back of a bike, giving you better handling and dexterity. In the event of a fall, your hands are one of the worst spot on your body to lose skin. It takes longer to heal, and hurts like a son of a bitch at just about all times (you can't really avoid using your hands in most situations). Protection, and increased grip are why bikers turn to tactical gloves.
Winter - You know how when you were a kid, you would leave your house, then stuff your hat in your bag or mailbox? That's because you sacrificed warmth at the expense of a cool look, and didn't really like the way it fit in the first place. Tactical gloves are the toned man's best friend for winter - they provide ample support and protection from the cold, insulating your natural body heat, while also looking tight and flattering.
Q: Is it Important to Find the Right Fit for Tactical Gloves?
A: If your tactical gloves are too tight, you're going to notice extreme hand fatigue, and muscle soreness. You may look at your hand and wonder, "What muscle is he talking about?" Your hand's anatomy is made up of tendons, stretching up your forearm to your elbow. When your funny bone gets whacked, you often feel it all the way up to your pinky and ring finger, and it vibrates for a few seconds.
Your hands are essentially muscles more than anything else. They're one of the last places on your body that develop unhealthy fat storage, because one way or another, you're using your hands every single day. Having the right fit reduces tendon flare-ups, and for those with RA or other forms of arthritis, getting the right fit is ten times more important (explained further in this guide). Too tight: tendon flare-ups and decreased range of motion; too loose: you're not going to reap the protective rewards of your gloves along with your tactical pants & wallet.
Q: What is the Knuckle Padding Used For?
A: It's used for additional protection for your knuckles, while also allowing a full range of motion, regardless of what sport or activity you're doing. Right now, place your non-dominant hand over one knuckle on a dominant finger, and try to bend the entire finger (keeping it mostly straight). Now, remove your hand and bend that finger. You'll notice it's two or three times easier. Now imagine having padding on your knuckles, prohibiting movement.
Knuckle padding is used to encase your knuckles for protection, while also raising the material to allow split-second decisions to still be made. If a police officer were out in the field, a hair trigger reaction can't be achieved with a 200% decreased range of motion.
Q: Do Tactical Gloves Work on Touchscreens?
A: It all depends on the individual set of gloves. Some will, and some won't. Most touchscreens are actually activated by thermal recognition, which is why you'll take your smartphone out of your pocket on a hot summer day, and sometimes it'll be on your lock screen already (on phones that you can double-tap to open the lock screen_. Thermal recognition is a bit tricky when your tactical gloves insulate your hands, which is why certain gloves thin-out the material along your fingertips, allowing you to activate your phone or tablet with ease.
Q: How Long Will a Pair of Combat Gloves Last?
A: On average, you're only going to see warranties last from three months, up to a year (two at best). This doesn't mean they're going to die-out on you anytime soon, though; it's all about how and how often you use them. If you're into tactical sports every single weekend, you can expect to get up to two years of use out of these. If you're one for eight-hour hunting days and free time spent exercising your second amendment right, you're looking at about six months to one year before you'll need to consider retiring them, and grabbing a new pair.
Q: Do Tactical Gloves Provide Much Protection?
A: It all depends on the material, and the thickness. It's also going to depend on what activity you're doing. Combat gloves have been known to save bikers some skin when they flip off their ride, but that doesn't mean they're going to protect you against sharp items. Some men prefer to use tactical gloves when they're treating game meat ou in the wilderness to avoid the potential risk of cutting or scraping their own hands.
Most gloves are going to have certain areas that contain rubber and/or PC, which offer puncture resistance and protection against the pressure from airsoft guns and paintballs. The gloves we're showcasing in this guide are primarily used recreation, while police and military combat gloves would traditionally be made out of carbon fiber, and other hardened materials.

Q: Do Combat Gloves Help With Gun Accuracy?
A: Whether you're a recreational sharpshooter or you enjoy Sundays at the range with a glock, you'll notice one thing: you get casing gunpowder on your hands. You'll prevent the muck from gathering on your fingertips when you use combat gloves, but you'll also be able to squeeze the trigger more easily (primarily why they're excellent for split-second decisions in police and military situations).
Q: Can Tactical Gloves be Used to Help Rheumatoid Arthritis?
A: RA sufferers will find a small level of pain reduction when using tactical gloves, provided they're not too tight, or too loose. With RA or any other form of arthritis, gentle compression adds warmth to your troubled joints, allowing you to feel less pain and a wider range of motion, due to the lack of inflammation. If you've ever used medical compression gloves in the past, you'll feel right at home in the proper pair of tactical gloves. They can help, but they're not designed for it.
Q: What Are Common Issues With Combat Gloves After Extended Use?
A: On average, your gloves are going to last you a pretty long time. However, if you paid a pretty penny for them, you want them to last as long as possible; we don't blame you. On average, these are the main issues that arise with prolonged combat glove use:
Loosened stitches/stitching coming out
Fungal growth inside gloves without proper cleaning
Fingertips will be the first area to show enough wear-and-tear to rip
Most of these issues can be resolved with maintenance and cleaning, as well as opting for a more durable and reliable pair of combat gloves right from the start.