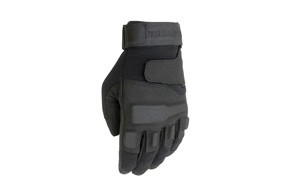 Seibertron S.O.L.A.G. Special Ops Combat Gloves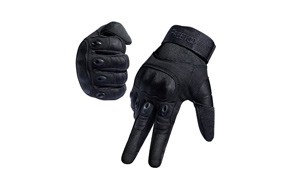 Freetoo Tactical Rubber Knuckle Gloves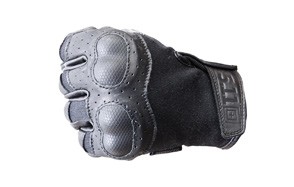 5.11 Tactical Hard Time Gloves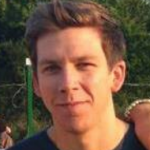 You're all about the tactical, the logistics of how you're going to carry out your goals and recreational activities. Whether you're a frequent visitor at the shooting range, or you're just spending time with the kids in a paintball arena, tactical gloves are going to be the best friend you never knew you needed. Protection doesn't have to be that expensive; we're about to show you the ins and outs of tactical gloves, their frequent questions, pros and cons, and the eight best pairs we've ever had the pleasure of using.
The Best Tactical Gloves
FREETOO Tactical Rubber Knuckle Tactical Gloves
See More Reviews

We had another top pick in mind, but when we tried FREETOO's excellent pair of gloves, we were compelled to put them at the very top. For the initial price, we had expected it to land a little lower than halfway, but we've found one of the few exceptions to our rule: you get what you pay for. People loved being able to purchase these for a great introductory price, and FREETOO didn't dare disappoint their amassing fans. You get a set of rubber knuckles for added protection, as well as mobility, as well as one of the sturdiest velcro grips we've ever used before.
Depending on your size (and if you decide to select another color option than the all-black), these will remain at a rock bottom price while offering excellent wrist motion and light protection from airsoft, paintballs, and any kickback from firing down at the range. While these aren't water resistant, they're still rated for a snug fit and a wide range of activities. While they didn't have any warning information, we're going to tell you right now that you need to wash these once before you try them on, due to the caustic dye. All together, this pair took the cake on value, comfort, and just enough protection to make them well worth your while.
Key Features:
Top notch customer service
USMC approved pair of gloves
Excellent introductory price for quality
Customer rated for 300+ hours of use
Contains caustic dye; wash before using, though they don't tell you that in the package instructions
Mechanix Wear Original Covert Tactical Gloves
See More Reviews

Mechanix has been one of the leading champions of gloves for years now, and they continue to impress with their original run of covert tactical gloves. Hunters and professional paintballers have been using them for years, putting their faith in the ultra durable grip and tight fit that Mechanix is famous for. From the TrekDry technology, your gloves are ultra breathable, while keeping them dry from exterior liquid.
Right around your wrist, you get a thermal plastic rubber closure (which also comes with a nylon loop for hanging by the door), giving you an enclosure that's dedicated to keeping your hands wrapped in durable material. We'll be the first to tell you the one downfall of these gloves: they have a shorter lifespan than most. You should get between three to six months of total use, if you're planning on taking your gloves out two times a week. They're machine washable, which doesn't negatively affect the quality of the fabric.
Key Features:
Machine washable without material degradation
Nylon loop for easy hanging
Specification:
Brand

Mechanix Wear

Model

MG-55-009

Weight

3.52 ounces
Thermal plastic rubber closure
TrekDry keeps these gloves breathable, and your hands dry
Shorter lifespan than average
Mechanix MultiCam M-Pact Tactical Gloves
See More Reviews

You get a volley of sizes from one of America's top providers of tactical gloves, promising you a great glove lifespan and machine washable material. One of our favorite aspects of this pair is the three-part palm padding, designed to provide better grip on gun stocks and hilts, as well as crossbow handles. These pads also aid in shock absorption, whether you're firing a high-powered rifle or using them as extra grips and protection on a parkour run.
These gloves come at the higher end of our price range, and while that still isn't a hefty load out of your wallet, it's still reaching higher than our top two picks. TrekDry gives you the power to remain dry on the inside, while remaining breathable to reduce sweat buildup. From the form-fitting shape to the velcro wrist clasp, this glove has everything going for it.
Key Features:
Nylon loop for easy hanging
Excellent wrist enclosure
TrekDry keeps your hands cool and dry
Specification:
Brand

Mechanix Wear

Model

MPT-78-010

Weight

1.44 ounces
One-year lifespan on average
Three-part durable palm grips that absorb impact/shock
Higher price tier
Only comes in woodland camouflage
See More Reviews

It doesn't get much more combat-ready than this. The SI Assault Gloves give you the necessary grips and support to feel more in-command of your pistol or rifle out in the woods, or on the shooting range. You'll be able to exhibit your dominance over paper targets, or fresh game with less kickback after each shot, thanks to proper shock absorption (which is something that about two dozen brands that didn't make our list were lacking).
Much like another pick higher on the list, we have to warn you that you're going to experience some issues with the caustic dye. Not only will these bleed into your skin, but they're going to take about two washes (your hands) to come clean. It's persistent, and it'll take more than a few washes to get your gloves completely ready to go again. That being said, they're long-lasting, from the fingertip grips right on down to the breathable attributes. SI is built to last, when other brands simply don't step up to the plate.
Key Features:
Comes in multiple colors to contour to your preexisting gear
Additional support for shooting
Specification:
Brand

Oakley SI

Model

Assault
Excellent breathability
Excellent puncture and crush protection
Dye bleeds into hands; takes two washes to remove
Seibertron S.O.L.A.G. Special Ops Combat Gloves
See More Reviews

This one was hard to rank, but so easy to love. While you're going to trade in a little bit of breathability, you're sure as hell not going to sacrifice durability. These gloves are built to last; the first signs of wear-and-tear are when a few of the thousands of micro grips along the palm of the hand begin to fade, or the PU begins to crack. You're getting a great introductory price for one of the internet's favorite pairs of combat gloves, but there's more to it.
We're all akin to buying something online, thinking we have the right size, and then being disappointed (especially after long shipping periods and even longer return expectancies). With the wrist velcro, and strap along the top of your hand, you'll be able to slip into these with premium comfort. You will experience slight moisture from sweating about about ninety minutes of use, which can quickly be remedied with a one to two minute break.
Key Features:
Easy tightening w/ velcro grip located on top of hand
Thousands of micro rubber grips along glove palm area
Specification:
Brand

Seibertron

Weight

5 ounces
Excellent price
Long lifespan
PU is prone to cracking/fading, but will not degrade the gloves
Sweating after 1 ½ hours on average
5.11 Tactical Hard Time Gloves
See More Reviews

5.11 sounds like an awkward caliber of rifle, but in actuality, they're one of the best tactical gloves out on the market today. For their price and luxurious goatskin construction, we had to bring it down a few notches. You'll begin sweating after about an hour in these gloves, though it's still bearable for an additional hour before you'll have to take a two to three minute break from your gloves. These provide some of the best tactical features we've seen yet.
First, you get a slight bit of additional protection along the cuff with added material, as well as a custom-feeling fit from the velcro wrist grips. Even more coverage and protection comes from the TPR-covered knuckle protection, giving you some great crush and puncture resistance. Goatskin (and 5.11's custom design) offer sturdy protection while remaining lightweight and maneuverable.
Key Features:
Crafted of goatskin leather
TPR-covered knuckle protection
Lightweight
Precision fit fingertips provide dexterity
Wrist velcro makes it easy to adjust
Very high price
Sweat after 1 hour of use
JIUSY Touch Screen Compatible Military Rubber Knuckle Gloves
See More Reviews

A brand you won't soon forget: JIUSY made us wonder if the price was for real, or if we'd get hit with crazy shipping. One of the lowest costs on our list comes with some of the highest quality construction, albeit with a shorter lifespan that we would life. You get super fortified rubber knuckle construction, offering a small level of crush and puncture resistance, as well as the ability to use your smartphone or two-in-one with no issues, which is especially helpful out in the woods when you're in full gear and need to answer the phone.
One of the major issues with most tactical gloves comes in the form of dye. They come in various colors (JIUSY offers six different color blends), each of which bleed into your skin a little bit. You'll have to throw these in the wash twice before taking them into the field, though it's a minor irritation if you're itching to go. Breathable microfiber and stretchy nylon, accompanied by a two-strap velcro support and adjustment system, make these one of the best low-budget purchases for the tactical glove enthusiast.
Key Features:
Sturdy rubber knuckle support
Adjustable wrist velcro strap + palm strap for extra tightness
Stretchy nylon and breathable microfiber construction
Specification:
Brand

JIUSY

Weight

5.3 ounces
Unbelievable quality at a rock-bottom price
Ability to use the touch screen on your mobile device
Short lifespan of 3-6 months
Dye can be caustic (not every pair)
See More Reviews

Last but not least comes the littlest brother of the list. Condor offers three colors, and a Shaolin ninja look about them from the outside. These are made-up of goatskin, adding to the initial cost and making them right smack dab in the middle of the price range on our list. We enjoy the seamless look, though the protection is a little bit flimsy. We think it's due to the fact that these may be the most breathable gloves on the list; they almost feel like they're not even there.
Padding along the palms and finger back area adds a wonderful touch, while the contour padding adds to the overall value. You're not going to waste money, especially since they're built to last for about a year, all without the common dye-bleeding effect that most gloves face. So why did we rank it at the bottom of our list? You really have to pay attention to the sizing chart information, because they're not as adjustable as most tactical gloves. That being said, pay close attention, and you'll do just fine.
Key Features:
Padded palms and finger back area for reduced recoil
Crafted of a goatskin leather blend construction
Seamless appearance; looks like an extension of your clothing
Double reinforced padding along the knuckles
Higher tier cost
Not as adjustable as other gloves; pay attention to sizing information
Tactical Gloves Buying Guide & FAQ
We absolutely hate when you find an awesome product, but nobody answers all the must-know questions about them. The main thing that a lot of guides lack is the answer to the most simple question: what are tactical gloves? We're all about keeping you as informed as possible, and with that, we've answered the tough questions, and given you a broader range of understanding regarding tactical gloves, and all the reasons that we use them today. You sided with Gear Hungry because you know we bring everything out into the light - time to strap in.

Q: What Are Tactical Gloves Used For?
A: Initially, they were developed for police and special operations units to provide between traction and handling for their weapons and knives. They also protect the users from a wide array of various threats, from puncture wounds to dog bites, and more. Today, with the range of sports at our disposal, they're also used by the masses for the following activities:
Airsoft - In recent years, airsoft arenas have become one of the go-to weekender activities that are seriously fun, but can seriously hurt if you're not careful. Tactical gloves / Tactical vests & pens are primarily used for protection along your hands in airsoft battles.
Paintball - One of America's greatest sports: paintball. You're going to be sore after a few good rounds in a paintball pit or our in the marsh with your mates, but you don't want to sport bruises and stiffness in your hands. That's not going to help anyone out.
Motorcycle Riding - The right set of tactical gloves will improve your grip on the back of a bike, giving you better handling and dexterity. In the event of a fall, your hands are one of the worst spot on your body to lose skin. It takes longer to heal, and hurts like a son of a bitch at just about all times (you can't really avoid using your hands in most situations). Protection, and increased grip are why bikers turn to tactical gloves.
Winter - You know how when you were a kid, you would leave your house, then stuff your hat in your bag or mailbox? That's because you sacrificed warmth at the expense of a cool look, and didn't really like the way it fit in the first place. Tactical gloves are the toned man's best friend for winter - they provide ample support and protection from the cold, insulating your natural body heat, while also looking tight and flattering.
Q: Is it Important to Find the Right Fit for Tactical Gloves?
A: If your tactical gloves are too tight, you're going to notice extreme hand fatigue, and muscle soreness. You may look at your hand and wonder, "What muscle is he talking about?" Your hand's anatomy is made up of tendons, stretching up your forearm to your elbow. When your funny bone gets whacked, you often feel it all the way up to your pinky and ring finger, and it vibrates for a few seconds.
Your hands are essentially muscles more than anything else. They're one of the last places on your body that develop unhealthy fat storage, because one way or another, you're using your hands every single day. Having the right fit reduces tendon flare-ups, and for those with RA or other forms of arthritis, getting the right fit is ten times more important (explained further in this guide). Too tight: tendon flare-ups and decreased range of motion; too loose: you're not going to reap the protective rewards of your gloves along with your tactical pants & wallet.
Q: What is the Knuckle Padding Used For?
A: It's used for additional protection for your knuckles, while also allowing a full range of motion, regardless of what sport or activity you're doing. Right now, place your non-dominant hand over one knuckle on a dominant finger, and try to bend the entire finger (keeping it mostly straight). Now, remove your hand and bend that finger. You'll notice it's two or three times easier. Now imagine having padding on your knuckles, prohibiting movement.
Knuckle padding is used to encase your knuckles for protection, while also raising the material to allow split-second decisions to still be made. If a police officer were out in the field, a hair trigger reaction can't be achieved with a 200% decreased range of motion.
Q: Do Tactical Gloves Work on Touchscreens?
A: It all depends on the individual set of gloves. Some will, and some won't. Most touchscreens are actually activated by thermal recognition, which is why you'll take your smartphone out of your pocket on a hot summer day, and sometimes it'll be on your lock screen already (on phones that you can double-tap to open the lock screen_. Thermal recognition is a bit tricky when your tactical gloves insulate your hands, which is why certain gloves thin-out the material along your fingertips, allowing you to activate your phone or tablet with ease.
Q: How Long Will a Pair of Combat Gloves Last?
A: On average, you're only going to see warranties last from three months, up to a year (two at best). This doesn't mean they're going to die-out on you anytime soon, though; it's all about how and how often you use them. If you're into tactical sports every single weekend, you can expect to get up to two years of use out of these. If you're one for eight-hour hunting days and free time spent exercising your second amendment right, you're looking at about six months to one year before you'll need to consider retiring them, and grabbing a new pair.
Q: Do Tactical Gloves Provide Much Protection?
A: It all depends on the material, and the thickness. It's also going to depend on what activity you're doing. Combat gloves have been known to save bikers some skin when they flip off their ride, but that doesn't mean they're going to protect you against sharp items. Some men prefer to use tactical gloves when they're treating game meat ou in the wilderness to avoid the potential risk of cutting or scraping their own hands.
Most gloves are going to have certain areas that contain rubber and/or PC, which offer puncture resistance and protection against the pressure from airsoft guns and paintballs. The gloves we're showcasing in this guide are primarily used recreation, while police and military combat gloves would traditionally be made out of carbon fiber, and other hardened materials.

Q: Do Combat Gloves Help With Gun Accuracy?
A: Whether you're a recreational sharpshooter or you enjoy Sundays at the range with a glock, you'll notice one thing: you get casing gunpowder on your hands. You'll prevent the muck from gathering on your fingertips when you use combat gloves, but you'll also be able to squeeze the trigger more easily (primarily why they're excellent for split-second decisions in police and military situations).
Q: Can Tactical Gloves be Used to Help Rheumatoid Arthritis?
A: RA sufferers will find a small level of pain reduction when using tactical gloves, provided they're not too tight, or too loose. With RA or any other form of arthritis, gentle compression adds warmth to your troubled joints, allowing you to feel less pain and a wider range of motion, due to the lack of inflammation. If you've ever used medical compression gloves in the past, you'll feel right at home in the proper pair of tactical gloves. They can help, but they're not designed for it.
Q: What Are Common Issues With Combat Gloves After Extended Use?
A: On average, your gloves are going to last you a pretty long time. However, if you paid a pretty penny for them, you want them to last as long as possible; we don't blame you. On average, these are the main issues that arise with prolonged combat glove use:
Loosened stitches/stitching coming out
Fungal growth inside gloves without proper cleaning
Fingertips will be the first area to show enough wear-and-tear to rip
Most of these issues can be resolved with maintenance and cleaning, as well as opting for a more durable and reliable pair of combat gloves right from the start.