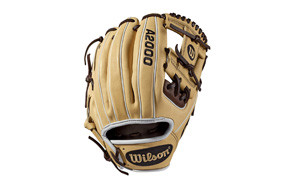 Wilson A2000 Baseball Glove Series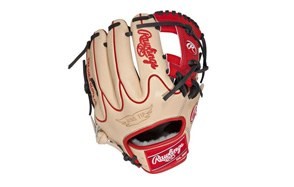 Rawlings Pro Preferred Glove Series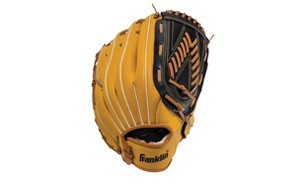 Franklin Sports Field Master Series Baseball Glove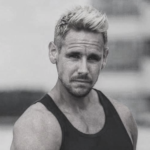 Considering the many different glove types within baseball (they're not all made for the same purpose), making a new purchase can be mind-boggling. Perhaps the most important factor is to select a glove that feels right for you. If the glove is uncomfortable, it may affect your performance in the field. If you're an amateur, then it's highly likely that you will be changing positions routinely throughout the season – which again is bound to influence your choice of glove. Above all, don't expect miracles. The glove itself will only enhance your performance so far.
Go for versatility and take care to choose the right glove for your position. Check for durability and quality leather (a 100% genuine leather glove should be a priority). When reviewing your options, you should expect to find non-leather or veneer material to make the occasional appearance. Avoid these and beware plastic gloves that look like leather. Non-leather brands are usually a bad choice for kids as they are more difficult to break in. There are exceptions, but this type of glove is typically resistant to glove oil.
Of course, you'll be looking for a glove that fits your price range. You will need to make sure your glove has the right webbing, and other parts. We will delve deeper into these details later. But for now, let's get on with the reviews.
The Best Baseball Glove
Baseball Glove Buying Guide & FAQ
How We Chose Our Selection of Baseball Gloves
Brand - What's in a name? A great deal, apparently! It's fashionable to claim otherwise and while it's true that quality or manufacturing processes can change over time, there's no escaping the fact that a majority of pro players prefer Rawlings or Wilson gloves on the field. Pro players and Little Leaguers alike tend to return again and again to the names they trust and respect. Brand awareness, historical relevance, and craftsmanship all play a role here. Today's top players like Jose Altuve and Clayton Kershaw have a preference for Wilson's popular models. It's difficult to argue with that pedigree.
Similarly, Rawlings dominate the Gold Glove awards and are one of the most used brands by professionals. According to a recent MLB inventory check, Rawlings was the favourite glove in every single position! Granted, that's according to a sample rather than the entire league - meaning the total numbers may be slightly different (but not by a huge margin). Elsewhere, Nokona gloves are painstakingly cut, stamped, stitched, laced and embroidered by hand. Gloves from marketing powerhouse Nike (used mainly by pitchers and outfielders) are known to provide a decent shield.
There are quite a few newcomers that are worth a mention, too. Under Armour, for example, is a notable market disruptor. Established by ex-University of Maryland footballer Kevin Plank, Under Armour started out with performance apparel and then later switched to gloves. In 2018 the company branched out into fielding gloves for baseball and the reviews were ecstatic. Pro, Framer, and Deception series catchers mitts are their early foray into gloves, but the exceptional quality leather construction (enabling faster break-in) has earned high acclaim for the fielding gloves too.

Reviews - The options are bewildering, so it can be difficult to figure out which glove is the right choice for you. In baseball, of all sports, a 'one size fits all' solution is conspicuous by its absence! Even top quality gloves from the most esteemed manufacturer can have some niggles that are not immediately apparent, which is why it's so useful to refer to customer reviews. Just because material quality and playability are impressive doesn't mean the glove will last. You really need to go directly to the coalface and find reviews from experienced players to build a fuller picture.
Balance is important and so we have scoured a number of sites, from Amazon to Reddit to specialist retailers, to peruse customers' thoughts. Reviews are a good place to find useful inside information, tips and long-time expertise on material care, the best way to break-in specific types of glove, and more. Of course, there are a number of reputable physical outlets where you can purchase baseball gloves – but online glove buying is nothing to be scared of. We recommend looking closely at closeoutbats.com and justballgloves.com, in addition to eBay and Amazon.
Most customers end up physically visiting a 'brick and mortar' store because they want to touch and feel the glove, which on the face of it makes a lot of sense. However, there are increasingly fewer physical outlets that stock the fullest possible range from every top manufacturer. That's another reason why it makes sense to go online to gauge the views of accomplished players and reviewers. Thankfully, there are thousands of reviews online, so that helps to negate the problem of false positives or potentially fake reviews left by paid contributors.
Price - Gloves vary in price massively (from around $25 to $400) depending on brand and material. Unless you're a major baseball player, there's no point in stumping up pro-level prices. You may find the occasional bargain on an auction site such as Craigslist, eBay or Facebook Ads (see it as a glove that somebody else has already broken in for you). When it comes to brand new items, remember that some retailers offer a price-matching service. Be sure to shop around. If you can, find a company with a forgiving returns policy just in case things don't work out and you need to exchange.
Quite a few baseball aficionados insist that there is no value in paying over $200 for a glove, as improved comfort and fit will only enhance your match day performance to a point. Choose one on the lower end if you are a new and solely recreational player. If you're headed to the pros, then step up to the plate and buy the best glove you can afford. At the more extreme end, you could always opt for a beautifully-stitched $14,000 "top grade" calfskin glove from French luxury brand Hermès (that's in excess of the total cost of a couple of season tickets for the New York Yankees!).
If have around $80 to spend, stick with any of the more recognizable names and the glove should be of an acceptable enough quality. Don't pick a Rawlings over a Wilson just because of the brand – each glove fits and feels differently, so identifying one that's comfortable is more important than the image of the manufacturer. Some fans swear by Mizuno for longevity and many warn against using expensive oil on the leather (which is typically used to prevent cracking), thereby over-softening it and causing it to prematurely break down.
Their thinking is that your glove won't be used in the rain and unless you're in the MLB, you're unlikely to be grappling with a 162 game season. Anyway, the moral here is that you should ask retailers for their insights on leather treatment and aftercare. If you find a model that will last for years, it could save you a great deal in the long run.

Features To Look For In Baseball Gloves
We've already mentioned that the best glove for you depends on which position you play. But in a more general sense, there are four major important parts to any baseball glove: the webbing (filling the area between your thumb and fingers, it can be structured tightly or left open according to personal preference or position), fingers (to support your four fingers and thumb), heel (located below the palm directly above the point where your hand meets your wrist) and palm (a "pocket" in the centre of your glove is used to catch and secure the ball).
When buying a glove, there are a few basic terms that have to be defined. First of all, 'type of throw' refers to which hand a player uses to throw the ball (not which hand the glove is on), depending on if the player is a righty or a lefty. 'RHT' means right-hand thrower (that the player throws with his or her right hand and wears the glove on the left) and 'LHT' means left hand thrower (that the player throws with his or her left hand and wears the glove on the right). Weirdly enough, gloves can be hand-assembled from up to 25 individual pieces.
The pocket size that's best for you will depend on your position. Amateurs should opt for a multipurpose glove; a small pocket size will enable faster releases, while a larger one will make for reliable catching. An outfielder's typically has a bigger pocket than that of a middle infielder, as the main prerogative of outfielders is to be properly equipped to catch fly balls as easily as possible. Middle infielders (shortstops and second baseman) mostly prefer a shallower pocket, as this enables them to get the ball out of the glove rapidly – especially important on double plays.
Another option to consider is treated leather, which is preconditioned with oils for a faster break in period. A few players favor mesh backed gloves over something lighter. For younger players making a rare departure from leather can make sense, as synthetic gloves are among the lightest and most affordable on the market. Be sure to carry out due diligence here, though. As mentioned earlier, these brands are more difficult if not impossible to break in. Ask the retailer for more information on the material, its qualities and how to look after it. This is typically a budget choice only.
Usefully, Velcro and D-ring designs can help you adjust the fit of your glove more precisely and comfortably. The amount of padding you have on your glove is yet another factor that depends largely on the position you play. Catchers need more padding to protect their hands from pitchers' throws. Players in some other positions, including at first and third base, may also find that they require extra padding. In recent times there has been increased interest in wrist padding for the corner infield positions.

Webbing
Several different types of webbing are found in gloves for baseball players. The type of webbing most frequently seen on an infielder's glove is characterized by loose stitching, which is intended to give more control in moving the ball out quickly - while also helping to avoid picking up large clumps of dirt. Outfielders usually opt for gloves with open webs to allow for improved visibility. There are eight widely-recognized varieties of webbings to choose from: closed/basket web, H-web, I-web, trapeze web, modified trapeze web and two-piece closed web.
Regardless of your preference for open or closed webbing, it always makes sense to look for a glove that has fairly solid webbing that is securely attached to the rest of the glove. That type of construction should ensure that the glove is durable. Usually, pitchers go with closed (including two-piece closed) or basket webbing, as this enables them to hide the ball more fully from the hitter.  Third basemen (as well as outfielders) tend to favor H-web, as it helps to provide them extra support. It is usually the middle infielders who prefer the open I-web design for faster retrieval.
I-web has great utility for middle infielders in that it allows debris to drop out in the process of fielding or throwing a ball, while also protecting from the sun for fly balls. As for the trapeze web design, it's almost exclusively used by outfielders. This type of glove features a deep pocket for maximum catching range and also gives welcome relief by blocking the sun. The modified trapeze web is for multi-tasking – it can be used to great effect by pitchers, outfielders and infielders. It is distinguished from the original trapeze design by a leather strip on top for extra stability.