Gridiron Grips: The Best Football Gloves for 2022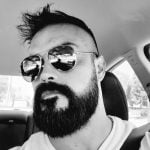 This product guide was written by Billy Brown
Last Updated
April 27, 2021
Billy Brown
Billy Brown has a problem sitting still. His constant search for the next challenge has him doing everything from running ultramarathons and climbing 14er's to gaining 40 pounds to compete in powerlifting, breaking several state records and growing a killer beard in the process. With over a decade of writing under his belt, his work, covering action sports, gear, and beer, can be found in a variety of publications. He lives with his wife and their two cats in Sacramento, California.
GearHungry may earn a small commission from affiliate links in this article.
Learn more
In football, every inch counts. When you're fighting to squeeze every yard out of every down, you'll take any edge you can get, and a solid pair of football gloves can give you a heck of an edge.
When someone says "football gloves," receiver gloves are usually the first things that come to mind. And it makes sense; a sticky, effective pair of receiving gloves make the difference between getting another clip for your highlight reel or running off the field with your head down so the punt team can kick it away.
However, like the players who wear them, lineman and linebacker gloves are often overlooked but are equally important components of the game. While most gloves on this list will be geared towards receivers, running backs, and the guys in the secondary, we also checked out a few protective pairs for the big guys in the trenches.
Take a look at our list of the best football gloves, and let us know if there are any we missed on our social channels.
The Best Football Glove Review
Grip Boost Stealth Pro Elite Football Gloves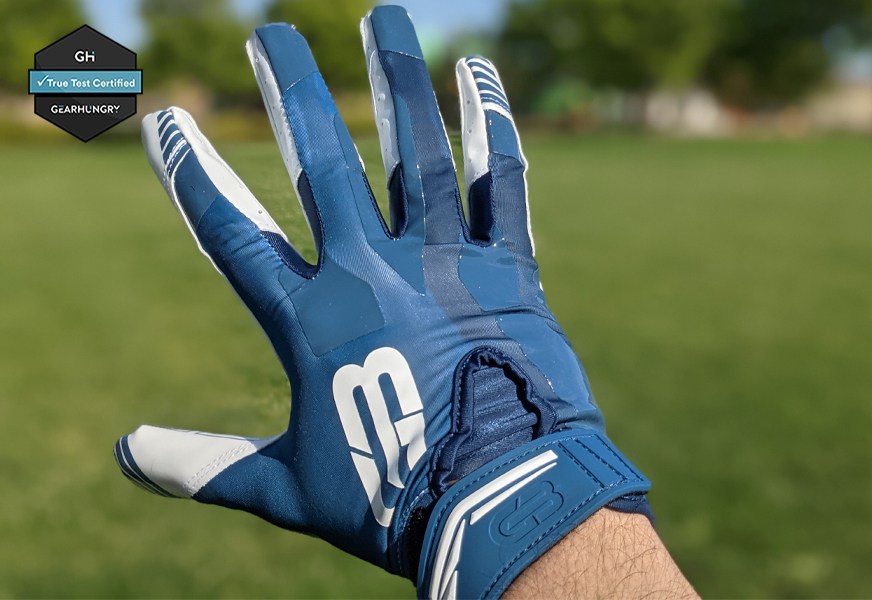 The Stealth Pro Elite football gloves from Grip Boost address two of the biggest complaints that players have with receiver gloves: that the palm grip loses its tackiness over time and that the grip is ineffective when conditions get sloppy.
This problem isn't an issue with the Stealth Pro Elite, thanks to the proprietary palm grip formula that utilizes modified chitosan, a natural polymer derived from crab shells with excellent adhesion properties. It is used to develop blood-clotting bandages and surgical sprays. It apparently sticks to footballs, too, because the Stealth Pro Elite uses it to maintain a ridiculous amount of tackiness in both wet and dry weather. Just enough, in fact, to stay within the standards of NFHS and NCAA regulations.
Also, the sticky palm is refreshable, so if it starts to lose its stickiness, quick treatment with Grip Boost's glove grip gel will make them feel good as new.
We haven't worn the grip down yet, but I can tell you that the grip is unbelievable. I was more of a hitter than a receiver, but these gloves had me pulling one-handed catches during testing in the park – like Odell Beckham Junior in his prime. The weather has been perfect during testing, so I soaked the gloves with a hose to check the grip in wet conditions, and they still stuck like glue to the ball. Read the in-depth review here.
Key Features:
Refreshable grip
Adjustable compression fit
All-weather grip
Meets all NFHS and NCAA standards
Available in eleven colors
Specification:
Brand

Grip Boost

Weight

3.42 ounces

Size

Youth Small-Large, Adult Small-XXL
Adidas Adifast 2.0 Football Gloves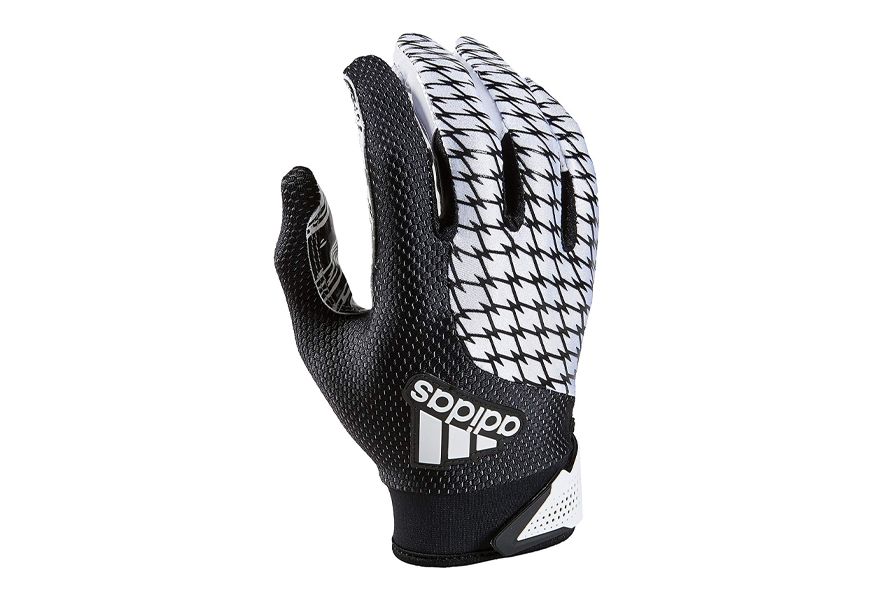 If you're looking for some killer receiver gloves, the Adifast 2.0 from Adidas might be the best football gloves in the world. The combination of super-tacky palm and the (shoot, there's no better way to say it) glove-like fit is a hard combo to beat.
Most of the receiver gloves on this list have some form of sticky grip or another, but the skintight fit of the Adifast 2.0 really makes it stand out. This is thanks in part to the four-way stretch back, which contours to your hand and prevents any sliding around.
I've used similar gloves from Adidas, and the fit makes it feel like you're not wearing gloves at all. This excellent fit makes it so that your gloves won't slide around when catching a line-drive pass; your quarterback can rope it to you without it slipping through your hands. It's the closest thing to putting stickum on your hands that you'll find.
Combine that with highly breathable and sweat-wicking material to keep internal moisture to a minimum and a price that lets you buy a set for both your home and away uniform, and you've got some of the best football gloves on the market. For more top-quality protective gear for football players, check out our selection of the best football shoulder pads.
Key Features:
Adidas GripTack palm
Stretch back fits like a second skin
Climalite fabric vents excess heat
Sweat-wicking
Available in four colors
Specification:
Brand

Adidas

Weight

3.77 ounces

Size

Adult Small-XXL
Battle Double Threat Football Gloves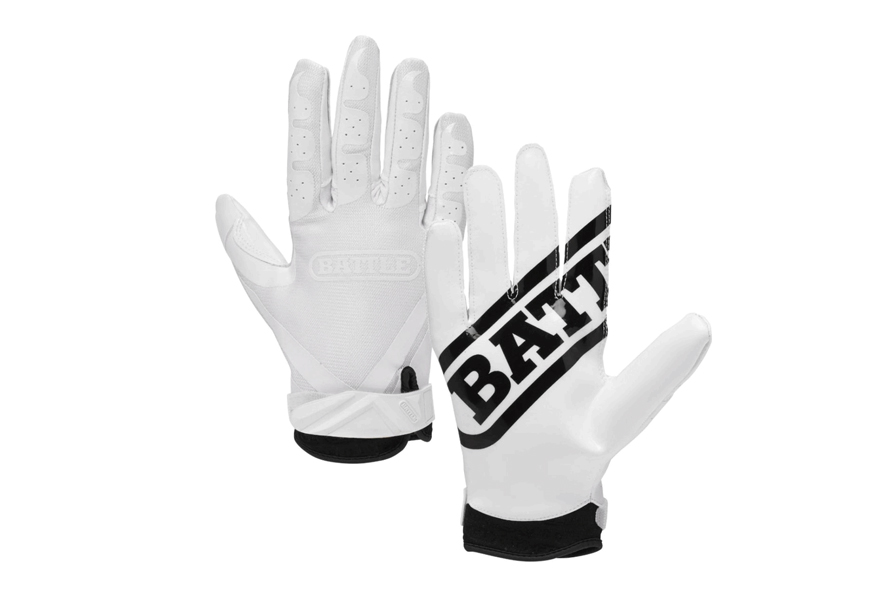 From the guys who make the legendary Battle Binky mouthguard comes some of the stickiest football receiver gloves you'll find on this list. Literally, you won't find any regulation gloves stickier than these because the Double Threat Football Gloves from Battle are rated at the top end of legal stickiness for the National Federation of State High School Associations, the National Collegiate Athletic Association, and the National Operation Committee on Standards for Athletic Equipment.
The sticky material covers the entire palm side of the glove, giving both the palm and the fingers a huge, sticky surface area for both one-handed acrobatic catches and for tucking the ball in right before a linebacker lights you up. The ventilation on the top of the fingers and back of the hand keeps your hands cool and dry, and a dozen colorways ensure that you'll find a pair that fits your uniform.
As a bonus, the Double Thread comes with an unlimited defective guarantee, and a 90-day durability guarantee, so if you thrash them during spring and summer practice, Battle will send you a new pair by the season opener.
Key Features:
Maximum legal stick limit
Finger ventilation
Meets all NFHS, NCAA, and NOCSAE standards
90-Day Guarantee
Available in ten colors
Specification:
Brand

Battle

Weight

4.8 ounces

Size

Youth Small-XXL, Adult Small-XXL
Under Armour F7 Football Gloves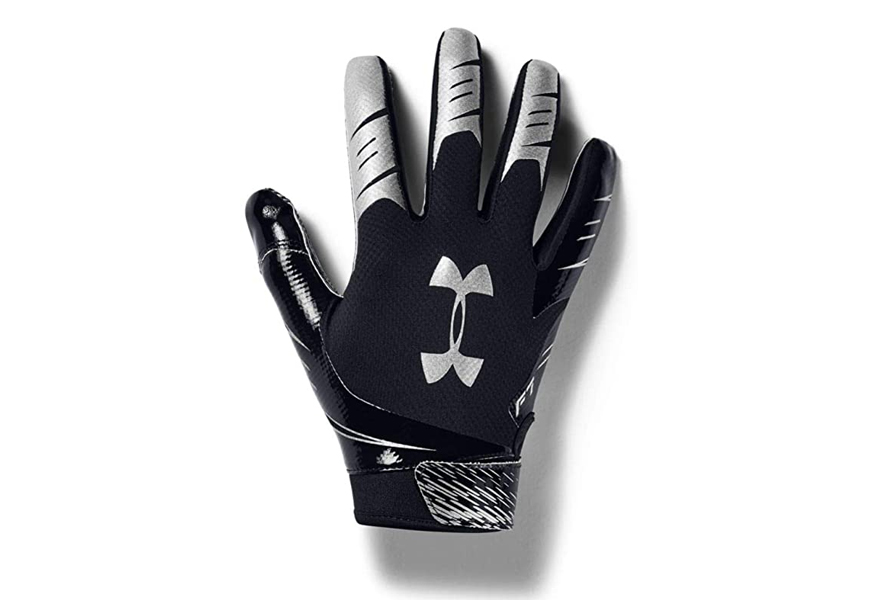 There's no replacement for the smell of fresh-cut grass on a football field or the fun of sliding your way through a muddy, sloppy playoff game in late November. For better or worse, though, more and more fields are being converted to turf, which provides a consistent response and excellent traction throughout all weather conditions. Unfortunately, it also shreds your uniform (and your skin) over time.
Gloves aren't immune to this extreme amount of wear and tear that turf creates, which is why we love the F7 Football Gloves from UnderArmour. These gloves sport an extra durable TurfGear material on the backs of the hands. When you dive for a pass and tuck it before you land, your hands are going to be taking the brunt of the slide with your full bodyweight laying on top of them, so this extra armor (hey, like the brand name!) goes a long way in adding durability to both the gloves and your hands.
Also, UnderArmour's GlueGrip palms provide sticky contact with the ball, and the NFHS, NCAA, and NOCSAE approvals mean your 90-yard catch and runs won't be negated by out-of-regulation gear. Combine them with some of the top football girdles from our list and stay safe and protected on the field.
Key Features:
Durable TurfGear material on back of hand
UA GlueGrip
Meets all NFHS, NCAA, and NOCSAE standards
3D print overlays for support
Available in eleven colors
Specification:
Brand

Under Armour

Weight

3.53 ounces

Size

Adult Small-XXL
Cutters Game Day Football Gloves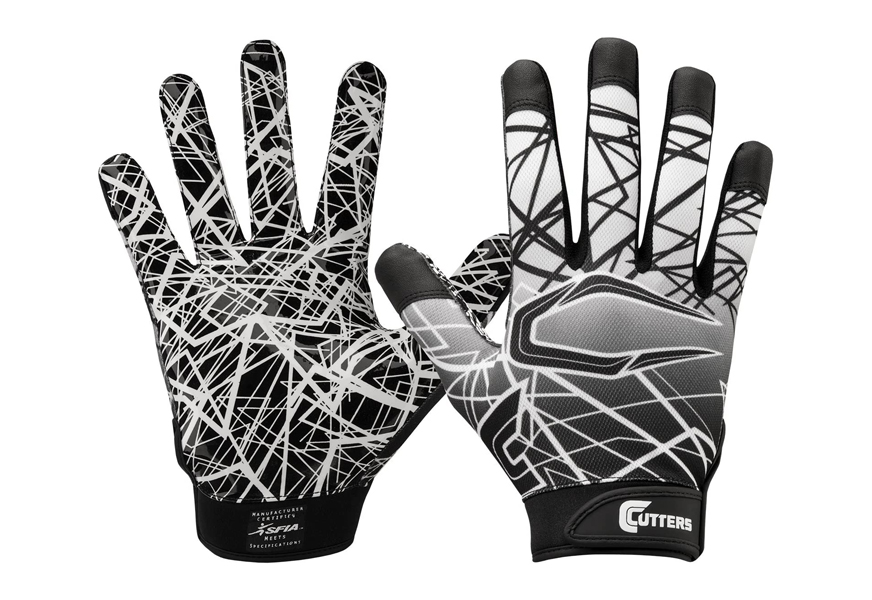 If you play football in a hotter climate or you're just exceptionally sweaty, the Game Day Football Gloves from Cutter could be just the thing for you. What makes these stand out among the other gloves on this list is the full mesh backing. The entire back of the hand and fingers is made up of a fully breathable and stretchy mesh, which not only provides a comfortable skin-tight grip but also sports an open weave that allows hot air and moisture to escape the glove. During hot summer practices and early-season games, when things tend to heat up, this does a great deal in keeping your hands from feeling slick and clammy. 
On top of that, the silicone SpeedGrip palm provides a tacky grip for catching passes, and the fact that you can throw them in the washer and dryer without ruining them is a huge plus. The mesh backing does mean a sacrifice in durability, so be aware that you may need to replace the pair mid-season, especially if you play on turf. And to stay safe from injuries while playing, be sure to invest in some of the top-rated football helmets from our list.
Key Features:
Fully mesh back of hand and fingers
Silicone SpeedGrip palm
Meets NFHS and NCAA standards
Machine washable and dryable
Available in two colors
Specification:
Brand

Cutters

Model

S150-01-32

Weight

1.76 ounces

Size

Youth Small-Large, Adult Small-XL
Grip Boost Peace, Shaka, and Hook 'Em Gloves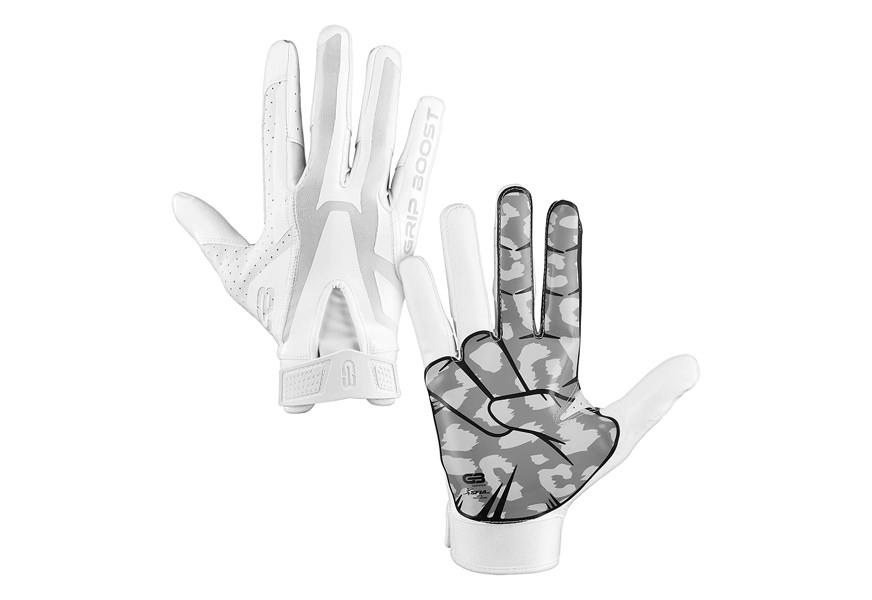 I had to include these gloves because they made me laugh out loud when I first saw them. The Peace, Shaka, and Hook 'Em Gloves from Grip Boost win the best style points for contrasting designs on the palms showing hands doing the peace sign, the shaka brah, or rock 'n roll horns.
The illusion of a receiver going up for a pass while throwing up two shakas might be the most epic image I can imagine, and it gives me no end of joy that these gloves exist. It serves a strategic purpose as well: having a receiver wave at you with a peace sign while he burns you for a 60-yard touchdown is probably one of the most demoralizing things a safety can see. Nothing says "I can do this all day" like a guy who can laugh at himself while he puts a whooping on you. These are just damn cool football gloves.
And yes, the gloves are functional as well: the modified chitosan polymer gives them a ridiculous amount of grip in both wet and dry weather, and the compression material in the back of the hands conforms to the contours of your hand for a perfect, custom-like fit.
Also, like all of the gloves from Grip Boost, you can refresh the palms with the company's glove grip gel to maintain their tackiness all season long. For golf players, we have prepared our selection of the best-selling golf gloves. Be sure to browse them.
Key Features:
Refreshable grip
Adjustable compression fit
All-weather grip
Meets all NFHS and NCAA standards
Available in six styles and colors
Specification:
Brand

Grip Boost

Weight

4.9 ounces

Size

Adult Small-XXL
Adidas Freak 3.0 Receiver Gloves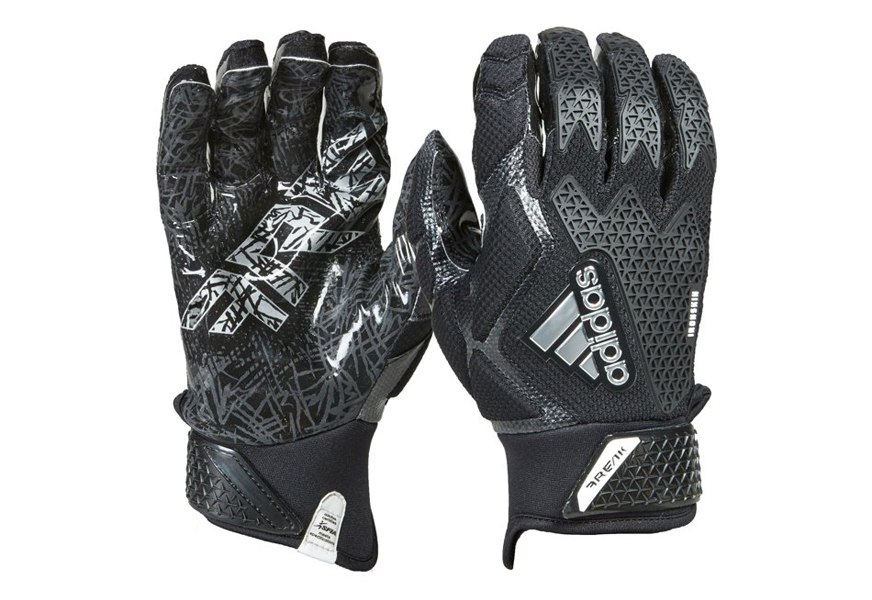 If you're looking at this list, you're likely searching out receiver gloves, but defensive players need some good kit as well. Since I spent most of my time playing safety and linebacker, I had to throw a bit of love to the guys on defense with a legit pair of linebacker gloves.
Officially, the Freak 3.0 glove from Adidas is a receiver glove, which is great for snagging passes in the flats for a quick pick-six. But linebackers spend a lot of time in the trenches, so most receiver gloves lack the protection that you'd need at the bottom of a dogpile or when getting sandwiched between linemen.
The Freak 3.0 padded football glove makes a great case for being the top football gloves for linebackers with its high-density foam padding and firm rubber panels on the back of the hand, which add a good amount of protection to that sensitive area. It'll still hurt like hell when a 300-pound tackle steps on your hand, but your hand will be just a bit less likely to sustain injury. And that's more than we can say for most of the gloves on this list. 
Lacrosse fans will surely be interested in these reliable lacrosse gloves that provide grip and protection. Check them out.
Key Features:
High-density foam padding on the back of the hand
Abrasion-resistant panels for added durability
Grip Tack palm material provides grip in wet weather
Wicking material in the back of the hand
Compression fit
Available in three colors
Specification:
Brand

Adidas

Weight

6.31 ounces

Size

Adult Small-3XL
Adidas Scorch Destroy 2 Padded Lineman Gloves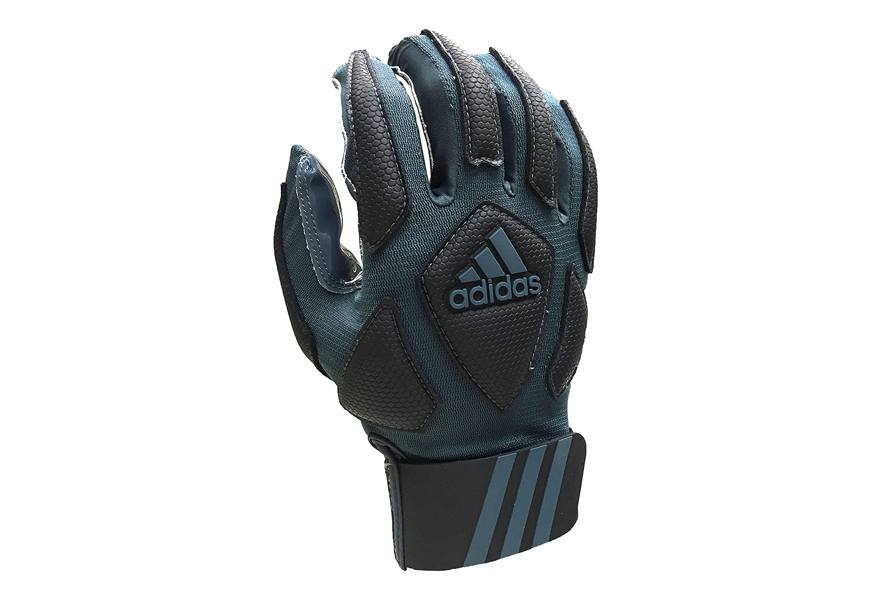 We'd be doing a disservice to our players in the trenches if we didn't include at least one glove for linemen. It's been said that crashing headfirst into the opposing line is like getting into a car crash on every down, so it makes sense that our lineman's glove is the most padded and protective glove on this list. With 5-mm foam padding on the back of the fingers, the Scorch Destroy 2 from Adidas will provide plenty of protection down in the pit.
For offensive linemen, special padding in the palm absorbs the shock of keeping separation and maintaining control of a tackle who's trying to get through to your quarterback. The grippy palms are perfect for keeping the hands open and avoiding a holding call. And for the defensive guys, yes, a head slap is illegal, but only if anyone sees it. The padded palm lets you swing away at that left tackle's earhole all game…or until the ref drops a flag on you. For more amazing sports gear, be sure to read our comprehensive guide to the best-rated baseball gloves.
Key Features:
Foam padding on palms, back of hands, and fingers
Tacky palm side
Lycra back for breathability
Four-way stretch for a custom fit
Available in two colors
Specification:
Brand

adidas

Weight

4.8 ounces

Size

Adult Small-XXL
How We Tested & Why You Can Trust Us
To give you an in-depth look at each football glove on this list, I researched the best products online, recalled what I've loved about football gloves that I've used in the past, and called in a few pairs to test and evaluate any pieces that were new to me.
I rounded out my first-person impressions with user reviews online to gather a comprehensive view. I was also a college-recruited linebacker and strong safety way back in the nineties.
Who This Is For
This article is intended for people who are looking to find the best football gloves for competitive play. The gloves on this list are primarily for skill players, but I've added a few options for defensive players and linemen.
How We Picked
I tried to find good football gloves that would be useful in all kinds of situations and for a range of priorities, as well as a few different positions.
I looked at the grip, fit, durability, and breathability, among a few other factors, and categorized them according to what priorities readers may be looking for in a good pair of gloves for football.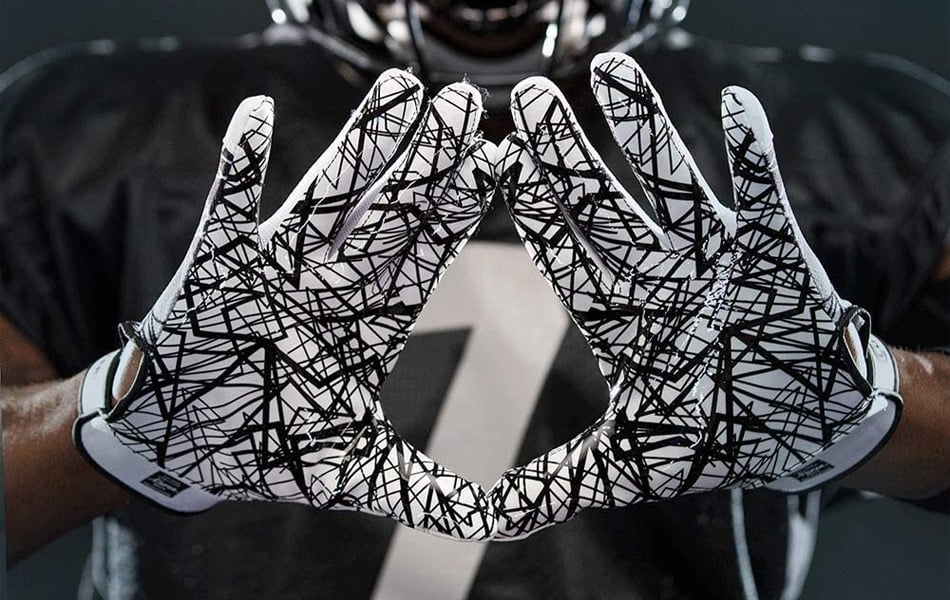 Features to Look for in Football Gloves
Since most football gloves are geared towards skill position players like wide receivers, the grip is probably the most important feature in a good pair of gloves.
Look for a pair of gloves whose palms and fingers are covered with a panel made of a sticky material like silicone, rubber, or, in one weird but effective case, deconstructed crab shells.
Adequate Ventilation and Breathability - This is more on the comfort end of the functionality spectrum. You don't want your hands to be slipping around inside your glove when your quarterback throws a bullet at you. Gloves with breathable mesh backs or panels on the back will help vent out excessive heat.
Fit and Comfort - Your gloves should fit like they were built for your hands. Too big, and the gloves will move around, and you'll lose the control needed for catching a ball, but too tight, and your fingers will end up uncomfortable and cramped.
Most gloves have a stretchy material like lycra in the body to provide a nice, tight fit without being too restrictive.
The main thing to consider is that your fingers have enough room to extend fully. Look for a sizing chart when searching out gloves to make sure you get the right fit.
Padding and Protection - Padding is more of a concern for defensive players and linemen, who are searching out hits versus avoiding them. If this applies to you, look for gloves with padding on the back of the hand to keep those sensitive metacarpals safe.
Thinness - When it comes to receiver gloves, you want them to feel like you're not wearing any at all. A glove that's too thick will hamper your tactile sensations and hinder your feel of the ball when you're trying to catch it.
Look for the thinnest gloves that you can find that will still provide adequate stickiness.
Washability - Even if they're built for toughness, it pays to treat your gloves tenderly when it's time to clean them. You can wash them in a washing machine but wash them in cold water in the delicate cycle or in a bag like a pillowcase or lingerie bag and hang dry them to help them last longer.
Durability - Most football gloves are built to survive the rigors and impact of football, but let's face it: it's a chaotic game that is very rough on gear.
Check the user reviews and durability ratings on any glove you're considering and check to see if the manufacturer offers any warranties.
Weatherproofness - Football is primarily a fall and winter sport, so any glove you buy should be prepared to weather any storms you have to play through.
For receiver gloves, the challenge is staying sticky when they get wet. Materials like silicone are excellent for their tacky properties in all kinds of conditions.
Types of Football Gloves
Receiver Gloves - The majority of the gloves you're going to see on the market are receiver gloves. Designed for effectively catching and gripping the ball, the main feature of these gloves is an extremely tacky palm. These gloves are worn by (obviously) receivers, defensive backs, running backs, and even quarterbacks when the weather gets cold (usually only on the non-throwing hand).
An offshoot of receiver gloves is the more padded version, like the Adidas Freak series. These gloves are basically receiver gloves with extra protective padding on the back. These are favored by defensive players who hit often but still want that grip when a ball is thrown their way.
Lineman Gloves - Worn by offensive and defensive linemen, these gloves are characterized by a padded palm and back to protect the hand during repeated impacts.
They generally have tacky palms, but that's more for maintaining friction on a lineman on the other side of the line of scrimmage.
These are generally full-fingered gloves, but centers may choose fingerless versions for more control when they snap the ball.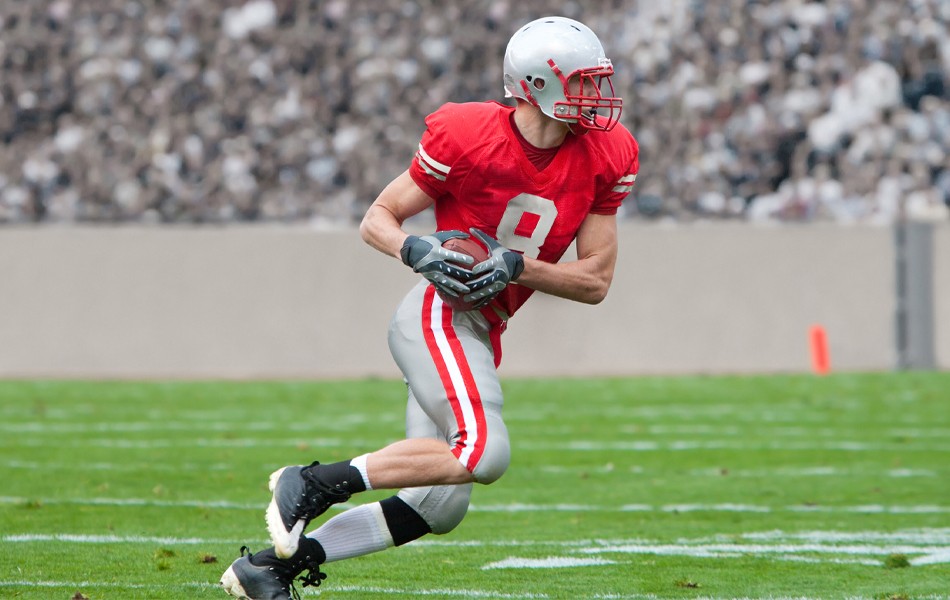 Football Glove FAQ
Q: Do football gloves really help?
A: They absolutely do. The palms of these gloves are stickier than your bare palms, so they are a huge aid in catching the football or bringing down a running back, plus the padded gloves provide added protection.
Q: Do football gloves keep your hands warm?
A: They provide a bit of insulation (until they get wet), but that's not their primary use. The main concern with football gloves is that they vent excess heat and sweat.
There are cold-weather football gloves on the market, but unless you're playing in the snow, they can overheat your hands.
Q: Do football gloves lose grip?
A: Over time, most football gloves will eventually lose their stickiness. You can help a glove's longevity by keeping it out of the sun when not in use and cleaning it frequently.
Some companies like Grip Boost also offer grip refreshing gels that will renew your gloves' stickiness.
Q: How do I make my football gloves sticky again?
A: Usually, a glove loses its stickiness when it gets dirty, so cleaning your gloves frequently is a great way to maintain stickiness. If they get filthy, roll up a wet wipe and rub it between your gloved palms to get the dirt out.
Also, storing them out of direct sunlight is a great way to prevent the sticky material from drying out.
There are also grip refreshing gels that can make your worn-out gloves sticky again.
Q: What are football gloves made of?
A: The most common materials are leather (for durability), some stretchy mesh (for breathability) and a rubber or silicone grip pad (for stickiness).
Padded gloves will also have foam or thick rubber padding for added protection.
Q: How do I wash my gloves?
A: You can either hand wash your gloves, and air dry them or put them in a washing machine on the delicate cycle with cold water and hang dry them.
Better yet, put the gloves in a pillowcase or lingerie bag (you know you have one) before putting it into the machine.
Q: How long will football gloves last?
A: Depending on your position and how well you take care of them, you should plan on going through 1-2 pairs of gloves from spring practice through the end of the season.
Sources:
What is the NCAA? - NCAA
Lab Coats & Crab Shells - Grip Boost
Sign Up Now
GET THE VERY BEST OF GEARHUNGRY STRAIGHT TO YOUR INBOX