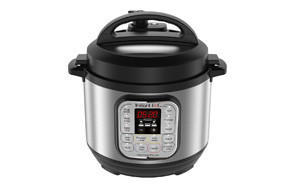 Instant Pot Duo Mini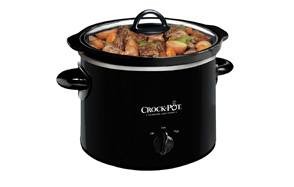 Crock-Pot Round Mini Cooker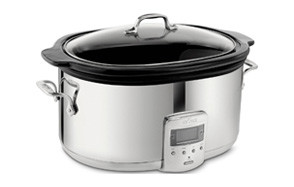 All-Clad Programmable Oval Slow Cooker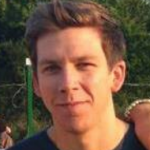 Culinary men, fathers with not enough time in the day, hear us out: you remember when you'd come home to a meal sitting in the slow cooker, and everything would just be right with the world? We don't have the time to make a long, drawn-out meal, but we do have the time to toss in the most succulent ingredients into the slow cooker, and have hot, fresh dinner waiting for us when we get home. Whether you want that nostalgic flavor of food from your youth, or you just want to make your life a little easier, we've found the best slow cookers to add to your kitchen.
The Best Slow Cooker
Slow Cooker Buying Guide and FAQ
How We Chose Our Selection of Slow Cookers
The time-tested favorite of 70s and 80s kids everywhere, slow cookers bring you a load of nostalgia in most of your favorite meals. Without letting fond memories cloud judgment, we've taken the following criteria into account to bring you this list:
Brand name, reputation, and average warranty
Materials used in construction
Number of settings
Life expectancy
Expected electricity use over an eight-hour period
Total volume of the pot
Minimum and maximum temperature range
Additional features and attachments
When your really boil it down, these are simple and easy-to-use appliances that take all the guesswork out of cooking. While not every slow cooker met all requirements, it's a give and take, which is why we've covered fourteen of them in-depth.

Features to Look For in Slow Cookers
Materials & Build - Materials of the pot itself, the heating coil, certain grades of stainless steel: the best slow cookers use top-grade materials, but you should always pay attention to the build to avoid making mistakes.
Size - How much can it hold? These are usually measured in quarts, but keep in mind, you shouldn't fill your slow cooker above ⅔ capacity if you want it to cook consistently.
Settings - Most classic models have off, low, medium, high, and warm. In an old-school sense, that's all you need, but if you want to give yourself all the options in the world, look for the most features possible on the interface.
Features - Some models, like our top pick, come with additional attachments and cooking features, preventing you from buying vegetable steamers and rice cookers.
Durability - The coil or heating element would be the first thing to go. Out of just about every slow cooker we tested, it has durable wiring and a solid base. The durability is basically the life expectancy of your unit.
Slow Cooker FAQ
Q: What is a Slow Cooker?
A: These handy little countertop kitchen appliances allows you to simply set, and forget, in the most true blue sense of the phrase. The base contains heating elements, such as coils and hot plates, which sends residual heat to the cooking pot. Those pots are usually made of stainless steel, stoneware, or a type of porcelaine. Heat transfers to the pot, and based on the weight of the pot, it'll keep a seal between the base and itself, maintaining heat. These are safe to leave on while you're out of the house all day, and allow you to use lower quality meats and ingredients to save money, and get a stellar meal out of it.
 
Q: How to Use a Slow Cooker
A: It's essentially plug-and-play: connect it to the outlet, choose low, medium, high or warm (on most basic models), and let the food cooking commence. Following recipes to a tee will result in excellent dinners and delicious stews to snack on over the course of a few days, and while it all sounds pretty simple, these are some tips on how to use your slow cooker most efficiently.
Keep your vegetable chunks large so they don't dissipate or distort in the cooking process.
Browning raw meats in a pan first will give them enhanced color and flavor, even after a long stewing process in the slow cooker.
If your end result is too thin, cornstarch or flour will thicken up broth.
If you're using fresh herbs, ensure they're completely under the liquid level to give-off the best flavor possible.
Every time you lift the lid, you have to add twenty minutes to the expected time, because you're releasing low pressure and concentrated heat/steam. This is why they come with glass lids.
Don't use top-tier meat (veal, lamb) in a slow cooker; they will fall apart.
Cut everything as even-sized as possible for mealtime consistency.
Always, always, always check the temperature of your food before serving, just in case of a hardware malfunction. You want to make sure it's safe to eat.
Q: Are You Supposed to Put Water in a Slow Cooker?
A: For almost every recipe, yes, you're expected to put water in. You're creating a broth, whether it's in stew, a roast, or cooked vegetables, because while the slow cooker is gently cooking your food, it's still creating condensation, which you'll be able to see on the underside of the glass lid. Depending on how long you'll be away from the slow cooker or out of the house, you'll need ample amounts of water to prevent sticking and burning.

Q: What Can You Cook in a Slow Cooker?
A: Anything you can make, a slow cooker can usually make just as well, and if not, better. There's virtually no limit to what you can cook in a slow cooker, which is why we exhaust our favorites, and often turn to The Country Cook or AllRecipes.com for inspiration. Using your imagination and the fundamentals of science-based cooking, you can make endless safe to eat and delicious recipes.
Q: Can You Put Raw Meat in a Slow Cooker?
A: It's completely encouraged. We discuss frozen meats in a minute, which fall under different stipulations, but thawed or fresh raw meat can cook beautifully in the slow cooker. The main thing you want to avoid is accidental burning. If you're throwing a raw 2lb roast into the slow cooker, it's going to emit sodium from the blood in the meat, which can dry up and make the meat stick, and eventually burn, to your cooking pot.
Slow Cooker recipes often call for a certain amount of water, which slowly evaporates over the cooking time, but also helps to create delicious broth that keeps your meats moist throughout the cooking process. Since the temperature range of the slow cooker can be enough to boil water, it's more than enough to cook raw meats sitting in a broth or heavy volume of water.
Q: How Long Does it Take to Cook in a Slow Cooker?
A: It depends on the contents, the volume, and if you're cooking meat or not. On average, meals tend to require four to six hours to be fully cooked. Temperatures in your slow cooker range from about 200F to 300F, mimicking the lower settings on your conventional oven. We'll talk about frozen meats in a minute, and how it can really impact your overall cooking time. So long as all the food in your slow cooker has reached a safe temperature, it's safe to eat, but you always want to take taste into consideration. For most foods, the longer it cooks, the better it's going to taste, up to a certain point.
Q: Can You Put Frozen Food in a Slow Cooker?
A: There's no short answer. This writer ate out of a Crock-Pot five days a week as a kid, and in the morning, that often meant throwing frozen meats into the pot before turning it on. I never got sick, but there is a risk for those of you tossing meats right out of the freezer, straight into the pot.
Any meat needs to reach an internal temperature of 145F to become safe to eat. That's just the threshold where harmful bacteria stops reproducing, and dies out completely. If you're throwing a frozen 3lb roast in the slow cooker for four hours, it's going to go through an entire thawing process, at which point, bacteria will emerge from its frozen state and begin to multiple, from temperatures at low as 40F, all the way up to 144F (donned the "Danger Zone"). Bacteria is stubborn, so if you're raising the temperature of your meat rapidly, it might take a few minutes for an internal temp of 155F to have fully quashed all living bacteria.
If you're leaving the meat in there for a while, you should be okay. Slow cookers generally range from 200F on lot, up to 300F or higher on their high setting, so you should be safe, but it's always smart to test it out with a meat thermometer before serving.

Q: How do You Wash a Slow Cooker?
A: It depends on the material of the pot. Slow cookers can be a pain in the behind to clean, because you're essentially binding food to it for eight or more hours in a single use. Think about cleaning one frying pan after only using it for ten minutes, and multiply that. When you clean a slow cooker, you'll have to soak the whole thing for a few minutes before you can really dig into it.
These are going to come in stainless steel and stoneware for the most part, which makes them durable, but not necessarily viable for the dishwasher. While they're not going to take any damage, they'll weigh down your racks and possible damage the wheels in your dishwasher. We always recommend hand cleaning, which also gives you a window of opportunity to dig into stuck-on food.
The second that dinner is over and your stow away the leftovers, take that warm cooking pot and hit it with the sink hose on full pressure. It'll tear away any stuck-on food, and while it's going to create some hassle for your garbage disposal, it's also going to leave a more consistent clean. The number one thing to look out for when cleaning your slow cooker pot, is the ghost line around wherever your food was resting. Water is going to slowly evaporate from your slow cooker, and leave a ring of caked-on food residue at the highest point where your food was within the pot. Use your hands, feel all around the pot for any of this, and ensure a thorough clean.
Sources: