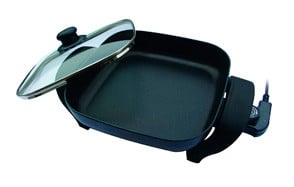 Nesco 8-Inch Electric Skillet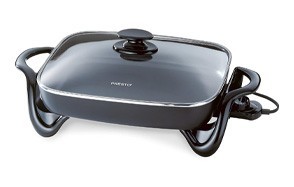 Presto 06852 16-Inch Electric Skillet with Glass Cover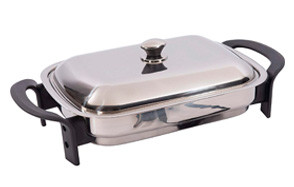 Precise Heat 16-Inch Stainless Steel Electric Skillet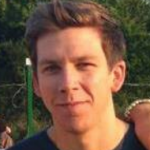 Cooking can be stressful, and sometimes it can actually ruin your enjoyment of the final meal. There's so much jumping between pans, checking ovens, and setting timers, you don't even have a second to stop and smell the sweet scents of your creation. If this sounds too familiar, and you're looking for something that won't just reduce kitchen stress but also maximize your ability to cook a variety of meals in a way that's reliable and, most importantly (some would say) easy to clean, then investing in one of the best electric skillets is where you need to look. Whether it's helping with mammoth holiday feasts or just something quick for breakfast, they have the tools that you can rely on time after time. Here are our picks for the very best, all for you.
The Best Electric Skillet
Electric Skillet Buying Guide & FAQs
Since not all skillets on the market are worth buying, you need to take these into considerations when buying one.
Dimensions - The dimensions of the skillet must be related to its intended purpose. If you are a student or will like to use it in an office space, you might probably like to go for a smaller skillet which is convenient to carry around. Large-sized skillets are ideal for the home and for cooking meals for a large number of people. A smaller size will also be good for campers.
Temperature Control - Look out for skillets which can be controlled easily to suit your needs.
Ease of Cleaning - If you are someone who wants an easy way out and stress-free cleaning experience, it's best to opt for a product you can easily clean after using. It will certainly save time if you choose a product that can easily fit into your busy schedules.
Material Used in Construction - A good skillet should be durable and made with high-quality material that lasts long and starts the test of time. Select one that can be adjusted anyhow without compromising on its quality.

Electric Skillets FAQ
Q: What is an Electric Skillet?
A: An Electric Skillet is a piece of equipment or pan that can be used to cook many dishes when plugged into an electric socket.
Q: Can You Use a Skillet to Keep Food warm?
A: Yes. Some skillets come with warming trays to warm your food as well as different temperature controls for your varied needs.
Q: Can you Put a Skillet in A dishwasher?
A: Skillets can be put into dishwashers once the temperature control units or temperature probes are removed.
Sources
Is Being a Chef Bad for your Mental Health? - The Guardian