T-falActiFry Air Fryer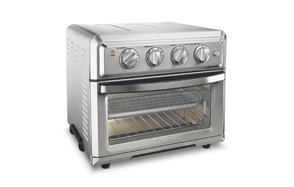 Cuisinart TOA-60 Air Fryer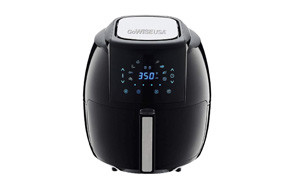 GoWISE USA 5.8-Quarts 8-in-1 Electric Air Fryer XL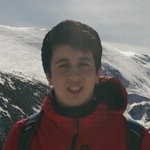 Fried food is the best! Crispy coatings and sealed in flavours are what make this type of delicacy so appealing. But, it doesn't exactly meet a healthy diet, unless you have an Air Fryer, of course! Using up to 80% less oil for frying, these nifty kitchen appliances use Rapid Air Technology to circulate air at high degrees, coating food with a thin layer of added oil as the air moves and cooks your meal to a crisp and golden perfection.
The Best Air Fryer
Air Fryer Buying Guide & FAQ
How We Chose Our Selection of Air Fryers:
Let's face it, these days we're certainly spoilt for choice and purchasing products has become a tedious journey of research, trial and error and sometimes just an "eeny, meeny, miny, moe" leap of faith. Well, if you're here because you're on the hunt for an Air Fryer that's going to be the perfect addition to your kitchen and healthy lifestyle, then we're about to cut your journey short.We've done the tedious and often brain-boggling bit for you.
We've narrowed down the vast variety of air fryers on the market down to the best ten. Rest assured that if a product has made it on to our list, we have assessed andscrutinized it to the tee by paying attention to quality, brand, what others have to say about it, and of course, value for money.

Quality - Firstly, we took a look at the quality of the various air fryers available. We studied the durability of the machines and what key functions they have in comparison to each other. While we would all enjoy an air fryer which boasts nifty features, essentially and most importantly, we want these features to last!
Brand - Brands come with a reputation and for the most part, this reputation gives one insight into the reliability and expectations of the products they manufacture. We pay attention to brands, their popularity and how they meet standards and expectations as the times change. While searching for the best air fryers, we rounded up some of the top brands to date.
Reviews - The people have spoken and we have heard! The best way to round up valuable information is to take it straight from the horse's mouth. We scoured the internet for air fryer reviews and used our compilation to eliminate the worst and narrow down the best.
Price - As much as we all wish we had an endless supply of cash, this, for most of us, is simply not the case. In compiling our list of top air fryers, we took value for money into the account and managed to produce a selection that can meet varied budgets while still keeping quality and functionality in mind.
Features To Look For In Air Fryers
Even the simplest of items and accessories found in your home are an extension of who you are, what you enjoy, and then some. We're here to help you with the "and then somes".  You have most likely made the choice of adding an air fryer to your household for two main reasons; one, for convenient cooking and two, to follow healthier dietary practices.
Nearly any air fryer will easily meet your main requirements, but as we said, we're spoilt for choice and the options and features are almost limitless.
Below is a list of important key features that you should take into consideration before making your selection:
Quality - When purchasing an air fryer, you want to settle on something that delivers its promise. It should be made from durable materials that are preferably safe for your health in all aspects, are highly durable and are put together practically – ensuring that the end result is exactly what you are looking for. Key quality features that should be kept in mind are the reputation of the brand behind the making, the materials used, the sturdiness of the product and reassurance from an accompanying warranty.

Is it easy to clean - To stick to the convenience of an air fryer, ideally you want it to be easy to clean too. With this in mind, you want to look out for models that feature non-stick coatings as well as parts that can be removed (and set back into place) easily. If they are dishwasher friendly, that's an added bonus!
Capacity - It's no use splurging on a large air fryer if you're only a 1-2-person household. If it's smaller meals you're looking for, then find yourself a machine that's fitted to this requirement. Pay attention to the mention of liters and quarts and the higher the accompanying number, the more food you can cook in the fryer at the same time. Keep in mind that smaller appliances tend to use less energy, so if you are looking for something economical and have fewer mouths to feed, less is still more.
Size - Let's be realistic, while an air fryer that boasts all of the features sounds amazing, the more function it has the larger it's likely to be. If you find yourself living in tiny one-bedroom apartment or bachelor pad, you're probably going to be short on space and might have to forfeit some features simply to ensure that the air fryer you choose will be able to sit comfortably on your kitchen counter. Yup, size matters!
Preset programs - We're busy people and the more direction and guidance an appliance can give us, the handier it is to have in our lives. Air fryers that get your food on the go with one click of a button or turn of a knob are extremely convenient for the more impatient or busier types (or those who simply just love convenient food). Of course, the more convenient an item is, the pricier it tends to be, so this is when the budget comes in to play.
Price - Price, oh price! The budget we must and whatever air fryer we choose needs to stick well within these budgets. This doesn't mean you have to skimp on quality, however. In our list of top 10 best air fryers, we made sure that we kept the price as a deciding factor and often a key feature. There are models available that are low in price but are still excellent appliances (although certain functionality may be limited). And if the price is of no concern, then we suggest you look out for features that will ultimately meet your household requirements, and then some.

Types of Air Fryers
Each air fryer has its own unique way of delivering the end product. The method of delivery, however, will depend on your preference. While there are a few ways that the air fryers we have listed function, we've divided them into the two most popular types, basket air fryers and paddle air fryers.
Basket Air Fryer
Basket air fryers are generally more common and work similarly to a deep fryer where you lower the basket into the machine, close the lid, and wait. Instead of using huge quantities of oil, however, the basket air fryer uses little to no oil and rely on heated air that's circulated at high speeds to cook food while giving it the same crispy layer.
Paddle Fryers
While basket fryers might require you to stop and turn food mid-cook, paddle fryers rely on a paddle to turn and rotate food for you. This helps to prevent it from burning and also ensures that your meal is evenly cooked to perfection. Usually, this type of fryer includes Rapid Air technology, which means it also uses little to no oil, like basket fryers.
Air Fryer FAQ
Q: What is an Air Fryer?
A: Air is definitely the new oil, and this is why air fryers have become such popular appliances! Using breakthrough Rapid Air technology, these cooking appliances use heated air that's circulated through the machine at a high speed to cook and crisp food, using little to no oil. This technology is based on the "Maillard reaction", a reaction between amino acids and reducing sugars (similar to caramelization) - the result is non-enzymatic browning.
Q: Is an Air Fryer healthy?
A: The short answer, yes. Air fryers help you to either reduce or eliminate the use of oils, fats and butter in your cooking. This means that you can ditch extra calories and lower your cholesterol too. Many air fryers also allow you to conveniently dehydrate your fruits and vegetables, which takes health snacking to a whole new level!
Q: What are the advantages of cooking in an Air Fryer?
A: Apart from assisting with healthier dietary habits, air fryers also have the convenience factor. Some of the models allow you to cook a whole meal together, all at once! So instead of having to use multiple pots, stove plates and oven pans, you simply put your portions into the air fryer, program your settings accordingly, and pass the time will the machine does the cooking for you!
For the most part, they are also more energy-wise and economical to use. Many machines switch off automatically when not in use and draw little power that still seems to go a long way.
Q: Should I buy an Air Fryer or Deep Fryer?
A: Well, how greasy do you like your meal? While air fryers are a healthier option and do manage to get food crisp and golden brown, completely submerging food in heated oil tends to make the end result a tad more flavourful than its counter option.
Q: Is there any specific type of oil required for Air Fryer?
A: Most air fryers allow you to use just about any oil, of course, the healthier the oil, the better. Best you check your machine's user guide however in case there are any oil specifications.
As a side note, non-stick sprays can damage non-stick surfaces and are not the ideal oil coating.
Q: Can I use aluminum foil or baking paper in the Air Fryer?
A: The answer to this is both yes and no. You can use both aluminum foil and baking paper at the bottom of your pan or basket if it is weighed down by the food. This is not recommended however as the materials will block the air from blowing evenly around the meal, defeating the fryer's purpose.
Q: Can I open the Air Fryer while cooking?
A: This answer depends on the model you have. If you have a make that allows you to slide the basket in and out at the front or side of the machine, then yes, this is a possibility and often a requirement if your air fryer needs manual turning or stirring of food.
Usually, the models that open at the top don't encourage you to remove the lid while in use, however, since the extremely hot air will be released and could burn you.

Q: How do I clean the Air Fryer?
A: Once again, this depends on the make or model you have chosen. Most air fryers allow you to unclip the parts that come into direct contact with food so that they can be cleaned easier. Non-stick appliances are also easier to clean and often need a simple wipe. Most modern models are dishwasher friendly, which makes cleaning less work.
As for cleaning solutions, it's preferable to stick to low-to-medium cleansers which won't eat away at non-stick coatings or other materials.
Sources:
How do air fryers work - Wikipedia
The Maillard Effect - Wikipedia