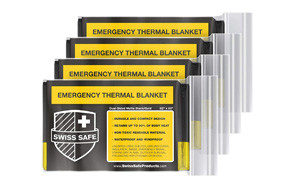 Swiss Safe Emergency Mylar Thermal Blankets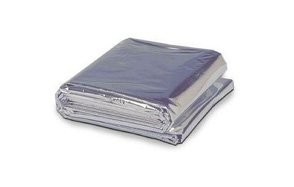 Dukal Heat Reflective Emergency Blanket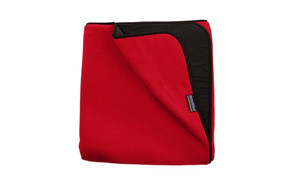 Mambe Large Extreme Weather Outdoor Blanket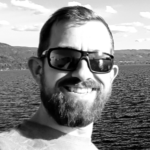 The emergency blanket (space blanket) is recognized today as essential outdoor kit. They're also essential items for homeowners who live in areas prone to heavy weather, RV owners and more. Below are the 10 best emergency blankets on the market today.
The Best Emergency Blanket
Emergency Blanket Buyer's Guide
What to Consider When Purchasing an Emergency Blanket:
Material - 90% of all emergency blankets sold today are mylar and for a few very good reasons. First, they retain virtually all your body heat, second, they weigh almost nothing so they're easy to bring into the woods with you and third, they're cheaper than a beer in a bar. There are other materials out there as well. But they're typically heavier and way more expensive. However, they will provide you what mylar can't: comfort.
Length - Most emergency blankets today whether mylar or otherwise are 82 or 84 inches in length by 52 or 54 inches wide. That's plenty large enough to cover a 6 footer of average build or cover 2 smaller folks or kids, should the need arise. It's also large enough to use as a ground sheet if you just want to lay your bag out on the ground for the night and enjoy the stars.
Weight - The standard mylar emergency blanket weighs about 2 - 2.5 ounces. Consequently you can take however many you feel you need. More involved emergency blankets like the 80% wool army blanket or the Mambe Super Extreme Blanket can weigh up to 6 pounds and take up considerable space in your pack. Still they're worth having in the trunk or under the sink.
Waterproofing - A good emergency blanket should be waterproof because cold isn't the only hazard you might face if you lose your way or your home is compromised by flood water or tornado. Fortunately true mylar blankets are 100% waterproof. The problem is there are some pretty convincing looking fakes out there that won't stop a raindrop. Caveat emptor.
Windproofing - Keeping warm outdoors is as much about retaining heat as it is about blocking wind. Any emergency blanket worthy of the name is going to be an effective barrier against piercing cold winds that could plunge you into a state of hypothermia in short order.
Durability - Since the average reflective blanket is about 12 microns thick and weighs just a couple of ounces durability just isn't part of the game plan. They're a short term fix. If you want something that's going to last pick up the 80% wool blanket. That will be with you for decades if you take care of it.
Emergency Blanket FAQs
Q: What is an emergency blanket and what is it used for?
A: Emergency blankets are typically lightweight fabric whose mission is it to help you retain body heat, shield you from the wind and/or the rain and provide you a fighting chance to survive in the event of a natural disaster or hiking mishap. Not all emergency blankets are necessarily ultra-lightweight 'space' blankets though. Some are more traditional wool blankets or ones that utilize current state-of-the-art insulation to provide warmth and comfort to the afflicted. A foil blanket typically has myriad uses ranging from providing warmth to serving as an emergency shelter, ground cloth or windbreak.
Q: Are emergency blankets warm?
A: Since providing warmth is one of the primary missions of the emergency blanket any one worth its salt will provide copious warmth. And that goes for whether they're made of ultra-lightweight mylar, old-fashioned wool or one of today's polyester blends with state-of-the-art insulation. Emergency blankets are warm first, other things second.