Best Muscle Recovery Tools In 2022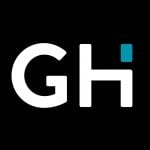 This product guide was written by GearHungry Staff
Last Updated
July 21, 2020
GearHungry Staff
GearHungry Staff posts are a compilation of work by various members of our editorial team. We update old articles regularly to provide you the most current information. You can learn more about our staff
here
.
GearHungry may earn a small commission from affiliate links in this article.
Learn more
Whether you prefer to hit your fitness goals at the gym, pounding the pavement in your best running shoes, or even make the most of your home gym, you have to pay attention to your recovery. We can't all afford a massage after hitting the gym, but with these recovery tools, you can reduce lactic acid buildup, eliminate soreness, and feel fresh the day after smashing your workout targets.
The Best Muscle Recovery Tool
Mighty Bliss Cordless Deep Tissues Muscle Recovery Tool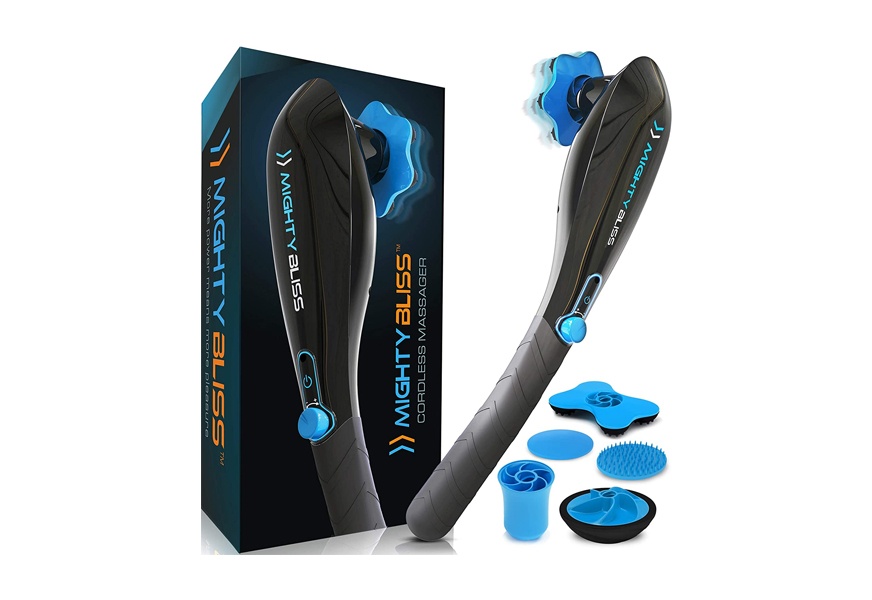 The Mighty Bliss Cordless Deep Tissues Back and Body Massager is a powerful choice that boasts an impressive 3700 RPM to boost recovery time and get you back to pumping iron in no time.
It is cordless and portable, but also has a long-lasting battery and fast recharge time so you can use it whenever you need. The model is also slim and lightweight, so it will fit easily into your gym bag while still leaving enough space for your workout gear, running shoes, and a protein shake. There are six massage head options for versatile application and targeting, and these will increase blood circulation and relax muscles, so you don't feel too sore tomorrow, or even the day after that!
Key Features:
3700 RPM
Long-lasting battery with fast recharge
Slim and lightweight
six massage head options
Increases blood circulation
Cordless and portable
Specification:
Brand

Mighty Bliss

Model

BD1372

Weight

3.4 Pounds
LifePro Sonic Handheld Percussion Muscle Recovery Tool
Available in three colors, the LifePro Sonic Handheld Percussion Massage Gun provides several options that you won't find with every recovery tool. It also comes with a comprehensive five-speed setting that provides a range of pressures to sufficiently target aching muscles and body parts without over-exerting them.
With this recovery tool, you can enjoy a deep and powerful massage ideal for experienced athletes and beginners alike. The interchangeable heads allow for precise targeting of different areas, including the spine, neck, chest, and calves. Although the motor is strong, it has a whisper-quiet operation, as well as a long-lasting charge up to six hours. Our buying guide on best cooling towels features some more products that will help you with muscle recovery.
Key Features:
three colors
five speed settings
Deep and powerful massage
Precision massage
Whisper-quiet operation
Long-lasting charge
Specification:
Brand

LifePro

Model

LP/SonicGun/Case/Blu

Weight

4 Pounds
TheraGun G3 Percussive Muscle Recovery Tool
The TheraGun G3 Percussive Therapy Device is the indisputable premium choice for the best muscle recovery tools. Available in two colors and with a comfortable handheld design, this handy massage tool uses scientifically calibrated deep muscle treatment that provides lasting muscle relief and enhances recovery like nothing else around.
It's powerful, but still operates almost silently, and the simple operation allows you to watch your favorite shows or sing along to your favorite tunes while gently massaging injured areas. There are four muscle head attachments for versatility, which gives you flexibility and control over a variety of potential injuries. There is also an app you can use to guide your daily routine so you can reduce the risk of injuries in the future by identifying trends.
Key Features:
two colors
Scientifically calibrated deep muscle treatment
Quiet operation
four massage head attachments
No-strain ergonomic multi-grip
TheraGun app connectivity
Specification:
Brand

TheraGun

Model

G3

Weight

5.9 Pounds
Belifu Dual Channel Muscle Recovery Tool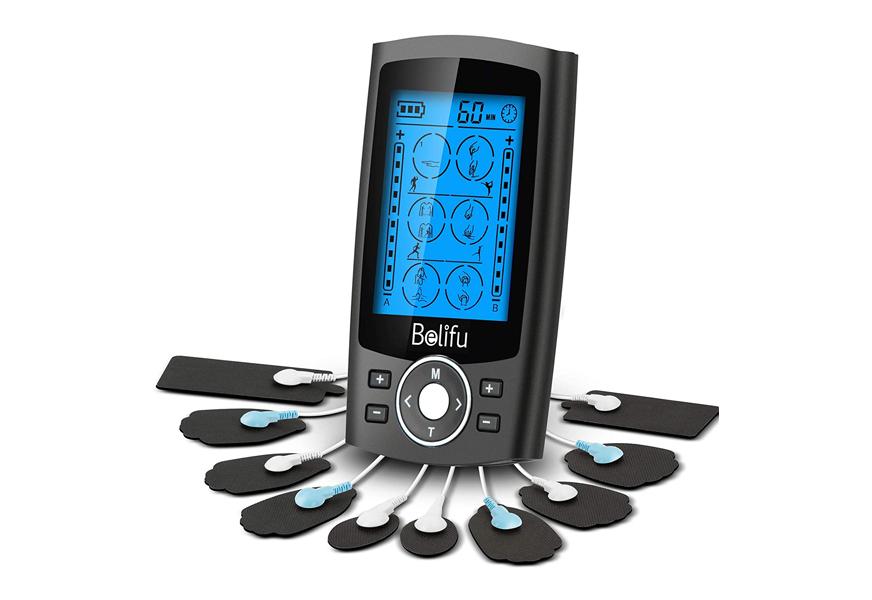 The Belifu Dual Channel Muscle Stimulator is a unique option compared to other products we have selected so far. Rather than work like handheld tools with individual heads, this relies on ten reusable conductive pads to relieve muscle pain. While excellent for muscle recovery, it's also great for chronic pain sufferers. There are an impressive 24 operating modes that provide fantastic relief for even the most intense muscle problems. You can select from 20 intensity levels to find the perfect setting for your needs, while the time control feature allows you to sit back, relax, and let this device do all the hard work.
It's compact and comes with a travel drawstring bag, so you can use it after a long flight if you commonly experience trouble after sitting on a plane. The battery is rechargeable as well, so you never need to worry about buying replacements.
Key Features:
24 operating modes
ten massaging pads
20 intensity levels
Time control
Drawstring travel bag
Rechargeable battery
Specification:
Brand

Belifu

Model

B07Q32KX3J

Weight

11.4 Ounces
RENPHO Rechargeable Hand Held Deep Tissue Massager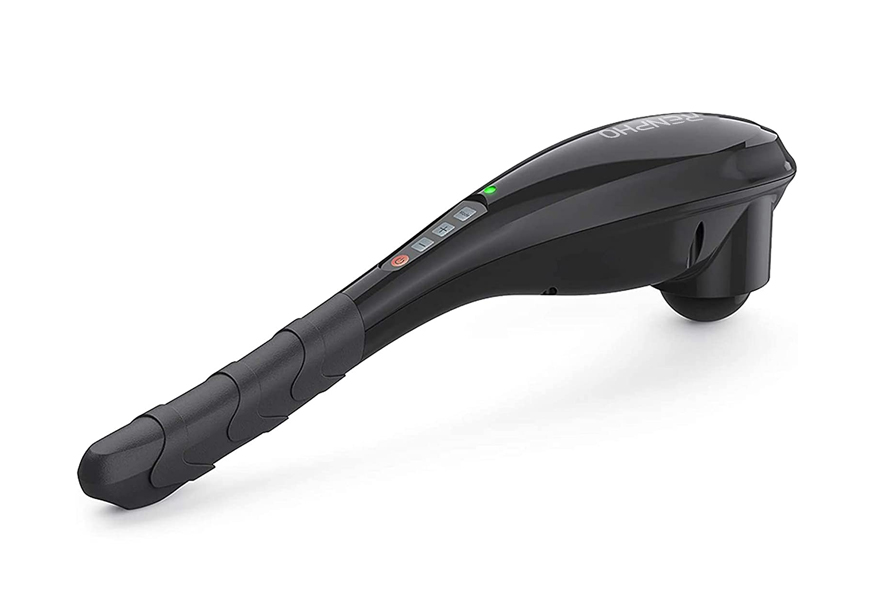 The RENPHO Rechargeable Hand Held Deep Tissue Massager is an easy-to-use option ideal for home use. It can deliver up to 3600 pulses per minute depending on the settings, while the 20-minute shut-off feature conserves battery and prevents the motor from getting worn out. It is cordless and rechargeable, making it usefully portable if you're heading to a fitness competition far from home. The five interchangeable head attachments will also provide varied muscle recovery options for a range of different issues from head to toe.
The design itself is stylish, while the simple button interface allows for straightforward operation, which is fantastic news if you've never used a muscle recovery tool before. For excellent pain relief for your back, neck, shoulders, arms, and legs, this product covers all bases and provides the lasting relief you require to get you back to your best. If you are a runner, make sure to browse our list of the top foot massagers on the market, as well.
Key Features:
two colors
Up to 3600 pulses per minute
Automatic 20-minute shut off
Cordless and rechargeable
five interchangeable head attachments
Lightweight and portable
Specification:
Brand

RENPHO

Model

B07H4JKT25

Weight

1.76 Pounds
321 Strong Foam Roller Set
Not all muscle recovery tools need to be electronic, and this is no more evident than with our best value pick, the 321 Strong Foam Roller Set. This foam roller comes in three colors to match your home gym or workout gear, and it includes a range of equipment to provide full-body massaging options.
This equipment includes the triple-zone massage roller that targets deep tissue and helps the legs and lower back. The premium massage stick is great for hard-to-reach areas such as quad, shin, and inner thigh, while the stretch strap helps the hamstrings and quads recover. Finally, the dual massage balls can help with myofascial release and are suitable for a range of muscle groups.
Key Features:
three colors
Triple zone massage roller
Premium massage stick
Stretch strap
two massage balls
Lifetime manufacturer's warranty
Specification:
Brand

321 Strong

Model

B07HM9DRDZ

Weight

1 Pound
IDSON Muscle Roller Stick
Simple but effective, the IDSON Muscle Roller Stick is a splendid choice for those on a budget. You can use it to ease and condition muscles to provide lasting relief after your workout, but it's also beneficial for warming the muscles up before you get started.
It's lightweight and portable, and as it isn't a full set of equipment, you can fit it easily in your gym bag without taking up too much space. Even if you don't go to the gym, it will be a reliable fixture for home workouts, giving you a product that you can always rely on. The nine therapeutic spindles are effective on a range of muscle groups. Rather than just help the spine or legs, you can use it for any muscles that are giving you problems to help you recover quickly and with confidence for your next workout. If you feel you need a full-body treatment, here are some top massage chairs you will love for sure.
Key Features:
Ease and condition muscles
Lightweight and portable
Corrects muscle imbalances
Suitable for pre or post-workout
Useful for home workouts and gym
nine therapeutic spindles
Specification:
Brand

IDSON

Model

BD16727

Weight

10.4 Ounces
Recoup Fitness Cryosphere Cold Massage Roller
The Recoup Fitness Cryosphere Cold Massage Roller is an easy to carry choice that fits inside any gym bag or running backpack. The handheld design allows you to enjoy its benefits anywhere on your body, while the interior ice is an excellent way to reduce inflammation that other products cannot boast.
You will need to put it in the freezer for two hours to get the best from it, and once removed, the ice will remain frozen for up to six hours, depending on how long you use it for or leave it out. Because of this, it's perhaps best to use at home rather than take it with you to the gym for an immediate post-workout solution, although it can be effective for pre-workouts, too. From pain relief to improved circulation, this is a unique choice that is an excellent alternative to an ice bath.
Key Features:
Easy-grip
Compact and portable
Post and pre-workout suitable
Pain-relieving
Improves circulation
Reduces inflammation
Specification:
Brand

Recoup Fitness

Model

B01EKMN9LA

Weight

1.38 Pounds
Invincible Fitness Massage Balls Set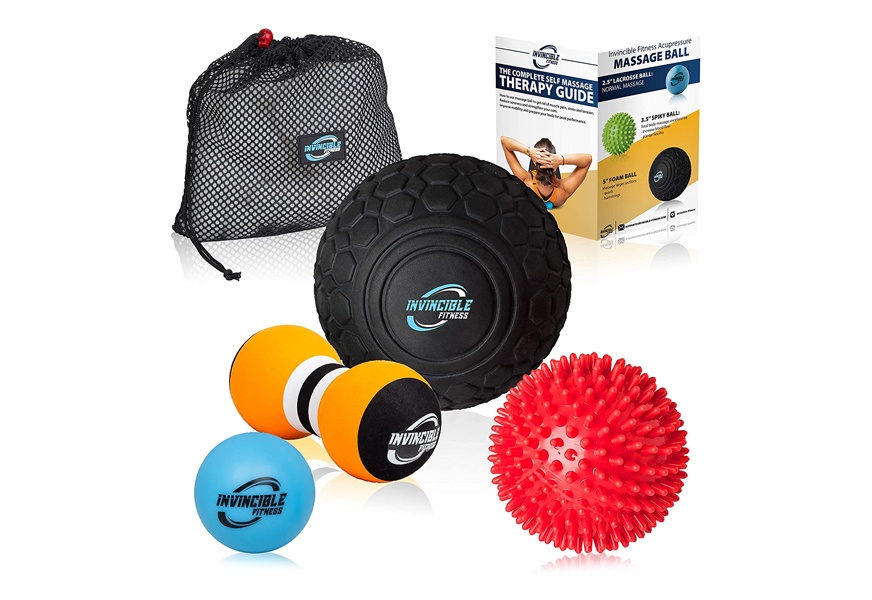 The Invincible Fitness Massage Balls Set is a comprehensive choice that covers all bases. They are easy massaging tools that provide relief from tightness and sore muscles and are ideal for before and after your workout. They also make a perfect fitness gift for a friend. The durable construction makes them dependable and long-lasting, while the range of designs help you diversify your workout recovery, so you're not restricted to a single routine.
They come in an easily portable bag, which allows you to take them with you wherever you go, making muscle soreness a thing of the past anywhere in the world. 
Key Features:
two color sets
Relieves sore and tight muscles
Easy self-massaging tool
Suitable for before or after training
Durable construction
Versatile muscle recovery toolset
Specification:
Brand

Invincible Fitness

Model

BD3580

Weight

1.6 Pounds
Rolflex Pro Edition Leverage Foam Roller
The Rolflex Pro Edition Leverage Foam Roller uses an innovative design that makes it stand out amongst the very best non-electronic recovery tools, and it gives electronic options a run for their money, too. Relying on leveraged compression to adjust pressure, you can use it anywhere with fantastic results. The ergonomic clam-shaped design gives you the chance to foam roll as much as 95% of the body for one of the most comprehensive treatments around.
It's compact and portable, and the dual stability rollers give it a further edge to provide deeper trigger point therapy. Finally, the two-year warranty makes it a product that you can trust to last you through your next injury and beyond. To keep your muscle in the best possible condition, make sure to take a quality pre-workout formula.
Key Features:
Relies on leveraged compression
Innovative ergonomic clam-shaped design
Dual stability rollers
Compact and portable design
Can target 95% of the body
two-year limited warranty
Specification:
Brand

Rolflex

Model

B07H14X98W

Weight

1 Pound
Muscle Recovery Tool Buying Guide & FAQ
Features To Look For In Muscle Recovery Tools
Material - The most common material for recovery tools is foam. You will find this in foam rollers, and as these are soft, they will reduce the risk of potential strain that you might find with harder materials. This is essential for muscle recovery as it eases the muscles while still providing the stimulation you require.
Other materials can be rubber, which you find on muscle stimulator guns. These massage heads help to stimulate blood circulation as the device works on problem areas while still providing the comfort you need to make the process enjoyable. You don't want anything that is too hard, but you also don't want a material that is too soft, either.
Size - The size of your recovery tools will all depend on the muscles you need to target. Smaller equipment, such as balls, should be used for smaller muscles, while larger equipment like rollers is useful for bigger muscle groups like the lower back and shoulders.
The size will also affect the portability, which is useful if muscle recovery tools are a key part of your workout routine. While larger tools can target a wide area, they may not fit easily in a gym bag or suitcase, so you will need to leave them at home. For many athletes, portability is key, as it allows you to target muscle groups immediately before and after the workout rather than waiting until you get home, which could take an hour.
Shape - Differently shaped products can help you target a wide range of muscle groups, so it is always worth considering the shape of your muscle recovery tools when searching for the right one for you.
Options with protrusions can help you target hard-to-reach problem areas. Likewise, rounded recovery tools give you the chance to focus closely on a single spot. For electronic handheld options, the shape can also impact the ease of use. If it is ergonomic and easy to hold, you will get more benefit from using it compared to if the tool was awkward to hold.
Density - High density and firmness will provide the best support you need for muscle recovery. Typically, you will find this with foam rollers and similar tools. However, the density could also apply to rubber massage head attachments.
With the right amount of density, you can experience the support you need to circulate blood flow. So, while some options may be more affordable or look nicer, they may not have the density required to sufficiently repair injured or sore muscles.
Muscle Recovery Tool FAQ
Q: What is a muscle recovery tool?
A: A muscle recovery tool is a piece of exercise equipment suitable for both pre and post-workout scenarios. As the name suggests, it is used for helping muscles recover by stimulating the blood flow around sore and tired muscles to prevent lactic acid buildup, which is what causes the soreness you feel after failing to adequately stretch.
Muscle recovery equipment is something that everybody needs in their life. Still, people just getting into their personal fitness regime may believe it is only suitable for experienced fitness buffs. Arguably, however, the opposite is true.
With little experience about your body when you first start working out, you aren't sure how much you can do. You often overestimate your ability and fail to consider the strain you put on your muscles. You may also not know the proper pre and post workout stretches. When these factors combine, you risk aches and soreness the next day, and the days following that.
This pain can affect the consistency of your workout, and it's challenging to get a routine going. By investing in muscle recovery tools, you can adequately treat your muscles and ensure that you can get into a consistent flow to see the results you need.
Q: What helps muscles recover faster?
A: There are a range of ways you can boost muscle recovery time, especially after an injury. One of these methods is using a muscle recovery tool, but you can accelerate the process further by combining these products with:
Drinking lots of fluid and staying hydrated
Drinking plenty of fluids that keep you hydrated will reduce muscle fatigue and damage. You should drink lots of water before, during, and after your workout to prevent ruptures and tears. Drinks with electrolytes such as sports drinks are also beneficial if you want a bit of flavor, but water is undoubtedly the best option.
Get plenty of sleep and rest
A lack of sleep can wreak havoc on muscle recovery time, and this doesn't just apply to when you are rehabbing an injury. Luckily, exercise helps you to sleep better anyway, but you should still aim to get as much sleep and rest as possible to allow for sufficient muscle recovery.
Focus on consuming more protein
Protein is the best nutrient for building and repairing muscles, so try to incorporate as much of it into your diet as you can. While red meat and chicken are a good place to start, you should try to diversify your protein intake as much as possible. Eggs, Greek yogurt, cottage cheese, and quinoa are all excellent sources of protein and they can also make your meals more exciting.
You must always allow time for your muscles to recover from intense workouts even if you feel fine the next day. A typical rule is to allow a day between exercise, but this will depend on the intensity of the workout and how hard you pushed yourself. Even on rest days, it's also useful to stretch regardless, as this will encourage your muscles to recover faster.
They may not sound pleasant, but soaking in a cold bath will reduce muscle tension and inflammation. If you're really brave, ice is a fantastic anesthetic, as is lemon, and you can also use Epsom salts that are designed for muscle relief to boost recovery.
Q: Does stretching help muscle recovery?
A: While not all muscle recovery devices will encourage stretching, some do, and these are excellent for helping your muscle recover after a workout. Stretching will reduce soreness and stiffness, and if you stretch properly, you shouldn't feel sore the next day.
Neglecting to stretch after finishing your workout can cause lactic acid to build up, and this makes muscles sore. Because of this, it's always vital to carry out a cool-down routine rather than abruptly stop, and finish this off with a stretching session to fully ease your muscles from workout mode into normal mode.
Q: Is 24 hours enough rest for muscles?
Most people will tell you that you need to wait at least 24 hours between workouts to allow your muscles to properly recover. However, this can vary between people, levels of experience, and the intensity of the workout. It will also depend what muscles you are working out on each day. This is why we have Leg Days, Back Days, Arm Days, Cardio Days, (etc.).
If you do a Leg Day, you can still workout the next day, but a Cardio Day is not something we'd recommend. Instead, focus on something that targets different muscle groups. While you can work out the same muscle groups one day after another, you increase the risk of overexertion, which can cause an injury.
Sometimes, even 24 hours is not enough, especially if you want your body to be at full strength. You may need as many as 72 hours before you can target the same muscle groups again.
If you are just starting your fitness journey, give yourself 24 hours at least between muscle workouts. The more experience you become, the more you will learn about your body, and you can adapt your workouts to suit you.
Sources:
5 Natural Ways To Speed Up Muscle Recovery After A Workout - The Doctor Weighs In
Post-Exercise Stretching - Science For Sport
Is It Necessary To Rest 24 Hours Between Workouts? - Nautilus Plus
Sign Up Now
GET THE VERY BEST OF GEARHUNGRY STRAIGHT TO YOUR INBOX