Best Muscle Stimulators For Recovery & Strength In 2022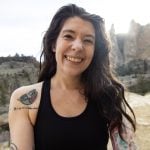 This product guide was written by Tuesday Kirby Kahl
Last Updated
April 6, 2022
Tuesday Kirby Kahl
Tuesday Kirby Kahl is a contributor at Gear Hungry. Her fierce love for the outdoors fuels everything she does. Her professional pursuits include writing, creating art, and photography. These professional passions allow her the time to live life outside as a rock climber, skier, runner, backpacker, paddle boarder, swimmer, and explorer. When Kirby is indoors, she enjoys tea, whisky, old films, cooking, and baking. Her product testing and feedback have shaped the design of everything from climbing shoes to candles.
GearHungry may earn a small commission from affiliate links in this article.
Learn more
Muscle stimulators have been around for some time though until recently they were mostly of interest to doctors and physical therapists. Today, however, they're being put to use by a new generation of individuals intent on achieving a higher degree of physical fitness. Of course, they're also often used in rehab and recovery. Muscle stimulators work to warm up muscles prior to working out, soothe achy and sore muscles in general, and can aid in recovery after a strenuous workout. EMS devices are regulated by the FDA so you can always be sure your device is safe and at least moderately effective if used as intended. Below are the best muscle stimulators on the market today.
I first found portable muscle stimulators after a back injury that I was struggling to get help with. A friend suggested it to me and let me try theirs out. I've now had my machine for several years and it still helps me manage my back pain to this day and helps me prepare my other muscles for big training days.
The Best Muscle Stimulator
TENS 7000 2nd Edition Digital TENS Unit (Muscle Stimulator)
The 7000 2nd Edition Digital TENS Unit is a full-service portable TENS kit whose main purpose is therapeutic. This TENS unit muscle stimulator can also be used to warm up cold, stiff muscles before a run or lifting session. This company has been building high-quality FDA-approved TENS units for more than a decade and all their experience is on display here. It's super simple to switch between modes, customize the many presets, and the tough carrying case lets you bring it with you wherever you may roam.
I've been using this model for three years. The belt clip makes it easy to put the device in a pocket or on my pants so my hands are free. The modes are easy to change but you'll want to look at the user guide for a better understanding of what each mode does. The intensity dials make changing things up mid-treatment easy but they have gotten slightly harder to turn over time. I've only replaced the battery and pads one time in three years of consistent use. If you suffer from back pain, be sure to check out our reviews of the best back braces and pick your favorite.
Key Features:
Multiple performance modes
Powered by a single 9-volt battery
4 TENS electrodes
Large, clear LCD
Durable carrying case included
Specification:
Brand

TENS 7000

Model

TENS 7000

Weight

15.2 Ounces
Belifu Dual Channel TENS EMS Muscle Stimulator
The Belifu muscle stimulator, best described, has a perfect infusion of highly effective massage therapies to help the body and muscles recover. These massage therapies include tuina, tapping, cupping, and scraping, among many others. While this TENS (transcutaneous electrical nerve stimulation) bundle kit can not replicate these therapies exactly, it does its best to get as close as it can, providing muscle relief and repair.
There are 24 modes that can be conveniently switched between for muscle stimulation and pain relief. Along with an outstanding design, this device also comes with an adjustable timing feature to allow users to select their preferred recuperation time. With one charge, this device can last up to twenty hours and is lightweight, making it easy to carry wherever you desire – in a pocket, backpack, purse, or gym bag. You may also be interested in some of the top muscle rubs from our list. Check them out.
Key Features:
24 modes of operation
20 hours of use
10 connector pads
Comes with a dustproof drawstring storage bag
Specification:
Brand

Belifu

Weight

11.2 Ounces
HealthmateForever YK15AB Muscle Stimulator
With eight high-quality electrodes, 15 clearly marked preset buttons, four outputs, and adjustable intensity levels, the HealthmateForever YK15AB is a therapeutic wonder. It will enable you to recover faster from strenuous workouts, heal quicker from accidents and surgery and help relieve stress after a tough day on the job so you can get the sleep you need.
Compact and lightweight, this model is easy to take anywhere with you so you can use it at the office, gym, and when traveling. It's great for relieving back pain, knee pain, menstrual pain, and general muscle soreness. It also comes complete with 3 AAA batteries and a comprehensive user manual. Our guide to the most popular ankle braces features some great products to help you recover after an ankle injury, so be sure to check them out.
Key Features:
9 modes
LCD display
20 levels of adjustable intensity
8 connecting pads
Specification:
Brand

HealthmateForever

Weight

13 Ounces
AUVON Dual Channel TENS Unit Muscle Stimulator
The Auvon muscle stimulator makes use of the TENS technology to effectively send pulsating electrical currents to the muscles and nerves of the body to help relieve muscle pain in a safe and natural way. What separates this product from others is its unique dual-channel mode of operation. Simply explained, this means that two separate recuperation procedures can be done at two different portions of the body, and at the same time. Alternatively, you can cover a larger area of the body like the back or quad with four electrode pads on the same program.
Additionally, with up to 20 pre-programmed modes, there are more options for nerve relaxation and deep pain elimination. The intuitive design of gel layers on the connector pads aids in releasing the electrodes from the skin after each treatment; this effective gel-stick design is also rated at 30 uses each, but according to the customer reviews, they're known to last even longer. The lithium battery lasts up to 10 hours of use with just one charge. With a pouch provided and its lightweight design, carrying this stimulator is sure to be convenient. You may also like these quality waist trainers from our list. Take a moment to check them out.
Key Features:
Medical-grade pin-styled electrode connectors
Independent A/B dual channels
20 modes
20 intensity levels
Specification:
Brand

AUVON

Model

AS8012041

Weight

11.2 Ounces
iReliev TENS + EMS Combination Unit Muscle Stimulator
The iReliev Combination Muscle Stimulator provides six preset EMS (electrical muscle stimulation) modes and seven preset TENS modes (including arthritis preset). Intensity can be set to any one of 25 levels while the timing on any mode can either be accepted as is or adjusted to suit your particular needs. Using electrical impulses, this unit provides muscle contraction and relaxation, helping not only relieve pain but also strengthen muscles.
The build quality is also first-rate. The fact that the different channels can be set independently is a big plus. And, at 80 mA, there's more than sufficient power to tackle sore muscles or warm you up for the big game. Whether you suffer from back pain, Plantar fasciitis, or you struggle with muscle spasms, the iReliev is a great choice.
Key Features:
14 therapeutic modes
EMS and TENS in one device
Fully adjustable timer
Lightweight and portable
2 cables with 4 electrodes
Specification:
Brand

iReliev

Weight

13.6 Ounces
Ohuhu Rechargeable Muscle Pain TENS Unit
With a sleek modern design and an interface that organizes functions and presents them to you in easy-to-understand terms, the Ohuhu Rechargeable TENS Unit is one of the best portable muscle stimulators for therapy sessions on the go. The large screen is easy to see and read, making it excellent for those with less than perfect vision. The unit features 24 massage modes, two outputs, a fully adjustable timer, and something we'd like to see in every electric muscle stimulator; a rechargeable lithium-ion battery.
FDA approved and light as can be, you can pack this unit in your gym bag for pre or post-workout therapy. With both TENS and EMS treatment, this little guy can help soothe your sore muscles, reduce pain, help you recover faster from a muscle injury, as well as develop strength and flexibility.
Key Features:
Large easy-to-read screen
24 EMS and TENS modes for tension relief
16 electrodes
Rechargeable lithium-ion battery
Adjustable timer
Specification:
Brand

Ohuhu

Weight

1.1 Pounds
Easy@Home TENS Unit Muscle Stimulator Machine
What the Easy@Home TENS Unit lacks in aesthetic quality it makes up for in functionality with six different presets and four electrodes on two channels that can be independently programmed. The Easy@Home runs on 4 AAA batteries and that's good because they're easy to find, but can make the unit s bit heavy for your shirt pocket; a pants pocket is a better option.
With a large LCD display, it's easy to see your selected massage mode and intensity, while the intuitively designed controls allow you to quickly and easily change or adjust treatment. To protect your knees while exercising, be sure to pick one of the best pairs of knee sleeves from our list.
Key Features:
6 modes and 10 intensity levels
Easy-to-see LCD
Uses 4 AAA batteries
1-year money-back guarantee
Specification:
Brand

Easy@Home

Weight

12 Ounces
Famidoc EMS/TENS Muscle Stimulator
The Famidoc EMS/TENS Muscle Stimulator machine helps you warm up before the big game and soothe your aching muscles after it. This is a dual-purpose electrical stimulation machine with a small but detailed LCD readout, two independently adjustable channels, and four moderately-sized electrodes. Using TENS technology, this small but mighty device provides electric stimulation for your nerves, reducing tensions and pain, and promoting relaxation.
Once you get past the unnecessarily steep learning curve (which is something that several customers complained about) you're going to love the way it makes you feel. Also, do yourself a favor and stock up on batteries as this unit works on 3 AAA batteries. Our guide to the best-selling foam rollers features some amazing products your muscles will love, so check them out.
Key Features:
EMS and TENS in one unit
Independently adjustable channels
4 large electrodes & 10 replaceable pads
Small but clear LCD readout
Specification:
Brand

FAMIDOC

Weight

5.1 Ounces
Pure Enrichment PurePulse EMS/TENS Combo
The Pure Enrichment PurePulse looks like an iPod but performs like a full-sized muscle stimulation machine you'd find in the doctor's office. It has two independently programmable channels, a small but clear LCD readout and it effortlessly shifts between EMS and TENS mode and between different presets in each mode. With 14 program modes that cause muscle contractions, it's great for both exercising your muscles and relieving chronic pain.
Small enough to fit in your shirt pocket, this portable muscle stimulator runs on 3 AAA batteries and comes with a best-in-class three-year warranty. To save your joints from aching, be sure to check out our top picks of the top-rated knee pads. 
Key Features:
EMS and TENS in one
14 program modes in all
Powered by 3 AAA batteries
Small but clear LCD screen
Industry best 3-year warranty
Specification:
Brand

Pure Enrichment

Weight

12.8 Ounces
Massage Therapy Concepts TENS/EMS Muscle Stimulator
The last device on our list of the best electronic muscle stimulators is the Massage Therapy Concepts TENS/EMS unit. With nearly two dozen intensity settings, 12 presets, and four sticky and effective electrodes it will wake up your sleepy muscles or help overworked, overstressed muscles find their happy place again.
This little thing looks like a smartphone and works like a charm. Like most muscle stimulators, this one too comes with an adjustable timer. It's a great way to obtain drug-free pain relief and caffeine-free warm-ups. Be sure to also check out our guide to the best foot massagers for more high-quality products like this.
Key Features:
Large LCD touch screen
20 different intensity settings
60-min adjustable timer
4 large electrodes
EMS and TENS in one
Specification:
Brand

Massage Therapy Concepts

Weight

14.2 Ounces
Why Trust Us
While I am not a medical professional, I am an avid user of a muscle stimulator for muscle recovery and chronic pain. I also consulted with my chiropractor who uses an EMS/TENS unit muscle stimulator in his professional practice.
Who This Is For
This guide is for the at-home user who is looking for a TENS muscle stimulator to add to their fitness routine, recovery routine, or for pain relief therapy. This guide is not intended as professional medical advice 0r for medical professionals.
How We Picked
To curate a collection of the TENS EMS units, I started with my own personal experience, and consulted our testing team and a medical professional. From there, we looked at the best sellers on Amazon and elsewhere to round out our guide.
How We Tested
Well, how else do you test these bad boys other than popping those pads on you and turning it on? I mostly use my EMS unit for pain relief therapy and on my back. It can be used on other muscle groups and to encourage muscle recovery though. I've been using my unit on my lower back for years, at least once a week.
Features To Look For In Muscle Stimulators
Battery life - The average life of a battery for an EMS device is around 10 hours. But be advised that the actual amount of time you get out of a charge will depend on the level of electrical stimulation, whether or not your device has an auto-shutoff feature, and, of course, the quality of the battery itself since not all muscle stimulators come with high-quality lithium-ion batteries. The first battery I used in my EMS machine lasted significantly longer than 10 hours; I didn't change it for nearly two years. That doesn't mean your battery will last as long though.
The number of electrodes supported - Most of the best muscle stimulators have 2-4 electrodes typically attached to the unit with 2 cords. Those units with four electrode pads usually have cords that split partway down which allows for two electrodes at the end of each. In rare cases, you'll get eight electrodes, each with its own cord. Be aware that some physical therapists think having so many electrodes all firing at once is overkill. Although there are others who state with equal authority that even a large number of electrodes firing simultaneously won't produce any negative results. Keep in mind your tens unit pads will become less sticky over time and will need to be replaced while the electrodes shouldn't need the same maintenance.
Programs and strength options - We love options. They're what the 21st century is all about. You have more choices for more things than ever before and why shouldn't that ethos extend to the muscle stimulator machine as well? The best muscle stimulators offer a range of performance options including various types of electronic "massage" and pulses intended to do everything from relaxing you after an intense workout to helping you recover after a traumatic injury. One thing this type of device won't do is create muscle mass.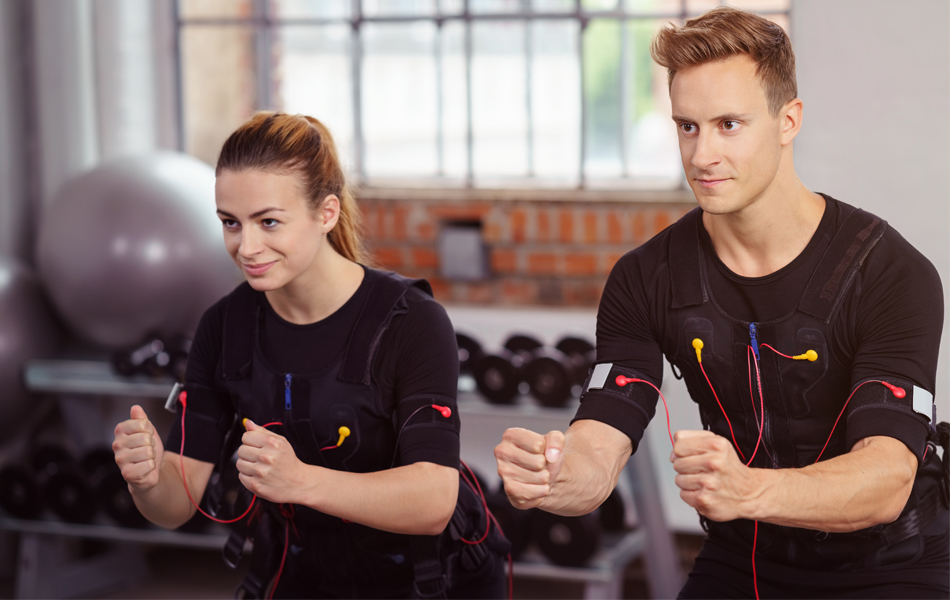 Muscle Stimulator FAQ
Q: What is EMS?
A: EMS stands for "electrical muscle stimulation". EMS has received quite a bit of media attention in recent years for being an effective way to help people who have suffered from traumatic injuries regain use of their impaired limbs and as a way for athletes and others to warm up prior to working out. It has also found use as a way to help soothe sore aching muscles in the aftermath of a vigorous workout and as a general aid in training. While EMS may well help people warm up more effectively so they can optimize their workout efforts, EMS machines by themselves won't create muscle growth but they can help "exercise" sleepy muscles. EMS machines are also often used in physical therapy and in Chiropractic practice to warm the muscles prior to adjustment. In the US, EMS machines are regulated by the FDA.
Q: Are muscle stimulators effective?
A: EMS is effective in helping people recover from injuries and surgery, warming-up prior to a workout, helping people relax, managing pain, and treating sore aching muscles in the aftermath of a strenuous workout. Many people also use the electrical muscle stimulation machine to help relieve pain and others as a way to help burn fat. Muscle stimulation can also help in the repair and recovery of joints that have been injured while playing sports. And EMS is being used to help those suffering from impaired movement (such as stroke victims) to prevent muscle atrophy and regain movement, if only on a limited scale.
Q: Do muscle stimulators help build muscle?
A: By themselves, muscle stimulation machines cannot encourage muscle growth. Why? Because muscle growth requires you to stress the muscle to the point that the muscle fibers actually tear. The body then moves in and replaces this torn muscle tissue with larger, stronger tissue. This tearing of the muscle is at least in part a result of working the muscle through the entire range of motion. Something an EMS machine simply can't do. Electric muscle stimulation machines can, however, help you warm up more effectively and this, in theory, should enable you to get more from your workouts. Which of course means larger, stronger muscles.
Q: How long does TENS treatment last?
A: TENS is a kind of therapeutic treatment, rather than a way to enhance workouts (although there are those who have adapted it for that purpose). Therefore how long you experience benefits from a particular treatment will depend almost entirely on how aggressively you apply the TENS to the affected area and, of course, the nature of the affliction you are treating. That said, instances where TENS equipment actually resulted in damage from "overuse" are rare. So if you need to use the device several times a day there should be nothing stopping you from doing so.
Q: Who should not use a TENS unit?
A: As we mentioned, it's unusual for TENS to result in actual physical damage, even when it is applied repeatedly over the course of the day and during any number of days in a row. However, there are some individuals who should not engage in this or any type of electrical stimulation without first consulting with their doctor, including:
People with a pacemaker - It is likely that any type of electric therapy device will present problems for people with pacemakers. While there are some pacemakers on the market today that are not affected by such devices, they are still relatively small in number. Therefore, you should never use this or any EMS device if you have a pacemaker unless specifically cleared to do so by your doctor.
Pregnant women - While the TENS device itself should present no threat whatsoever to the health of pregnant women, there have not been sufficient scientific studies conducted to be able to state with confidence that it poses no threat to the developing fetus. Therefore, the safe route is the right route and pregnant women should not use any type of EMS device.
Those with epilepsy - Epilepsy is a neurological condition related to the way electrical impulses are processed by the brain. Therefore, many doctors believe it is theoretically possible that engaging in electrical muscle stimulation could somehow initiate an epileptic seizure. It should be emphasized that there is at this time no conclusive evidence that this would occur. But neither is there conclusive evidence that it would not.
Lymphedema - Lymphedema is the result of a compromised lymphatic system and results in localized fluid retention in those affected. It's thought that TENS treatment may aggravate lymphedema and perhaps result in ever greater amounts of fluid retention. Therefore those with lymphedema are advised to avoid electrical muscle stimulation machines.
Sources:
What Is A TENS Unit And Does It Work? - Medical News Today
How To Get Fit Using Electrical Muscle Stimulation (EMS) - Scientific American
Sign Up Now
GET THE VERY BEST OF GEARHUNGRY STRAIGHT TO YOUR INBOX