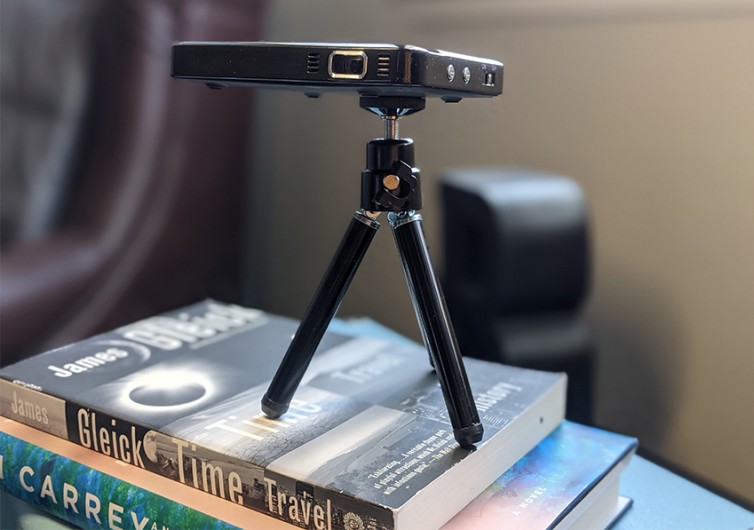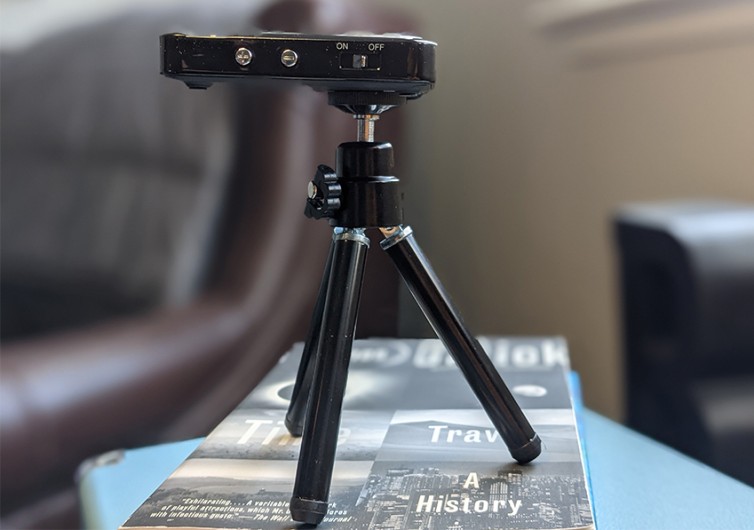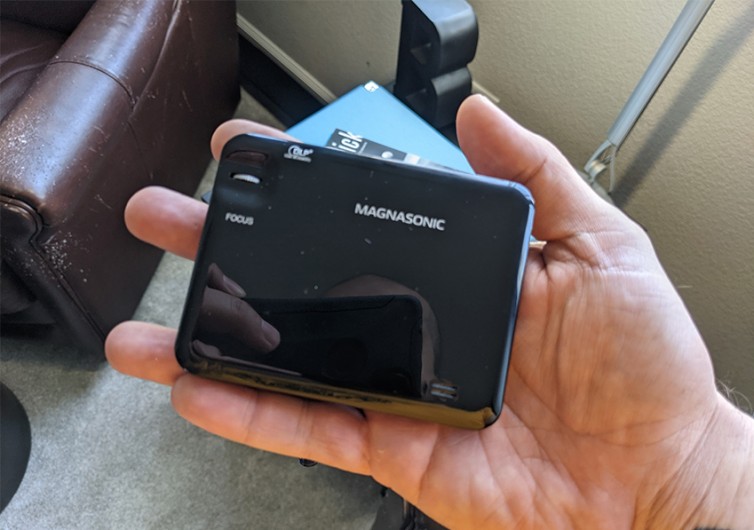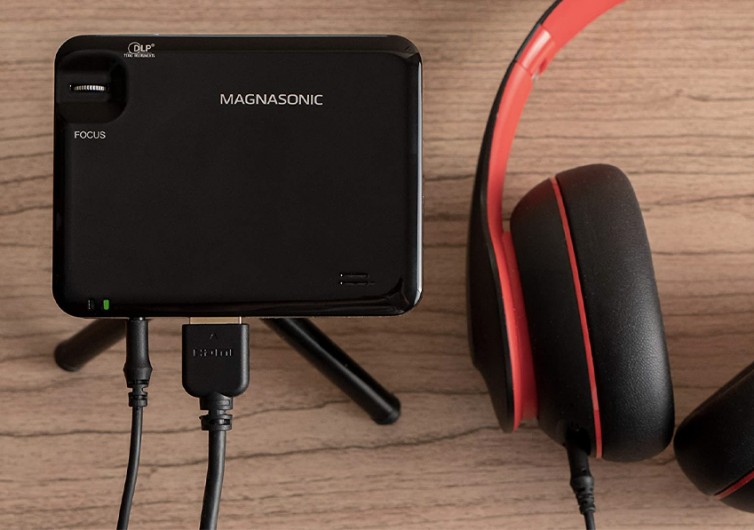 GearHungry may earn a small commission from affiliate links in this article.
Learn more
Magnasonic Pocket Pico Projector: A Palm-Sized Theater
Portable pocket projectors require a bit of a tradeoff: usually, the smaller the projector, the smaller the features. The tiniest mini projectors tend to lack screen size, audio capabilities, and brightness. So, when I got my tester of the Magnasonic LED Pocket Pico Video Projector, I was skeptical.
The Pocket Pico did have one thing going for it besides its minuscule size: a 25-lumen DLP light engine built by Texas Instruments. If those guys did as well with this as they did with my calculator back in high school, we might be in business.
But still, can such a small package pack enough heat to provide a great cinematic experience? It turns out the answer was yes and no.
Magnasonic Pocket Pico Projector Setup
The setup was refreshingly simple: I could plug in any HDMI-compatible device, and the Pocket Pico mini projector started mirroring. It came with an HDMI cord and micro-HDMI adapter, but you may need to snag a specific adapter for your device. If you have one, you're good to go.
For a 25-lumen bulb, the screen was surprisingly bright – I was able to get clear images in a well-lit room from up to about 5 feet away (the recommended throw distance is between 2-10 feet). The image was crystal clear in a dark room, thanks to that bulb and the manual focus. The included tripod gave it a steady and easily adjustable platform, as well.
Where it fell short was the speaker, which was loud at max volume but sounded tinny and, well, like it was coming out of tiny speakers. It's a big ask to put great sound and depth in speakers so small, but it did hamper the experience. I easily solved the problem by plugging headphones or an external speaker into the audio out jack, but Bluetooth connectivity would have been nice here.
This was especially true because the added wires threw off the balance of the mini projector. Since it weighs just over a quarter of a pound, anything plugged into it required a bit of fidgeting to get the balance right.
Review & Verdict
Those little inconveniences aside, Magnasonic built the mini projector for portability. It did provide a great image for viewing in a tent or, if you will, a blanket fort (you're never too old for one). In our roundup of the best pocket projectors, I had this slated as "The Best for Ceiling Viewing" because that was my favorite use for it. Once I got it all set up, it was the perfect device for lying in bed, popping in some headphones, and zoning out to some of my favorite documentaries.
If you're not into watching Ken Burn's latest masterpiece on your ceiling, it's also ideal for travel. It fit easily in a travel backpack or carry-on, and the plug-and-play setup made getting a movie or presentation going a simple affair. You can get up to 2 hours of use on a single charge or watch it plugged in to binge-watch your favorite sitcom.
While the small size came with some costs, the $150 Magnasonic LED Pocket Pico Video Projector provided a solid viewing experience in a pocket-sized package.
Pros:
Extremely portable
Simple setup
Tripod included
Great image within recommended throw distance
Cons:
Tinny sound
No Bluetooth connection
I kept losing the damn thing in my backpack