Backyard Drive-In: The Best Outdoor Movie Screens for 2022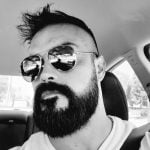 This product guide was written by Billy Brown
Last Updated
April 29, 2021
Billy Brown
Billy Brown has a problem sitting still. His constant search for the next challenge has him doing everything from running ultramarathons and climbing 14er's to gaining 40 pounds to compete in powerlifting, breaking several state records and growing a killer beard in the process. With over a decade of writing under his belt, his work, covering action sports, gear, and beer, can be found in a variety of publications. He lives with his wife and their two cats in Sacramento, California.
GearHungry may earn a small commission from affiliate links in this article.
Learn more
An outdoor movie screen is a great way to spruce up a movie night. Watching a film on a huge screen in the backyard or anywhere else in the great outdoors can turn another night on the couch into a huge event. It's also a great way to liven up a party with a sporting event or fight night going on in the background of a barbecue. And gaming with an outdoor movie screen and projector is the perfect way to get some fresh air while you rise to the top of the leaderboard.
We took a look around for the best outdoor movie screen and found a host of great options. What followed was a rigorous testing process of sitting in lawn chairs, playing video games, watching movies, and binging our favorite sitcoms with a movie projector and screen. It's a tough job, but someone has to do it.
Read on to check out our picks of the best outdoor movie screens. If you have a favorite that we left out, let us know on our social media channels, and we'll fire up the PlayStation for more testing.
The Best Outdoor Movie Screen Review
Vamvo Portable Indoor/Outdoor Movie Screen
Portability is a big plus if you want to take a movie screen camping with you, which is why we loved the Outdoor/Indoor Portable Projection Screen from Vamvo. At just under 8 pounds, this portable outdoor movie screen packed down smaller than a briefcase, which means the testing editor tossed it into his car and still had plenty of room for his actual camping necessities.
During testing, it was a snap to set up both indoors and outdoors. The snap-together frame and attached screen made it an easy five-minute setup for our tester's kid and her friend. The surface provided a clear, bright picture, and the included guy lines and stakes kept it steady during light winds. While the guy lines and stakes are intended for wind stability, our tester recommends always staking out the screen outdoors to keep it steady on the often-uneven ground.
By far, the most useful trait is the Vamvo's portability. The 20" x10" x 3.25" padded and zipped case weighs a verified 7 pounds, 12 ounces, making it ideal for car camping, although our editor questions whether you're still camping if you're watching a movie in HD.
Key Features:
120-inch screen
Foldable stand
Packs down small
160 degree viewing angle
Simple Setup
Dual tripod frame
Specification:
Brand

Vamvo

Model

vamvo M2120

Weight

6.95 lbs.
Extremely light weight
Easy setup
Small packed size
Excellent screen
Unstable when wind picks up
Elite Screens Yard Master 2 Outdoor Movie Screen
Whether you're looking for an outdoor projector screen for your backyard, the park, or car camping, the Yard Master 2 from Elite Screens is ready to kick off your movie night. This 120-inch screen was big enough to do Godzilla justice, yet small enough to fit into any backyard with a decent lawn. The lightweight aluminum screen was light enough to haul around yet sturdy enough to provide a steady image. I could bolster the aluminum frame with the included stakes and tie-downs to minimize wiggles even when the wind picked up.
During tests, the setup was a snap. I mean, a literal snap because the frame pretty much just clicked into place, and the screen snapped onto it with a series of buttons. We had it up in less than five minutes and had our movie going in no time. The tie-down lines were perfect for holding it steady when the wind picked up, and the bright white screen was crystal clear even with the ambient streetlights around.
Between the price, durability, and versatility of the Yard Master, you're not going to find a better screen for just about any outdoor use.
Key Features:
120-inch screen
Aluminum Frame
4k/8k ready
PVC Construction
Easy Setup
180-degree viewing angle
Tool-free setup
Specification:
Brand

Elite Screens

Model

OMS120H2

Weight

23 lbs.
Simple setup
Bright screen
Guy lines for stability
Wide viewing angle
Large packed size
Heavy for travel
Buttons can be difficult to snap
Khomo Gear Jumbo 20-Foot Inflatable Projector Outdoor Movie Screen
If you've got a ton of room and you want a jumbotron in your backyard, Khomo Gear has you covered. This 20-foot whopper of an inflatable outdoor movie screen creates an enormous image that lets anyone in your backyard catch every second of the action. The actual screen size is 13 feet by 8 feet with a 16:9 aspect ratio, perfect for watching movies or playing sports during a backyard BBQ.
The setup couldn't be simpler: attach the included fan, and within five minutes, the screen is up and ready to go. It works with both front and back projectors, which gives you a few options for how you want to set things up. And did we mention that the screen is gigantic?
At twenty feet, it's got a huge footprint, so you're going to need a lot of space for this bad boy. But if you've got the space, you're going to have a hell of a Super Bowl party on your hands.
Key Features:
13- x 8- foot screen
Inflatable Frame
Quick setup
Compatible with front or back projection
180-degree viewing angle
Blower included
Specification:
Brand

Khomo Gear

Model

GER-1161

Weight

30 lbs.
Gigantic screen
Easy setup
Blower fan included
Mdbebberon 120-inch Projection Outdoor Movie Screen
Look, we get it: you just spent a grip of cash on a projector, and you want a screen that will leave some money in your popcorn budget. If that's the case, this 120-inch screen from Mdbebberon could be the perfect one for you. At under $30, this HD screen is durable, lightweight, and easily transportable.
This is mostly because it is ONLY a screen, so you're going to need to hang it on a wall or between two trees, or pretty much anything else that works. Be creative: the metal eyelets running around the edges of the screen let you hang it up with nails, hooks, or ropes, and since it weighs less than a pound, the screen's light weight means you can even use double-sided tape to hang it up. For some handy display options, check out our guide to the best mini projectors.
Key Features:
120-inch screen
Frame not included
Lightweight
Can go anywhere with a wall
Specification:
Brand

Mdbebberon

Model

PSJY-001

Weight

11 oz.
Elite Screens Manual B Pull-Down Projector Screen
If you want a large screen but don't have a ton of space in your backyard, the Manual B retractable outdoor movie screen from Elite Screens is a great option. This wall-mounted roller screen easily screws into a wall or can be suspended from an overhang, and it rolls up into an inconspicuous case when not in use. You can even mount it over your sliding glass door, pull it down when it's movie time, then roll it back up when you're done (or if you need to grab a few more beers.)
The roller has an auto-lock mechanism so you can adjust the screen to fit a range of aspect ratios. It also sports another clever design twist: the roller is designed to retract the screen back into its housing slowly, so you don't have to hold onto the handle.
Key Features:
100-inch screen
Slow retraction into housing
Roll up storage
Variable screen size settings
3D, 4k Ultra HD, HDR ready
Also available in 120-inch and 135-inch versions
Specification:
Brand

Elite Screens

Model

M100H

Weight

15 lbs.
Adjustable screen size
Disappears when not in use
Slow screen retraction
Wall installation is permanent
Frame not included
P-Jing Projector Screen with Adjustable Frame
We love this screen from P-Jing for its adjustable stand. Instead of stacking books or bricks underneath your projector to get the right height, the viewer can adjust this screen's telescoping frame to a 72-inch height. This allows you to get the projector going and then set up the screen to center the image easily.
That telescoping frame, along with the low weight, makes it easy to carry and highly portable. So you can take it car camping or haul it to a friend's house without any issue. The 120-inch screen also works with both front and rear projection, which allows for various setups. Our guide to the top-rated home theater systems offers some amazing devices for your home. Be sure to browse them.
Key Features:
120-inch screen
Velcro screen attachment
160 degree viewing angle
Variable frame height settings
Tiedowns and stakes included
Compatible with front and rear projection
Specification:
Brand

P-Jing

Model

B08JTXLBQM

Weight

11.23 lbs.
Adjustable frame height
Front and rear projection compatibility
Low weight
Frame material is fragile
Screen can be difficult to mount
VIVOHOME 14-foot Indoor and Outdoor Inflatable Projector Screen
We love this backyard movie screen from VIVOHOME for its ease of setup, adjustable buckle-down screen, and internal blower. This large outdoor movie screen is huge, but not so big that you need a full-on compound to use it. It's the perfect blend of large yet manageable. And unlike other inflatable screens, the screen attaches to the inflatable frame with a series of side release buckles, which allows you to tighten and adjust the screen to make sure you get the perfect image during fight night.
In addition, the internal blower not only inflates the screen in minutes, but it quietly keeps it inflated during viewing, so you don't have to worry about it losing air while you watch.
Key Features:
14-foot screen
Weather-resistant
Tethers and stakes included
Internal blower
Simple Setup
Compatible with front and rear projection
Specification:
Brand

VIVOHOME

Model

VH275

Weight

9.7 lbs.
Internal fan blower
Easy setup
Smaller footprint for an inflatable
Adjustable screen
Fan noise and heat are noticeable if used indoors
How We Tested & Why You Can Trust Us
To give you an in-depth look at each outdoor movie screen on this list, I researched the best products online, recalled what I've loved about screens that I've used in the past and called in a few to test and evaluate any pieces that were new to me.
My testers and I used these screens outside for watching films and gaming. I rounded out my first-person impressions with user reviews online to gather a comprehensive view. I also have over a decade of experience writing about tech and gear.
Who This Review Is For
This article is intended for people who are looking to find the best movie screens for outdoor use. The screens on this list sport varying designs and can suit a variety of needs.
How I Picked
In my search for the best outdoor screen, I tried to find outdoor screens that would be useful in all kinds of situations and for a range of priorities, including those that work well indoors and out.
I looked at setup, size, packability, and stability, among a few other factors and categorized them according to what priorities readers may be looking for in the best outdoor projection screen.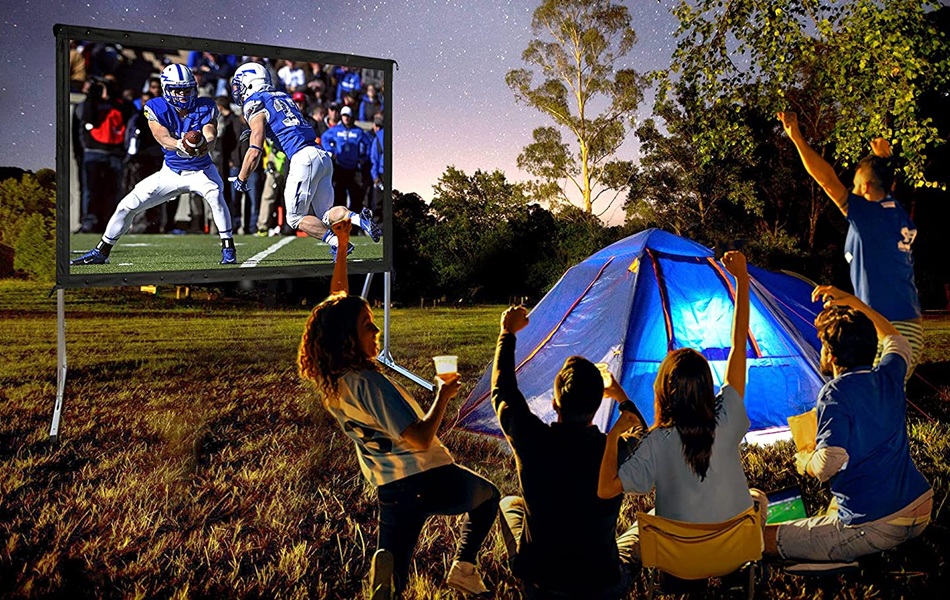 Features to Look for in Outdoor Movie Screens
Ease of setup - Let's be real: the harder a movie screen is to set up, the less likely you're going to use it.
Inflatables are generally the easiest to set up since all you have to do is inflate them, then stake them down.
Frames screens aren't usually much more difficult since they usually snap together. One snag you may find with these types is that it can be difficult to put the screen on tight enough to get a decent image, so check user reviews before you buy.
Hanging screens take more initial setup since you have to either mount them on a wall or suspend them from a ceiling or overhang. But once they're up, you just need to pull them down to get them set up.
Video performance/brightness - The smoother the screen's surface, the clearer an image will be. For instance, screens projected on walls with texture can slightly distort or blur images.
Similarly, a screen with rougher material will reduce the quality or contrast of the image.
The same goes with brightness: a screen that doesn't reflect light as well will not produce as bright an image.
For the most part, with an outdoor movie screen, the image will be fairly clear, but if the best image is your priority, check user reviews to see any issues with brightness or image quality.
Weather-resistance - Prolonged exposure to moisture and/or sunlight will eventually degrade the vast majority of outdoor movie screens.
While many screens may tout weather-resistant properties, it pays to put your screen away and store it out of direct sunlight and any potential rain when not in use.
Screen size - While you may want to buy the biggest screen you can find, the best screen size really depends on how much room you have in your viewing area.
Make sure that your yard or intended screening spot has not only enough room for your screen but also for you to sit far back enough to watch it comfortably.
Also, the bigger the screen, the less portable it's going to be.
Weight - How heavy a screen affects its portability for times when you'd like to take it camping or to a park. The lighter it is, the easier it'll be to carry it around.
Portability is somewhat a factor in backyard screens as well. If you have to haul a 50-pound screen to and from your shed or garage every time you want to watch something, you're more likely to just sit on the couch and watch it on your TV.
Frame material - The right frame material is usually a balance between weight and durability. A steel frame will last you forever, but it's going to be a bear to lug around.
You'll find that most frames use aluminum or similar material to balance low weight and moderate durability.
Types of Outdoor Movie Screens
External frame - The most common type of outdoor movie screen is probably the external frame screen. These are popular for their easy portability and packability. They can be secured against the wind with guy lines and stakes, and they are generally fairly easy to set up.
Hanging - Hanging screens are more ideal for backyard use since these screens are usually screwed directly into a wall or suspended from a ceiling or overhang. These are great for how easy they are to use after the initial setup, but they aren't portable, so be sure to pick the right spot when you're mounting it.
Inflatable - Inflatable screens are an excellent option if you have room for it. The setup is easy (inflate it and tie it down with stakes), and they are the easiest way to get an enormous screen up in your yard. They can be pretty heavy, though, and generally take up a large amount of ground area, so if you're looking for a versatile option, this may not be the way to go.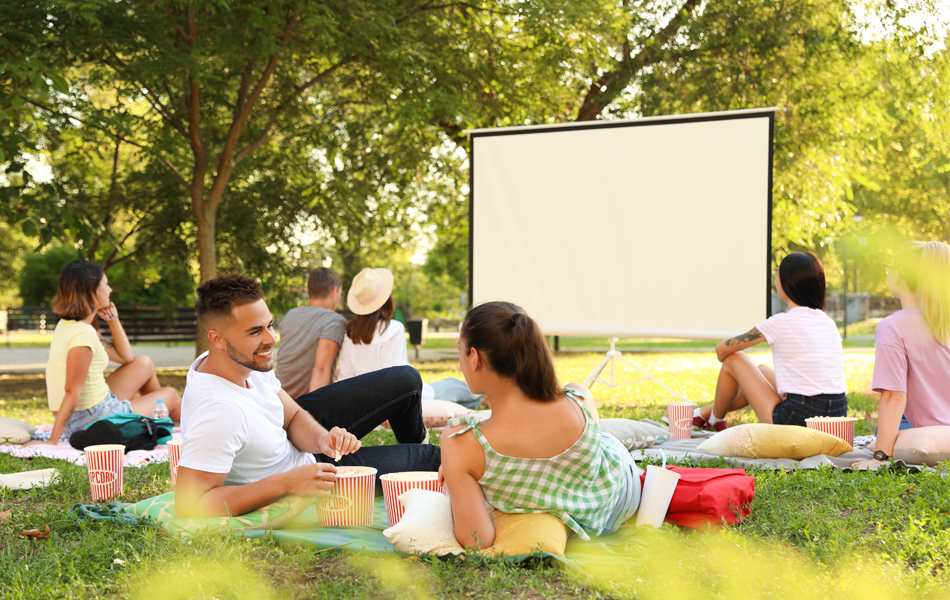 Outdoor Movie Screen FAQ
Q: What is the best material for an outdoor movie screen?
A: If you're building your own outside movie screen, material like Carl's Blackout Cloth is a great choice. This material doesn't reflect any glare and is crease-resistant, so your images will be brighter and crisper.
Another cool option for a DIY screen is projector screen paint if you're looking for a more permanent fixture.
Q: How many lumens do you need to project in daylight?
A: In direct sunlight, the answer is too many. There aren't any projectors that can outshine direct sunlight. But for indoor use during the daytime, you can get away with 2500 to 3600 lumens or more.
Q: What color screen is best for outdoor projectors?
A: Black screens provide darker dark colors and brighter brights, but the colors can be inconsistent, with one section of the screen brighter than the others. They're also expensive, often over $1,000.
Gray screens have similar effects as black ones, but they tend to cast a gray pall over the image, which isn't ideal either.
The most common color you'll find is a white screen, probably the best all-around for the outdoors. The consistency and price are hard to beat.
Q: How far should a projector be from the screen?
A: The ideal distance varies depending on the specific projector. Read the instruction manual for your projector and play with a few distances to see which one creates the best image on your screen.
Q: What can I use for an outdoor movie screen?
A: Just about any flat, light-colored surface will do. Outdoor fabric, painted walls, heck, even bedsheets will work.
Blackout cloth is a great option since its matte white profile is similar to the material that theaters use for their movie screens. It's inexpensive, offers a wide viewing angle, and reflects accurate projector images.
Sources:
How Movie Screens Work - How Stuff Works
Types of Buckles - Thomas
Sign Up Now
GET THE VERY BEST OF GEARHUNGRY STRAIGHT TO YOUR INBOX