The 2017, the TV entertainment experience is one that is characterised by a ridiculous number of services and devices. Netflix, Hulu, Amazon. Fire sticks, Chromecasts, Roku boxes. The list goes on and is ever growing.
If we broke down a typical entertainment hour in 2017 it would probably look something like this; 20-25% of time spent juggling countless remote controls like a circus clown, frantically looking for the right one, finally finding it, only to realise that doing a basic thing with it seemingly requires a computer science degree. The remaining 75-80% of the time spent actually viewing the show you wanted to.
This isn't right, especially as all these services and devices promised you how "seamlessly" they would integrate with your set up and how "effortless" it would all be. As you look down at the sea of remote controls on your coffee table, completely disorientated, you realise that this is anything but seamless and effortless.
Thankfully, there really is a genuine way to seamlessly and effortlessly tie these various, often competing services and devices together, eliminate the sea of remotes and regain the watching time you constantly lose. The solution? A universal remote.
Okay, before you turn your nose up at the phrase. The universal remotes we are talking about in 2017 are nothing like the ghastly, unsightly monstrosities of yesteryear that would often make things more complicated by having more buttons, switches and options than a Boeing 747 cockpit. The 2017 incarnation of the universal remotes are sleek, sophisticated and easy to use. Well, not all of them. We sifted through hundreds to find the top nine that actually are, and we are going to present them to you below.
Our Top Picks For The Best Universal Remotes
1. Logitech Harmony Elite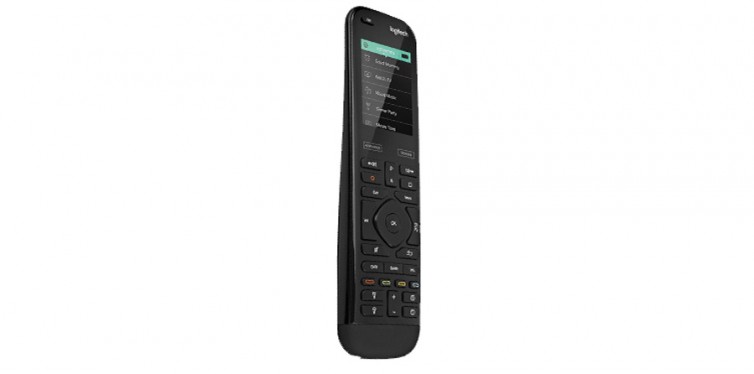 The Logitech Harmony Elite is ridiculously powerful. It allows you to effortlessly control up to 15 connected devices. It not only lets you control entertainment devices and services but you can also hook it up to pretty much all "internet of things" devices, so lets you control the music in the kitchen or the lights in the living room. And yes, it's fully compatible with Amazon Alexa.
And when it comes to controlling things with this remote, you are not constrained to buttons. The remote has a super sharp, slick touch screen and also allows voice control.
Controlling one device at a time? That's so 2008. The Logitech Harmony Elite lets you group your devices into one touch activities. For example, once it's all set up, you should be able to touch "watch a movie" on the universal remotes touch screen and it will automatically open up your preferred movie viewing app and switch it to the right setting for you. Pretty neat.
The touch screen also makes for a super intuitive way of fast forwarding, rewinding and adjusting the volume while you're watching.
The universal remote also comes with a hub called the "harmony hub" which means you don't have to point the remote directly at the device you want to control to control it. Anyone visiting is sure to think you have special powers.
Finally, the remote comes with the "Harmony app" which allows you to turn your iOS or Android smartphone or tablet into a remote control. Damn, that's cool.
Specification:
Brand

Logitech

Model

LYSB01F5TT510-ELECTRNCS

Weight

2.36 lbs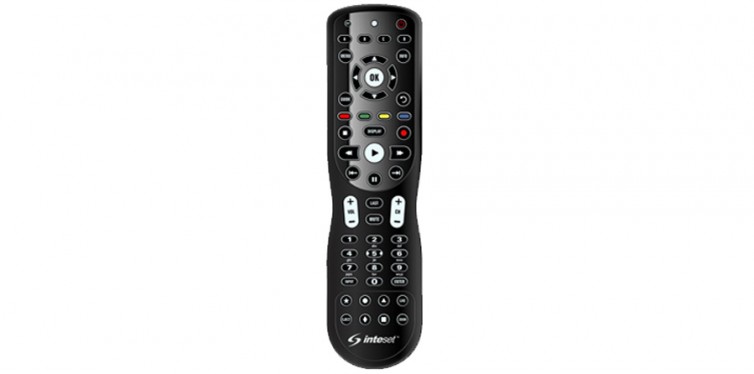 Next up we have the Inteset INT-422 which is billed as the "first universal remote dedicated to streamers". To support this claim, the top of the remote has four pre-programmed buttons; an "A" button for Apple TV, a "B" button for Xbox One, a "C" button for Media Centre, and finally, a "D" button for Roku. Don't fret though, the remote also supports 10,000 other devices including Xbox 360, Fire TV and Kodi.
It's worth noting that unlike the universal remote reviewed above that has a touch screen and buttons, i.e. multiple inputs, this one is heavy on the buttons. But this might not necessarily be a bad thing as we will explain. This Intesetremote has an intelligent button matching feature which allows you to replicate the button controls of an original device (e.g. A Roku remote) on the Inteset remote. Further, you can program up to 32 commands into a single button. Crazy.
So, although there are a lot of buttons, they are all completely customisable, allowing you to create the most comfortable, useful and accessible universal remote for your specific, personal needs.
Understandably, looking at a remote with so many buttons, you may assume that set up is going to be complex and tedious. Thankfully, that's not the case. The universal remote has a handy online tool that lets you super easily map buttons and set up your remote precisely how you want it.
The remote also has a few other tricks up its sleeve, namely; volume lock, channel lock and ID lock.
Specification:
Brand

Inteset

Model

INT-422

Weight

0.8 oz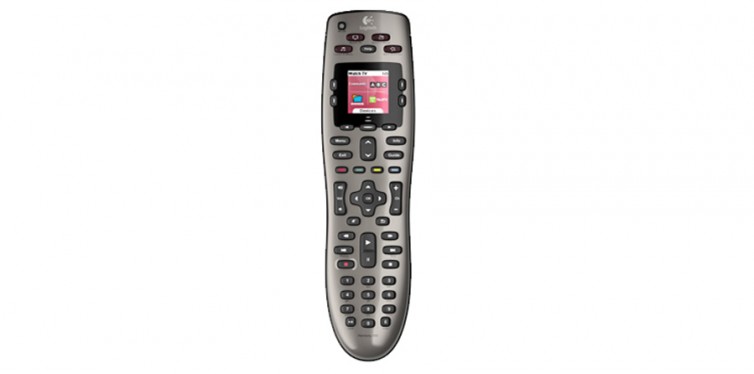 The Logitech Harmony 650 effortlessly combines up to eight remotes into one. One of the biggest stand out features of the remote is a full colour touch screen, which Logitech calls the "colour command screen". The screen features programmable "favourite channel" icons which lets you jump quickly to the channels you love most with one tap. The screen also displays common commands for whichever devices you happen to be using, hence the name.
The Harmony 650 also has super handy "one-click activity buttons" which you can program with commands such as "watch DVD" and "listen to music", taking you to your preferred app with preferred settings for each of those actions.
The remote seamlessly works with over 5,000 electronics brands and has an online database of 225,000 devices, with new ones being added daily, so you can be sure that this universal remote will work with whatever you throw its way.
Although at first glance the Harmony 650 looks kind of complicated, you will be pleased to know that its remarkably easy to set up via the quick set up online software.
Specification:
Brand

Logitech

Model

915-000159

Weight

10.6 oz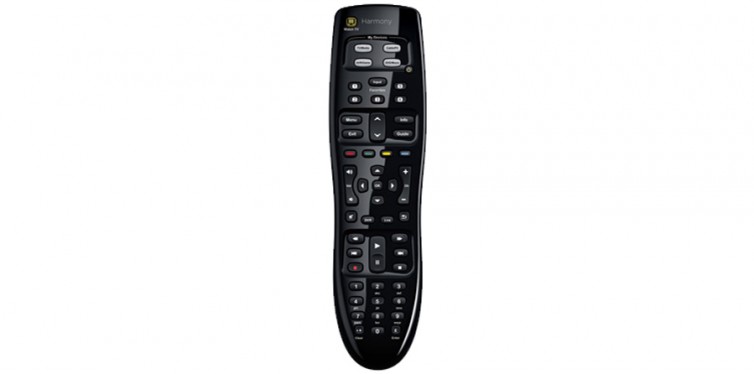 The Logitech Harmony 350 cleverly combines up to 8 remote controls into one which includes the remote controls for your DVR, TV, cable box, sound system…you get the picture.
Oh, and if you think your devices won't be supported then you are likely sorely mistaken as the Logitech Harmony 350 supports over 270,000 devices and support for new ones are being added daily.
The Logitech Harmony 350 doesn't have a screen but features 5 programmable favourite buttons enabling you to hop to your most loved channels in a matter of milliseconds.
This remote may be lighter on features than the ones covered above, however, what it does, it does well and is a respectable entry into the world of universal remote controls.
Specification:
Brand

Logitech

Model

LYSB00Y34TAA0-ELECTRNCS

Weight

https://www.amazon.com/Logitech-Universal-Entertainment-Certified-Refurbished/dp/B00Y34TAA0?tag=gearsearch-20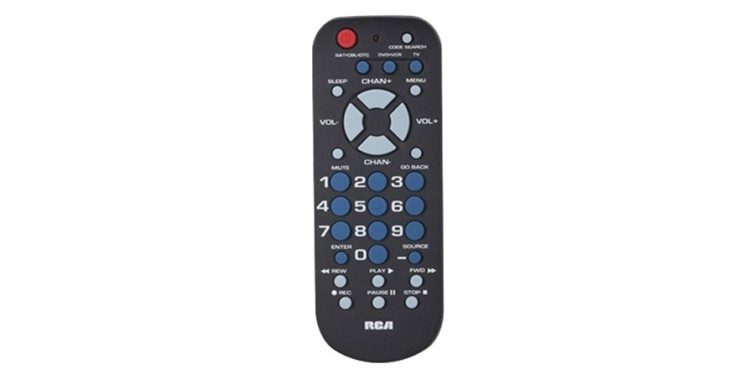 For those of you who want comfort and small form factor over lots of features, this is the universal remote for you. It is an attractive handheld size and is a pleasure to hold.
This little thing can control up to three devices and effortlessly replaces and consolidates most popular remote-control brands.
And adding new remotes to this thing is easy as pie. You can use either automatic, manual or direct code search methods to find all your pesky remotes and get them into this device.
We'd be lying if we said this thing is anywhere near as feature rich as the Logitech Harmony Elite. But it's lack of features gives it a benefit most of the other remotes don't have, and that is complete simplicity and ease of use.
Specification:
Brand

RCA

Model

RCR503BZ

Weight

4.2 oz
6. Logitech Harmony Smart Control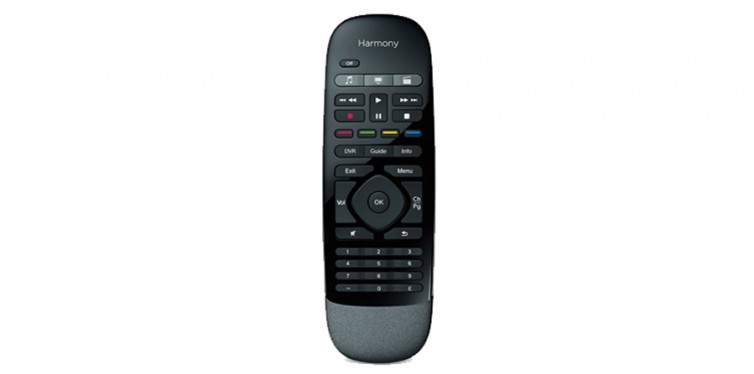 The Logitech Harmony Smart Control comes with a receiver called the Harmony Hub which turns RF signals from the remote into IR or Bluetooth commands that your devices can understand. The remote lets you control up to 8 devices including your Ps3 and Wii as well as streaming services such as Netflix.
270,000 devices are support from over 6,000 brands, so the chances are, whatever device you have in your house, it will be recognised by this system from the get go. And the Logitech Harmony device library makes it incredibly easy to update your both your smartphone app and universal remote control with brand new devices and commands.
If you, for some reason, don't want to use the Harmony remote that comes with the package, or want to give more than one person in the house the ability to control media at the same time as you, then you're in luck. The system allows anyone with a smartphone or tablet, be that Android or iOS, to download a proprietary Logitech app and turn their device into a fully-fledged universal remote. Pretty neat.
Specification:
Brand

Logitech

Model

915-000194

Weight

1.2 lbs
7. Logitech Harmony Companion All In One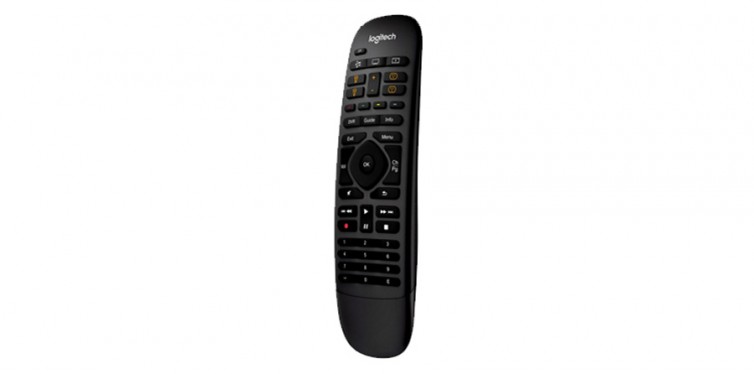 The Logitech Harmony Companion All in One Remote is an incredibly robust and feature rich system that goes well beyond just being a universal remote for controlling your various devices and services.
Much like the Logitech system reviewed above, this Logitech system has three main components; The Harmony Hub, the fully featured remote and the smartphone app.
We will take each of these components in turn, explain them and communicate their benefits.
Taking the Harmony Hub first. The Hub sends commands from your Logitech remote or smartphone with Logitech activated app and relays this information to the entertainment device or service you want to control. The benefit of this added hub is that you can now control your entertainment devices and services from the other room, through walls and through TV cabinets.
Specification:
Brand

Logitech

Model

Logitech Harmony All In One Remote – CR

Weight

1.55 lbs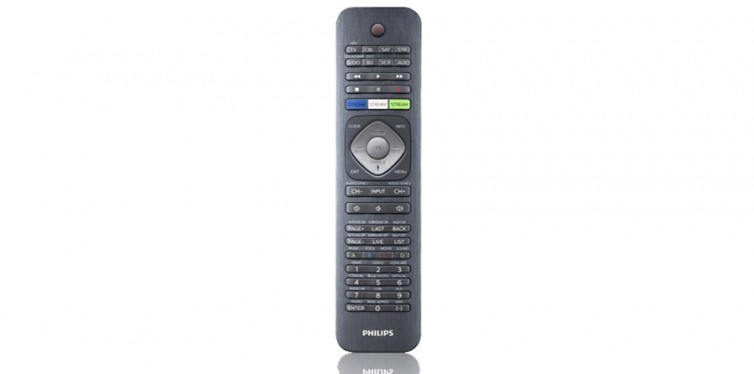 The Phillips 8 in 1 universal remote control is a strong, attractive remote with a traditional long candy bar shape. The device features quick access buttons to Neflix and Hulu so is perfect for streaming fans. Also, it has backlight device buttons so is perfect for all those late-night viewing sessions.
This universal remote may not come with as many features as some of the others reviewed above, especially the Logitech ones, but the remote executes on its smaller set of features incredibly well, oh and it's super quick and easy to set up.
Specification:
Brand

Philips

Model

SRP5018/27

Weight

5.3 oz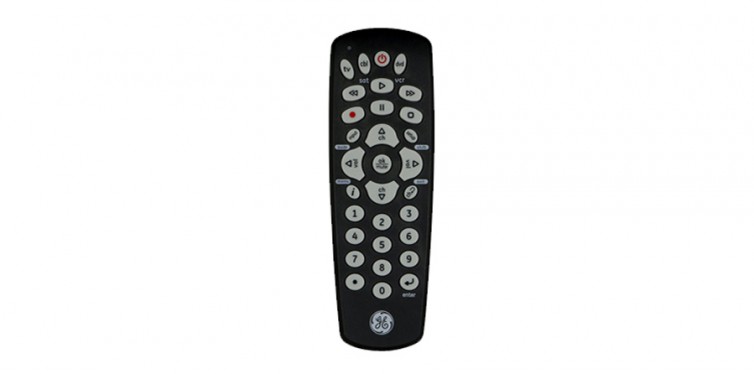 The GE 3-Device Universal Remote Control may not be the prettiest thing in the world, but it's incredibly sturdy, robust and has an impressive feature set for it's price.
With the remote you can effortlessly control up to 3 different services or devices such as TV's, Blu-Ray players, DVD Players, VCR's…well, you get the idea.
The remote has a very comprehensive code library that works with all the major brands and thankfully not only supports the latest brands and products but also supports many legacy brands and devices.
Specification:
Brand

GE

Model

24991

Weight

1.6 oz
Buyers Guide
What Is Meant By A Universal Remote?
A universal remote is one that can work universally with thousands of home entertainment devices from thousands of brands. The main purpose of a universal remote is to replace all the remote controls that come with all of your entertainment devices and services. So instead of needing a separate remote for every one of your devices, you instead program the required details into the universal remote and you will then be able to control all of your various devices from that one universal remote – saving you time, hassle and trouble.
Is There A Universal Remote For A Smart TV?
Yes. There are universal remotes that work for smart TV's. We recommend the Logitech Harmony remotes for this, many of these universal remotes are proven to work with the latest smart TV's however it is not necessary to use these ones.
Will A Universal Remote Operate My DVD Player?
Yes, absolutely. Almost all universal remotes can operate DVD players. However, if a universal remote will work with your specific DVD player depends on if it supports it. Most good universal remotes, such as the ones we have covered in this article have databases of hundreds of thousands of devices, so there is a very high chance that at least most of the universal remotes mentioned above will be able to operate your DVD player.
How Do You Use A Universal Remote?
In order to use a universal remote with one or more of your entertainment devices or services, you first have to program the device you want to control into the remote. The method for doing this varies from one universal remote to another but there is generally a very easy to follow step by step set up process that guides you through the process.
Once you have programmed the entertainment device/service into the universal remote successfully the first time, then you won't need to do it again in future, you can now easily control the entertainment device/service from your universal remote. Most universal remotes allow you to control 3-8 entertainment devices from the universal remote.
What Is The Best Universal Remote?
Now this is a tricky question. There is no objectively "best" universal remote, as which is the best one depends largely on your needs, the number of entertainment devices you want to control and your budget. However, if we had to really answer, we would say that, for the tech savvy, power user, entertainment buff with 4+ remote controls already at his/her disposal, one of the Logitech Harmony remotes would be best, probably the Harmony Elite.
For those, who don't have tonnes of entertainment devices and services but have enough that using 3+ remote controls is becoming annoying, tedious and cumbersome we suggest the Philips SRP5018/27 8-In-1 Universal Remote Control. And for those that really want something basic but want to eliminate the need to use several remote controls, we suggest the RCA RCR503BZ Palm Sized Remote Control.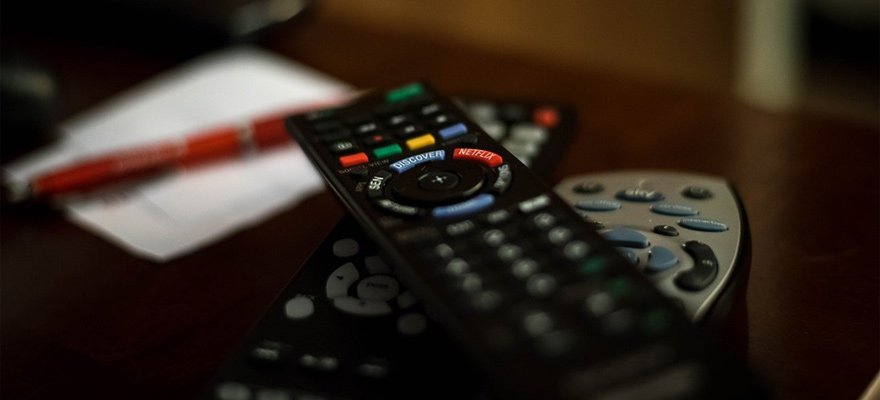 Conclusion
So, there you have it folks. We're almost certain this article has convinced you to put the days of juggling countless remotes in a bid to find the right one to use behind you and to usher in a new era where you use one, sleek, sophisticated, powerful universal remote to easily and effortlessly control all of your entertainment devices and services. Further, we hope the article has helped you in deciding which universal remote to go for, as, as I'm sure you've realised by now, there is a lot to choose from out there.