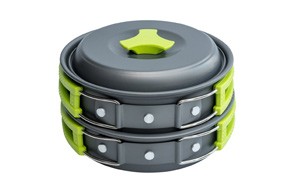 MalloMe Camping Cookware Mess Kit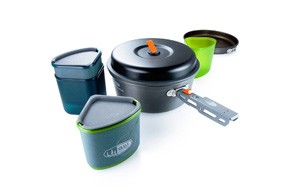 GSI Outdoor Backpacker Mess Kit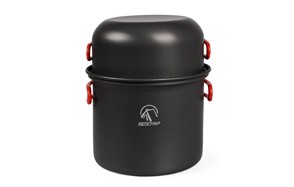 REDCAMP Aluminum Mess Kit
You practically live outdoors. You hike, fish, live by the land as often as you can. Cooking up your meals shouldn't be the most difficult task you endure, which is why having a proper mess kit can turn your outdoor life upside-down. We've seen our fair share of guides that tell men to "Suck it up and bring cast iron." Yeah, let me just tack that on with the other 50lbs+ of stuff I have. I'm sure it won't throw my back out. Mess kits are lightweight, portable, stackable little pots and pans sets, that aim to make your camping life easier, and your meals a hell of a lot nicer. Like any outdoor-centric gear, we popped in a comprehensive guide and our top ten pick.
Our Top Picks Of The Best Mess Kits
1. MalloMe Camping Cookware Mess Kit
See More Reviews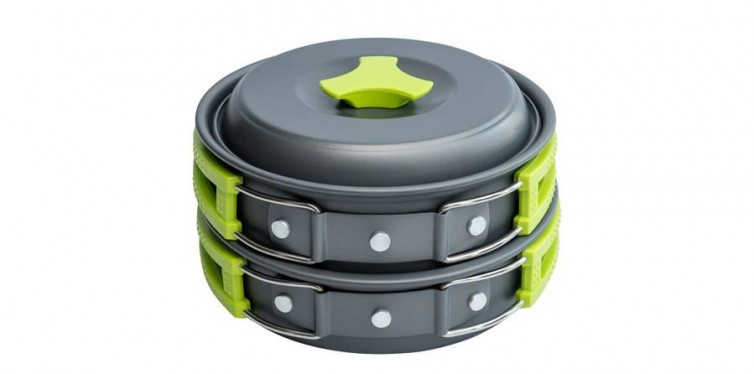 From top to bottom, we're kicking this list off with a super affordable mess kit that brings everything you need to the table– MalloMe Camping Cookware Mess Kit. You get a ten piece set, including a nylon bag, foldable stainless steel fork. This comes crafted of anodized aluminum, which is absolutely great for cleaning, and holds up against all forms of corrosion. Your largest pot comes with a one liter capacity, and folding handles that contour to the shape of the pot when not in use. From the grips on the handles to the free eBook on cooking while camping, MelloMe offers the absolute best value of any mess kit we've been able to find or use. We had wished the lid locked in place instead of shifting around in transit, which can make quite the bit of noise if you're not at 100% pack capacity. Great storage, fit for two to four people to eat from, all at a killer price that we couldn't be happier with.
Key Features:
Folds up nice and small; the handles press against the pans in a perfect circle
Ten piece set
FDA-approved anodized aluminum construction
You get a free eBook along with your purchase
Excellent price and rated by over 3,000 users
Not to be used over direct flame
No locking mechanism on the lids; will clatter and move in transit
2. BPA Free Mess Kit by Light My Fire
See More Reviews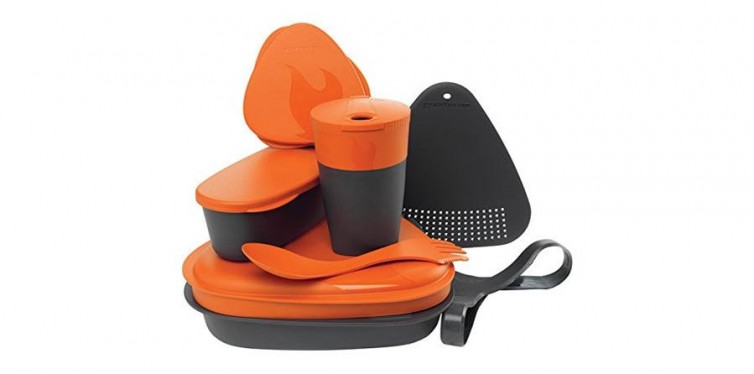 Everything is going to come with its pros and cons, but Light My Fire was able to push through the barricades and really bring an incredible value. We like to air the dirty laundry first and foremost: there are two pieces of this kit that aren't very good. One, being the strainer (there's nothing wrong with it, but who's boiling pasta under the stars?), and the bungee strap that holds them together for storage. That strap is low quality, and shouldn't be bothered with. That being said, the remainder of the kit is fantastic, giving you a very easy to clean polypropylene build, which is even dishwasher and microwave safe. These kits come with SnapBoxes, allowing you to store food, soups, just about anything without worrying about spillage.
Key Features:
Includes waterproof SnapBoxes to store food without worrying about spillage
BPA free polypropylene construction
Will not warp at high temperatures
Specification:
Brand

Light my Fire

Model

S-MK2 Orange

Weight

13.4 ounces
Simple to clean; dishwasher safe if you want to wait until you get back home
Eight piece set available in seven colors at a good price
Bungee storage strap is extremely low quality
Strainer is essentially useless
3. Terra Hiker Camping Cookware Mess Kit
See More Reviews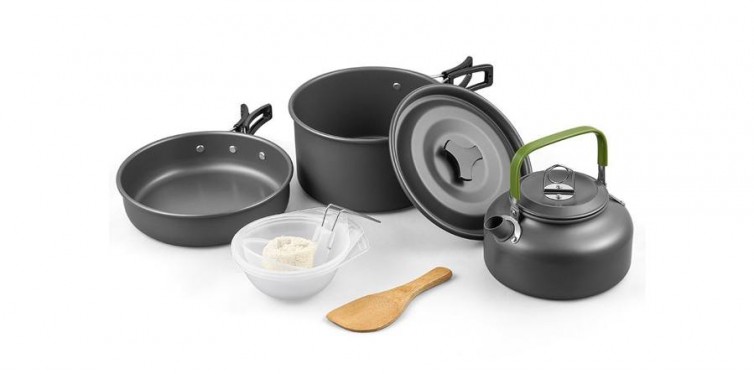 Only have enough time to hit the hiking trail or camp at very sparing moments? If your heart belongs in the outdoors, but your schedule conflicts with it, Terra Hiker has the perfect solution for you. Their camping mess kit comes with ten pieces, crafted of aluminum, a wooden spoon, and plastic strainer. The folding serving ladle and the included bowl are crafted of PP plastic, taking chemical contamination out of the equation entirely. Folding handles contour to the shape of the pan of choice, allowing you to pack this up as small as possible. The whole kit weighs a whopping 1.65lbs, and we know wrist watches that are heavier than that. You get a safe scrub brush, which is a serious necessity, because one false move with any utensil that doesn't come in this kit, and the non-stick is toast.
Key Features:
Thermally insulated handles prevent slip-ups
Ultra compact and lightweight
Non-stick coating
Specification:
Brand

Terra Hiker

Weight

1.65 pounds
Sturdy aluminum construction
Food-grade PP plastic bowls take chemical concerns out of the equation
One scratch, and the non-stick is history
Designed for recreation; not hardcore camping
4. G4Free Outdoor 13 Piece Camping Cookware Kit
See More Reviews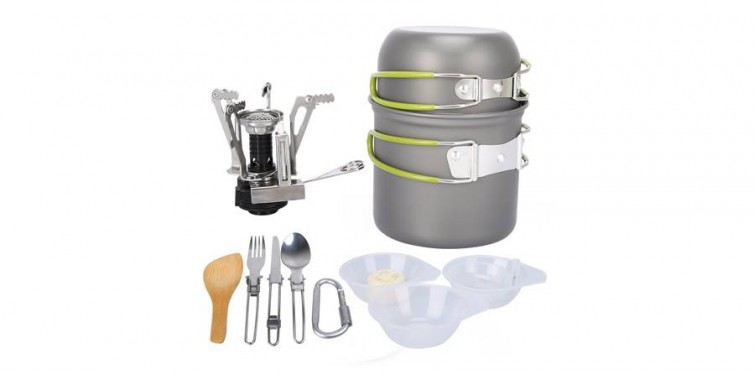 G4Free looked at the one issue that most mess kits come with: too tall a price tag for not enough components. You get a thirteen piece set here, including a wooden spoon, lanyard, and a full set of eating utensils. We're not crazy about how bulky this folded-up kit fits inside of a backpack, but if you're able to pack it up nicely, you'll be pleased. The whole thing weights a massive 1.30lbs, making it a great compromise for space versus weight capacity. G4Free kept their price as low as possible, while still offering safe anodized aluminum for the primary construction. You won't be using this over a direct flame, but you can stash this whole thing in the mesh bag and hang it off your backpack if you fancy.
Key Features:
Includes full set of eating utensils
FDA approved non-toxic anodized aluminum construction
Friendly customer support w/ money-back guarantee
Specification:
Brand

G4Free

Weight

1.3 pounds
Extremely inexpensive; excellent value for pieces
Lightweight at 1.3lbs
Not for direct over-flame use
Bulky to store in a backpack
5. REDCAMP Aluminum Mess Kit
See More Reviews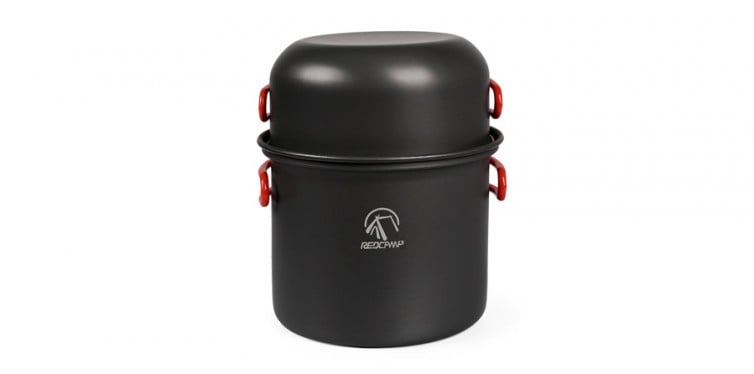 If you're more of the solo goer, you're about to be in for the treat of a lifetime. This packs up ultra small, and has just enough space to use for a weekend of solitude. You only get five pieces in this kit, giving you enough of what you need without packing on extra weight. You get an included mesh bag, allowing you to just tack this on to the small of your backpack and let it hang there if you'd prefer, or if your pack doesn't have enough room to support this. If you take a look at the photographs on the sales page, you'll see that these are compared, in size, to an iPhone. Minimalist backpackers will appreciate the simplicity, while your wallet will appreciate the low cost. If, at any time, you run into issues with your purchase, you have a full year warranty straight from REDCAMP to cash in on.
Key Features:
One year warranty straight from the manufacturer
Packs up very small for optimal storage
Folding handles for grip and storing
Specification:
Brand

REDCAMP

Weight

1 pounds
One of the lowest prices on our list; budgeter's dream
Weighs just over half a pound
Only comes with five pieces
Small capacity is best for a one-man use
6. GSI Outdoor Backpacker Mess Kit
See More Reviews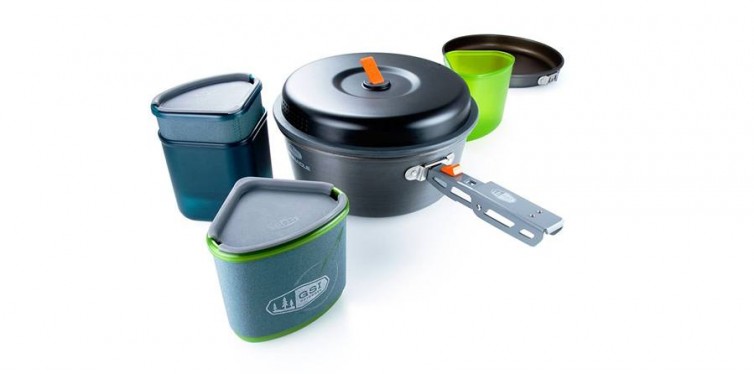 GSI is one of those family-fueled brands that we love to give a look at, and we're glad we did. First off, we're going to tell you that you're not going to like the price. As the most expensive set on our list, they had a lot of ground to cover in order to retain our affection; they didn't disappoint. Simple to clean and quick to set up/store, this eleven piece kit comes with everything that you'd need for a party of two, ideal for the perfect three-day weekend before hitting the nine-to-five again. One fun fact is that when this is all closed-up, there's enough space to slip an 8oz fuel canister for your camping stove right in the center, pop the lid on, and call it a day. GSI's attention to detail and customer service needs make them a force to be reckoned with, albeit it for a higher upfront cost.
Key Features:
Designed for three-day use by two people
Includes eleven pieces
Has room for an 8oz fuel canister inside even when packed up
Specification:
Brand

GSI Outdoors

Model

50180

Weight

1.8 pounds
Folds up nice and small at a total of 1.80lbs
Very simple to clean
Very costly; not for beginners
Difficult to enclose in nylon exterior pouch; no hanging capability
7. MSR Quick 2 System Cook Set
See More Reviews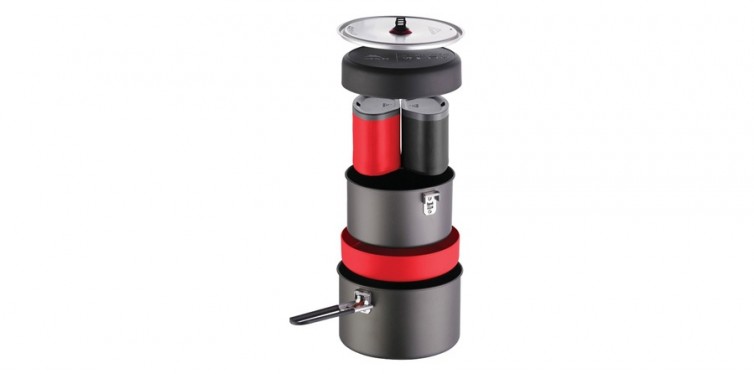 MSR decided to add a bit of flair in with their functional cook set, and you can't go wrong with black and red. We were a little disappointed when we didn't see any silverware or additional utensils, or for that matter, a cleaning sponge included. You get what you see, which includes a 2.5L pot, making it a perfect-sized kit to bring for group camping excursions. Cleaning is a breeze, so long as you know which pan is coated and which is non-coated. We made the mistake of getting some scrapes on the coated pan, as they're not clearly labeled or identifiable. As we rifle down the list, some of the second-tier models come with a few less perks. MSR charges a pretty penny, and we recommend this be used as your primary mess kit, but still add another for utensils and smaller necessities.
Key Features:
Eight piece set
Anodized aluminum construction for corrosion resistance
Simple to clean
Specification:
Brand

MSR

Model

040818065976

Weight

1.76 pounds
Folds up very small at a max of 1.80lbs
Contains a 2.5L pot so you're able to use this kit for larger parties
Higher cost
Doesn't include utensils/cleaning sponge
8. GSI Outdoors Extreme Mess Kit
See More Reviews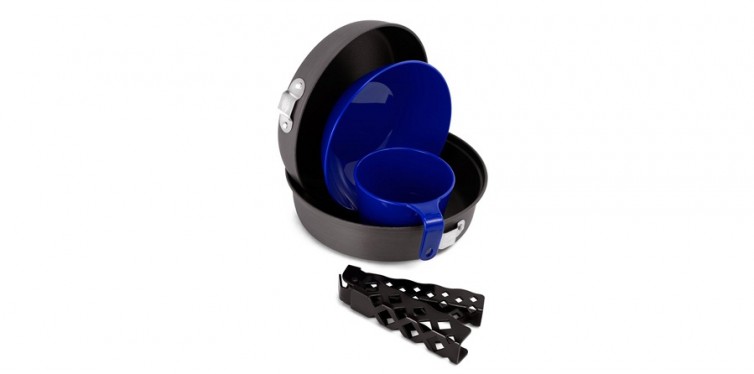 We're back with another killer GSI product, and with that, comes the GSI cost. You're looking at a little higher than we would have liked for this kit, but the performance measures far above what we actually expected. GSI Outdoors Extreme Mess Kit includes a super high-temperature bearing handle that attaches right onto the pan, allowing you to have a good grip on your food instead of leaving a pot on a tripod or alcohol burner and wondering how to get it off. GSI tried to include a mesh bag to carry these parts in, but it tore before we could even hit the camping trail. If you're going to go for this kit, plan on packing it inside of your bag. With all that being put into the light, we should add that it's ultra easy to clean, and the anodized aluminum construction is set to last you for years, even in hardcore use.
Key Features:
DiamondBack Gripper locks onto exterior brackets to simplify cooking
Anodized aluminum construction
Handle withstands high temperatures
Specification:
Brand

GSI Outdoors

Model

50120

Weight

1 pounds
Folds up small at a single pound
Ultra easy to clean and store
Included mesh bag tears very easily
Higher cost for less items
9. Coleman Five Piece Aluminum Mess Kit
See More Reviews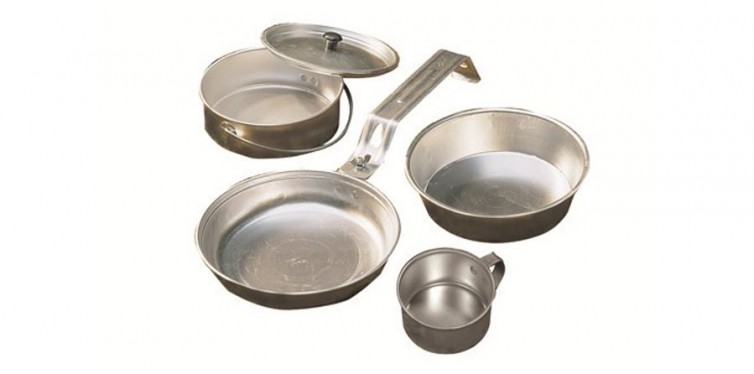 Coleman's known as the king of the outdoors, so we were a little surprised that they didn't rank higher on this list. They still blew a lot of other kits that didn't make this list out of the water, but it came with a few setbacks. Firstly, we admire the rock bottom price, which is pretty hard to beat, but we were a little surprised at the kit when we opened it up. It's noticeably smaller than the marketing materials make it appear online, and doesn't exactly store in a compact manner to accommodate to the rest of your items. You'll have to put this in your bag, since it doesn't come with a mesh bag, but you will have a super easy time cleaning this out. Coleman didn't want to fuss over a teflon coating, which actually makes these pans last a lot longer than you'd think. Small, but sturdy; you could have Coleman Five Piece Aluminum Mess Kit for a decade or more.
Key Features:
Five piece set
Aluminum construction; no coating means it will last longer
Set only weighs 11.2 ounces
Specification:
Brand

Coleman

Model

2000016402

Weight

11.2 ounces
Rock bottom price
Cleans out easily, especially for not having a coating
Does not store too compactly
Smaller than the advertising makes it look
10. GSI Outdoors Bugaboo Mess Kit
See More Reviews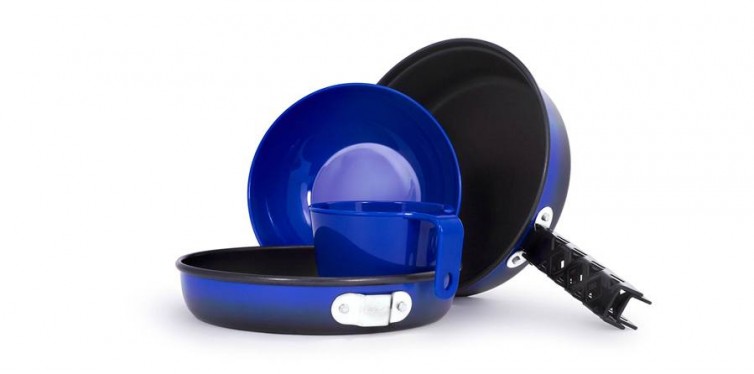 Last but not least, we come swinging in with another GSI product. These are good guys, with a family business that was founded out of a desire to give the hardcore hiker a much better range of options. You only get four pieces in GSI Outdoors Bugaboo Mess kit, but it's the perfect central mess kit to get the job done, so long as you're bringing your own utensils. We're no the biggest fan of teflon coating, and the coat on this comes off particularly easy. You get a mesh bag to store everything in, but even when it's nested, it rattles around and makes quite a racket. We recommend nestling it somewhere in your bag to reduce noise. If you do throw it in your bag, it's only going to add one extra pound; you'll barely feel a thing. GSI are notorious for being a bit on the pricier side, but this kit can go over direct flame, whereas other kits of their cannot.
Key Features:
DiamondBack Gripper makes cooking easier
Four piece set
Works well over direct flame
Specification:
Brand

GSI Outdoors

Model

44120

Weight

1.33 pounds
Only weighs a touch over one pound
Durable PP plastic build on some components to reduce chemical concerns
Teflon coating comes off very easily
Rattles around loudly; doesn't nest well
Mess Kit Buying Guide and FAQ
There's a lot more to mess kits than meets the eye. We'll break down how to clean them, store them, and the criteria we decided upon to pick our top ten list. We're huge fans of pushing the envelope, and staying out as long as possible without hitting the road back home. Having the right mess kit can prolong your stay, and be that final piece of the puzzle your camping go-bag has been waiting for.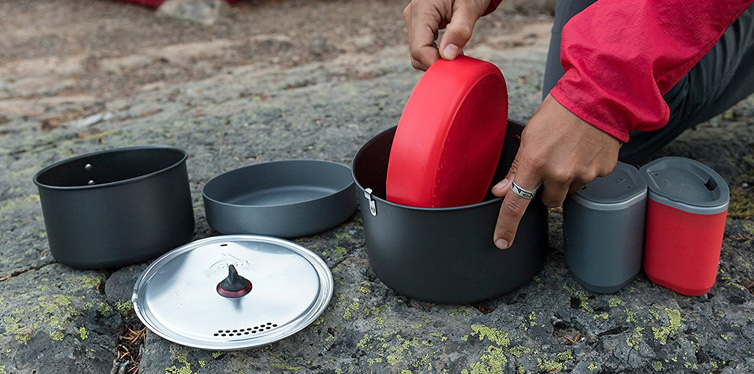 How We Chose Our Selection of Mess Kits
At a glance, you're looking at foldable pots and pans, which doesn't seem that impressive. Mess kits have a lot more going on under the hood, from storage potential to being easier to clean than your dishes at home. We took a lot of things into consideration, including:
Weight
Number of included items
Additional utensils
Bonus items
Cost
Material construction
Ease of use
In the end, it has to serve its purpose, but also fit your personal camping lifestyle. We know that it's not as simple as popping down a tent, and it's going to come down to personal preference.
Features to Look For in a Mess Kit
Durability - Nobody buys a product with the intention of it not being durable. You'll run into various materials, which we'll get into in a moment. Most mess kits are made to be lightweight, so don't be surprised when you hear that some only weigh between two and three pounds in total. Durable and heavy don't always have to go together.
Purpose - What do you need a mess kit for? Depending on what you like to cook, you'll have different kits to choose from, giving you different size, weight, and durability. With mess kits, you have to think of your expected meal plan before you head off on the trail.
Material - Most of these kits will come with a form of anodized aluminum and silicone for handles. You'll see ABS plastic on mugs and certain plates, generally BPA-free, which are simple to clean. Word of the wise: don't leave plastic utensils and plates dirty and in the sun. The effects are not pleasant.
Accessories - The most basic mess kits are just going to be foldable pots and pans, potentially a lid, and that's about it. We didn't think that was good enough for our list. Our kits have a lot more going on, but anything outside of the pots and pans are considered accessories. Look out for folding stainless steel sporks (which our #1 pick comes with), wooden utensils to prevent scratching your pots and pans, and cleaner brushes to retain the finish.
Q: What is a Mess Kit?
A: A mess kit is a fold-and-go set of pots, pans, utensils and more useful items, that come along with you on your camping trip or a two-day hiking excursion. You're roughing it, but your stomach didn't sign-on for this. Mess kits give you the ability to cook meals that actually refuel your body after all the strain of outdoor activities, but still make the process simple and easy to pack for.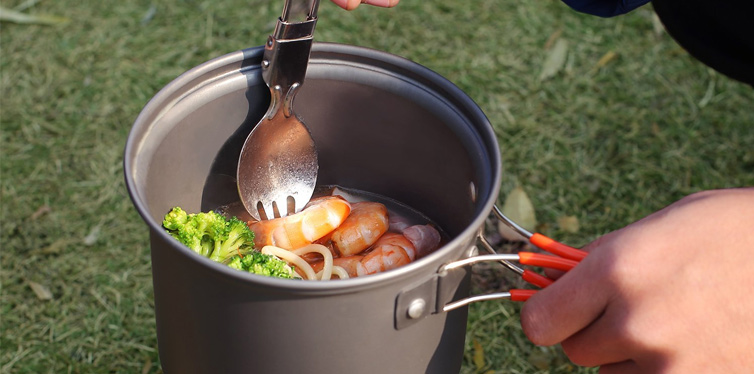 Q: Are Mess Kits Necessary?
A: Would you prefer to use gloves and hold a can of beans over the fire while it cooks? In our opinion, mess kits are a necessity, unless you're planning to eat nothing but Nature Valley and beef jerky. If you want to enjoy yourself out on the trail, you need meals you're actually going to desire. Our number one reason for bringing a mess kit is simple.
You need proper nutrition. Even if you're a seasoned hiker or camper, you're still putting your body through strenuous activities on a daily basis, leading to fatigue and a serious depletion of minerals and vitamins. Clean water, and a hearty meal that's actually going to help rejuvenate your energy, are both critical.
Q: What Does a Standard Mess Kit Include?
A: Most mess kits are between eight to ten pieces. You get the following, on average:
One stainless steel eating utensil
One nylon/mesh bag to keep everything in
One 1.0-2.0 liter pan
One 1.5-2.5 liter pan
One cover (usually glass)
Two dish plates
One or two mugs
Pot handle
One wooden utensil to prevent scraping
One non-abrasive cleaning brush
Not all kits are going to come with all of these, but you can expect to see a mix of these in most kits. It's best to prioritize your meal ideas now: what are you going to be cooking? How many days are you going to be on-site? How many people are going to be there?
Q: What Are the Usual Sizes of Pots Included in a Mess Kit?
A: Most brands try to switch it up and make themselves different with varying sizes. On average, the largest pot in a mess kit will be one or two liters. It depends on if they're marketed for party-sized camping excursions, or more for a twosome to use. You're Wolfgang Puck's apprentice, so you won't need a crazy outdoor kitchen in the wilderness. Keeping it simple is the way to go, but that being said, don't cook like you're at home. Food needs proper space in the pan to cook evenly, especially if you're dealing with raw meats. Don't overstuff them.
Q: How do You Clean a Mess Kit?
A: It all depends on the material. Most mess kits try to stay as lightweight as possible to appeal to hikers and campers, so you're going to see minimal stainless steel (except in utensils and the like), and you'll see a lot more anodized aluminum. Let's talk about that material, and why it's the best for mess kits and cleaning.
When you anodize a material, you're essentially engineering the surface of it. This is what gives metals a non-corrosive finish, and also allows you to use gentle sponges and cloths to wipe them clean with ease. The only issue with these is being too rough on them. They'll handle a bit of roughness, but when they're scratched-up enough, they're going to show signs of rust and corrosion in those lines.
The best way to clean is with a gentle soap, and tend to them as soon as the meal is over. If you can help it, clean them and put them out to air dry before you even sit down to eat whatever it is you made. Air drying is important; it prevents long-term water buildup, especially if you pack this away and don't use it again until next weekend. It only takes about four hours for water to begin brewing bacteria,  so you'll be left with an unsanitary mess if you don't tend to them properly.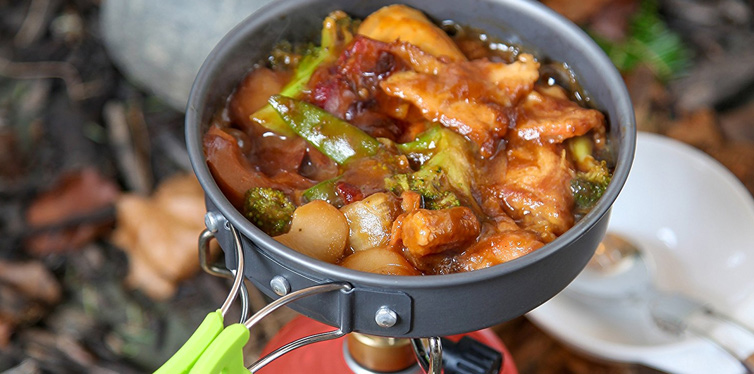 Q: What is the Best Way to Pack or Carry Mess Kits?
A: If you're rocking a kit like our #1 pick, you'll be able to fold them up to minimize their size. However, that still begs the question: how are you going to get from A to B? You need the right camping backpack or external frame pack to have enough storage. Even when your kit folds up inside of itself, you're still left with this big circular, dense kit that needs to go somewhere.
Depending on the combined weight of your mess kit, it's best to store it closest to your back. If you're rocking an external frame, you'd do well to read our guide and check how packing different based on your center of gravity, and your gender (seriously, it's bizarre). If you're using a standard hiking pack, you'd do best to stash it towards the top. You're able to remove them quickly, and place them to the side while you dig for your tent/campsite essentials.