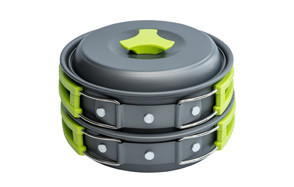 MalloMe Camping Cookware Mess Kit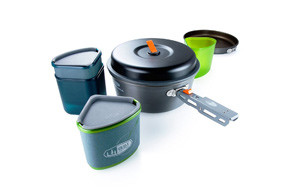 GSI Outdoor Backpacker Mess Kit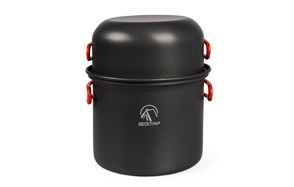 REDCAMP Aluminum Mess Kit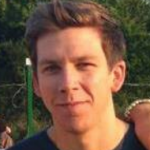 You practically live outdoors. You hike, fish, live by the land as often as you can. Cooking up your meals shouldn't be the most difficult task you endure, which is why having a proper mess kit can turn your outdoor life upside-down. We've seen our fair share of guides that tell men to "Suck it up and bring cast iron." Yeah, let me just tack that on with the other 50lbs+ of stuff I have. I'm sure it won't throw my back out. Mess kits are lightweight, portable, stackable little pots and pans sets, that aim to make your camping life easier, and your meals a hell of a lot nicer. Like any outdoor-centric gear, we popped in a comprehensive guide and our top ten pick.
The Best Mess Kit
Mess Kit Buying Guide and FAQ
There's a lot more to mess kits than meets the eye. We'll break down how to clean them, store them, and the criteria we decided upon to pick our top ten list. We're huge fans of pushing the envelope, and staying out as long as possible without hitting the road back home. Having the right mess kit can prolong your stay, and be that final piece of the puzzle your camping go-bag has been waiting for.

How We Chose Our Selection of Mess Kits
At a glance, you're looking at foldable pots and pans, which doesn't seem that impressive. Mess kits have a lot more going on under the hood, from storage potential to being easier to clean than your dishes at home. We took a lot of things into consideration, including:
Weight
Number of included items
Additional utensils
Bonus items
Cost
Material construction
Ease of use
In the end, it has to serve its purpose, but also fit your personal camping lifestyle. We know that it's not as simple as popping down a tent, and it's going to come down to personal preference.
Features to Look For in a Mess Kit
Durability - Nobody buys a product with the intention of it not being durable. You'll run into various materials, which we'll get into in a moment. Most mess kits are made to be lightweight, so don't be surprised when you hear that some only weigh between two and three pounds in total. Durable and heavy don't always have to go together.
Purpose - What do you need a mess kit for? Depending on what you like to cook, you'll have different kits to choose from, giving you different size, weight, and durability. With mess kits, you have to think of your expected meal plan before you head off on the trail.
Material - Most of these kits will come with a form of anodized aluminum and silicone for handles. You'll see ABS plastic on mugs and certain plates, generally BPA-free, which are simple to clean. Word of the wise: don't leave plastic utensils and plates dirty and in the sun. The effects are not pleasant.
Accessories - The most basic mess kits are just going to be foldable pots and pans, potentially a lid, and that's about it. We didn't think that was good enough for our list. Our kits have a lot more going on, but anything outside of the pots and pans are considered accessories. Look out for folding stainless steel sporks (which our #1 pick comes with), wooden utensils to prevent scratching your pots and pans, and cleaner brushes to retain the finish.
Mess Kit FAQ
Q: What is a Mess Kit?
A: A mess kit is a fold-and-go set of pots, pans, utensils and more useful items, that come along with you on your camping trip or a two-day hiking excursion. You're roughing it, but your stomach didn't sign-on for this. Mess kits give you the ability to cook meals that actually refuel your body after all the strain of outdoor activities, but still make the process simple and easy to pack for.
Q: Are Mess Kits Necessary?
A: Would you prefer to use gloves and hold a can of beans over the fire while it cooks? In our opinion, mess kits are a necessity, unless you're planning to eat nothing but Nature Valley and beef jerky. If you want to enjoy yourself out on the trail, you need meals you're actually going to desire. Our number one reason for bringing a mess kit is simple.
You need proper nutrition. Even if you're a seasoned hiker or camper, you're still putting your body through strenuous activities on a daily basis, leading to fatigue and a serious depletion of minerals and vitamins. Clean water, and a hearty meal that's actually going to help rejuvenate your energy, are both critical.
Q: What Does a Standard Mess Kit Include?
A: Most mess kits are between eight to ten pieces. You get the following, on average:
One stainless steel eating utensil
One nylon/mesh bag to keep everything in
One 1.0-2.0 liter pan
One 1.5-2.5 liter pan
One cover (usually glass)
Two dish plates
One or two mugs
Pot handle
One wooden utensil to prevent scraping
One non-abrasive cleaning brush
Not all kits are going to come with all of these, but you can expect to see a mix of these in most kits. It's best to prioritize your meal ideas now: what are you going to be cooking? How many days are you going to be on-site? How many people are going to be there?
Q: What Are the Usual Sizes of Pots Included in a Mess Kit?
A: Most brands try to switch it up and make themselves different with varying sizes. On average, the largest pot in a mess kit will be one or two liters. It depends on if they're marketed for party-sized camping excursions, or more for a twosome to use. You're Wolfgang Puck's apprentice, so you won't need a crazy outdoor kitchen in the wilderness. Keeping it simple is the way to go, but that being said, don't cook like you're at home. Food needs proper space in the pan to cook evenly, especially if you're dealing with raw meats. Don't overstuff them.
Q: How do You Clean a Mess Kit?
A: It all depends on the material. Most mess kits try to stay as lightweight as possible to appeal to hikers and campers, so you're going to see minimal stainless steel (except in utensils and the like), and you'll see a lot more anodized aluminum. Let's talk about that material, and why it's the best for mess kits and cleaning.
When you anodize a material, you're essentially engineering the surface of it. This is what gives metals a non-corrosive finish, and also allows you to use gentle sponges and cloths to wipe them clean with ease. The only issue with these is being too rough on them. They'll handle a bit of roughness, but when they're scratched-up enough, they're going to show signs of rust and corrosion in those lines.
The best way to clean is with a gentle soap, and tend to them as soon as the meal is over. If you can help it, clean them and put them out to air dry before you even sit down to eat whatever it is you made. Air drying is important; it prevents long-term water buildup, especially if you pack this away and don't use it again until next weekend. It only takes about four hours for water to begin brewing bacteria,  so you'll be left with an unsanitary mess if you don't tend to them properly.

Q: What is the Best Way to Pack or Carry Mess Kits?
A: If you're rocking a kit like our #1 pick, you'll be able to fold them up to minimize their size. However, that still begs the question: how are you going to get from A to B? You need the right camping backpack or external frame pack to have enough storage. Even when your kit folds up inside of itself, you're still left with this big circular, dense kit that needs to go somewhere.
Depending on the combined weight of your mess kit, it's best to store it closest to your back. If you're rocking an external frame, you'd do well to read our guide and check how packing different based on your center of gravity, and your gender (seriously, it's bizarre). If you're using a standard hiking pack, you'd do best to stash it towards the top. You're able to remove them quickly, and place them to the side while you dig for your tent/campsite essentials.