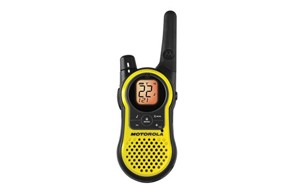 Motorola MH230R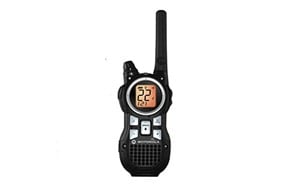 Motorola MR350TPR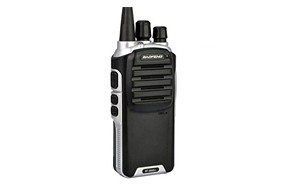 Baofeng BF-888S Plus UHF
Most walkie talkies on the market today are poorly engineered and have extremely limited range. Buildings, topography, forests and other obstructions can also get in the way and wreak havoc with weak signals from these poorly designed units. The best walkie talkies by contrast have the engineering and power behind their signal to provide true long range capabilities, even under less than ideal circumstances. It's these units rescue crews and emergency responders rely on for clear, reliable communication. And it's just those kinds of units we'll be looking at here.
It's not easy to find a real long range walkie talkie out there, but driven by a desire to provide our readers with the best, most relevant information we've managed to dig up 8. Keep in mind the opinions expressed here are those of our review panel. Your opinion may vary.
Best Walkie Talkies (Our Top Picks)
Motorola MH230R Long Range Walkie Talkie
See More Reviews

The Motorola MH230R provides clear communication over hill and dale up to 23 miles. While that distance will vary as it does with all walkie talkies, the MH230R holds up its end of the bargain far better than most. You don't need to be on the Bonneville Salt Flats on a clear day to achieve long range effective communications. And it performs just as well in short range situations that overwhelm many a lesser walkie talkie like crowded malls and amusement parks.
The Motorola MH230R is an outstanding long range walkie talkie that's surprisingly powerful and clear even over great distances. If you plan on going camping or backpacking you should have a pair of these with you so no individual or group is ever out of range of the others. Just make sure you bring along plenty of alkaline backups and you'll be good to go for a long weekend.
Specification:
Brand

Motorola Consumer Radios

Model

MH230R

Weight

1.3 pounds
As handsome as they are effective.
Easy to understand controls and outstanding volume.
Lightweight construction so carrying them never feels like a burden.
Excellent range under less than excellent conditions.
Actual battery life doesn't always agree with stated life.
Performance can suffer in cold weather.
Uniden Submersible Long Range Walkie Talkie
See More Reviews

While the Uniden Submersible is an outstanding walkie talkie that will provide you excellent range in less than perfect conditions, 50 miles is probably pushing it a bit. 25 miles in open country though is not and that's about 23 more miles than you'll get out of poorly engineered units. The Uniden Submersible is a great looking unit that's a treat to hold and all readouts are clear as day.
There were times we were able to get 20+ miles out of these units and other times, particularly in the city, when the effective range was reduced to about a mile. All in all this walkie talkie is very easy to operate. The buttons are clearly marked, well laid out and easy to use and we appreciate that you can completely submerge these units and they'll pop straight back up ready to go. Range and submersibility alone make these an excellent value.
Specification:
Brand

Uniden

Model

GMR5089-2CKHS

Weight

3 pounds
Even under iffy weather and environmental conditions you're likely to get double digit miles out of these units. A sign of superior engineering.
Drop your walkie talkie in the stream and don't worry, it will pop to the surface and stay there for easy retrieval.
The emergency strobe light is an unexpected plus all such units should have.
People who expect this walkie talkie to deliver 50 miles are likely to be disappointed.
Volume isn't always what you'd want it to be.
BaoFeng BF-888S Long Range Walkie Talkie
See More Reviews

BaoFeng may not be a name familiar to many but they've been rising steadily through the ranks of quality walkie talkie manufacturers in recent years. Their BF-888S is a prime example of how far they've come and a fine indication that with a few additional years under their belt we may be talking about them as one of the outstanding walkie talkie makers out there. This unit is compact and comfortable, has plenty of range and, considering you get 6 units, is extremely affordable.
Outstanding small touches like the emergency flashlight demonstrate that the engineers at BaoFeng are thinking on their feet. It's the kind of thing that augurs well for the rest of the walkie talkie. Overall the unit is tough as nails and really easy to hold firmly. The most serious drawback is the controls layout, which almost seem like an afterthought. Beyond that the BaoFeng BF-888S is well worth the investment.
Specification:
Brand

Baofeng

Model

BF-888S

Weight

15.2 ounces
Easy to hold and use as well as being tough enough to survive multiple drops.
The flashlight feature was an unexpected treat and one that makes a lot of sense.
Sound quality is generally outstanding.
The button arrangement definitely takes some getting used to and even then isn't so great.
The unit won't win any awards for most beautiful walkie talkie.
The long fixed antenna can get in the way sometimes.
See More Reviews

The Motorola Talkabout series, including this MT352TPR, all provide outstanding battery performance and that's what you want from a walkie talkie. The battery here uses a handy USB charger and also has a mini USB charger for those times you're on the road. While not completely waterproof the units are water resistant and dust resistant so there should be no problems with outdoor operation. We never achieved 35 miles but on a clear day in the open country we did manage just over 18 which in itself is pretty outstanding.
The Motorola MT352TPR Weatherproof walkie talkie is more weather resistant than weatherproof. Still, you won't have any trouble with it on rainy days in the woods when you want to stay in touch with everyone. Battery performance alone is almost worth the price of admission but build quality, design and toughness are also first rate and argue in favor of this walkie talkie.
Specification:
Brand

Motorola Consumer Radios

Model

MT352TPR

Weight

5.4 ounces
Excellent battery performance first and foremost.
Ergonomics and control placement is outstanding.
This is a tough as nails walkie talkie that will take whatever punishment you dish out.
A little more than some other walkie talkie sets but worth it.
Not a whole lot of features to write home about.
Performance in dense urban areas can be choppy.
Dust resistant does not mean dust proof, so don't expect it to survive a dust storm.
See More Reviews
The Luiton LT-188H 10 watt walkie talkie is a model of efficiency that's well designed and well-balanced with plenty of power to achieve its advertised 10 mile effective range. That may actually be the most accurate range assessment of any long range walkie talkie on the market and is certainly achievable in open country in good weather.
The LT-188H walkie talkie is that rare piece of tech that does just about everything it says it will. It is a genuine long range walkie talkie, has many desirable, convenient features and is a steal at the cost of 2 large pizzas. Features like the built in flashlight, power saving mode and button lock are things we look for in a walkie talkie and we're happy to say the Luiton has them all.
Specification:
Brand

LUITON

Model

LT-188H VHF

Weight

10.4 ounces
Excellent overall build quality will withstand whatever you dish out.
10 mile range is not a marketing ploy, but a reality under the right conditions.
The VOX hands free feature works like a charm.
The automatic face button lock feature is sure to prevent lots of accidental activity.
It's a little thin on instructions with the 'manual' being more of a poorly designed schematic.
The flashlight feature will be useful in closed spaces but pretty useless outdoors.
The lack of an illuminated display on this walkie talkie is a very real shortcoming.
See More Reviews

While you'd be hard-pressed to actually achieve 35 mile communication with this MR350TPR walkie talkie, you'll get 20+ in open country on good days and that's nothing to sneeze at. The practical range within busy city limits is considerably shorter and depends largely on where the communicants are located. That said this is a great walkie talkie for camping trips and the built in flashlight always comes in handy in the tent after dark.
While this walkie talkie has some minor build flaws that can't be ignored, such as the fairly fragile belt clips, other features like the easy to read illuminated display and built in flashlight offset any downside. The fact that you can expect to get 10+ miles under normal (not ideal) conditions in open country is a major plus and the sound quality is typically excellent most of the time. An ideal walkie talkie for campers and hikers, but mountain rescue teams may want something with a stronger clip.
Specification:
Brand

Motorola Consumer Radios

Model

MR350TPR

Weight

4.3 ounces
Outstanding range in open country makes them great for hikers and cross-country cyclists.
The ability to operate the unit off 3 AA batteries will come in handy time and again.
VOX hands free feature works flawlessly.
If there's an issue with the build quality here it's with the buttons which can break off fairly easily.
The belt clip isn't the most robust ever built either so be gentle with it.
Battery doesn't hold a charge all that well, which may have you chucking it in favor of the full time alkaline alternative.
See More Reviews

The BF-888S Plus is that most curious of tech objects that is intended as an upgrade to an earlier product but not a replacement. That said, this 888S Plus is an outstanding walkie talkie. You're not going to get 20+ miles out of it but you will get 5 on a good day in open country which is typically all the average person would ever need and then some.
Technically the BF-888S Plus marks an advance over earlier models of the 888S, but aesthetically the unit has taken a major step backward. We're also not sure what BaoFeng has against illuminated displays but it's a bit annoying. That said the walkie talkie delivers from the point of functionality and that's what really matters. For the price of an extra-large deluxe pizza you can have this high quality walkie talkie that will likely last you for years.
Specification:
Brand

Baofeng

Model

BF-888S PLUS

Weight

1.65 pounds
Upgraded profile is more comfortable in the hand.
The battery life of 10 hours per charge is among the best in class.
It's virtually weatherproof, though you may want to keep it under cover during downpours.
The price just can't be beat for a quality walkie talkie.
Don't really care how they excuse it there's no excuse for not having an illuminated display.
Location of control buttons is curious to say the least and inconvenient to say the most.
New walkie talkie design is a letdown.
See More Reviews

The LXT500VP3 from Midland is a true long range walkie talkie which, under ideal circumstances, will provide an effective range of more than 20 miles. Under less than ideal circumstances in the open country you can expect perhaps 1/2 that range and in the city center it will be reduced to 1 or 2 miles. The LXT500VP3 fits neatly into the palm of your hand and operation is a cinch.
Overall a quality product that delivers on more of its promise than most walkie talkies on the market. It's beautifully built, tough as nails, provides reliable communication even under difficult circumstances and the energy conservation feature is one all walkie talkies should adopt. For the price you can do no wrong with this outstanding Midland walkie talkie.
Specification:
Brand

Midland

Model

LXT500VP3

Weight

1 pounds
The walkie talkie Battery Save Circuit can be a life saver in emergency situations.
The 20+ miles in open country is no joke, although you do need outstanding conditions to achieve it.
The fact that it runs on 4 AAA batteries means you can stock up before heading out and not have to worry about a dead unit.
The price is a surprise given the overall outstanding build quality and performance.
Volume can sometimes be an issue in crowded places.
Belt clip is not as robust as we'd like it to be.
Access to longer range channels can sometimes be a challenge.
Buyers Guide
Q: What Are The Best Walkie Talkies?
A: This is a question that will have as many different answers as there are people to answer it. In general, however, Motorola seem to have mastered walkie talkie tech and make some of the best performing models you'll find anywhere. Still, there are other companies like BaoFeng whose products may overtake Motorola walkie talkies if they ever learn the value of illuminated displays and proper placement of the control buttons.
Q: What Are The Most Popular Walkie Talkie Brands?
A: The 8 amazing long distance walkie talkie models featured above are from what have to be considered to top consumer brands currently on the market.
Things To Consider When Buying A Long Range Walkie Talkie
It may seem like purchasing a walkie talkie is just a matter of finding one made by a reputable company and buying it. If that were the case everyone would be happy with their walkie talkie and you'd never read a word of dissent on Amazon or any other site. The fact is, people most often have issues with the walkie talkie they buy because they don't research them first. With that in mind the following are a number of things you'll want to consider before purchasing a walkie talkie for personal or business use.
Where You Will Use Them - This will play a large part in determining which model of walkie talkie you purchase. If you plan to use them camping you'll definitely want one with an illuminated display so you can see what you're doing at night in the woods. A walkie talkie with a built in flashlight is also handy in such circumstances. If you'll just be using it around the factory during the day such features are not so important.
What Range You Can Realistically Expect - The only way to tell is to buy the unit and test it yourself, or else let someone else do the work for you (like us) and report what they find. Keep in mind though that your results are unlikely to ever match anyone else's perfectly. Landscapes are different, so is building density, flora and weather; all of which can impact performance. Still if a majority of reputable critics are saying the range is no good you can probably believe it.
The Number of Channels - Privacy channels are not such a big deal unless you're using your walkie talkie on a cruise ship or a major construction site where others are likely to be using walkie talkies as well. And speaking of channels… you may not need 2 dozen NOAA channels but you'll want a few so you can keep up with weather updates especially if you're camping. NOAA (the National Oceanic and Atmospheric Administration) issues regular bulletins when threatening weather develops.
VOX - VOX allows you to operate your walkie talkie hands free using only voice commands. Not every walkie talkie has the VOX feature, so if you think you might need hands free operation at some point you'll want to be sure the walkie talkie you purchase is so equipped.
Power Options - Power is another of those core issues when it comes to the walkie talkie. After all they aren't much good if you get lost in the mountains and your battery dies. You'll want a walkie talkie that can be powered by both a rechargeable battery (like a Lithium ion battery) and standard alkaline batteries. This way you stock up on alkaline batteries before you hit the trail and you can be sure you'll have power. Regardless, you'll still want to get at least 8 hours out of your rechargeable battery.
Out-of-Range Alert - You purchase a long range walkie talkie so that you're only out of range in the most extreme cases, but it still pays to have an 'out of range' alert feature on your walkie talkie. This feature basically keeps tabs on your other radio by doing the walkie talkie equivalent of "pinging" it. If the other radio is in range you'll receive a confirmation code back indicating you can talk.
Price - While most every modern walkie talkie is reasonably priced there is a fairly significant difference between those at the low end of the spectrum and those at the high end. While you'll likely get a well-made unit with all the bells and whistles, if you pay top dollar you may also wind up with far more walkie talkie than you actually need for your camping weekend. Good walkie talkies are often more than adequate to fit the bill and you can let the pros drop serious cake on the high end models.

Conclusion
Whether you call them walkie talkies, 2 way radios or even walky talky these personal radio transmitters/receivers can be an invaluable addition to your collection of camping equipment, farm equipment, factory equipment or rescue equipment. The walkie talkie of today is more than a fancy kids' toy. It's an invaluable safety tool for outdoor enthusiasts, emergency workers and first responders of all types. We hope you found these walkie talkie reviews helpful and be sure to keep checking back for the latest product reviews and more.