Roger That: The Best Long Range Walkie Talkies In 2022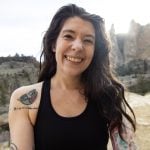 This product guide was written by Tuesday Kirby Kahl
Last Updated
February 14, 2022
Tuesday Kirby Kahl
Tuesday Kirby Kahl is a contributor at Gear Hungry. Her fierce love for the outdoors fuels everything she does. Her professional pursuits include writing, creating art, and photography. These professional passions allow her the time to live life outside as a rock climber, skier, runner, backpacker, paddle boarder, swimmer, and explorer. When Kirby is indoors, she enjoys tea, whisky, old films, cooking, and baking. Her product testing and feedback have shaped the design of everything from climbing shoes to candles.
GearHungry may earn a small commission from affiliate links in this article.
Learn more
A lot of walkie-talkies on the market today are poorly engineered and have a limited range. Buildings, topography, forests, and other obstructions can also get in the way and wreak havoc with weak signals from poorly designed units. The best walkie-talkies, by contrast, have the engineering and power behind their signal to provide true long-range capabilities, even under less than ideal circumstances and with obstacles blocking a clear path. Rescue crews and emergency responders rely on the best long-range walkie-talkies for clear, reliable communication. And it's just those kinds of units we'll be looking at here.
It's not easy to find a real long-range walkie-talkie out there but driven by a desire to provide our readers with the best, most relevant information we've managed to dig up eight. As someone who spends a lot of time in the outdoors and the backcountry, exceptional communication devices are critical when cell phones and our own voices just aren't enough. Without further ado, let's explore the best long-range walkie-talkies.
The Best Walkie Talkie
Rocky Long Range Walkie Talkie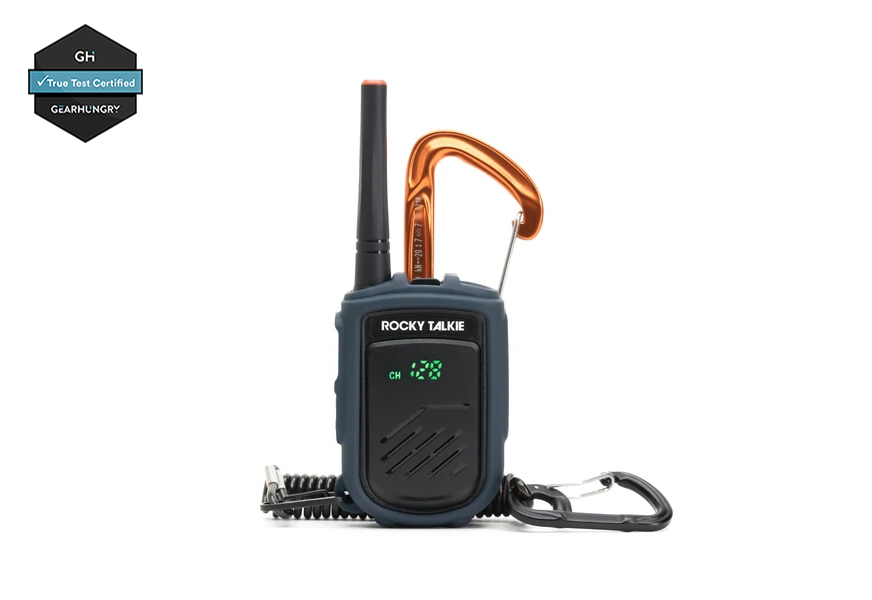 After hearing about Rocky talkies on a podcast I enjoy, I was instantly curious if someone had truly managed to produce long-range walkie-talkie that actually works well in the mountains and in complicated terrain. While the range is comparable to many of the other options on this list, I appreciate the transparency from Rocky Talkies about the types of terrain. Line of sight, your range is over 25 miles, in the mountains that drops to 3-5 miles, and in forests it's up to three miles.
With a seriously rugged and durable design, great range, and insanely long battery life (up to 3 days of use on a single charge!), this is one of the best long-range walkie talkies on today's market. Yes, it's on the pricy end of the scale, but all things considered, absolutely worth it and maybe even the best walkie talkie overall. Be sure to also check out our selection of the best emergency radios on the market.
Key Features:
Range is up to 25 miles
128 channels, 121 privacy codes
IP56 rating
Over 3 days of battery life on a single charge
Cold-resistant Li-ion battery and charger
Includes Mammut wall light carabiner & leash
Specification:
Brand

Rocky Talkie

Weight

4.8 Oz
Durable design, will stand up to years of use and abuse
Super-long battery life
Many useful controls
Long range and clear communication
Not great city performance
Motorola MH230R Walkie Talkie
The Motorola MH230R provides clear communication even on very hilly terrains and up to 23 miles. While that distance will vary as it does with all walkie-talkies, the MH230R holds up its end of the bargain far better than most – you don't need to be on the Bonneville Salt Flats on a clear day to achieve long-range effective communication with this one. But this two-way radio performs well in short-range situations too, like crowded malls and amusement parks. The eight-hour battery life is great for a full day out or a regular workday but it's not ideal for huge outings.
The Motorola MH230R is an outstanding long-range walkie-talkie that's surprisingly powerful and clear even over great distances. If you plan on going camping or backpacking, apart from bringing a compass, you should have a pair of these with you so no individual or group is ever out of range of the others. Just make sure you bring along plenty of alkaline backups and you'll be good to go for a long weekend.
Key Features:
Range up to 23 miles
22 channels, 121 privacy codes
NOAA weather alerts and channels
IP-51 rating
Battery lasts around 8 hours
Uses 2-Nimh rechargeable battery packs
Specification:
Brand

Motorola

Model

MH230R

Weight

1.3 Pounds
Easy to understand controls
Outstanding volume
Lightweight construction
Excellent range in bad conditions
Battery life isn't the greatest
Performance can suffer in cold weather
Uniden SX507-2CKHS Walkie Talkie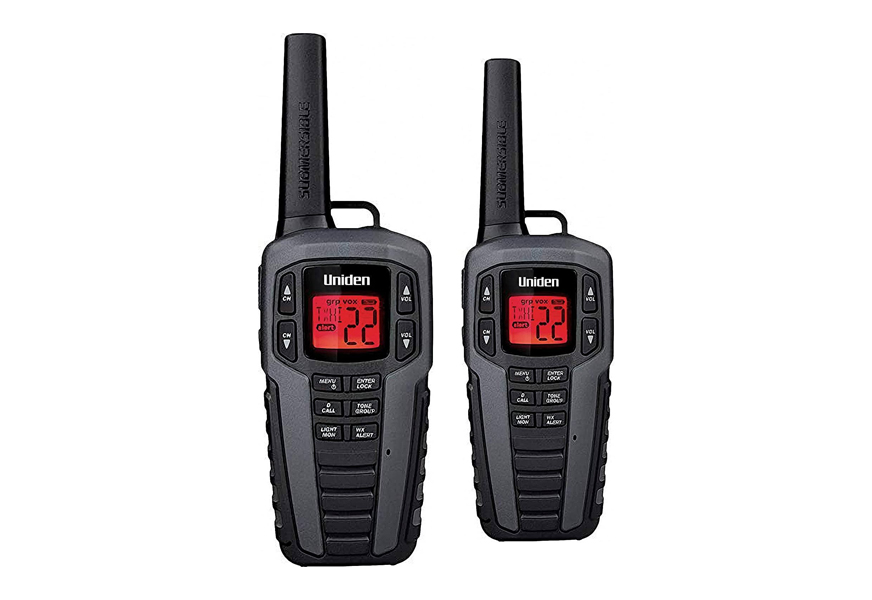 When it comes to long-range communication, no one has the Uniden SX507-2CKHS Long-Range Walkie-Talkie beat. This model features the most impressive communication range of two-way radios on the market – a long range of 50 miles. No other device features such a range, so this might even be the best walkie talkie you can get.
While the range is the highlight feature of this long-range walkie, there is plenty that makes this star shine. This device can be submerged in up to three feet of water for up to 30 minutes, however, it's unlikely this will happen because these walkie-talkies float. No one has to take a dive should you lose them in the lake. The battery life lasts a whopping 14 hours and runs on AA batteries, which are rechargeable. For more handy life-saving devices, check out our selection of the top CB radios.
Key Features:
Up to 50-mile range walkie talkies
22 channels, and 142 privacy codes
NOA weather alerts
Certified JIS7, can be submerged in up to 3ft. of water
14 hours of battery life
Uses 6 AA rechargeable batteries
Specification:
Brand

Uniden

Model

SX507-2CKHS

Weight

1.8 Pounds
Waterproofing in 3 feet of water for up to 30 minutes
Excellent 50-mile range
Waterproof walkie talkies float when dropped in water
Terrain can drastically reduce the range, so not ideal for the mountains
Even on max volume, comm can be hard to hear in windy conditions
BaoFeng BF-888S Long Range Walkie Talkie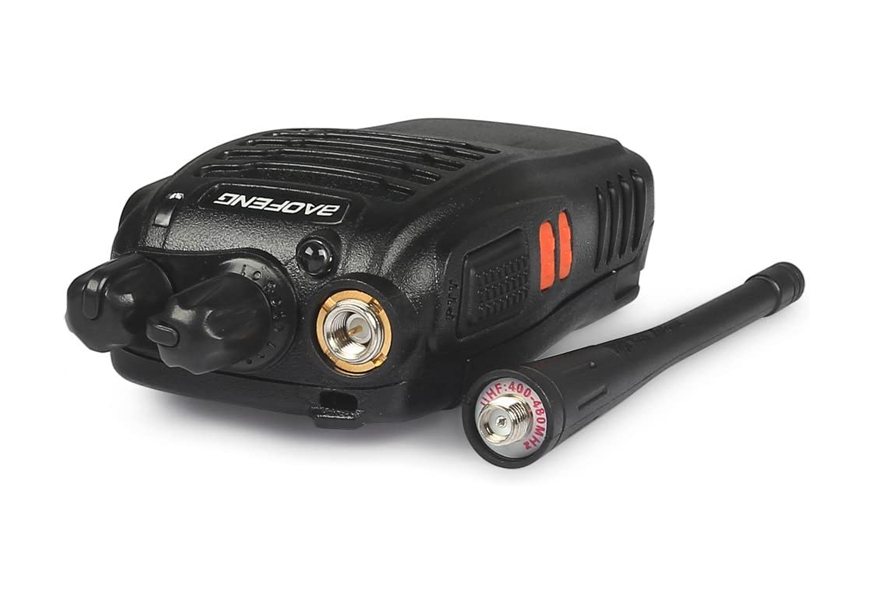 BaoFeng may not be a name familiar to many but they've been rising steadily through the ranks of quality walkie-talkie manufacturers in recent years. Their BF-888S is a prime example of how far they've come and a fine indication that with a few additional years under their belt we may be talking about them as one of the best walkie-talkie makers out there. These compact walkie-talkies have plenty of range and, considering you get six units in this set, are also extremely affordable.
Outstanding small touches like the emergency built-in led flashlight, demonstrate that the engineers at BaoFeng are thinking on their feet. It's the kind of thing that bodes well for the rest of the walkie-talkie. Overall the unit is tough as nails and easy to hold securely. The most serious drawback is the layout of the controls, which almost seems like an afterthought. There is no LCD Display only an LED indicator light and the controls on the top of the device. Beyond that, the BaoFeng BF-888S is well worth the investment.
Key Features:
About 2-4km range
16 channels
Comes with a flashlight
Around 8 hours of battery life
Uses rechargeable 1500mAh Li-ion battery
Specification:
Brand

BAOFENG

Model

BF-888S

Weight

15.2 Ounces
Tough enough to survive multiple drops
Unexpected flashlight feature
Sound quality is generally great
Great value for money pack
Complicated button arrangement
The long fixed antenna can get in the way sometimes
Motorola T100 Walkie Talkie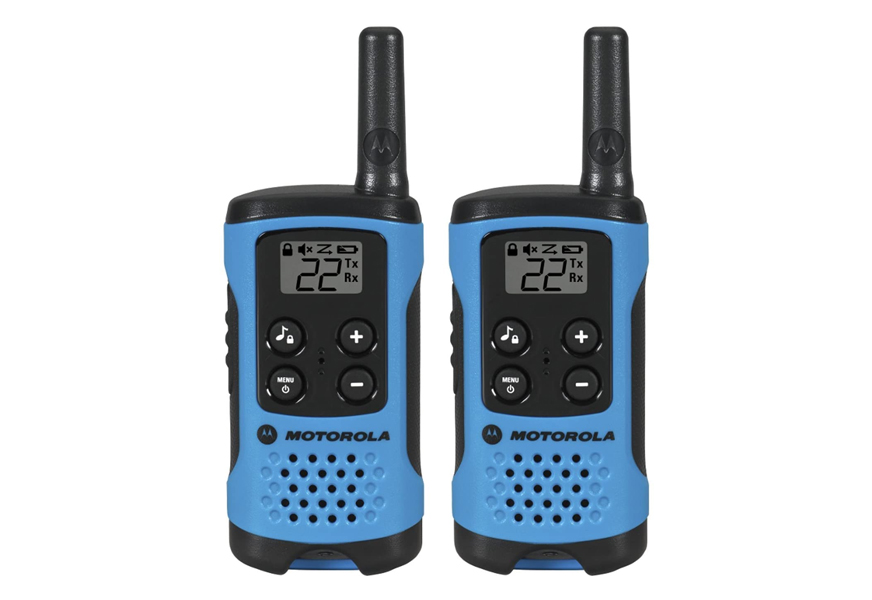 The Motorola T100 Talkabout Radio is a set of two-way radios, or long-range walkie-talkies, with a 16-mile range, included belt clip and 18-hour battery life. This two-way radio set comes in unique and fun colorways that strike the eye and veer away from the classic black, making them great even for kids. Our favorite feature is that the device can communicate with any other walkie-talkies on FRS channels, regardless of brand.
The battery life for this set is exceptional, offering 18 hours of life on three AAA batteries. When the battery is running low, the low battery indicator will flash so you know it's time to recharge or add a new set. The LCD display shows you your channel and other important information but is not backlit so these are not ideal for use at night. This long-range radio is great for use with children as a cell phone alternative.
Key Features:
Range up to 16 miles
22 channels
Up to 18 hours of battery life
Uses 3 AAA alkaline batteries
Specification:
Brand

Motorola

Model

T100

Weight

4 Ounces
Great battery life
Use-friendly design, easy to use
Great for kids and families
Screen is not backlit
No waterproof rating
Non-rechargeable batteries
Midland LXT500VP3 Walkie Talkie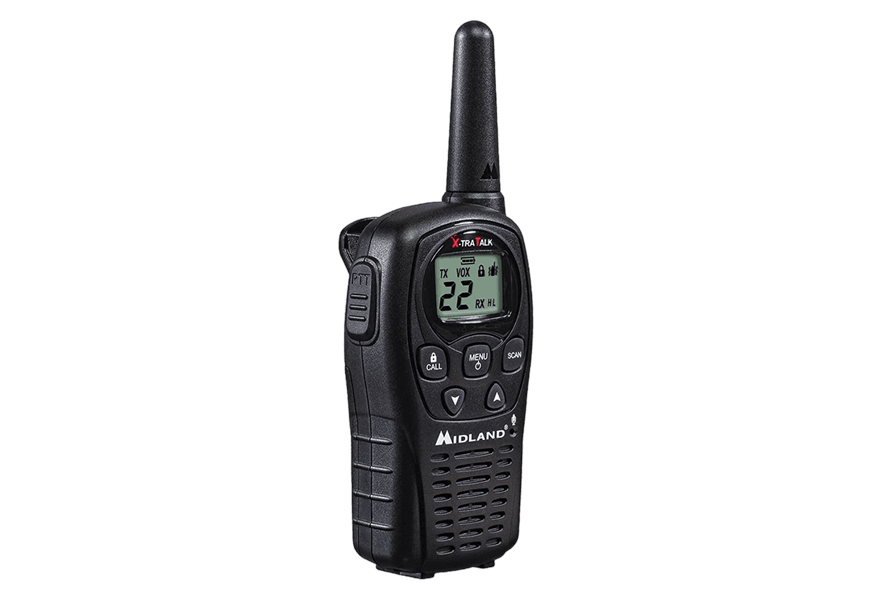 The LXT500VP3 from Midland is a true long-range walkie-talkie that, under ideal circumstances, will provide an effective range of more than 20 miles. Under less than ideal circumstances in the open country, you can expect perhaps 1/2 that range and in the city center, it will be reduced to 1 or 2 miles. This gadget fits neatly into the palm of your hand and the operation is a cinch. Despite the range issues, which exist in even the best walkie talkie, we think you'll like this two-way radio.
Overall, these long-range walkie-talkies are a quality product that delivers on more of its promise than most options on the market. It's beautifully built, tough as nails, provides reliable communication even under difficult circumstances and the energy conservation feature is one all long-range walkie-talkies should adopt. For the price, you can do no wrong with these outstanding Midland walkie-talkies.
Key Features:
Up to 24 miles range
22 FRS channels
Water-resistant construction
Uses rechargeable battery pack or  4 AAA alkaline batteries
Specification:
Brand

Midland

Model

LXT500VP3

Weight

1 Pounds
Tough as nails, will survive multiple falls
The 20+ mile range in open country
Competitively priced 
Volume isn't the greatest
Access to longer-range channels isn't great
Midland GXT1000VP4 50-Channel Two-Way Radio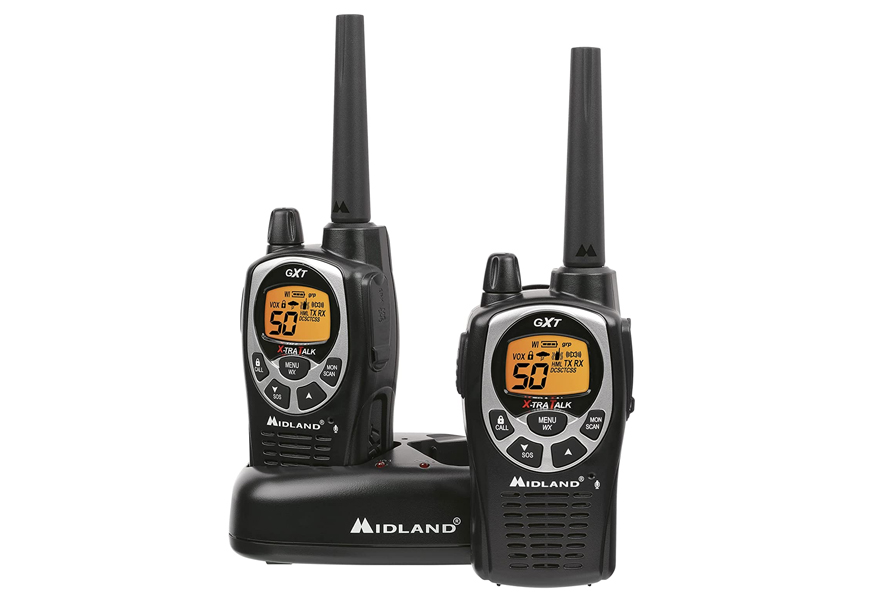 It doesn't matter if you're buying walkie-talkies for recreational or commercial use, the Midland GXT1000VP4 is a product you can trust whether you're on-site with construction workers in the outdoors or working security. The Midland GXT1000VP4 provides an impressive range of 36 miles in an unobstructed area. It's hard to say what kind of performance you can expect in an area of dense forestry for example but it is a better range than most long-range walkie-talkies on the market. 
Designed for ease of use, these two-way radios have 22 channels, 28 extra privacy code channels, silent operation, and multiple power-saving modes. They come with rechargeable battery packs but can also be run by four AA batteries, which is perfect for emergency situations. One of the main complaints leveled at high-end walkie-talkies is the lack of volume. Fortunately, Midland has a technology called X-TRA TALK Power, which delivers the maximum volume as allowed by law. 
Key Features:
Up to 36-mile range in open areas
50 channels, 142 privacy codes
NOAA weather scan and alerts
JIS4 waterproof construction
Silent operation and Group call feature
Battery life around 10 hours
Uses rechargeable battery packs or 4 AA batteries
Specification:
Brand

Midland

Model

GXT1000VP4

Weight

4.8 Ounces
Impressive range
Plenty of channels and privacy channels 
Can be run on AA batteries in emergencies 
Maximum volume allowed by law 
Heavier design so slightly less portable
Not the greatest range in dense forestry
Motorola Talkabout T460 Walkie Talkie
If you're planning a trip into the wilderness, you need a way to stay connected. Whether you're hiking, skiing, cycling, or even working in an area with no cell service, you need the Motorola Talkabout T460 Rechargeable Two-Way Radio. With an IP54 weatherproof rating, these walkie-talkies are designed to keep working even when the weather turns against you. They also have rugged housing that can withstand being dropped, left outside, and much more. 
These walkie-talkies have an impressive range of 35 miles, which is more than enough to keep connected. There are 22 channels to choose from and each channel has 121 privacy codes so you can ensure that no one is listening in. Other features include a built-in flashlight, emergency alert button, and PTT Power Boost. It makes an ideal addition to your survival gear collection.
Key Features:
Up to a 35-mile range
22 channels, 121 privacy codes
NOAA weather channels and alerts
IP54 weatherproof construction
Built-in flashlight
Battery lasts around 8 hours
2 NiMH rechargeable batteries or 3 AA batteires
Specification:
Brand

Motorola

Model

T460

Weight

6.7 Ounces
Weatherproof 
Rugged housing 
Consistent range
Competitively priced 
Mic and speaker quality are not great
Long Range Walkie Talkie Buying Guide
Why Trust Us
I've spent a lot of my adult life in the backcountry and on forest service land, skiing, touring, and climbing. Communication isn't always easy in those places. Cell phone service in the backcountry is uncommon, and in some scenarios, you can't see or hear your climbing partners in multi-pitch terrain. One option to fix these problems is a long-range walkie; short ranges and low-quality options won't do and likely aren't durable enough for the adventures and shenanigans I get into. The alpine is unforgiving and long-range communication is a must, even in poor weather conditions.
Who This Is For
I've crafted this guide to the best walkie-talkies mostly considering outdoor adventurers like me. However, many other folks need walkie-talkies like businesses, security personnel, job sites, and more. There are so many uses for a walkie-talkie set, really, use your imagination! This guide is ultimately for anyone looking for powerful walkie-talkies with a long transmission range.
How We Picked
When rounding up the best long range walkie talkies, we first looked at ratings and bestsellers, reviewed their ranges and features, then battery life and general durability, and whittled our list down to these top eight contenders.
How We Tested
Testing got a little funny on this one. A friend of mine has Rocky Talkies and loves them for ski touring, mountaineering, and adventure rock climbing. We intended to test them while ski touring but our group did a great job staying together and it wasn't needed. Then, we ran into ski traffic on our way down, the worst traffic Mt Hood had seen in a very, very long time, resulting in a nearly five-hour drive home. While waiting in the seemingly endless line of cars, we passed out a walkie to each vehicle then giggled and chatted over them as we slowly crawled down the winding mountain roads all the way home in the snow.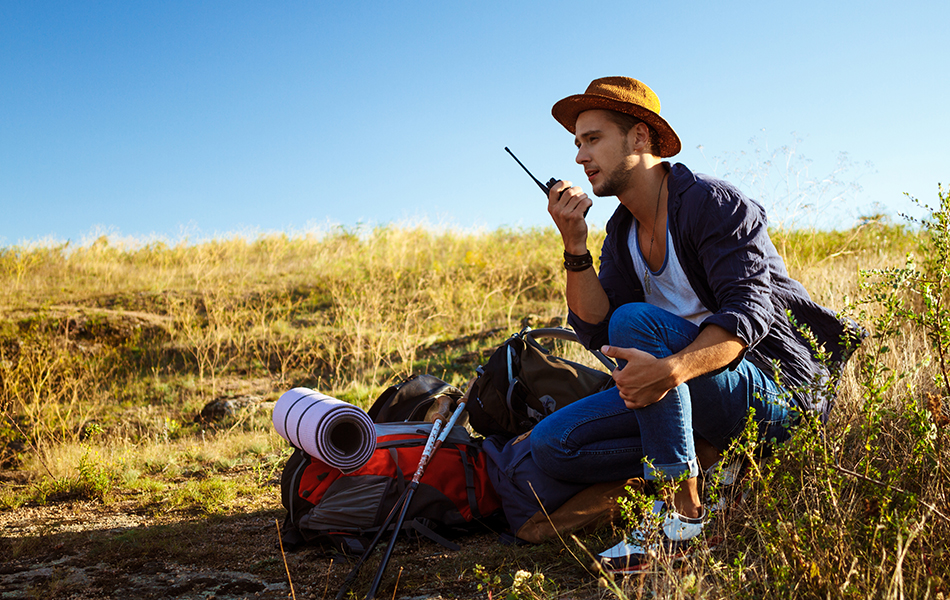 Features To Look For In Long Range Walkie Talkies
It may seem like purchasing a walkie-talkie is just a matter of finding one made by a reputable company and buying it. If that were the case, everyone would be happy with their walkie and you'd never read a word of dissent on Amazon or any other site. The fact is, people most often have issues with the walkie-talkies they buy because they don't research them first. With that in mind, the following are a number of things you'll want to consider before purchasing a walkie-talkie for personal or business use.
Where you will use them - This will play a large part in determining which model you purchase. If you plan to use them camping or in the outdoors you'll definitely want one with an illuminated display so you can see what you're doing at night in the woods. A walkie-talkie with a built-in flashlight is also handy in such circumstances. Additionally, any product being taken outside should have a reputation for durability and be generally weather-proof. If you'll just be using it around the factory during the day, such features are not so important but the range of the space you intend to use it in is important.
What range you can realistically expect - The only way to tell is to buy the unit and test it yourself, or else let someone else do the work for you (like us) and report what they find. Keep in mind though that your results are unlikely to ever match anyone else's perfectly. Landscapes are different, so are building density and material, flora, fauna, and weather; all of which can impact performance. Still, if a majority of reputable critics are saying the range is no good, you can probably believe it.
The number of channels - Privacy channels are not such a big deal unless you're using your walkie-talkie on a cruise ship, for private conversations, or a major construction site where others are likely to be using walkie-talkies as well. And speaking of channels… you may not need two dozen NOAA channels but you'll want a few weather channels so you can keep up with weather updates especially if you're outdoors. NOAA (the National Oceanic and Atmospheric Administration) issues regular bulletins and weather alerts when threatening weather develops.
VOX - VOX allows you to operate your walkie-talkie hands-free using only voice commands. Not every walkie-talkie has the VOX feature, so if you think you might need hands-free operation at some point you'll want to be sure the walkie-talkie you purchase has that feature.
Power options & battery life - Power is another of those core issues when it comes to the walkie-talkie. They aren't much good if you get lost in the mountains and your battery dies - at that point, they are dead weight. You'll want a walkie-talkie that can be powered by both a rechargeable battery (like a Lithium-ion battery) and standard alkaline batteries. This way you stock up on alkaline batteries before you hit the trail and you can be sure you'll have power. Alternatively, you'd need exceptionally long battery life. Regardless, you'll still want to get at least eight hours out of your rechargeable battery.
Out-of-range alert - You purchase a long-range walkie-talkie so that you're only out of range in the most extreme cases, but it still pays to have an 'out of range' alert feature on your walkie. This feature basically keeps tabs on your other radio by doing the walkie-talkie equivalent of "pinging" it. If the other radio is in the range you'll receive a confirmation code back indicating you can talk. Sometimes the elements are too much even for the most powerful walkie-talkies.
Durability - A radio that falls apart the second it comes in contact with water or gets dropped won't do you any good. Those two occurrences are inevitable. If you're working in a business, durability might not be the most important feature but it could be an added cost when you have to replace them regularly. If you'll be out camping, hiking, skiing, or climbing then durability should be a key feature.
Extra features - Extra features like flashlights and other handy tools are always a plus, but don't get bogged down by flashy features, performance is what really matters.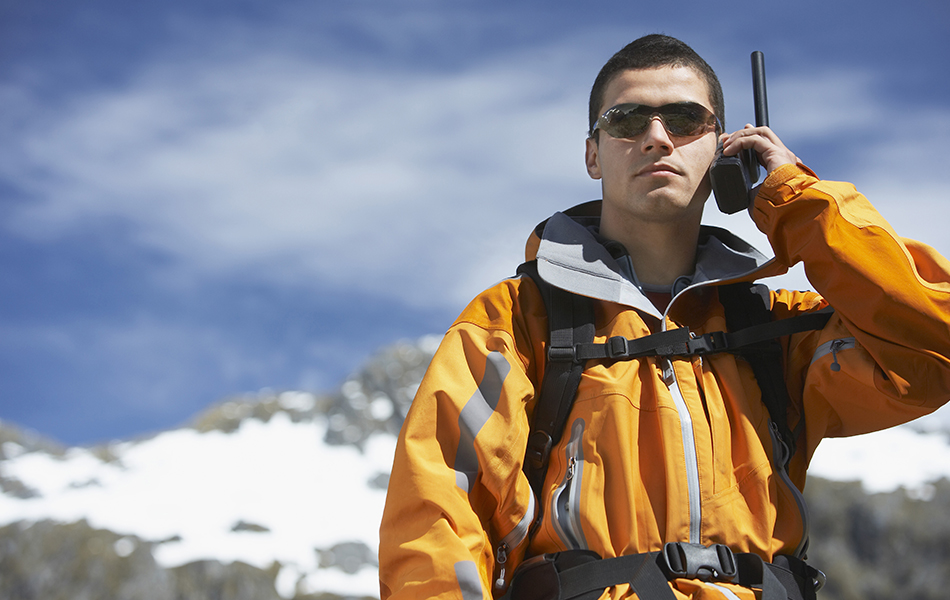 Long Range Walkie Talkie FAQ
Q: What are the best walkie talkies?
A: This is a question that will have as many different answers as there are people to answer it. In general, however, Motorola seems to have mastered walkie-talkie tech and made some of the best-performing models you'll find anywhere. Still, there are other companies like BaoFeng whose products may overtake Motorola walkie-talkies if they ever learn the value of illuminated displays and proper placement of the control buttons. Then, outdoor brands swoop in for particular niches like Rocky Talkies.
Q: What is FRS?
A: FRS or Family Radio Service are private radio channels for family or small group short-distance communications. Unlike GMRS devices, you don't need a license to use the FRS radio.
Q: What is GMRS?
A: General Mobile Radio Service, or GMRS, is a licensed radio service that uses channels between 462 and 467 MHz aka, the channels we use when working with walkie-talkies, longe range radio, two-way radios, or a CB radio. This is a public frequency for personal use.
Sources:
Family Radio Service (FRS) - Federal Communications Commission
General Mobile Radio Service - Wikipedia
Sign Up Now
GET THE VERY BEST OF GEARHUNGRY STRAIGHT TO YOUR INBOX