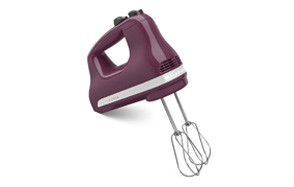 KitchenAid KHM512BY Hand Mixer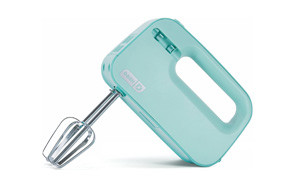 Dash SHM01DSBU Smart Store Compact Hand Mixer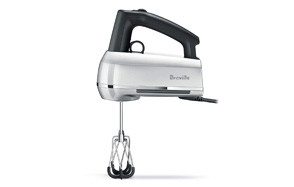 Breville BHM800SIL Scraper Hand Mixer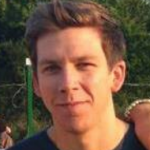 Mixing ingredients by hand demands a lot of manual effort, which is often very hard. Besides the invested labor, this method is also known to be time-consuming, depending on the items being combined. Every cook's worst nightmare is discovering a massive glob of unmixed ingredients lavishing at the bottom of their mixing bowl, after hours of intense hand action. To do away with the need to mix again, scientists and engineers have made hand mixers. These are kitchen equipment invented to help kitchen and culinary lovers combine significant amounts of anything they desire. They are also very affordable, and they ensure that your mix comes out more even than you could ever get it to be. This article looks at the best hand mixers in the market.
The Best Hand Mixer
Hand Mixer Buying Guide & FAQ
Below are just some of the key qualities we recommend you consider before investing in one of the latest hand mixers for your kitchen.
Quality - Always be sure to invest in quality goods that have been built and designed to last. Look out for BPA free plastic as well as high-quality stainless steel which is corrosion resistant. The more robust the construction of your hand mixer, the better it will continue to perform over time.
Attachments - Most hand mixers will come with a basic beater but many also feature a range of other useful accessories that you might appreciate especially if you love baking. Look for options including whisks, dough hooks as well as stick blender attachments if you really want to get the most out of your hand mixer. If you know you will never use them, don't bother as they'll just wind up taking precious space in your kitchen drawer.
Speeds - Most of the hand mixers on our list range from having 5-speeds up to 9-speeds. Look for additional options like slow speed start settings so that you can begin to mix things together gradually and minimize any mess or splattering of ingredients. A turbo boost speed setting is also a useful feature when you need to crank up the mixing power.
Grip & Comfort - It's essential for your overall comfort, especially if you have a lengthy session in the kitchen planned, that your mixer is natural and comfortable to hold. Consider the style of handle you like and the kind of ergonomics you want it to have. Do you prefer a handle with a softly contoured rubberized grip? It should fit nicely into your hand and preferably be non-grip. Also, think about the positioning of the control buttons so that it's easy to operate.
Weight - You shouldn't struggle to hold and operate your hand mixer. It needs to be sturdy yet lightweight enough so that it's comfortable and not cumbersome to manage. If it's too light, you'll also struggle to control your mixer so opt for something that's mid-weight.
Size - The size you go for will be driven by your personal preferences, the volume of ingredients you intend regularly mixing together as well as the space you have available. Hand mixers are designed to be more compact than stand mixers with smaller units being better suited to occasional use while a larger unit might be more appropriate if you regularly bake. Be sure to invest in the size capacity that works best for you.
Storage - If you don't have a lot of space, you might like to consider one of the options that come with its own integrated storage case. Not only does this mean that they're easy to tuck away in a drawer, but you can also ensure that you don't ever misplace any of the accessories or the power cord. Compact models with detachable parts are your best option if you don't have a lot of spare cupboard space.