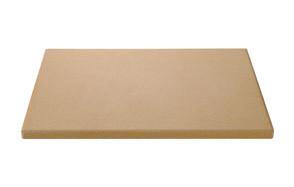 UNICOOK Heavy Duty Ceramic Pizza Grilling Stone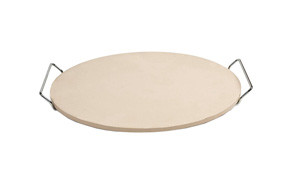 Pizzacraft Round Ceramic Pizza Stone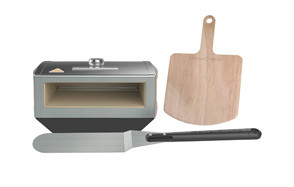 BakerStone Pizza Box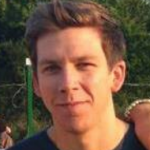 Who doesn't love pizza? We're talking any kind of pizza, too. From questionable gas station pizza to microwave pizza when there's nothing else in the freezer, to cold leftovers the morning after a night that got just a little out of hand. What we're trying to say is any kind of pizza is good pizza, and if you've got just a little more self-respect, you're likely to try some homemade pizza, which is nice enough on a standard pizza tray, but even better if you use one of the best pizza stones.
If you've never had a pizza baked on an authentic pizza stone, you're in for a treat. It creates restaurant-quality (like the good restaurants, not the dingy holes in the wall down suspect alleyways) pizza and brings it directly to your dining room table, without waiting for delivery, giving directions, or tipping the delivery kid at the door.
They deliver better crusts, better, more even baking, and an all-around better experience for this delicious slice of life. A pizza stone is a perfect gift for you, your pizza obsessed buddies, or any Ninja Turtles you've spotted around the neighborhood.
The Best Pizza Stone
Pizza Stone FAQ
Q: Do pizza stones make a difference?
A: You never know if pizza stones make a difference until you actually use one. If you're used to steel pizza trays to cook frozen pizza instead of making your own, you're likely to notice a difference immediately, as pizzas stones bake the pizza more evenly and give the crust a more satisfying mix of softness and crunch you only normally find at quality pizzerias.
So there is a difference, but you're only likely to really notice and appreciate it if you're a true pizza aficionado. Still, for the satisfaction of making your own pizzas, it's more than worth it.

Q: What should a pizza stone be made of?
A: There are three main materials used to make pizza stones: ceramic, steel, and cast iron. We've not identified any cast iron pizza stones in our selection, so we'll ignore those for now, and they're typically too heavy and non-heat-resistant enough, anyway.
Instead, we'll look at ceramic (or clay) and steel models, which are the focus of our list.
Ceramic / Clay - These are often the first thing you picture when imagining a pizza stone. They are the traditional style, and even if you can't find a 'proper' pizza stone to suit your liking, you can easily 'borrow' a tile from the local quarry, although your pizza may end up tasting a little dusty.
Ceramic pizza stones are better for absorbing moisture, which gives you a crisper crust without being too crunchy that it chips your teeth. However, you need to preheat them before placing the pizza on, can be difficult to clean, and can crack or break either in the oven (if it gets too hot) or on the kitchen floor if you drop it.
Steel - Steel is another option for your pizza stone and is a more modern interpretation of the craft. They are better at conducting heat than ceramic stones and also distribute the heat more evenly, especially at lower temperatures.
They are also more durable and are guaranteed to not crack or break regardless of the heat in the oven. For top quality steel pizza stones, though, you'll need to pay a premium price, and the lack of handles, besides the extra weight compared to ceramic options means they are more difficult to carry from the oven to the table. They are also not as scratch resistant as clay stones, so you risk ruining the surface with your pizza cutter.
Q: What temperature can a pizza stone withstand?
A: The temperature pizza stone can stand will vary between brands, quality, and the device used to heat the stone. It's advised you preheat the oven to 550℉ as a minimum to allow the heat to flood through the stone for even baking. This is just the minimum temperature, though, and you'll find your pizza stone may withstand temperatures of as much as 900℉ on a BBQ grill.
To ensure you don't overheat your pizza stone, it's best to check with the manufacturer before using it so you don't end up cracking and damaging your pizza stone before you've gotten the chance to use it. The heat limits should be on the box or in the product information, and if not, use 550℉ as a baseline temperature.

Q: How do you keep the pizza from sticking to a pizza stone?
A: To keep the pizza from sticking to the base, you need to season it (which is sometimes called conditioning). This is where you pour a teaspoon or two of oil on the stone and spread it over the surface before cooking. This enhances the quality of the pizza and as you use it more often, the quality increases over time, like with a cast-iron skillet.
If your pizza still sticks to the stone, sprinkle flour across the surface before placing the pizza on it to provide a thin layer between the base and the stone.
The best pizza stones come pre-seasoned, so you need not waste time conditioning them, and they provide excellent results from the first time you use them.
Q: Should I preheat my pizza stone?
A: Yes, at least the first time you use it. With ceramic stones, do this every time you use it. Preheat it in the oven at 550℉ for between 30 and 45 minutes to allow it to heat up fully before applying your pizza.
Like regular cooking, this ensures the pizza is cooked and heated all the way through and prevents and uncooked or cold spots.
While steel pizza stones do not need as much preheating as they are better at holding the heat, you may need to preheat some of them.

Q: How do you use a pizza stone for the first time?
A: Although you'll be excited to use your pizza stone for the first time, it's important not to rush it. For the best pizza, follow these tips when using your pizza stone for the first time.
Keep your oven and stone at room temperature to begin
Preheat your pizza stone to 500℉ for even heating
Prepare your dough and ingredients (or grab your pizza from the refrigerator) and place it on the stone
Use a pizza platter to remove the pizza from the stone and turn the oven off to allow it to cool down
Do not wash a hot stone with warm water as it can crack
Sources: