Rain, Rain, Go Away: The Best Umbrellas In 2022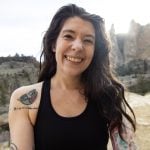 This product guide was written by Tuesday Kirby Kahl
Last Updated
April 11, 2022
Tuesday Kirby Kahl
Tuesday Kirby Kahl is a contributor at Gear Hungry. Her fierce love for the outdoors fuels everything she does. Her professional pursuits include writing, creating art, and photography. These professional passions allow her the time to live life outside as a rock climber, skier, runner, backpacker, paddle boarder, swimmer, and explorer. When Kirby is indoors, she enjoys tea, whisky, old films, cooking, and baking. Her product testing and feedback have shaped the design of everything from climbing shoes to candles.
GearHungry may earn a small commission from affiliate links in this article.
Learn more
A good-quality umbrella is a rainy day essential: not only does it protect you (and your hair!) from the rain, but it can also offer wind protection and sun protection too. But finding a quality, wind-resistant umbrella that's also stylish and compact is no easy task. Sure, you can always pick up a cheap umbrella from a local corner store, but most of those are not designed to last. If you're looking for a durable umbrella, one that can stand up to rainstorms and strong winds and that can be used multiple seasons, your focus should be on the absolute best umbrellas that typically (but not always) cost more.
In this guide, we dive into what makes a good strong umbrella and what features to look for in the frame system, canopy, handle, and more. Below you'll find some of our favorite umbrellas on the market – some we tested, some came highly recommended by our colleagues, and others we picked based on positive customer reviews. Whether you're looking for a compact windproof travel umbrella, an umbrella with a high SPF protection, or a stylish stick umbrella, this guide has you covered – and we mean this literally.
The Best Umbrella
Weatherman Travel Umbrella
Weatherman umbrellas have excellent brand recognition and a line of diverse options for traveling, golf and more. The Travel is a classic umbrella that works for every day use but packs small for traveling and commuting. The eight rib construction can withstand winds up to 45mph, so this is quite a mighty umbrella in a small package. This model has fought both wind, rain and snow with me now across Oregon and Washington as I travel, climb and ski. It hasn't become inverted yet but it has reinforced plastic ribs to allow easier righting if it ever does.
This is a bestseller in the realm of portable umbrellas but best suited for a singular human, as it's a bit small for more than one person. Weatherman also makes this travel umbrella in ten colors so you can get one to match your luggage and a few to match your outfits too.
Key Features:
Reinforced fiberglass plastic
Fights off winds up to 45 mph
Water repellent canopy
Weighs less than a pound, less than 12″ long
Small but mighty daily umbrella
Excellent build quality, should last for years
Repel Windproof Travel Umbrella
On the face of it, Repel Windproof Travel Umbrella might look like any old cheap umbrella, but it's so much more than that. This model has the same basic principles as a standard umbrella (as most do), but the high-quality materials and design make it much, much stronger. The main difference is the nine-rib construction. Instead of the normal six ribs, found in cheaper umbrellas, the Repel umbrella has nine resin-reinforced fiberglass ribs that flex slightly to help it withstand powerful gusts.
The Repel Windproof Travel Umbrella weighs less than one pound, measures 11.5 inches long, and you can open and close it with one hand. The grip is slip-proof and ergonomic, and it has a wrist strap for easy carrying. The business end of things is coated in Teflon, making it waterproof and offering speedy drying times. It's lightweight, strong, functional, waterproof, dries instantly, and looks great. If that's not enough, you get a lifetime replacement guarantee, so if you have any problems with your umbrella, they'll replace it for free. And, to get ready for the summer, make sure to also check our guide to the top beach umbrellas.
Key Features:
Three-fold chrome-plated metal shaft with a metal frame
Eutomatic open-shut mechanism
Canopy made with super-efficient water repellent Teflon technology
Made up of 9 reinforced fiberglass ribs
Specification:
Brand

Repel Umbrella

Model

1

Weight

12 Ounces
Has the strength of a straight umbrella with the convenience of a foldable umbrella
Lifetime replacement guarantee means you can buy with confidence
No mention of UV protection
G4Free 54/62/68 Inch Automatic Open Golf Umbrella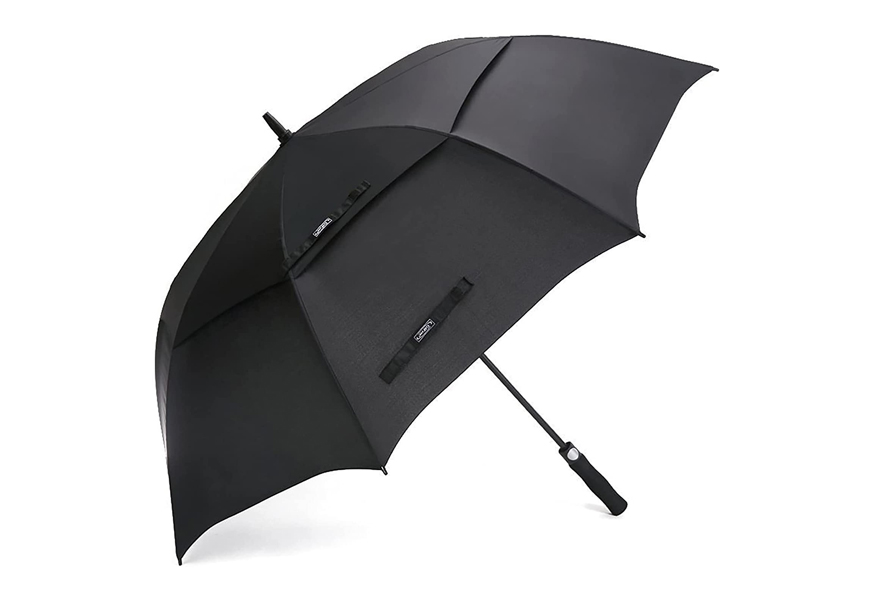 The G4Free 54/62/68 Inch Automatic Open Golf Umbrella is designed to keep you safe from the sun, rain, hail, sleet, and anything else mother nature can throw at you whether you're out there on the golf course or commuting to work. The canopy is oversized and uses 'ultra-water-resistant 210T pongee micro-weave fabric', which – for the layperson – means it's waterproof.
The double canopy design creates a vent for the wind to pass through, making it pretty much windproof. The vent also stops the wind from catching underneath the umbrella and acting as a sail. In terms of sun protection, it has an SPF rating of 50+. But, the best thing about this umbrella is the size. You can either buy it in 54, 62, or 68 inches long, which makes it one of the biggest umbrellas around. All of these sizes will protect one person comfortably, and the biggest size has enough space for a small family.
Key Features:
8 resin-reinforced fiberglass ribs
Water-resistant canopy with SPF 50+ protection
Automatic open feature
Comfortable EVA handle
Specification:
Brand

G4Free

Weight

3 Pounds
Oversized canopy will keep you completely dry, even in heavy rain
SPF 50+ rating makes it versatile
Double canopy vent makes it great in wind
Not the sturdiest construction out there (but still solid)
If you're looking for a compact umbrella, look elsewhere
Bodyguard Inverted Umbrella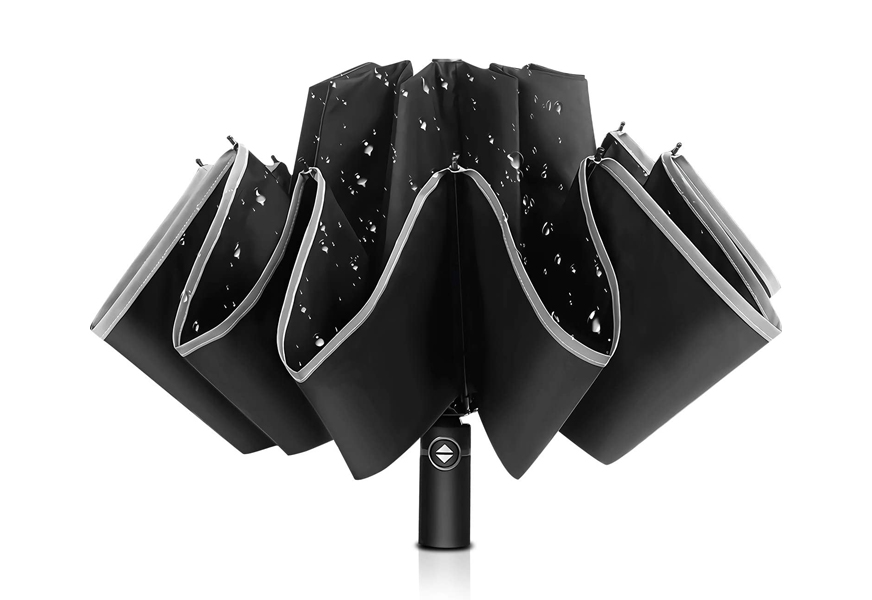 The Bodyguard Inverted Umbrella is a large yet compact, and stylishly designed yet durable umbrella. It breaks from the traditional umbrella in design and features a shorter handle and a reverse folding system. It sports reflective stripes which give it 360-degree high visibility in all weather conditions, day and night. The inverted inside-out design helps protect floors and vehicle interiors. The only issue we see is that it creates depressions that hold water and take longer to dry out.
The Bodyguard Inverted Umbrella uses a unique flexible 12-resin reinforced fiberglass ribs that bend slightly in strong gusts without turning inside-out. The operating mechanism is automatic so you can open and close it with the press of a button. It comes in a leather cover and has a one-year satisfaction guarantee. It makes for a perfect addition to your rain gear collection!
Key Features:
Flexible 12-resin reinforced fiberglass ribs
Reflective stripes give it 360-degree high visibility in low light conditions
Inverted inside-out design protects floors
Automatic open-close mechanism and a short handle for convenience
Specification:
Brand

Bodyguard

Weight

1.2 Pounds
Opens and retracts automatically
Leather case is a nice touch
Teflon coated, so great water repellency
Great everyday umbrella but not ideal for strong gusts
Sport-Brella Versa-Brella SPF 50+ Adjustable Umbrella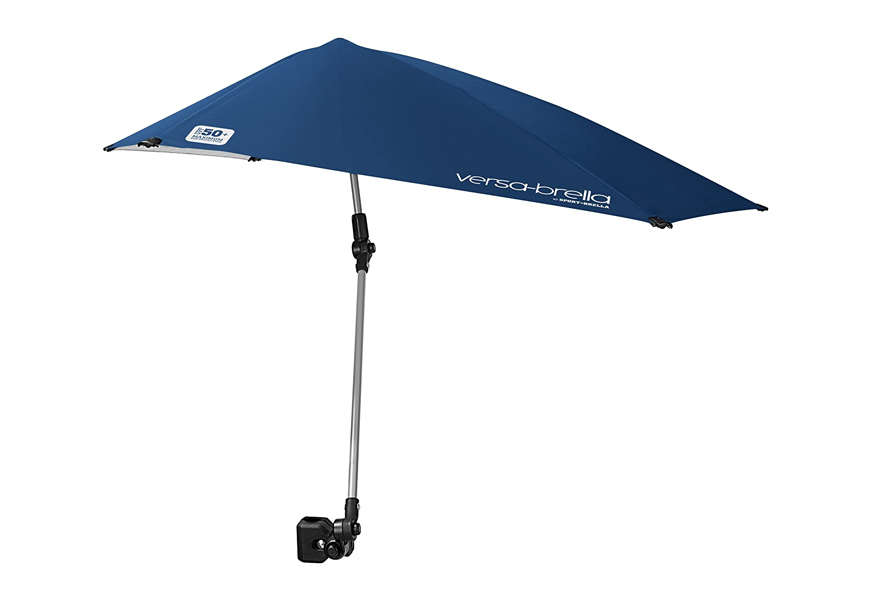 A quick look at the listing for the Sport-Brella Versa-Brella, and you'll notice one thing. There's no mention of rain. That might seem strange for an umbrella, but it's on purpose. This umbrella is designed to protect you from the sun first and foremost but will do fine in the rain as well.
The shape of the umbrella is designed to throw shade over your entire body, and it has a handy clamp that can connect to a beach chair, golf bag, stroller, and just about anything else you need out of the sun. It's almost as good as having UPF 50+ sun cream on at all times. It folds away into a compact carry case and weighs only 1.8 pounds, so you can take it anywhere.
Key Features:
UPF 50+ protection
Universal clamp to connect to a chair, golf bag, or stroller
Measures 36 inches long, weighs 1.8 pounds
Folds into a carrying case
Carry case included
Specification:
Brand

Sport-Brella

Model

1203

Weight

2 Pounds
Much more portable than a full-sized parasol
Impressive UPF 50+ protection will keep you safe from sun damage
Fantastic sun protection, but not the greatest rain protection
LifeTek Windproof Travel Umbrella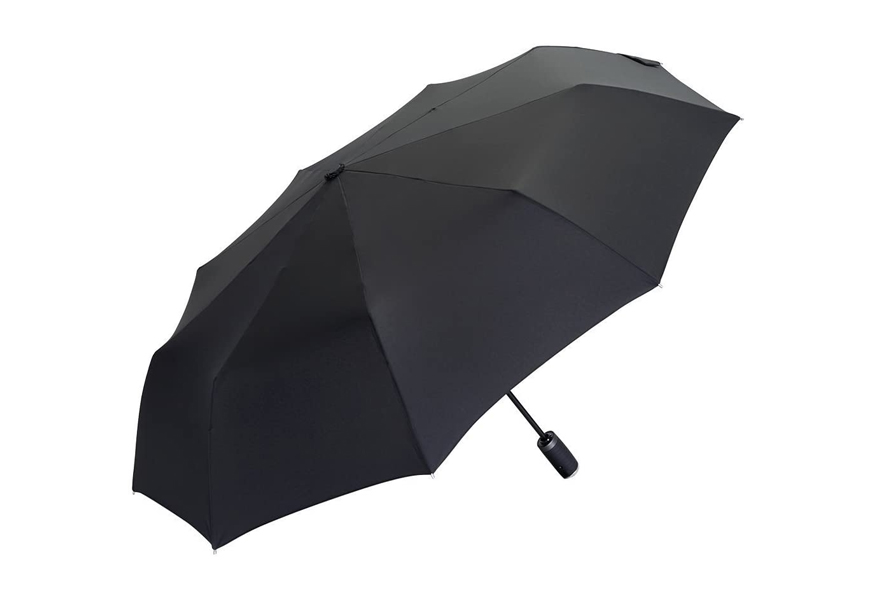 The LifeTek Windproof Umbrella is another upmarket travel umbrella. It's very similar to the Repel model and is a strong contender for the prize. Like all good travel umbrellas, it's small and light. It weighs less than 1 pound and measures 11.5 inches long, so it feels almost identical to the Repel compact umbrella. Plus, it has a similar nine-rib construction to make it strong and durable in windy conditions.
But several features help this umbrella stand out from the rest. With a UV rating of UPF60+, this is one of the best all-weather foldable umbrellas around. It's also very sturdy thanks to its resin fiberglass ribs and aluminum handle. And with Teflon coating, it repels water to keep you dry even in a downpour. The LifeTek umbrella is also small enough to fit in practically any backpack or handbag, making it a fantastic travel and everyday umbrella.
Key Features:
9 fiberglass rib construction with aluminum handle
Weighs less than 1 pound, measures 11.5 inches long
UPF 60+ protection
'Peace of mind' replacement guarantee
Specification:
Brand

LifeTek

Weight

12.8 Ounces
Reasonably strong, compact, and lightweight travel umbrella
SPF60+ rating makes it versatile and great for traveling
Some reports of the umbrella turning inside out in very windy conditions
Sun Tek 68-Inch Uv Protection Wind Cheater Vented Canopy Umbrella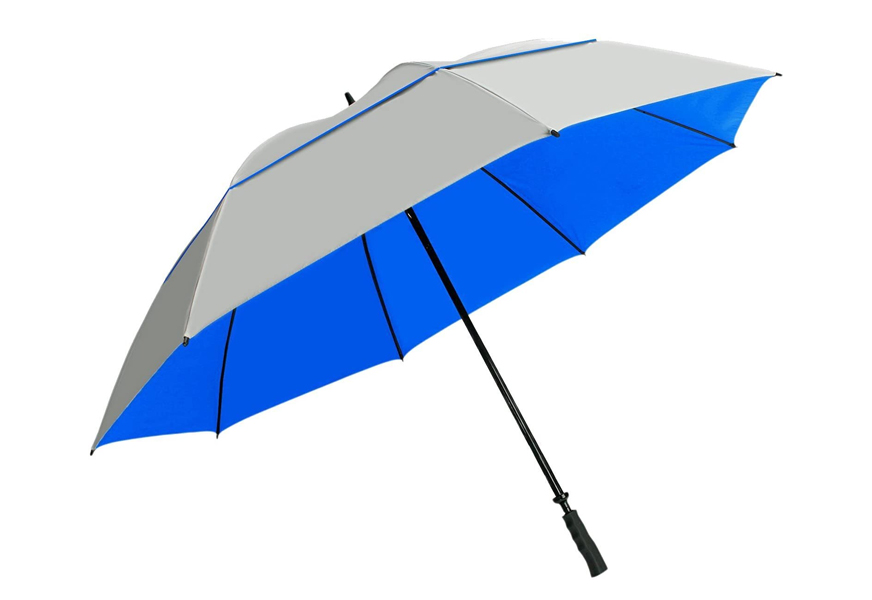 Looking at the SunTek 68" Umbrella, you know that it's going to be an awesome product. It's the perfect balance between a huge golf umbrella and a parasol. It has a large oversized double canopy made from nylon. That means it's completely waterproof and has a UV rating of UPF 50+, which blocks 99% of the sun's rays. In addition to that, the outside of the canopy is reflective, which actually keeps you cool in the sun's heat. This makes it absolutely ideal for beach days or hot days out on the golf course.
It's not huge and cumbersome like a lot of windproof umbrellas. Still, it weighs 1.8 pounds, which is a little heavier than a folding umbrella but not a lot, and the shaft length is 48 inches. Perhaps the best feature of this umbrella is the vortex venting system. The vented double canopy allows the wind to pass through the umbrella without turning it inside out, while also providing extra strength in the key areas. The eight fiberglass rib frame provides maximum durability and helps provide added safety in the event of a lightning storm.
Key Features:
Weighs 1.8 pounds, 1-inch shaft length
68-inch reflective double-canopy
UPF 50+ protection
Fiberglass frame and shaft
Specification:
Brand

Suntek

Model

UWCUV2

Weight

1.98 Pounds
One of the largest and most versatile umbrellas on this list
Four color options, so you can match it to your golf bag
Build quality is not the sturdiest, so it's not ideal for extremely windy conditions
Balios Prestige Travel Folding Umbrella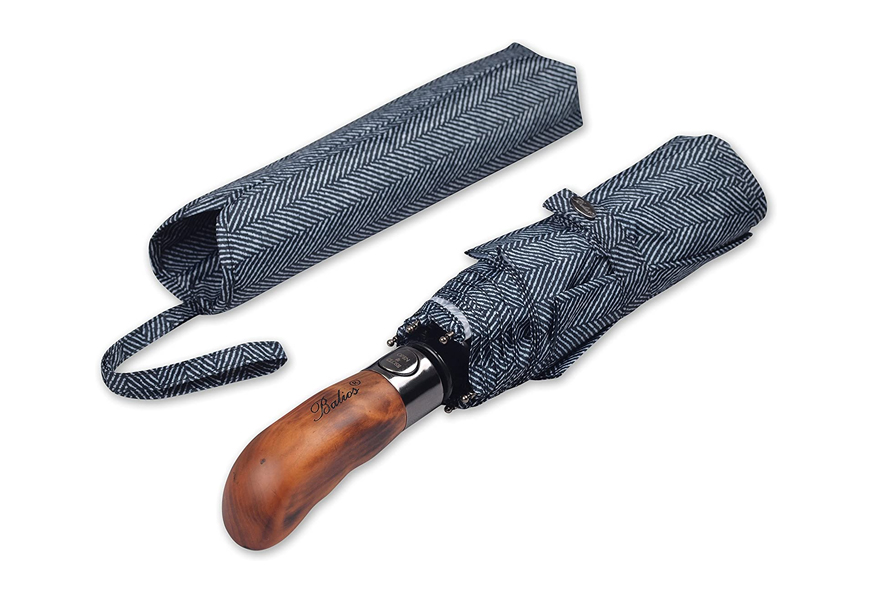 The one thing missing from our list at this point is an umbrella that works with a smart casual look. The Balios Prestige has that classic English gent look and it comes in five different themes, which means you can get the perfect one to fit your outfit, or multiple so you have an option for every mood.
This travel umbrella weighs less than a pound and measures 12.6 inches long when it's folded.  The shaft is made from high-grade steel and the ribs are made from premium fiberglass. The canopy's made from 300T high-density fabric, which makes it completely waterproof. The reason you're spending the extra money though is the fine-quality craftsmanship. Each umbrella takes 146 steps to make and is checked 18 times. This means that each umbrella arrives in perfect condition and you get a seriously high-quality product, without having to spend hundreds of dollars. It makes a perfect travel gift, too!
Key Features:
Weighs less than 1 pound, measures 12.6 inches folded
High-grade steel shaft, fiberglass ribs
300T high-density water-repellent fabric
5 beautiful styles to choose from
1-year unconditional warranty
Specification:
Brand

Balios

Weight

13.8 Ounces
Easily the best-looking umbrella on this list
Offers great rain and wind protection
Compact and lightweight
AmazonBasics Umbrella with Wind Vent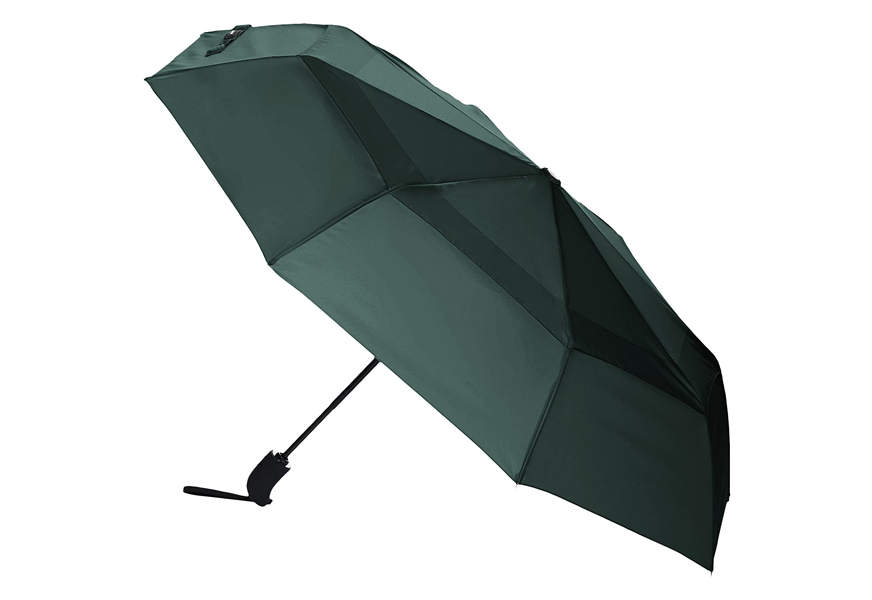 While AmazonBasics are not the most premium products on the market, they are definitely worth a look. This AmazonBasics Automatic Travel Umbrella with wind vent comes in nine different colors, which makes it one of the most versatile in terms of style. When it's fully folded, it measures 11 inches long and weighs less than one pound. Amazon doesn't provide much detail about the construction of the umbrella, except that it's made from durable steel and the canopy is polyester. We can also tell you that it has an eight-rib frame, so it should be okay in wind, but it's not going hold up in really strong winds.
However, the best feature of this umbrella is the soft-grip handle. It's super comfortable and easy to hold on to. Plus, it has a handy wrist strap to stop you from losing it. Other than that, it comes with a storage sleeve to keep it safe, and an automatic open and close feature. It may not be the best umbrella on this list, but it's affordable and has a decent quality; plus, we really like the beautiful green color!
Key Features:
Made from alloy steel
Weighs less than 1 pound, measures 11 inches folded
Soft-grip handle
Wind-vent canopy
Automatically opens and closes
Specification:
Brand

AmazonBasics

Model

WXD0920WD

Weight

14.1 Ounces
Closes to a compact size
Decent build quality
Lots of color options
No mention of UV protection
Not much information about how it's made
Why Trust Us
No one knows rain like the inhabitants of the PNW, particularly those of us west of the cascades. It rains (nearly) every day for six months out of the year. We also get wild winds coming off the pacific ocean and coming out of the Columbia River Gorge. So while most Portlanders admonish umbrellas, we are the most fit folks to test them.
Who This Is For
This guide is for anyone who needs an umbrella for those windy and rainy days, whether they are common where you live or rare. Aside from rain and wind protection, a good umbrella can also offer some UV protection.
How We Picked
Curating a selection of the best umbrellas involved starting with my tried and true favorites. From there, I chatted with our testing team and the few Portlanders I know who own umbrellas. To round out the list, I looked at Amazon reviews and best sellers.
How We Tested
Well, I live in the PNW, Portland specifically, and we are known for our rain. So testing was pretty easy, I merely went for walks and tested the umbrella's wind resistance and waterproofness, the two most important factors if you ask me. Although, if you walk around Portland with an umbrella, people will look at you funny. Most locals simply tolerate the rain and have solid rain jackets.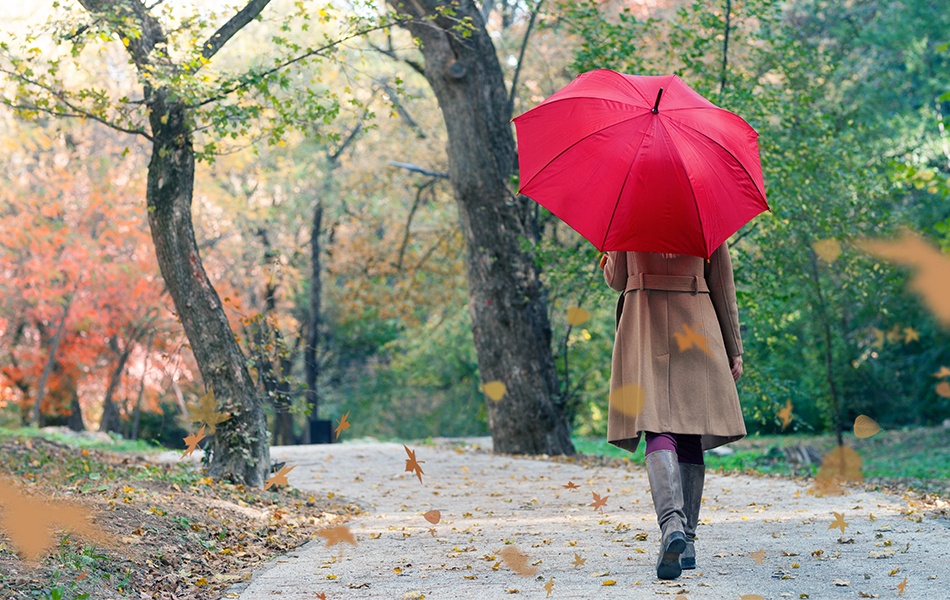 Features To Look For In Umbrellas
Size – The bigger the umbrella, the more it will protect you from the rain. That's the idea anyway. Large golf umbrellas are designed to be big enough to protect you and your gear from the rain, whereas small folding umbrellas only have room for you. If you're looking for a large umbrella, buy one that's lightweight. The extra size could make it difficult to carry around with you or let the wind rip it straight out of your hands.
Rain protection – Believe it or not, there are umbrellas out there that won't protect you from the rain. You want something that will repel water for years to come. Good umbrellas are made from fabrics like polyester and coated with Teflon coating to make them waterproof. Some umbrellas also have what's called a double canopy design. That means it has another smaller canopy on top that protects the weaker parts of the umbrella and makes it even more waterproof. A quality umbrella should offer waterproofness as well as protection from strong winds.
Durability – You're probably reading this article because you've been buying cheap umbrellas for years and are fed up. Or, because your beloved umbrella has finally given in. Either way, you're looking for something durable. It's difficult to predict how well a product will last, but you can normally tell by the quality of materials used. Also, look out for a warranty. If a company is willing to stand by its product with a warrant, it's probably going to stand the test of time. A good umbrella should last you more than a couple of weeks.
Ease of use – We all know the feeling: when you walk outside to find it's raining, and you spend five minutes fumbling around trying to open your umbrella. This should never be a problem. Look for an umbrella that is easy to use. Some folding umbrellas have an auto-open and auto-close function, which means you can control it by the press of a button.
Wind protection – We already talked about the importance of buying a high quality umbrella with wind resistance. Rain often comes with wind, so a badly-made umbrella isn't going to work. Some umbrellas even say how many miles per hour they can withstand. Most umbrellas will turn inside out in extremely strong or gale-force winds, so you should look for an umbrella with a frame system that can withstand turning inside out without breaking.
Handle – The handle is a personal preference really. Some people like an ornate wooden handle, whereas some prefer a plastic ergonomic handle with more grip. Whatever you prefer, make sure the handle is ergonomically designed, so it doesn't become uncomfortable.
Sleeve – This is like the sword sheath of the umbrella world. When you're finished with your umbrella, put it back in the sleeve and it will remain protected until you need it next. This will help protect your umbrella against mold and mildew and keep it looking brand new. Don't forget to let it dry first!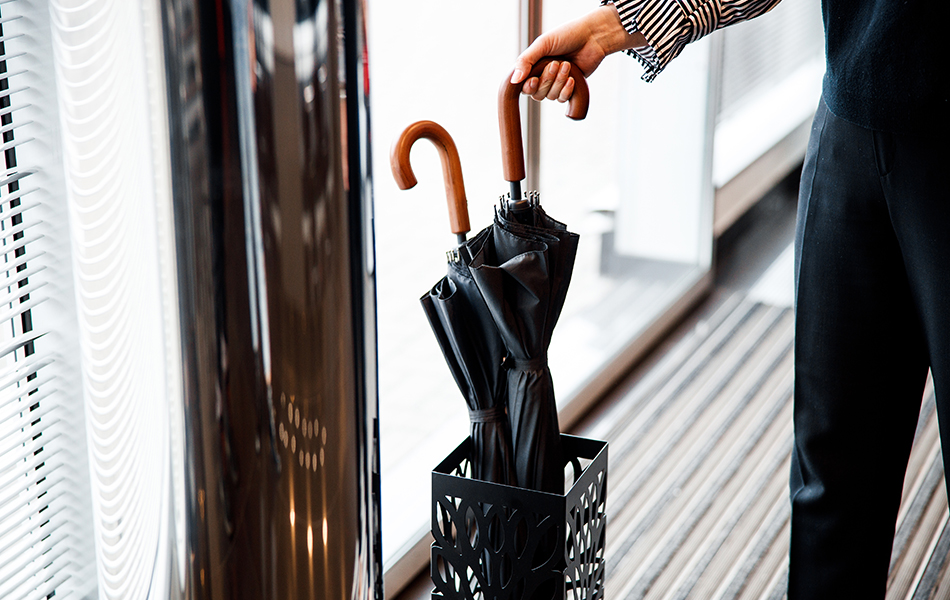 Umbrella FAQ
Q: What is the best fabric for umbrellas?
A: The most common and arguably the best umbrella fabric is a polyester with a Teflon coating. You will find other materials but few offer the same rain and wind resistance.
Q: How do you store umbrellas?
A: Once your umbrella is wet, it is important to first let it drain and dry before storing it. Once your umbrella is dry, it can be stowed in its sheath and in a dry area out of the sunshine. The sun can damage the colors of your umbrella and any water is a chance for mildew.
Q: Are big umbrellas better?
A: Not necessarily. A big umbrella may offer more space for a family or couple to stay out of the rain, but with more surface area, there's a better chance for wind to rip it out of your hand and turn it into a wind sail!
Q: How many ribs should an umbrella have?
A: More ribs offer more strength but an umbrella also needs flexibility to return to normal after flipping inside out. Usually, eight ribs is more than enough but some models feature up to 16.
Q: What is the point of a double canopy umbrella?
A: As mentioned earlier, a double canopy design on an umbrella offers additonal support and coverage on the weakest part of the umbrella.
Q: Are vented umbrellas better for wind?
A: Vented umbrellas are supposed to allow wind to flow more easily through small holes instead of leaving you with an inverted umbrella. However, where there are holes, water can come through.
Sources:
Parts Of An Umbrella - Umbrella Workshop
Umbrellas - Cannon Count
Sign Up Now
GET THE VERY BEST OF GEARHUNGRY STRAIGHT TO YOUR INBOX