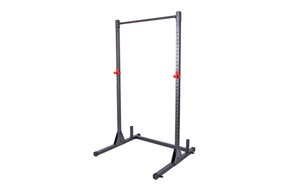 Cap Barbell Power Squat Rack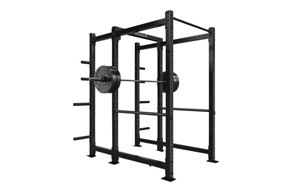 Monster Lite Power Squat Rack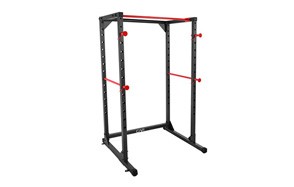 Cap Barbell Full Cage Power Rack
You lead a hectic life. You're not always able to get out to the gym. You're not alone; we've got your covered. Squat racks are very specific pieces of home gym equipment, and as such, we're about to go in-depth about each of them, their benefits, the muscles they work, and why 90% of men are using them incorrectly and prolonging muscle growth and overall health stimulation. Strap in; it's about to get academic in here.
Our Top Picks Of The Best Squat Racks
Monster Lite Power Squat Rack
See More Reviews
Our top pick comes from the good folks over at Rogue Fitness. They believe that you should have more control over your home gym equipment, from the vibrant colors of the metal, right on down to the customizable. Everyone comes in different heights and physical prowess – this is the squat rack that's designed to truly grow with you.
Normally, you would have to purchase an additional accessory for holding your plates, but this model already has you covered. Simple to assemble (many purchasers simply needed their twelve-year-old child to hold the pieces while they screwed everything into place), bringing all-inclusive racks to store your weight plates, you get a few perks, and a a few issues that come along.
For one, you're going to run into an issue with purchasing accessories or add-on items, as some of them have been reported not to work properly. Apart from that, certain holes along the stands have been marked, but not cut-out properly. This is a simple DIY fix, but when you're spending this kind of money, you shouldn't run into those issues.
For its primary function as well as storage, this rack hit all the necessary marks on our list, and even comes in eleven different colors depending on your room or equipment palette. From the effective and compact size, right on down to Rogue Fitness and their best attempts at making shipping and assemble as simple as possible, they've earned the top spot on our list.
Key Features:
Product height: 90"
Product width: 49"
Specification:
Brand

Rogue Fitness

Model

RML 690C

Weight

530lbs
Easy to assemble
Comes with storage for plates
Additional items may be roughly compatible
Certain holes have been reported to not be punched prior to delivery; DIY fix, inconvenient
Cap Barbell Power Squat Rack
See More Reviews

Cap Barbell brings you the most inexpensive product on our list, coming in nice and lightweight, and super fast to assemble. All in all, you get a lot for a very little price, backed by a staggering review average by over eight-hundred customers. Weight is evenly distributed throughout the three-wall stand, which also includes spot to store additional plates. You're taking the minimalist approach, but you're also getting a two-for-one when you go with Cap Barbell: position the bar, and perform pull-ups in the same space.
While it's an excellent buy, we're firm believers in the, "You get what you pay for" mindset. That being said, you're going to outgrow this, or find no use for it if you're already lifting over 300 lbs. It caps out at 300, but gets a bit hard to work with around the 275 marker. While the all-steel construction is excellent quality, it does have its limits.
If you're starting your own home gym, you want a multi-functional piece of equipment, or you just don't want to be scrutinize for going to the gym and starting at ground zero to build muscle, Cap Barbell is there for you. This is the perfect rack to begin training with, and work your confidence and self esteem up to where you want it to be.
Key Features:
Product height: 85.5"
Product width: 46"
Specification:
Brand

CAP Barbell

Model

FM-CS705

Weight

61 pounds
Extremely inexpensive initial price
Fast assembly, quick use right out of the box
If you continue to increase your weights, this machine won't be able to hold you after a while
Maximum load of 300 lbs
Fitness Reality 810LX Power Squat Rack
See More Reviews

Cages offer more personal safety than standalone models, and Fitness Reality put their best engineering to the test with this model. All-steel, with a weight capacity up to 800 lbs, and a stellar size to fit into most home gyms without congesting your space. You get 19 adjustable height differences, and the entire machine is compatible with 7" Olympic-regulated bars. Pull on your bar to perform pull-ups, or use any of the 12 different positions to get a full workout.
While the issues are minor, they shouldn't be ignored. Firstly, the item came with more than a few dings and scrapes, and this has become a common problem among many buyers. Steel is heavy to move and hard to manage; we get that. Structurally, there were zero problems with the steel, bolts, or the finished result. One safety concern we noticed is a slew of reports that say the weight catch pegs have been known to fail, and to monitor your bar when you place it down. We have reason to believe it was poor assembly (by the purchaser), as we didn't run into an issue with it, but it's still noteworthy.
Starting your home gym can begin with under three-hundred bucks, and one hell of a workout, no matter how tall you are. This cage offers a long-lasting life, even though you only get a one-year limited warranty, and plans to save you thousands in gym membership costs over the years. Working out, or working up your confidence levels; either way, Fitness Reality's got your back.
Key Features:
Product height: 78.7"
Product width: 43"
Specification:
Brand

Fitness Reality

Model

2810

Weight

148 pounds
Easy to assemble and adjust
Holds up to 800 lbs
Full-on steel construction
Issues reported concerning weight catch pegs
Product has arrived scratched, but not structurally damaged
Cap Barbell Full Cage Power Rack
See More Reviews

Cap Barbell is back on the list, and this time, they've got an upgraded model. When we say upgraded, we mean that it looks bigger, though it has additional shortcomings compared to its lite version. You can't beat this price for a full cage, but for that, there's a few issues we'd like to address right from the get-go.
You're going to run into an issue with the instructions. They're a bit vague, and unless you can look at the box (or you've built these before) and plan to figure it out, it's going to be a frustrating time. We recommend opening a beer when the box shows up, if this is something you plan to purchase. Assembly is a one-time thing, so don't let that get you down in the dumps. The only other negative thing to report is that while it's marketed for a 500 lb weight limit (and some users report that it works for this), many don't feel comfortable putting more than 350 on it. This could be either due to their poor assembly attempts or manufacturer error.
Cap Barbell definitely comes with its issues, but it will save you space in your home office, and money in the long run. For the low budget home gym, Cap's got you covered. If you plan on graduating to gym or outdoor exercise, Cap can get you started in the comfort of your own home, without busting your wallet wide open.
Key Features:
Product height: 72"
Product width: 44"
Specification:
Brand

CAP Barbell

Model

FM-808-6

Weight

109 pounds
Value; priced under two-hundred bucks
Good for beginner to intermediate lifters for a home gym
Saves space thanks to dimensions
Weight limit states 500 lbs, though users don't feel good going past 350 lbs
Marketed for easy assembly, though instructions are half-assed and vague
Merax Athletics Olympic Power Rack
See More Reviews

Last but not least, Merax swoops in to close us out. This Olympic-sized power rack comes in a full and durable cage, crafted of solid steel and chrome, and works out to be an excellent price. An average review puts this as a high-ranking squat rack, but we go deeper than that. You don't get enough specific information about the dimensions, apart from its height. In order to do that, you have to seriously scour the web (even their website proved to be unhelpful), which should never be a factor when purchasing one of these machines.
You get excellent support and durability, thanks to solid steel and chrome construction, which also gives you 17 variable positions to work with depending on your height. With four adjustable weight bar supports and a solid design that doesn't try to give-out on you when you're putting the pedal to the metal, we couldn't be happier. Attachments have a rough time actually applying to this, so unless you buy Merax-specific additions, you're going to encounter some issues.
Sturdy, albeit it lacking a bit of specific information, Merax hits home with a great budget, and what we can personally say is a compact size (even though we don't have the specifics for you). Getting your home gym up-and-running starts now, whether you select the top or bottom-tier squat rack on this list. Be sure to see more information in our buying guide to find out how we came to these determinations, and figure out key info about squat racks.
Key Features:
Product height: 68"
Product width: N/A
Perfect intermediate full cage squat rack on price and power
17 variable positions
Four adjustable weight bar supports
Non-specific information doesn't make for a great first impression
Attachments are difficult to properly augment onto your machine
Squat Rack Buying Guide & FAQ
Workout equipment and personal health get tricky. Everyone struggle with finding the proper home gym equipment, which is why we've done our best to take out the guesswork, and make it a foolproof endeavor. We'll touch on the aspects to take into consideration during the purchase process, and a little bit about how to actually use your squat rack. Spoiler alert: most men don't use these properly, and don't get the results they want. We're here to shed some light, and then some.

Things to Consider When Purchasing a Squat Rack
Space
You're putting this in your home: do you have enough space? Squat racks aren't exactly small piece of equipment. While each product is going to have basic size to them, being enough to fit you with a little room for comfort, these machines do range in different sizes. Whether you just want a single item or an entire home gym, you should have dedicated space where other items aren't going to get in the way.
Strength
This is an overall measure of the durability of the machine and its materials, as well as how much weight it can hold. Squat racks aren't going to bear less weight than the barbells they offer (that would just be bad design and a liability), but when you start adding your own weights to the mix, that's when it gets tricky. Materials matter.
Additional Accessories
If you're going to build-up a full home gym over time, you're going to need to get all the accessories that make your machines as efficient as possible. For your squat rack, getting a pair of dip bars, J-hooks, or plate holders can make a complete one-eighty in your workout game. Find the ones that fit the machine you've got your eye on.
Safety
Our friend Omar explains the 100% surefire way to safely lift heavy weights in your squat rack. If you're worried about safety, he explains it best.
Also known as a power cage, but best known as a squat rack, it's a mechanical spotter for free weight movement using barbells. These come with a much safer way to get the same workout you would in a gym, but with all the safety you need at home.
Q: What Are the Benefits of Owning a Squat Rack at Home?
A: You'll put some serious muscle growth work (more in our next session), but it also works to improve core strength. While the key is muscle growth and all the health that comes with it, you also get these benefits:
Comfort Control: Even if you're a built and beefy dude, we all feel self-conscious at times. Having this high performance piece of equipment in your home gym (or even in your home office, for that matter), can truly make or break your workout regiment. We don't like to admit it, but sometimes we make excuses for not working out based on fear or anxiety. This can be the solution
Build Self Esteem: Self esteem comes in many forms, but it highly has to do with our appearance. Getting in shape, especially if you're coming down from a high weight or haven't worked out in awhile, is finally attainable. Investing in a home gym is investing in your health, and your happiness.
Savings: You're going to dish out cash on a home gym, but most equipment is rated to last for well over a decade (even if the warranties don't properly reflect this fact). How much are you going to pay for gym memberships in that time? (If you go to a normal gym that isn't Planet Fitness, that is), you're going to end up spending about $24 a month (average) for 120 months (10 years). That's $2,880.00, when you could invest in a home gym now, and keep your monthly budgeting costs down later.
Q: What Muscles Does a Squat Rack Work?
A: You're going to work your glutes, hamstrings, calves, muscles in your lower back, but mostly, you'll be putting some serious work into your quadriceps. These muscles at the front of your thighs have four specific mechanisms that operate and extend your legs.

Q: How Heavy is the Bar on the Squat Rack?
A: On average, you're going to see the standard Olympic regulatory size of 7.2 feet long, weighing in at 45.0lbs. These bars do range from four to eight feet, so you'll definitely need to pay attention. Shorter bars may work for men with less width, but on average, you should always opt for a long size to grow with you on your strength training excursion.
Q: How Much do You Have to Lift to Gain Muscle?
A: It all depends on your size and capabilities. You shouldn't feel the "no pain no gain" BS that everyone's always peddling, but you should feel a slight challenge. Building muscle is all about a slow ascension; there are no corners to cut in life that ever yield the results you want. Base it off of this: if you're feeling air escape your lungs, your veins are popping out of your skin, or you physically have to recuperate after a single lift, you're using way too much weight.
It's all about progression. Lift an amount that's challenging, but won't throw your body into absolute havoc. You'll eventually plateau and move on to more weight (more on this below), so you'll be gradually switching-up your weights until you reach a peak of physical prowess.
Q: How Many Times a Week do You Need to Lift?
A: This is completely subjective - as are all health-related topics - on your personal health. If you're not getting sufficient sleep, lifting weights are going to be difficult and not do what they're supposed to do. When we don't sleep enough, we stop producing the necessary quantities of fat-burning hormones, which kick into overdrive when we're working out. It also messes with your muscle building.
If you're getting proper sleep, and your diet offers enough minerals and nutrients (specifically protein) to handle the workouts, you should work out three times per week. Strength and resistance training, which are both categories that fall on squat racks, enable muscle building for 32 to 36 hours after your workout. That means that strength training is burning fat and building muscle while you sleep, while you eat breakfast, and while you're at work. Overdoing it is going to send negative effects, so stick to three times per week if you're in prime health with a proper diet, otherwise stick to two days per week.

Q: How Often Should You Increase Your Weights?
A: This is a very specific issue, because it's far too easy to put your body into something called progressive overload. Increasing your weights slowly is key to avoiding this. Contrary to popular belief, "pain and gain" is total bull. You should feel your workout, but it shouldn't tear down your body and make you feel unable to crawl out of bed the next day. Maintaining health (which means avoiding throwing your electrolytes out of whack with progressive overload), is going to do more for your body than killing yourself on a squat bench.
All that being said, why do they call it progressive overload? Over time, you're putting too much stress on your body by switching weights too fast. You will plateau at one point, and that's okay. Getting your body to a point where you love it, and maintaining it there, is the endgame goal. That will put you in a good rhythm and standard health cycle, which is exactly what you want.
Now that we've covered that, when should you actually increase your weights? You're going to build muscle, you're going to be able to take on more weight, but you must always keep a level head of common sense about it. If you're effortlessly lifting your current weight, you're not getting resistance, which means you're basically wasting time. On the flip side, it shouldn't make the veins in your neck pop. If you don't have a pre-designed workout plan, you're going to be increasing your own weights following this one rule: just because you can, doesn't mean you should.
Simple, right? Increase weights when you're putting in minimal effort to lift your current weight. Once upon a time, it may seemed like a milestone, but now, you've built muscle, and you're doing well. Remember that you build muscle; you don't create it out of thin air. Build anything too quickly, and it's not going to be structurally sound. The same goes for your body.
Want more in-depth men's health products and topics? Shoot us a tweet or drop a comment below, so we can tap into the well of expert knowledge at our disposal, and continue bringing you the best of the best every single day.