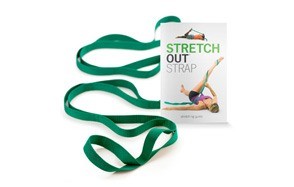 OPTP The Original Stretch Out Strap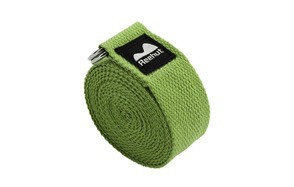 REEHUT Yoga Strap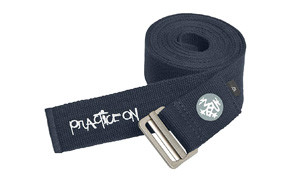 Manduka Align Yoga Strap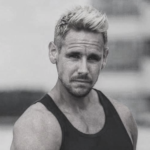 The best yoga straps are a fantastic addition to your daily (or just yearly) yoga routine. If you've ever tried yoga before, you understand how complicated it can be, especially if you're not used to how it expects your body to bend and twist, and this puts many people off pursuing the activity more seriously.
However, with yoga straps, both budding and experienced yogi can find their perfect pose. Yoga straps help to minimize the risk of injuries, while also allowing greater flexibility and range of motion. If you're using yoga to help recover from injuries, they are also fantastic for assisting with muscle recovery.
Whether you need to get back to your best or need a little extra confidence at the start of your yoga journey, these yoga straps are just what you need. Durable, reliable, versatile, and affordable, you'll finally get to see what all the fuss is about, and you'll feel better for it, too.
The Best Yoga Strap
Yoga Strap Buying Guide & FAQ
How We Chose Our Selection Of Yoga Straps
As with all of our product buying guides, we strive to find only the best and most effective products around. How do we do this? By using our tried and tested selection method, of course. Here's the method behind the madness.
Brand - We love all types of brands, which is why you'll find a wide range of them any of our selections. With yoga straps, we understand there are plenty of excellent brands putting out superb products, and this factored into making our selection.
The brands we chose all boast excellent quality, spectacular durability, and fantastic comfort to ensure that no matter which option you end up going for, you can do so with confidence.
Price - The good news is that yoga straps are not that expensive, and you can get an array of options to choose from without breaking the bank. However, because everything is so affordable, it's difficult to decide which is really the best one for you. What a convenient conundrum to have.
When making our selection, we kept this in mind and searched for and selected yoga straps which balanced affordability with the excellent quality so that if the strap you pick fits into your budget, you'll be left satisfied either way.
Reviews - Reviews are our favorite part of the selection process. They give us the information we need that isn't available from reading product descriptions. Through these reviews, we're able to narrow down our selection from a massively long list to the 10 excellent products you see above.
These reviews give us everything we need to know. They help us understand how a product performs a week, a month, and even a year after purchase. We wish we had the time to dive this deep into our research ourselves, but we want to recommend these products to you as soon as we can, and reviews allow us to do just that.

Features To Look For In Yoga Straps
When deciding which of the best yoga straps are the ideal ones for you to bring into your home yoga studio, take a look at these essential features to consider and guarantee you find the perfect strap for you and your needs.
Quality - Considering the amount of pulling, twisting, and stretching involved with yoga straps, you want them to be as high quality as possible. This quality comes in many forms. The straps need to be comfortable but they also need to do their job, otherwise you may as well just stick to using a length or rope and hope for the best.
High quality is always something you need to consider when purchasing any product, but when it's something such as yoga, which can lead to injuries if you're not careful and using low-quality products, it's even more important.
Material - A reliable material can be the difference between an excellent yoga strap and one that's not even worth looking at. Yoga strap mostly use nylon for the main strap while elasticated cotton is popular for loops that make it a more versatile yoga accessory. When searching for the perfect yoga strap for you or your yoga loving friend, it's important to keep this in mind.
You should also think about the D-ring, which will be some kind of metal. This ring will allow for easy and secure threading of the strap to customize it so you can pull off those poses that so far have eluded you for far too long.
Durability - You hope that anything you buy will be durable, especially if you spend a lot of money on it. While yoga straps are not expensive, you still need this durability to ensure you get plenty of consistent use out of it. The material will have something to do with this, and you can trust nylon to survive hundreds, if not thousands of yoga sessions.
It's also useful to think about stitching. This keeps the D-ring and loops in place and prevents fraying. With this excellent durability, you'll never need to buy another yoga strap again, unless you want to buy one for your friends, that is.

Yoga Strap FAQ
Q: What is a yoga strap?
A: A yoga strap is an accessory used for, you guessed it, yoga. It helps to improve balance and stability as well as help achieve poses and stretches that you might not be able to do unassisted right now.
With a yoga strap, you can enhance your range of motion and flexibility. Some yoga straps come with loops attached along the length of the strap, which you can use for your hands and feet, depending on the pose. The purpose of these loops is to gradually work your way up until you achieve the desired flexibility.
Yoga straps are suitable for all levels, but beginners may get the most benefit from them, and it could help them kick-start their yoga journey with less stopping and starting. The increased confidence that a yoga strap provides allows them to achieve better results with every stretch and pose, feeling better after every session.
Sources:
10 Ways to Use the Yoga Strap (With Photos) - Do You Yoga