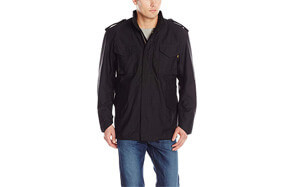 Alpha Industries Men's M-65 Field Coat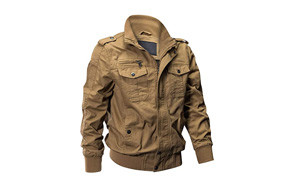 EKLENTSON Field Jacket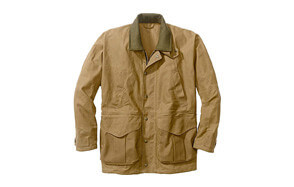 Filson 10003 Tin Cloth Packer Coat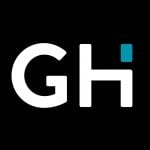 Easily one of the most versatile and stylish pieces of outerwear, the field jacket has remained a utilitarian garment while also evolving into fashionable apparel that oozes masculinity and an appreciation for style. With its roots in the military, your typical field coat can always be depended on for its functionality while keeping one comfortable and warm during the colder months. The Gear Hungry team appreciates menswear that ticks the boxes for being both practical and appealing, which is why we have compiled a list of what we think you will find to be the best field jackets out for the pick. These coats feature classic brands filled with heritage as well as more modern interpretations of the traditional military wear.
The Best Field Jacket
Field Jacket Buying Guide & FAQ
How We Chose Our Selection of Field Jackets
Quality–Just like the military wouldn't stand for anything less than superior quality garments that are made to be fully durable in even the most extreme circumstances, we to have compiled our list of best field jackets by double checking that they do, in fact, meet ultimate quality standards. This means that they feature fabrics and designs that allow them to meet a certain level of style while remaining warm and extremely utilitarian all in one.
Brand–The brand is what carries the product's reputation and simply cannot be omitted from the equation. We opted to choose our selection of field jackets that have not only been endorsed by the military themselves but have also lived up to consumers' expectations by continuing to deliver hardy and impressive outdoor apparel.
Reviews–So that our opinions aren't totally biased and include the views of a diverse range of individuals, we make it a habit to scour the net for reviews to see what the consumers have to say about the items in question. We then weigh the good with the bad and take reliable feedback into consideration before deciding which product and model make the cut.
Price – If you are on the hunt for a field jacket that ticks all of the boxes for being practical, durable and ultimately stylish, then looking at the price tag is not really an option – or that's how our list works at least. We have conjured up a range of military-type jackets that match their price by giving you the best value for money – in basic terms, you fairly get what you pay for.

Features To Look For In Field Jackets
Construction – When it comes to the jacket's construction, the garment's purpose should be greatly considered. You need to decide if all the bell's and whistles will be made use of if a more modest coat with fewer pockets and accessories will better suit your more casual day-to-day needs. While some revel in the traditional military style, other's might be more attracted to modern versions of the classic apparel.
Design–While most modern men wear field coats for stylish purposes rather than for the practicality of having them worn out on the, well, field – this leaves the element of design as being an important deciding factor. Ask yourself if the myriad of pockets is important to you, if you appreciate the traditional epaulets and if it's a slim or bulkier fit you're after.
Comfort – This tends to be the most important deciding factor when it comes to men's clothing.It no longer has to hurt to be handsome! When it comes to choosing a smooth fitting field jacket, it all starts with the fabric – the softer the better. You also preferably want a fabric the is 100% water resistant so that you remain dry at all costs. Make sure the seals are airtight so there are no sneaky openings for the cold to slip through - and do a quick check, does the hood sit comfortably over your head?
Adjustability – Adjustability works hand-in-hand with versatility and the more options you have for adjusting and tweaking your field coat, the more versatile it is. Can the inner lining be removed? Do cuffs and waistlines have the ability to draw closed? Does the jacket feature a concealed hood? Does the jacket only zip closed or is it reinforced with Velcro too? These are the types of questions you can ask when selecting your field jacket and the answers will help you to decide whether the jacket is going to fit your expectations, or not.
Pockets – One thing that makes field coats unique in design is their numerous pockets which typically equates to four front pockets and one or two inner pockets. Modern designs, however, often reduce the number of pockets to give the garment a less bulky appeal, which makes them slightly befitting for more formal events. If the pockets are the sole reason why you are acquiring the jacket, pay attention to their size and closing mechanisms.
Fabric–Your fabric choice will depend on how traditional you would like your field jacket to be. An authentic military jacket is made from rugged and durable fabrics, usually with 100% cotton elements. Some feature canvas linings or a canvas shell and these jackets will, of course, keep you drier for longer. Many modern designs feature lighter-weight fabrics that might replicate the authentic jacket, but are perhaps not as hardy and durable – this is ok if you are simply looking for a stylish coat that's perfect for everyday wear and is not intended for regular outdoor shielding.

History of the field jacket
The traditional military field coat dates all the way back to 1943 where it made its debut as the popular Army jacket that was suitably designed for cold weather as well to be durable enough for troops out on the field. Over the years it has met many revisions so as to accurately meet the demands of the military forces as well as to include the features of some modern technologies. In 1965 the M-65design was released - this is the field coat that most are familiar with and it's on this design that subtle revisions have been made over the decades.
The M-65 has been worn through many wars, including the Vietnam war. Today many military forces still include the field coat into their daily apparel and are a standard addition to a soldier's uniform. While the field coat has its routes in the military, the style of the jacket has become quite the utilitarian coat as well as a fashion trend. Laborers, hunters, hikers and outdoor adventurers often opt for the traditional field coat for its warmth and practicality's while fashion fanatics appreciate the vintage style of the apparel.
Field Jacket FAQ
Q: What is a Field Jacket?
A: Similar to your trench coats, bomber jackets, and cargo pants, the field coat is one of those garments that was originally conceived for utilitarian purposes. Its intent was to keep soldiers warm while they were out in the field and to shield them from vicious sun rays during the more heated months. To add to the garment's usefulness, it was loaded with pockets and zips so that wearing options were versatile and the pockets carried the numerous tools and weapons that soldiers had to equip themselves with. Today the field jacket has evolved to not only serve military forces but also to be a garment that's worn as a basic day-to-day coat. It typically features 4 front pockets, a heavy front zip, cuffs and waist closures, and a hood. The fabric is made from durable cloth or canvas that keeps heat in and the cold out.
Q: How to wear a Field Jacket?
A: Field Jackets are best worn as casual attire, although there are a few designs that could pass to be acceptable enough for more semi-formal occasions. Bulkier field coats are perfect for winter and can accommodate many inner layers comfortably and your slimmer fit designs can be worn similar to a blazer over a thin shirt during summer months. Pair your jacket with a stylish pair of blue jeans for day-to-day casual attire or with a traditional pair of khakis for outdoor shenanigans.

Q: Are Field Jackets waterproof?
A: Authentic military jackets are water resistant, however, more modern designs that have been crafted for fashion purposes do not always include this feature. The more traditional the field coat the more likely it has been made from canvas or water-repellent fabric – best to check the garment's label before making your purchase.
Q: How to care for a Field Jacket?
A: Your first step is to check the garment's label for direction and recommended cleaning instructions. Many designs are conveniently machine washable and will cope with your regular washing detergent. If this is not the case, we recommend that you gently brush the jacket so that its free from dust and debris and then do a bit of spot cleaning with a mixture of lukewarm water and a gentle detergent in between dry-cleaning sessions. Store your field jacket in a wardrobe that has good ventilation and is free from insects, mold, and mildew.
Sources:
M-1965 field jacket - Wikipedia