The Absolute Best Waxed Canvas Jackets For Men In 2022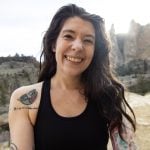 This product guide was written by Tuesday Kirby Kahl
Last Updated
April 20, 2022
Tuesday Kirby Kahl
Tuesday Kirby Kahl is a contributor at Gear Hungry. Her fierce love for the outdoors fuels everything she does. Her professional pursuits include writing, creating art, and photography. These professional passions allow her the time to live life outside as a rock climber, skier, runner, backpacker, paddle boarder, swimmer, and explorer. When Kirby is indoors, she enjoys tea, whisky, old films, cooking, and baking. Her product testing and feedback have shaped the design of everything from climbing shoes to candles.
GearHungry may earn a small commission from affiliate links in this article.
Learn more
If you're like most men, you probably have a decent collection of jackets hanging in your closet. Some are on the dressier side, while others are more for recreational or casual wear. Then there are jackets that both look good and protect you from the elements. Waxed canvas jackets for men fall into this category.
One of the major benefits of a waxed canvas jacket is that it offers protection from wind and rain with a stylish flair compared to a standard rain jacket. It's hard to imagine such a practical and functional jacket can be so rugged and stylish, but this style pulls it off brilliantly. The best waxed canvas jackets for men are as tough and durable as the men wearing them and since they come in a variety of styles and colors, they're great for a variety of situations.
To help you find your next great waxed canvas jacket, we've rounded up some of the most rugged, warm and stylish waxed cotton jackets and coats the market has to offer. Grab one of these awesome jackets below and brave the elements in style.
The Best Waxed Canvas Jacket for Men
Buck Mason Waxed Canvas Highland Jacket
Our top choice in our lineup of the best waxed jackets is the Buck Mason Waxed Canvas Highland Jacket. This incredibly warm wool blanket-lined long-haul jacket was crafted with incredible attention to detail and features that will make you swoon. I love the boxy fit on this jacket, and the sizing makes it a great choice for both men and women. I wore it all over Portland and got plenty of compliments. Given that where I live is rainy six months out of the year, I need clothing that is weather-resistant and the dry-waxed canvas exterior fought off the dreary drizzle while keeping me nice and toasty.
Buck Mason truly went above and beyond, the attention to detail really shines through in the sourcing of the heavyweight 14 ounce canvas in Scotland, the courdoroy detailing in the collars and cuffs and wool blanket interior that is surprisingly soft on the skin. The button up closure gives it a fashionable look and allows you to change the way you wear it.
Key Features:
Halley Stevenson water-repellent dry-waxed canvas
Corduroy details throughout
Blanket lined
Heavy 14-ounce canvas from Scotland
Dry waxed finish
Specification:
Brand

Buck Mason

Model

6'0

Weight

175 lbs
Orvis Heritage Field Coat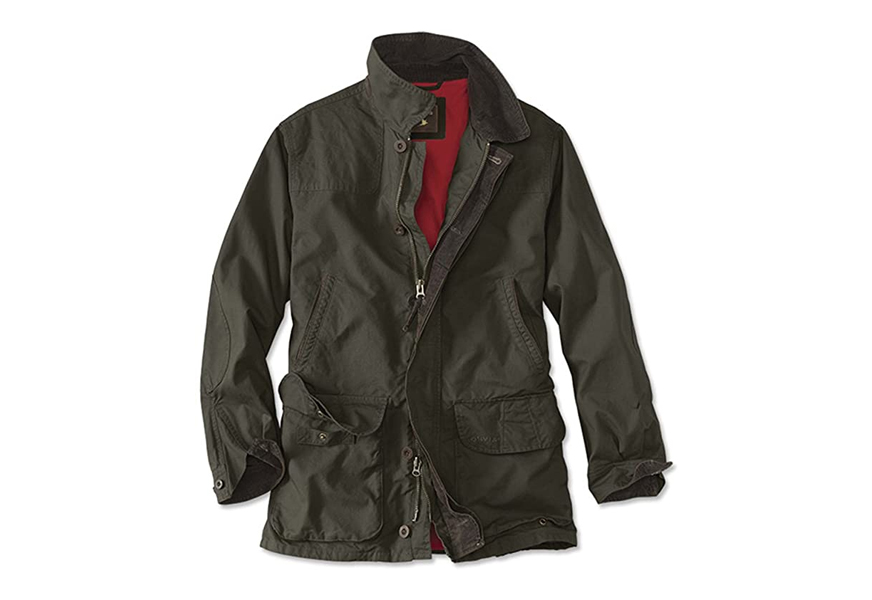 This vintage-looking Orvis Heritage Field Coat is the perfect classic field coat for everyday wear. It's ideal for camping, hiking, or even watching an outdoor football game. This dry-waxed cotton canvas coat can stand up to the elements to protect you from the wind and rain so you can enjoy the great outdoors in any weather.
This is a modern take on an old classic waxed canvas jacket and has plenty of pockets for your everyday items or to keep your hands warm, including two upper zip pockets, and two snap-close lower pockets for essentials. City or country, this is a field jacket that will go anywhere you want it to.
Key Features:
Lower snap pockets
Upper handwarmer pockets
Gusseted underarm panels
Full zippered front
Rear-entry lined waterproof game bag
Barbour Classic Bedale Wax Jacket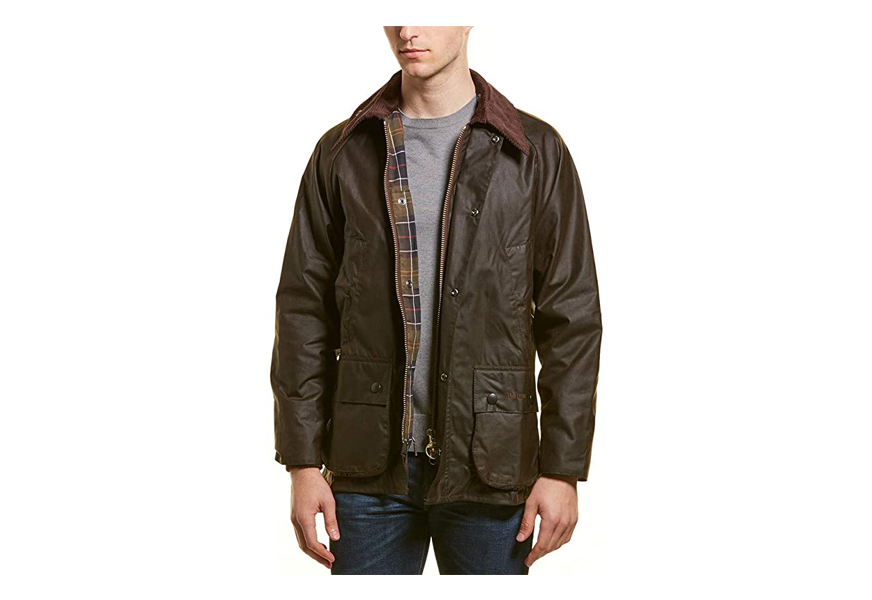 Staying warm and dry has never been easier or more on-trend than with this stunning waxed cotton jacket from Barbour. Their Classic Bedale Wax Jacket has a 100% waxed cotton outer with a 100% cotton tartan lining that is soft and warm. It features a signature corduroy collar and a 2-way front zipper to keep you snugly enclosed.
What makes this jacket ideal for the rugged man is the hip length and the relaxed fit. Originally introduced for riding, this comfortable jacket is ideal for the country but also for the town. You can keep your hands from freezing with two moleskin-lined handwarmer pockets. You'll love wearing this jacket for style and really appreciate the warmth it offers. And for more cool jackets suitable for many occasions, check out our selection of the best suede jackets.
Key Features:
100% waxed cotton outer
100% cotton tartan lining
Signature corduroy collar
Hip length & relaxed fit
2-way front zipper
2 moleskin-lined handwarmer pockets
Specification:
Brand

Barbour

Model

MWX0010OL71-34

Weight

2.55 Pounds
Outback Trading Men's Pathfinder Jacket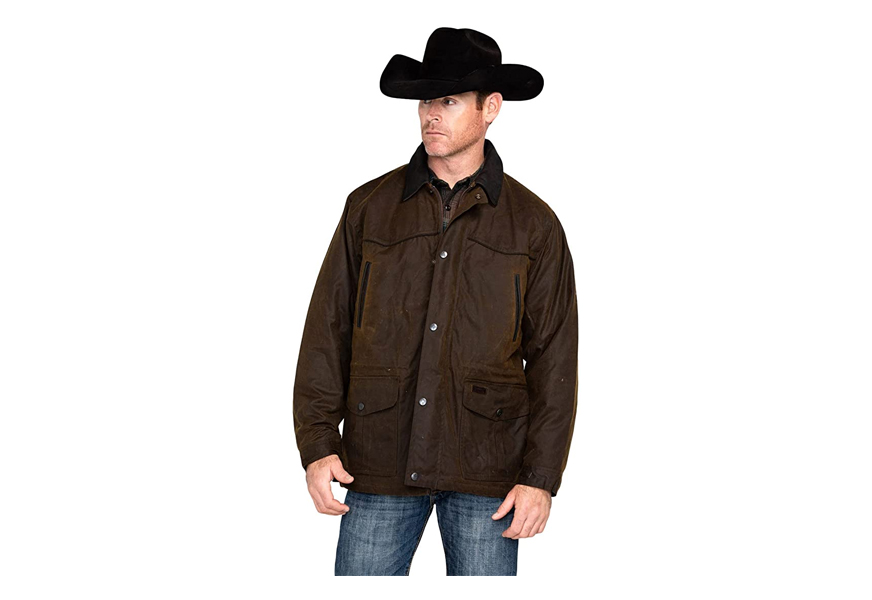 Be the master of your own domain when you step out in this Outback Men's Pathfinder Jacket. This outstanding waxed canvas coat is made with 100% oilskin with cotton fabric infused with oil to give it a protective outer coating. The inner lining of this super-warm coat features polar fleece with insulating properties. The entire coat has been designed for warmth and comfort without compromising on style.
This rancher-style waxed canvas coat has a nubuck leather collar to add a sleek element to the coat, and the front has a durable and breathable two-way zipper and a snap-over storm pocket to keep you completely protected from the cold. The added feature of an adjustable drawstring waist seals the warmth close to your body, making this the perfect waxed canvas winter jacket.
Key Features:
Cotton fabric infused with waterproof oilskin
Rancher style with nubuck leather collar
Insulated polar-fleece lining
Multiple pockets
Sturdy zipper & button closure
Specification:
Brand

Outback

Model

2707

Weight

4.06 Pounds
Walker & Hawkes Unpadded Countrywear Hunting Waxed Coat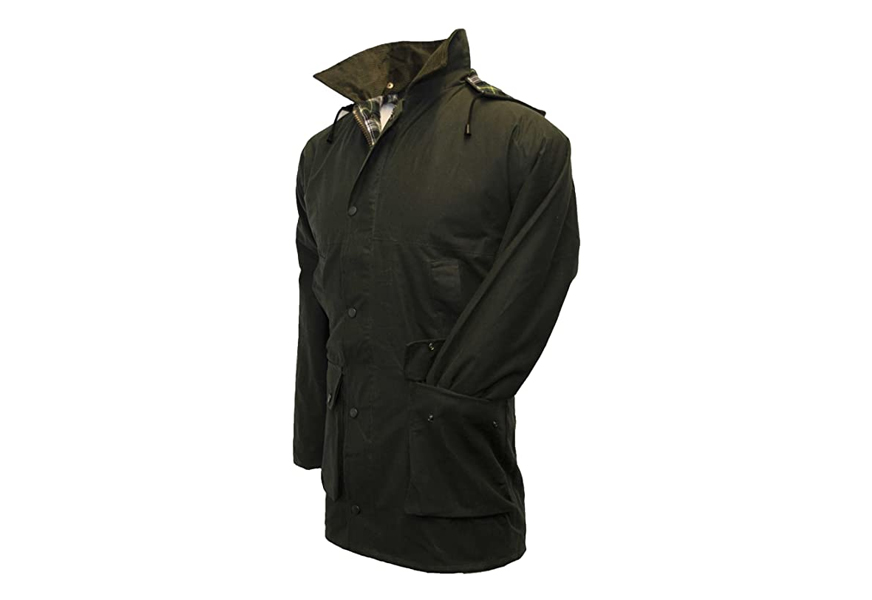 Not all waxed canvas jackets need to be bulky. An unpadded wax jacket or coat on a cool summer night like the Walker & Hawkes Countrywear Hunting Waxed Coat gives you just enough protection and warmth without the bulk. The outer layer of this coat is 100% waxed cotton with a soft, plaid lining. The waterproof waxed exterior makes this a superb coat for hunting, an excellent addition to your hiking wear, and any other outdoor activity you want to take part in.
For your convenience, this waxed canvas jacket comes with an optional studded hood. Keep all your personal items with you in multiple pockets or use the waist pockets to keep your hands warm. Here is our list of the top fleece jackets on the market that will keep you warm and protected as well.
Key Features:
100% waxed cotton
Plaid lining
2-way heavy-duty zipper
Waterproof exterior
Optional studded hood
Multiple pockets
Specification:
Brand

Walker & Hawkes

Model

MNSWAXUJKTOXS WH
Indian Motorcycle Men's Waxed Cotton Riding Jacket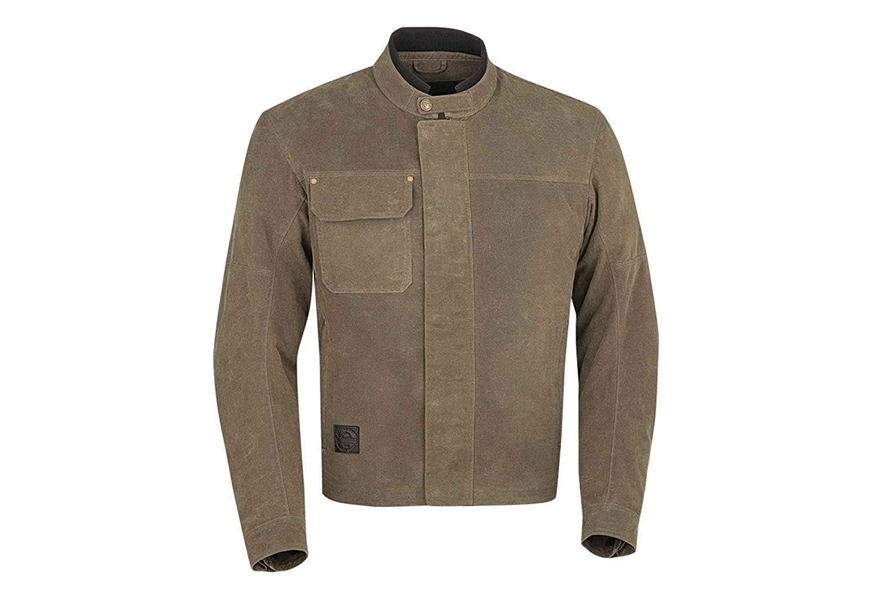 The best men's waxed canvas jackets are the ones that look really cool, but they are also very functional. Indian Motorcycle Men's Waxed Cotton Riding Jacket is a stunning mountain jacket that is perfect for day or night wear and is rugged and durable for work or play. It features a rib-knit collar to seal in your warmth, and the fixed linings and protectors will keep you warmer than you thought possible from a jacket this slim.
High-quality hardware in the form of buttons and the zipper add to the durability of this stunning motorcycle jacket, and it will quickly become the jacket you wear with almost everything. It even features a flap pocket on the chest to keep small valuables close to you.
Key Features:
Waxed cotton jacket
Rib-knit collar for comfort
Fixed lining and protectors
High-quality hardware
Rugged and durable for everyday
WenVen Men's Casual Canvas Cotton Military Lapel Jacket
This budget-friendly stretch canvas waxed jacket isn't lined with fleece and doesn't feature a lambskin lining or anything of the sort which allows it to be worn in both hot or cold weather. In colder weather, you can layer underneath and rely on the waxed exterior to act as protection from the elements. When it warms up, you still get rugged weatherproofing and sun protection without overheating.
This casual wear jacket also features a heavy duty brass zipper that won't give out, three pockets and a classic lapel collar. With a classic lapel collar and adjustable snap cuffs, this is the perfect practical coat for every day. We love the affordable price tag as well.
Key Features:
Cotton twill coat
Lapel collar, adjustable snap cuffs
Heavy-duty brass zipper
One zippered pocket
Two snap pockets
Specification:
Brand

WenVen

Model

WVA0685

Weight

1.92 Pounds
Carhartt Men's Bartlett Jacket
Carhartt comes with a lot of brand recognition in the workwear and outdoors world. This brand specializes in durable clothing and it's a no-brainer that they'd craft an excellent trucker jacket too. This model comes with a water resistant waxed cotton exterior and a sherpa-lined interior for the ultimate jacket in terms of warmth and durability.
We also love the inclusive sizing, which ranges up to 5X Large, so that everyone, no matter their size, can love this cotton waxed mountain jacket. Other things we like about this Carhartt jacket are the inner rib-knit cuff, reinforced hood brim, cordura reinforcements, waist pockets and dual front flap pocket. One of the best waxed jackets in this price range!
Key Features:
12-ounce, cotton ring-spun washed duck
Sherpa lining
Zipper closure
Pull string adjustable hood
Inclusive sizing
Specification:
Brand

Carhartt

Model

103826

Weight

3.7 Pounds
Flint And Tinder Flannel-Lined Waxed Trucker Jacket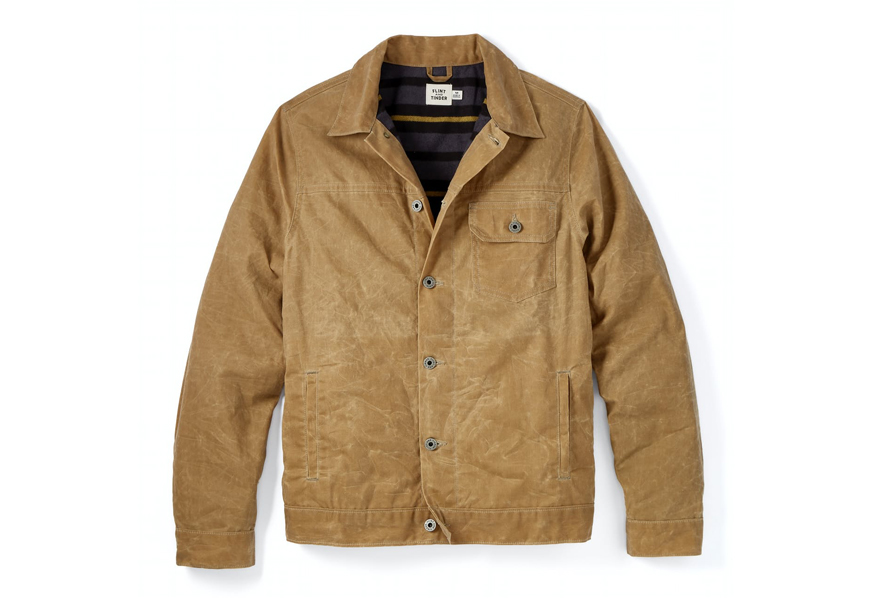 The Flint And Tinder flannel-lined waxed trucker jacket ticks all the right boxes: it's weather-resistant, comfortable, warm and stylish. A combination of rugged waxed sailcloth (from New Jersey) and soft, cozy flannel liner makes this the perfect outdoor jacket for most outdoor adventures whether you work or play.
The jacket comes equipped with multiple pockets, including two welt hand pockets, an interior media pocket, and button flap chest pocket, so there's plenty of space both for your hands and essentials. Best of all, its top-quality textile ages like fine wine – the more you wear it, the better it's going to look. It's truly a thing of beauty and we also like that it's 100% made in the USA.
Key Features:
Weather-resistant sailcloth waxed on both sided
Fully lined with a soft, striped blanket lining
Interior media pocket
Chest pocket, two welt hand pockets
Antique metal buttons
Waxed Canvas Jacket For Men Buying Guide
Why Trust Us
Portland seems to specialize in the intersection of fashion-meets-durability, especially when water is involved. You can't live in a city where it rains six months out of the year without a solid jacket or four. Additionally, most of Portland's residents are at least casually outdoorsy and enjoy hikes or walks around town, even when the weather isn't at its best. Portland also loves style and fashion, so if we want to be outdoors and we want to be stylish, the intersection of those two is key. Waxed canvas jackets double as extra protection from rain and wind while remaining effortlessly cool. They provide warmth in frigid temperatures too (perfect for the six months of cold temps) many up the ante by adding two waist pockets or other easy-access pockets with lined materials to keep your hands warm.
Who This Is For
This guide is for any man looking for the best waxed canvas jacket or coat. These jackets are also often called a mountain jacket, a waxed trucker jacket, or occasionally, they can be lumped in with field jackets. These riding jackets and other waxed jackets by any name, provide waxed material exteriors that are water-resistant allowing a stylish man a stylish jacket with built-in weatherproofing.
How We Picked
Selecting the best waxed jackets started with my personal favorite from Buck Mason. From there I worked with our research and testing team to find their favorites and then looked for best sellers and tried and true favorites.
How We Tested
There aren't many other ways to test a jacket other than wearing it! So, that's exactly what I did. I wore this jacket in the wind and the cold in the late winter months in Portland, Seattle and Bend.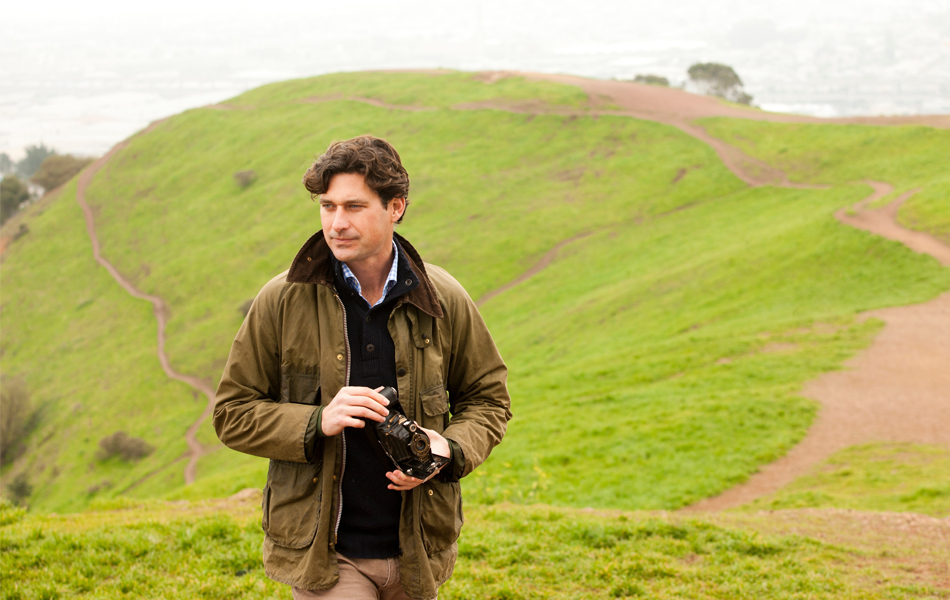 Features To Look For In Waxed Canvas Jackets For Men
Style – Most waxed canvas jackets are similar in style; however, there are some subtle differences to look out for. Some of the more popular styles include trucker style, biker style, and field or military style. Much of the differences come down to length and the type of fit. The good news with waxed canvas jackets is that they pretty much look good on anyone, so this really is a jacket type you can't go wrong with.
Base material – The best waxed canvas jackets for men are made from waxed cotton with an oiled or waxed coating. The waxed cotton exterior is water-resistant or water repellent, and the purpose is to prevent the moisture from rain or snow from saturating your jacket. This means you stay dry and warm as well. Other base materials can include double-layer nylon, sailcloth, or oilskin. All of these come under the category of canvas, but the only thing you really need to focus on is that your waxed canvas jacket keeps you dry.
Durability – Waxed canvas jackets are designed to keep the wearer dry and this makes them perfect for outdoor wear. Whether you are a spectator or someone who likes to go fishing, hunting, or hiking, keeping warm is essential, especially in the colder months. You don't want to be the guy sitting back while everyone else has fun. The material of these jackets is usually a little thicker than many others, which also means they can handle a bit of rough play. These types of jackets are also of higher quality, and many of them don't come cheap. If you're going to invest in one of the best waxed jackets, you want it to last for at least a few seasons.
Fit – The best-fitting jackets should be long enough to cover your hips but not so long as to constrict your movements. The sleeves should come all the way to your wrist and should fit well across the shoulders. Keep in mind that if you live in a cooler climate, you will most likely be adding a few extra bulky layers of clothing, and this may mean you will need to consider getting a size bigger than you usually get. Not too much bigger, though. A jacket that is too big will feel like a bulky tent, while one that is too small or too tight will make you feel awkward. A jacket that is too small is almost impossible to zip up for maximum comfort.
Comfort – Traditional canvas has a reputation for being thick and relatively stiff. This could result in a not-so-comfortable jacket. Fortunately, technology has made it possible to use a waxed canvas that is not only comfortable but will still have the water-repellent properties that are so desirable with these types of jackets. The lining of a waxed canvas jacket should be made of soft fleecy materials that feel great on your skin while also keeping you warm. Comfort also comes with having a jacket that fits, so make sure your jacket is neither too big nor too small.
Collar – Most waxed canvas jackets have a collar, and this gives them a vintage look. However, there should be an element of comfort to the collar, especially if you want to pull up your collar to act as a buffer against the wind. It helps to elevate the comfort of a collar with a fleece or wool lining. If collars aren't your thing, some of the biker models of waxed canvas jackets do not have a collar. That's fine too. Choose what you are most comfortable with.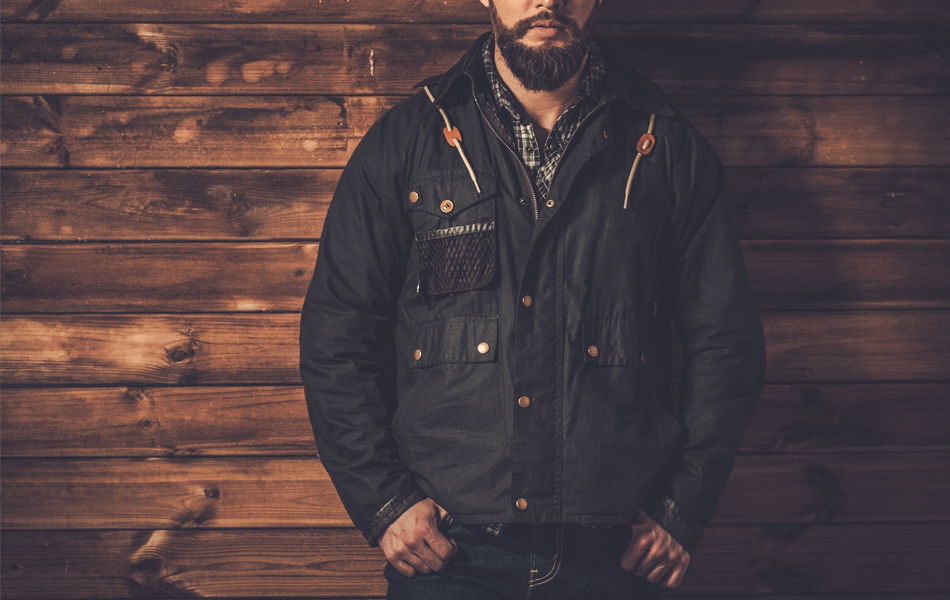 Waxed Canvas Jacket For Men FAQ
Q: What is a waxed canvas jacket?
A: A waxed canvas jacket has an outer layer jacket that is made from sturdy cotton. This cotton is treated with wax to give the jacket a protective coating that is durable. It's hard to imagine that something stylish has been around for several centuries, but the earliest waxed canvas jackets were first made and worn in the 1500s. In those earlier days, cotton clothing would not last as long as it should have, but with the infusion of wax into the material, waxed canvas was born and has been highly prized as a clothing fabric ever since.
Q: Can you wax any canvas jacket?
A: While there is no denying that a waxed canvas jacket is a long-lasting item of clothing, you might want to hold off on waxing all of your clothing. Some fabrics are a lot more delicate than others, so it is probably best to leave the waxing for canvas-like materials such as sailcloth, denim, or hefty cotton and synthetics. This isn't really a job for an amateur, so if you are new to this, it's probably a better idea to start with an old jacket or pair of jeans that you aren't overly attached to.
Q: How do you break in a waxed canvas jacket?
A: One of the best things about a waxed canvas jacket is that it starts to look better with time. A brand-new jacket may look neat, but a waxed canvas jacket that is worn often takes on a bit of a vintage look. If you have a new waxed canvas jacket that you'd like to have a broken-in or aged look, you can do this by rubbing fine sandpaper in the areas you want to look worn.
If you're a heavy sleeper, wear your jacket to bed for a few nights; this is often the fastest way to break in a waxed canvas jacket. Otherwise, you may need to exercise a little patience and wear your mountain jacket as often as you can.
Q: How long does a waxed canvas jacket last?
A: Outstanding durability is one of the biggest selling points of a waxed mountain jacket. With the right care, these fantastic jackets can last up to 20 years or more. All you need to do to prolong your trucker jacket's life is re-wax it at least once a year, keep it clean and ensure it dries completely after each wash. Keeping your waxed canvas jacket clean is important, but you don't want to be washing your jacket daily. If you do get it a little dirty, spot clean your jacket and then hang it up and let your jacket air dry. It's also important to store your trucker jacket properly, so avoid tossing it on a shelf somewhere. It will retain its shape better and last longer if you hang it on a proper hanger in your closet.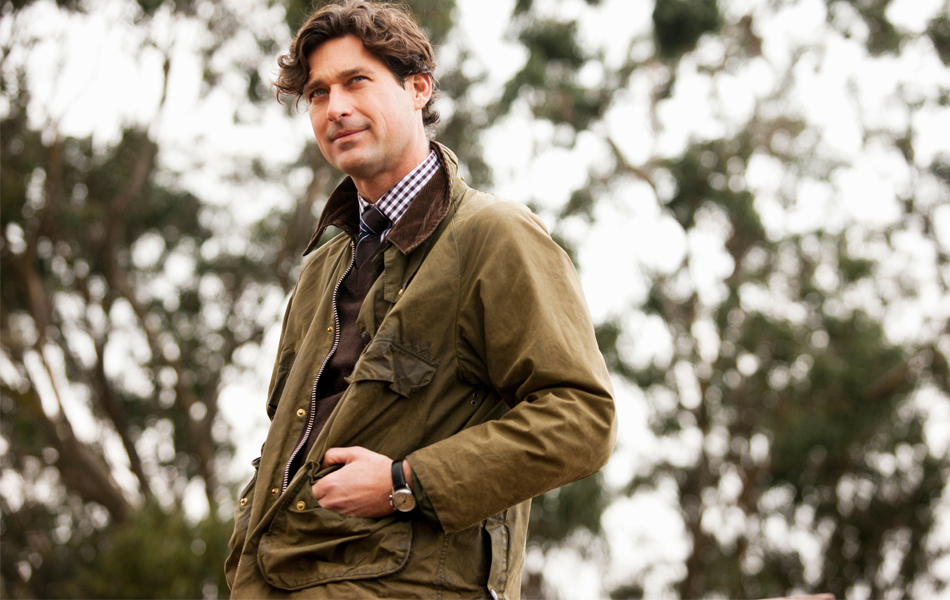 Q: How should I care for a waxed canvas jacket?
A: Thicker cotton fabrics like those used to make waxed canvas jackets need to be properly cared for. Rule number one with this type of material is not to wash in warm or hot water as this will remove the protective wax coating. Use cold water only and a mild detergent. A bar of laundry soap is often the best choice. Gently rub on the affected areas, use a sponge to remove as much soap and grime as you can, and rinse thoroughly. Anytime your men's canvas jacket gets wet, ensure you hang it up to let your jacket dry overnight.
Q: When should I rewax my waxed canvas jacket?
A: You'll know when it's time to rewax your waxed canvas jacket, especially if you wear it regularly. Frequent wearing will result in areas where the wax will no longer be present. This area will usually look lighter than other parts of the jacket. It's also worth noting that if you don't wear your jacket regularly, you will still need to check your waxed canvas jacket and treat it with a rewaxing.
Q: How waterproof is waxed canvas?
A: If your waxed canvas jacket has been properly treated with wax, it should be 100% waterproof. One of the main reasons for this is that the wax doesn't just coat the cotton fibers of the cotton or cotton blend fabric; it fills the fibers and gaps with the wax. The most important thing to do to keep your waxed canvas jacket waterproof is to hang it up to dry after coming indoors from the rain and spot clean any dirt and grime as soon as possible. Also, ensure it is rewaxed regularly, especially if you wear your jacket frequently to ensure it always has a durable water repellent finish. If you're not sure how to rewax a waxed canvas jacket, have it done by a professional who has experience in waxing a men's waxed canvas jacket.
Sources:
How To Wax Your Clothing And Gear - Instructables
Sign Up Now
GET THE VERY BEST OF GEARHUNGRY STRAIGHT TO YOUR INBOX