Best Shirt Jackets in 2022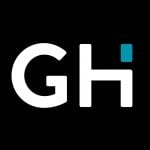 This product guide was written by GearHungry Staff
Last Updated
November 23, 2020
GearHungry Staff
GearHungry Staff posts are a compilation of work by various members of our editorial team. We update old articles regularly to provide you the most current information. You can learn more about our staff
here
.
GearHungry may earn a small commission from affiliate links in this article.
Learn more
With winter rapidly approaching, it's time to dig out your cold-weather clothing and start planning your outfits for the duration of the season. Investing in a new jacket is an excellent way to freshen up your wardrobe as well as boost your self-confidence. Today we are going to be looking at shirt jackets. These are a perfect addition to any wardrobe and are ideal for men who prize a rugged look, want to feel like a lumberjack while out in the woods, or just enjoy some good flannel. Shirt jackets have the added benefit of being incredibly comfortable. We aren't exaggerating when we say some of the jackets listed feel like you are wearing a cloud.
A shirt jacket is a jacket designed to look like a shirt; they are very warm, can look casual or formal depending on the style you have chosen, and add a nice touch of flair to your wardrobe. Many shirt jackets will feature the sort of plaid flannel design so often associated with autumn and the winter months, so you will not only be dressed for the weather but also the season.
We've gathered a selection of some of the best shirt jackets on the market. You will recognize several well-known brands, some of which may surprise you. Settle down and have a read through our list for some fashion inspiration.
The Best Shirt Jacket
Legendary Whitetails Hooded Flannel Shirt Jacket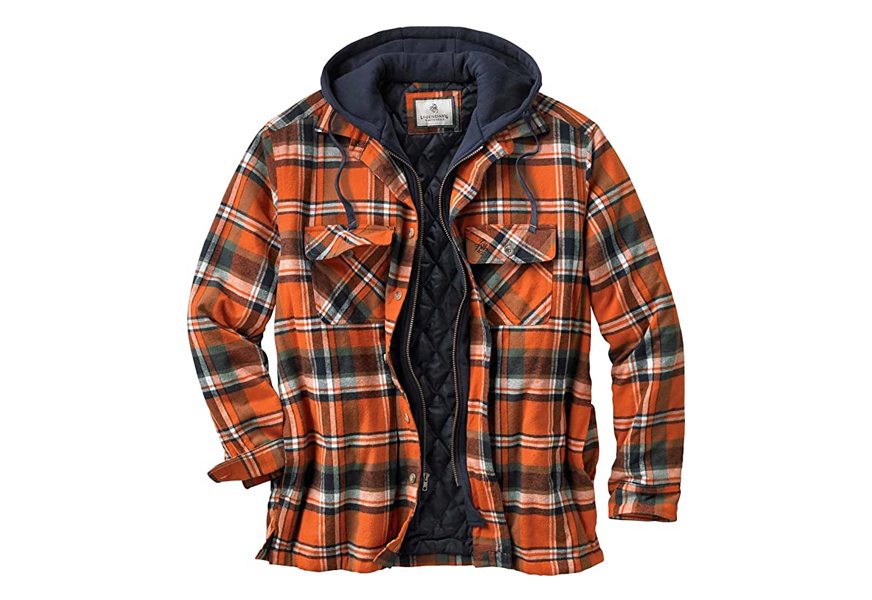 Our Best Choice selection today is a flannel shirt jacket that comes from Legendary Whitetails. Legendary Whitetails is known for producing high-quality shirts and jackets, and this shirt jacket is no exception. The body features a mix of cotton and polyester. The quilted satin interior is comfortable and ideal for fall. The hood is polyester and double-lined with high-quality fleece, which will keep your ears nice and warm in the colder months.
Legendary Whitetails Hooded Flannel Shirt Jacket will also keep you dry in the event of a soft drizzle or a heavier rainfall, and it will keep your hair and ears protected from high winds. You can also keep your hands warm in the side pockets. This quilted shirt jacket is also machine washable, so if your jacket needs a refresh, you can throw it in your washer, and it won't be any worse off.
Key Features:
Machine washable
Satin lining
Zip closure
Warm pockets
Comfortable
Specification:
Brand

Legendary Whitetails

Model

6575 TMPL SML

Weight

1.84 Pounds
ZENTHACE Sherpa Lined Plaid Shirt Jacket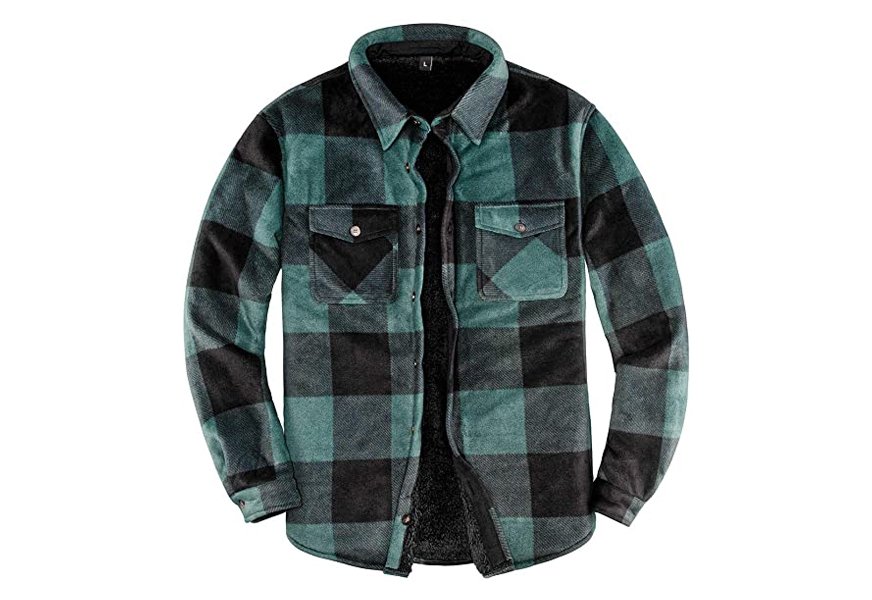 Some people are not fans of zippers, and we understand why. They can get caught on things and are prone to breaking, which is not only a hassle to repair but can also lead to uncomfortable situations. This ZENTHACE Sherpa Lined Plaid Shirt Jacket comes with buttons for easy and straightforward closure as the days grow colder. Speaking of colder days, you will probably be keen to know that this jacket features soft, warm Sherpa lining. You'll find the cushy lining not only in the body but in the sleeves too.
You can also keep your belongings handy with the two side slit pockets, or you can use them to warm up your hands. Not only does this Sherpa-lined jacket offer superior warmth, but the buttoned cuffs offer a sporty look and make a perfect accessory for any weather. If it starts to look a little worse for wear, you can wash it in a standard washer too.
For some iconic wardrobe items that will upgrade every man's style, check out our guide on the best trucker jackets. 
Key Features:
Machine washable
Comfortable
Sporty look
Fleece lining
Lots of pockets
Specification:
Brand

ZENTHACE

Model

Z190629

Weight

1.41 Pounds
Carhartt Men's Rugged Flex Rigby Shirt Jacket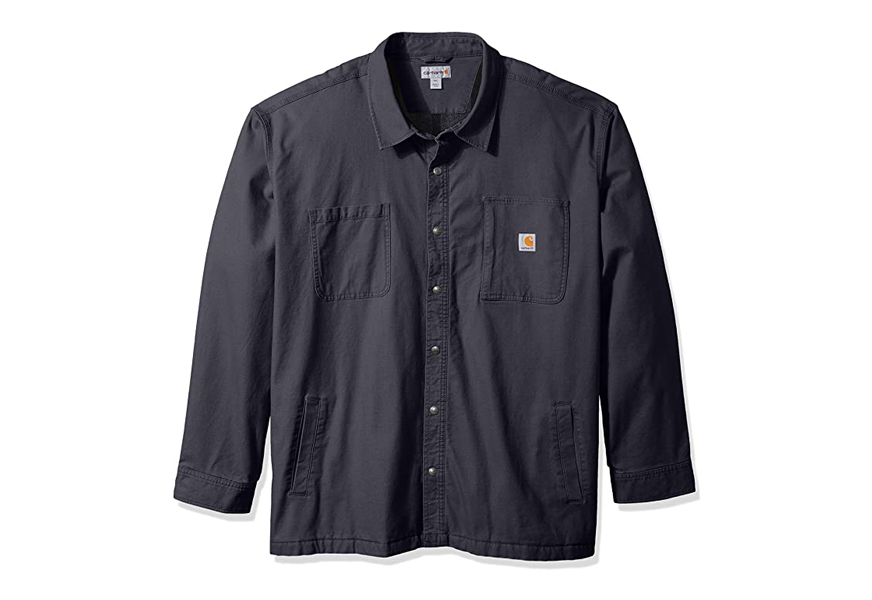 Carhartt is best known for its durable workwear. They use the highest quality fabrics available to them to achieve this, and you won't be surprised to find one of their jackets on this list. After all, you're probably looking for something practical and efficient, maybe something that adds a rugged edge to your look.
Well, the relaxed-fit Carhartt Men's Rugged Flex Rigby Shirt Jacket features rugged flex technology for ease of movement. But of course, this is not the only thing about this cool-looking Carhartt jacket. It has a printed fleece lining. As we said, this is a practical jacket, ideal for wearing in any weather. This fleece-lined shirt jacket also features a zipper closure for an added guard against the cold winds of winter.
Key Features:
Fleece lining
Machine washable
Zipper closure
Relaxed fit
Rugged flex technology
Specification:
Brand

Carhartt

Model

102851-253

Weight

2.1 Pounds
Gioberti Soft Twill Shirt Jacket With Flannel Lining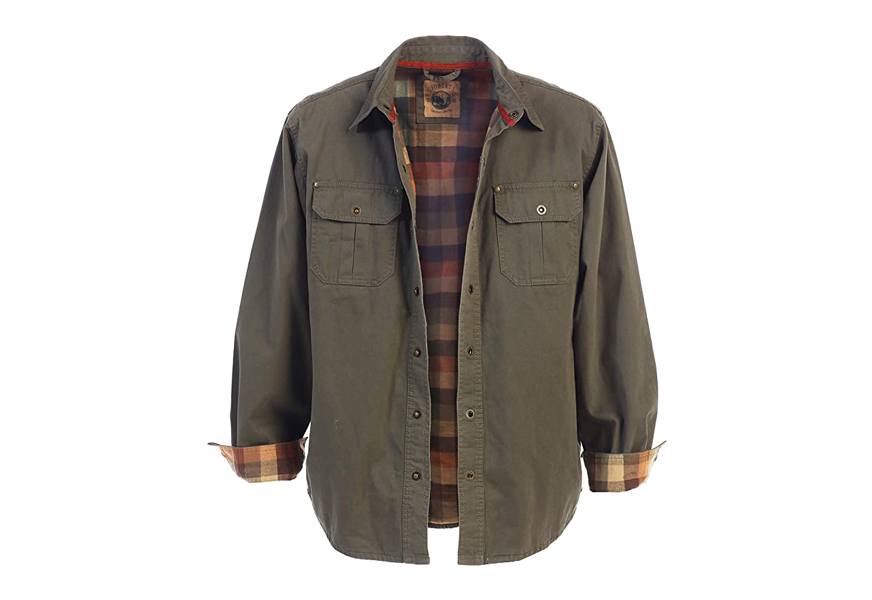 For readers who prefer their jackets on the lighter side while still offering protection against the cold and the rain, we suggest this dashing number by Gioberti. The interior lining is a high-quality flannel for a lightweight but efficiently warm measure of insulation.
Gioberti Soft Twill Shirt Jacket With Flannel Lining offers a relaxed fit, making it ideal for all manner of activities, although it is best suited for short hikes and late-season fishing. Overall, we suggest getting this insulated shirt jacket based on the level of comfort it provides. There are plenty of other features to consider as well, such as the snap-buttons. These make it so much easier to close up than using a zipper that can stick, or buttons with have the unfortunate downside of breaking off. There are two side pockets and one inner pocket with a Velcro seal for additional security. 
Here are some of the top bomber jackets on the market you may like. Don't miss them.
Key Features:
Button closure
Good-sized pockets
Solid cotton fabric
Comfortable
Ideal for outdoor use
Specification:
Brand

Gioberti

Model

CJ-97:BK-S

Weight

1.72 Pounds
CQR Men's Flannel Lined Shirt Jackets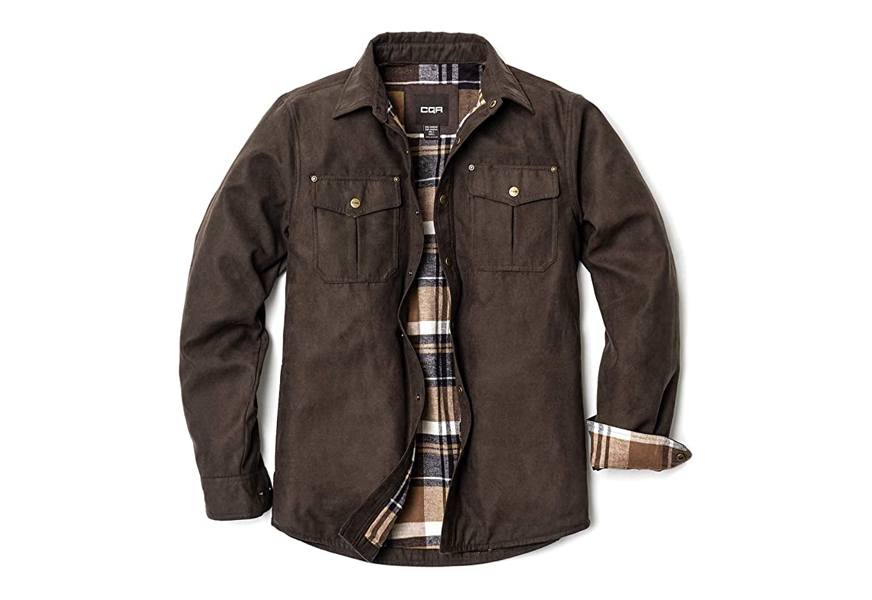 As the cold weather draws near and the days get darker in the winter months, you are probably looking for a weatherproof jacket that is comfortable, practical, and suitable for the changing weather. Well, this quintessential winter jacket by CQR checks all of those boxes and many more.
Soft and durable, it does not compromise on style to keep out the cold. The naturally soft inner lining is a mix of yarn and cotton. As we said before, CQR Men's Flannel Lined Shirt Jacket does not compromise on style. The faux suede outer not only looks good but is exceptionally durable. This jacket will pick up a few nicks and tears over the years you choose to wear it, but ultimately it will last you for several winters. There are plenty of pockets on this shirt jacket, which features a snap closure for an added security measure.
Key Features:
True to size
Plaid pattern
Weatherproof
Variations in width
Comfortable
Dickies Men's Quilted Shirt Jacket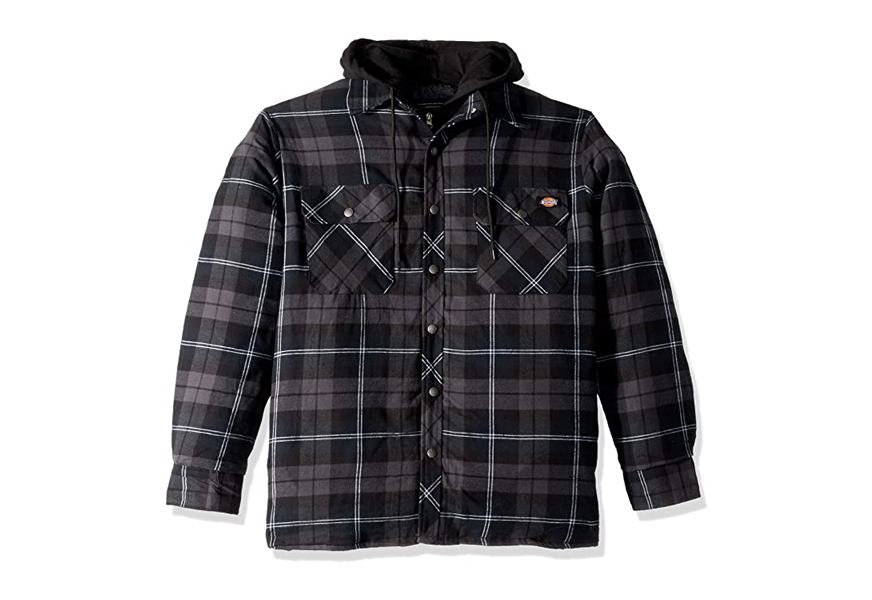 Made from a mix of cotton and polyester, this faux fleece-lined shirt jacket by Dickies will endure all conditions as the months grow colder. Dickies Men's Quilted Shirt Jacket also features a front zipper closure for additional protection against the cold. If you notice that it looks a little worse for wear as you continue to wear it, simply put it into your washing machine, and it will come out as clean as the day you bought it. In addition to all the other lovely features, this jacket also has a hood that will safeguard you against wind and rain as the seasons change.
Our guide on best-selling suede jackets offers more high-quality outwear. Take a moment to check them out.
Key Features:
Snap closure
Machine washable
Faux fleece lining
Two chest pockets
Comfortable
Specification:
Brand

Dickies

Model

TJ203

Weight

1.86 Pounds
Amazon Essentials Men's Long-Sleeve Polar Fleece Shirt Jacket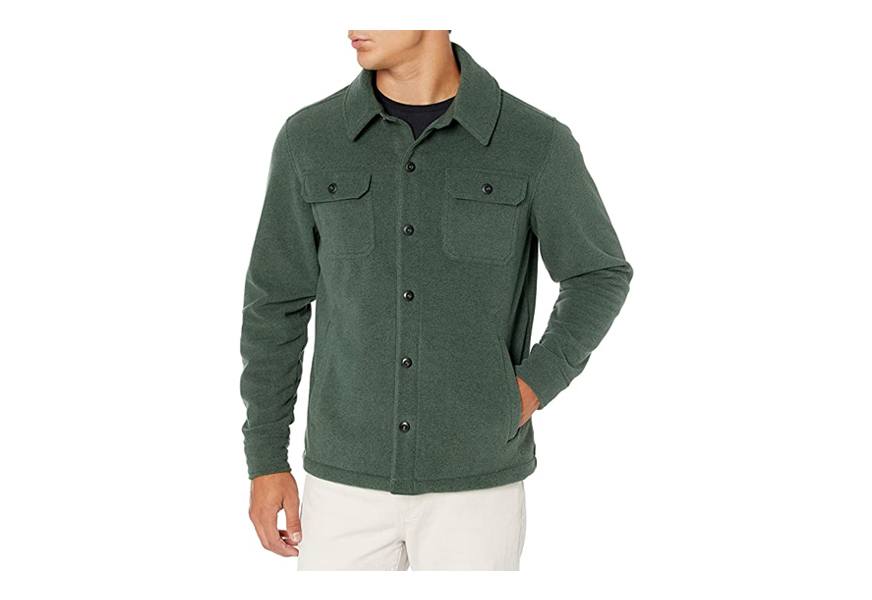 Amazon Essentials Men's Long-Sleeve Polar Fleece Shirt Jacket is an excellent choice for people who want something to see them through for the winter months until it warms up again. Amazon Essentials have designed this fleece jacket to get you through until the warmth of spring starts peaking over the horizon. We should also note that this shirt jacket is entirely machine washable and can be washed as many times as needed. It also isn't that heavy; it's a mid-weight fleece shirt jacket, so it's wonderfully warm but won't have you sweating bullets in the sunshine. For additional protection against the colder weather, the front is closed by some brilliant snap buttons, which close tightly and make your everyday winter routine much easier and more secure against the wind, snow, and rain. 
Key Features:
Machine washable
Midweight
Fleece lining
Button front
Comfortable and warm
Specification:
Brand

Amazon Essentials

Model

AE-M-F20-SHR-109

Weight

1.1 Pounds
Harley-Davidson Men's Shirt Jacket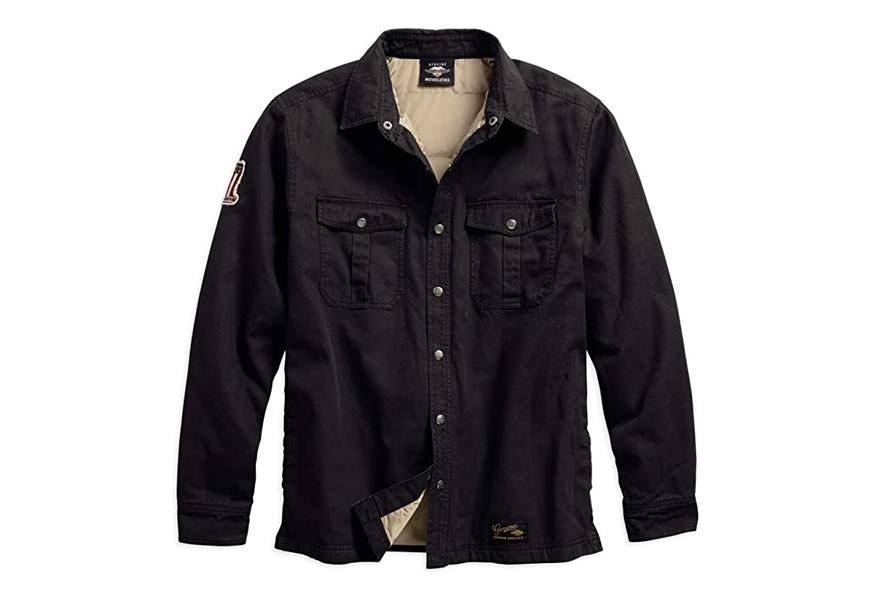 When you think of Harley-Davidson, you probably think of leather motorcycle jackets and big tough guys with an air of self-confidence that's intimidating yet intriguing. You probably would never expect to find a comfortable non-leather winter jacket in any of their online or brick-and-mortar stores. But, as you can see, this cotton canvas jacket is one of our favorite selections. It's warm, it's lightweight, and it looks so cool when you're wearing it, you feel like you're in a suburban biker gang. Harley-Davidson Men's Shirt Jacket also features a polyester taffeta lining, so it's not only warm but also incredibly comfortable. Wearing it, you will find the pockets super warm on your hands and secure with the snap closures. If the external pockets aren't enough, you could make extra use of the interior pocket. If you find it's getting a little worse for wear, we suggest hand washing, although it's better to wash it in a washing machine for extra peace of mind. 
Key Features:
Cotton canvas
Snap closure
Warm
Comfortable
Interior pocket
Specification:
Brand

Harley-Davidson

Weight

2.09 Pounds
Wrangler Men's Long Sleeve Sherpa Lined Denim Shirt Jacket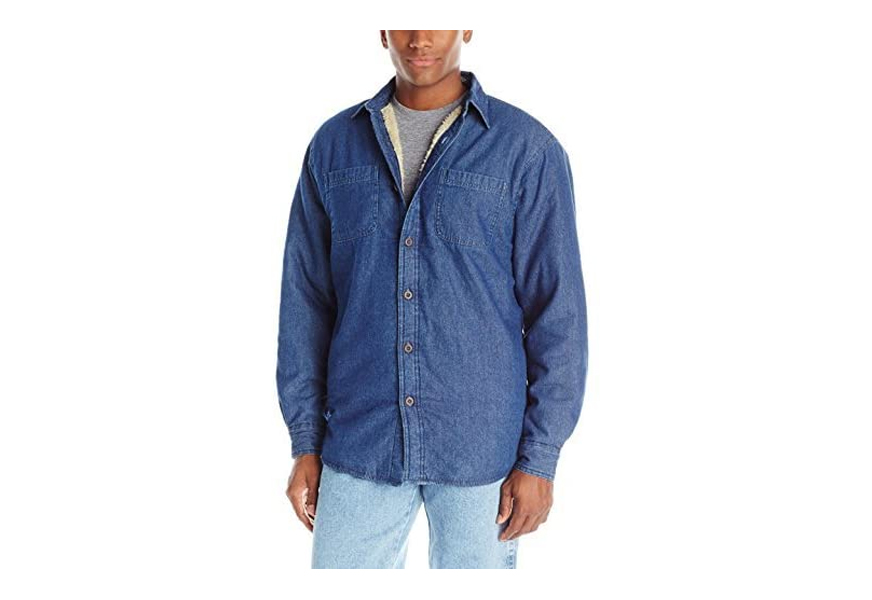 You probably already own a pair or two of Wrangler jeans, and you likely already know how comfortable they can be. Once you wear them into the contours of your body, they fit like a glove. That same principle applies to this men's shirt jacket, also by Wrangler.
Made from denim, the same material as the jeans they are so famous for, Wrangler Men's Long Sleeve Sherpa Lined Denim Shirt Jacket also features a button closure, which keeps the jacket fastened against cold weather. While this denim jacket is undeniably warm, it does not compromise with breathability with its thick Sherpa lining. This jacket is fit to wear with layers on colder days and can be worn in the summer to safeguard against the heat or as the perfect complement to your favorite pair of Wranglers in classic Canadian tuxedo style.
Key Features:
Button closure
Relaxed fit
Machine washable
Sherpa lining
Functional style
Specification:
Brand

Wrangler

Model

ZHCED0B

Weight

1.7 Pounds
Goodthreads Men's Flannel Shirt Jacket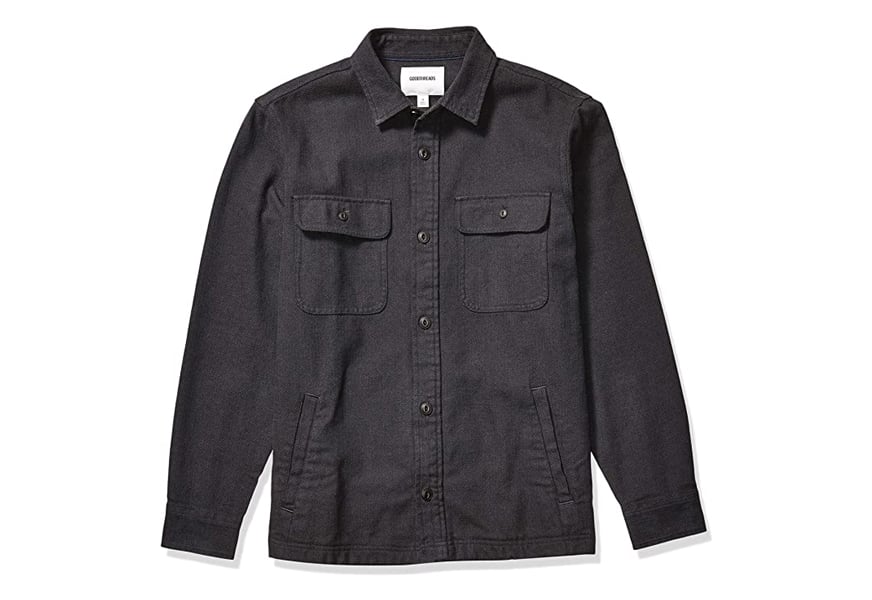 Of course, one of the most important aspects to look for when choosing a new jacket is pockets. Goodthreads Men's Heavyweight Flannel Shirt Jacket features two chest pockets, ideal for keeping your phone and wallet handy, and two side pockets to keep your hands nice and warm in cold weather. This jacket also has a button closure, which will keep you guarded against the cold as the winter months roll in. Once you slip this jacket on and see how good you look, you will wear it everywhere you go. It's suitable for all occasions and being heavyweight; there's more to keep you warm.
For the coldest months, be sure to browse our list of these reliable down jackets that are guaranteed to keep you warm.
Key Features:
Comfortable
Button closure
Machine washable
Multiple pockets
Crafted with care
Specification:
Brand

Goodthreads

Model

MGT25109

Weight

1.46 Pounds
Venado Concealed Carry Shirt Jacket For Men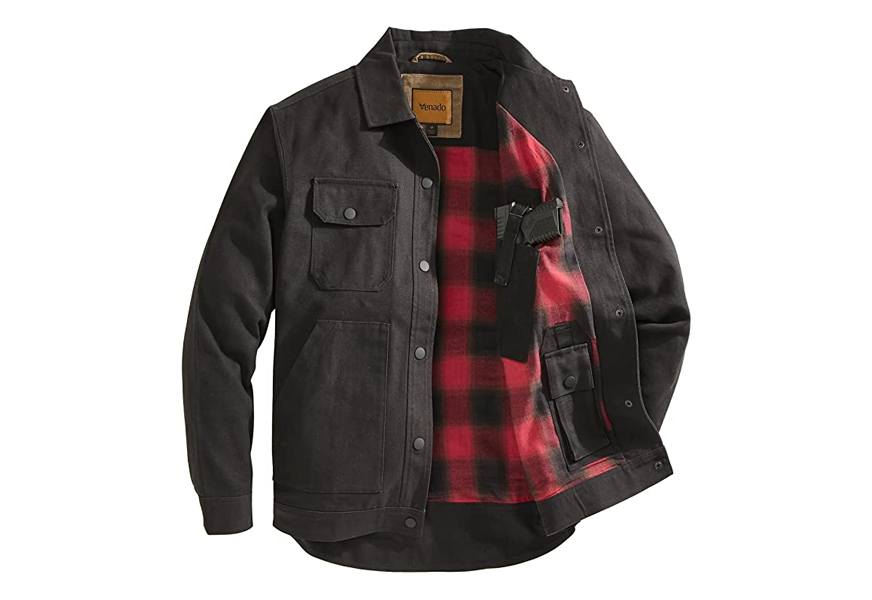 Venado Concealed Carry Shirt Jacket For Men is heavyweight, comfortable, and lined with soft flannel and plenty of interior pockets to store ammo or anything you need while traversing the wild. This jacket also has a snap closure to keep out the cold! You will not find your mobility limited. Venado designed this military shirt jacket with optimal shoulder movement, so you can access everything you need with no fewer limitations from the fabric. Got a lot to carry? No worries, you've got pockets galore on this bad boy — two on the chest with snap closure and two large front pockets also with snap closure. Everything you put in them will be safely stored until you need it. 
And for more stellar options for outdoor enthusiasts, be sure to read our comprehensive guide on top-rated field jackets.
Key Features:
Snap closure
Machine washable
Classic flannel
Secure pockets
Tactical
Specification:
Brand

Venado

Weight

2.51 Pounds
Levi's Men's Sherpa Lined Soft Shirt Jacket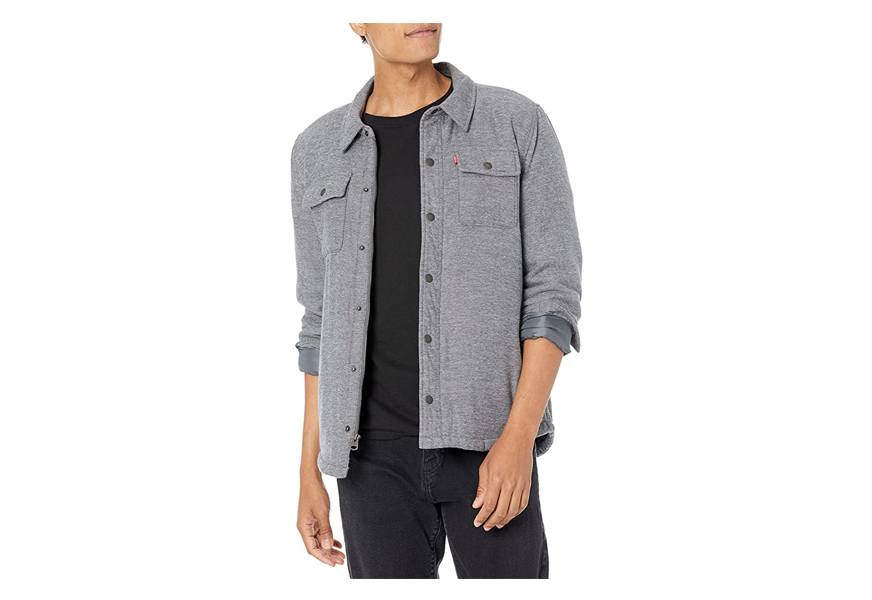 Yet another brand better known for their jeans than their jacket, you will be surprised by how warm and comfortable Levi's Men's Sherpa Lined Soft Shirt Jacket is. You probably own a pair of Levi's, so you already know the level of quality to expect. If you don't, let us paint you a picture of the comfort you will experience with this shirt jacket: it feels like your childhood pet is cuddling you on Christmas morning thanks to the warm, fluffy Sherpa lining. You've also got a dual closure system – a zipper, and several snap buttons. The zipper locks in the warmth and doesn't come undone, and the snap buttons keep the two chest flap pockets closed.
Additionally, there is a single interior welt pocket, also featuring snap closure. If you pick up one jacket from a brand you know and trust, make it this one. We are confident you will not be disappointed. If you notice it's looking a bit worse for wear or want it to look fresh for a special occasion, it's machine washable.
Key Features:
Zip and snap closure
Machine washable
Two chest pockets
Sherpa lining
Comfortable
Specification:
Brand

Levi's

Model

LM8RC507

Weight

1.99 Pounds
Shirt Jacket Buying Guide
Features To Look For In Shirt Jackets
Let's look at some of the features we recommend you consider before investing in a new shirt jacket.
Size - It's almost a rule of thumb that you should never buy anything without at least knowing your size. If you don't know your size but have a vague idea of what fits and what doesn't, that will work too. Jackets are designed to go over your top layer of clothing, so it would make sense to buy the size above what you would normally wear to accommodate additional layers.
Style - Jackets are, first and foremost, there to keep you warm. That being said, it's important to take the style of the jacket into account. Shirt jackets are designed to look casual, but you will find a few that have a more formal edge, suitable for business and pleasure. Think about the occasions you will wear this jacket too, and shop for a style which suits the general-purpose you want.
Material - You will need to consider several things when it comes to the material of choice. First, the 'shell,' or 'outer layer' of the jacket. This is the part exposed to the elements, so it's necessary to consider the weather in your part of the world. If you live somewhere likely to get a lot of rain and/or snow, look for a jacket with a polyester shell to keep off the rain. Next, look at the lining material. Sherpa lining is plush, soft, and fluffy, great for insulating and keeping you warm as the weather drips below freezing.
Meanwhile, you have jackets better suited to autumn and early winter with flannel lining. Finally, consider the type of closure you would prefer. Buttoned jackets are easy to fasten but aren't as easy as zippers, for instance.
Comfort - In many ways, this is the most crucial factor to consider when choosing a new jacket. Whatever you choose, you want to be as comfortable as possible, and this is determined by a combination of all the factors listed. If you don't like cotton wool shirt jackets, then a Sherpa-lined jacket probably won't be the most comfortable fit, and you would be best served by a flannel lining, for instance. You also want to feel comfortable with the style you have chosen, so don't be afraid to select a few in-store and try them on in the changing room to see what suits you best.
Fit - Of course, a jacket is nothing if it doesn't have the right fit. There are several types of fittings for jackets. For example, Skinny fit is designed to hug your body tightly and offer a more streamlined appearance. Regular fit should contour your body. A relaxed fit jacket is slightly larger, so if you usually wear a medium, it will typically be a couple of inches bigger to give you some more room for comfort. This would definitely be something to consider when thinking about what size you plan to get, as with skinny fit jackets, you might want to buy a size larger to avoid feeling constricted, for example.
Sign Up Now
GET THE VERY BEST OF GEARHUNGRY STRAIGHT TO YOUR INBOX