Swag Factor: The Best Bomber Jackets In 2022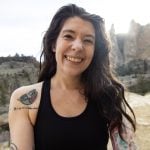 This product guide was written by Tuesday Kirby Kahl
Last Updated
August 1, 2022
Tuesday Kirby Kahl
Tuesday Kirby Kahl is a contributor at Gear Hungry. Her fierce love for the outdoors fuels everything she does. Her professional pursuits include writing, creating art, and photography. These professional passions allow her the time to live life outside as a rock climber, skier, runner, backpacker, paddle boarder, swimmer, and explorer. When Kirby is indoors, she enjoys tea, whisky, old films, cooking, and baking. Her product testing and feedback have shaped the design of everything from climbing shoes to candles.
GearHungry may earn a small commission from affiliate links in this article.
Learn more
The bomber jacket is a timeless style piece. Like the plain white t-shirt and the little black dress, it has always been 'in'. It's probably because it cuts a masculine figure on almost any man, with its cinched waist and broad shoulders. For women, it offers an edgy and laid-back look while making quite the statement piece. And because it's so versatile, the bomber jacket is the perfect middle ground between a jumper and a coat, which makes it a perfect option for spring and autumn or chilly evenings.
The bomber jacket was originally known as a flight jacket as it started its life as a must-have piece of military wear for pilots. In unpressured cabins temperatures could reach as low as -58ºF, so World War I and later World War II pilots needed thick and warm flight jackets.
Today, the bomber jacket has morphed from a singular design to a versatile jacket with plenty of variety to be found. From lightweight and smooth nylon windbreakers to richly textured leather jackets, there are so many styles to choose from it can be difficult to narrow it down to the best bomber jackets. But that's exactly what we've done. The bomber jackets for men and women below are durable, comfortable, versatile, and perfect for layering. Whether you're looking for an oversized classic or a modern slim fit, these jackets stand out.
The Best Bomber Jacket
Buck Mason Storm Stopper Bomber Jacket
The Buck Mason Storm Stopper Bomber Jacket tops our list because of its utility, high-quality construction, weather protection, and timeless style. Our tester loves the soft nylon quilted lining interior. In contrast to the soft fabric, the exterior features a DWR coating for weather protection and a loose fit with ribbed trims, which keeps this jacket true to the original bomber jacket style. Between the lining and exterior, there's a layer of PrimaLoft synthetic fill for maximum warmth, so you can wear this coat in spring, fall or winter.
Our tester also loved the sturdy zipper closure and snap closure front pockets. Their overall impression was that this is a stylish, high-quality, warm statement piece with decent weather protection.
Key Features:
Angled hip snap closure pockets
Primaloft insulation
DWR coating
Nylon interior
Available in two colors
I love the casual feel of the 5.11 Blayr Bomber Jacket. This lightweight jacket is great for casual styling and three-season wear. This model isn't as much of a statement piece as the other models we feature, but not everyone wants to make a statement. This is a great everyday bomber jacket to have on hand for an evening breeze or brisk spring and fall days.
The Blayr features a center front zip closure, a zippered chest pocket, a tailored fit, and two slash zip pockets for extra storage. The interior fabric is gentle on the skin with minimal irritation. In classic bomber style, there is a ribbed hem, collar, and cuffs.
Key Features:
Polyester and elastane terry construction
Three total zip pockets
Ribbed cuffs, collar, and hem
Casual style
Rothco MA-1 Flight Bomber Jacket
Unlike many of the clothing brands on this list, Rothco actually focuses on creating military-style clothing. The reason we think the Rothco MA-1 Flight Jacket is one of the best bomber jackets around is that it's sort of true to the history of the jacket. It's hardwearing and warm enough to keep you toasty, even inside an unpressured cockpit. It has a water-repellent nylon outer shell and an orange 100% polyester lining. To keep the cold out, it's got a warm polyester fiberfill lining inside. But the best feature of this jacket is that it's completely reversible. If for some reason, the outer shell isn't doing it for you, you can swap it around and have a bright orange MA-1 bomber jacket. It's like getting two jackets for the price of one.
The collar, cuffs, and waistband are ribbed to give you a comfortable fit. This also gives the effect of making the waist look slimmer and the shoulders broader, which is an added bonus. Like on all classic military coats, the zippers are made from brass, and it's also got leather tabs. Every part of this coat oozes quality on this classic silhouette. Plus, as you'd expect from a tactical gear company like Rothco, it's got loads of pockets to hold your essential survival gear. 
Key Features:
100% polyester
Water-resistant
Reversible interior
6 pockets
8 color options
Small to 9XL
Specification:
Brand

Rothco

Model

16698

Weight

1.92 Ounces
Alpha Industries MA-1 Flight Bomber Jacket
Next on our list is the Alpha Industries MA-1 Flight Jacket. If you're buying a bomber jacket because you want to look good, this classic style bomber jacket is a great choice. For a start, it's reversible. You can choose from 5 different colors for the exterior, but the bright yellow lining is always the same. It's made from mid-weight flight nylon that is water-resistant but not completely waterproof. Like many other products on this list, this Alpha Industries Jacket is based on the MA-1 fighter pilot jacket, featuring a design as close to the original as possible.
This fantastic bomber jacket features four pockets, two lower flap pockets, and two interior welt pockets. There's a ribbed collar, cuffs, and waistband to provide you with the perfect fit. The only slight downside with this coat is that it's dry clean only, so you can't just chuck it in the wash with everything else.
For more awesome, versatile jackets, check out our guide to the best fleece jackets.
Key Features:
100% flight nylon shell, 100% polyester fill
Water-resistant exterior
Reversible interior
4 pockets
X small to 5XL
Specification:
Brand

Alpha Industries

Model

MJM21000C1

Weight

2.5 Pounds
Alpha Industries Men's MA-1 Blood Chit Flight Bomber Jacket
If you liked the last jacket, but you want something even better, you have to check out the Alpha Industries Men's MA-1 Blood Chit Flight Bomber Jacket. This is one of the best bomber jackets for men on the market, period. Alpha Industries was actually commissioned by the Department of Defense to design and make these MA-1 jackets, as well as MA-1, M-65, and N-3B jackets for soldiers, sailors, and pilots. That means if you invest a little bit more money in this product, you are getting the actual jacket worn by military men in the field. That's the quality you can trust.
The shell is made from 100% flight nylon, while the fill is 100% polyester. The jacket is also completely reversible and has ribber collars, cuffs, and waistband. This piece of history also has 'blood chit' sewn into the inside, which was a message used to identify an airman if they were shot down, to help them avoid capture. If you can afford it, we think it's well worth the extra money to buy the jacket that was actually worn by fighter pilots.
Our selection of the best denim jacket offers more great products so check it out.
Key Features:
Shell: 100% flight nylon; fill: 100% polyester
Water-resistant
Reversible interior
4 pockets
X small to 5XL
2 color options
Specification:
Brand

Alpha Industries

Model

MJM21000C1

Weight

2.06 Pounds
Tommy Hilfiger Smooth Lamb Faux Leather Bomber Jacket
If you're looking for something a little more stylish, check out this Tommy Hilfiger Bomber Jacket. It doesn't have any flight logos on the side or bright orange interiors, it's just a simple, great-looking faux leather jacket. It's not strictly an aviator jacket because it doesn't have a thick interior made of wool or flight nylon. Instead, the lining is pretty thin, offering a slim fit and making this lightweight jacket perfect for spring and autumn.
It has ribbed cuffs and waistband to make it more comfortable. Plus, the collar is also ribbed and stands up to give it a bit of extra attitude. You get two lower welt pockets on the outside of the jacket and an interior zipper pocket to keep your valuables tucked away. Again, the only downside is that it needs to be hand-washed, but the faux leather is actually really easy to wipe down if you spill something on it. Pair this with faded black jeans and you've got a statement look.
If you need a warm jacket for this winter, make sure you read our guide to the best-selling down jackets.
Key Features:
Shell: 100% faux leather
3 pockets
3 color options
Small to XL
Specification:
Brand

Tommy Hilfiger

Model

156AU381

Weight

2.5 Pounds
Levi's Men's Ma-1 Flight Bomber Jacket
Whenever you buy something from Levi Strauss & Co, you know it's going to be good quality. And the Levi's Men's Ma-1 Flight Bomber Jacket for men definitely upholds that reputation. It's made from 100% nylon and can be machine washed, unlike a lot of similar jackets. We love how closely it sticks to its military roots and classic jacket style.
The jacket is unfilled and has an orange interior. It's got the same ribbed cuffs, collar, and waistband that we've come to expect on men's bomber jackets. In terms of storage, this classic bomber jacket only has two lower pockets with snap closure, but it's got a cool detailed pocket with a zipper closure on the left arm. This jacket was a strong contender to be our Best Choice product as it's durable, well-fitted, and quite stylish. If you want a beautifully made aviator jacket, without any bright colors of patches, this is the one for you. We're also big fans of Levi's Men's Flight Satin Ma-1 Bomber Jacket – possibly the most stylish satin bomber jacket on the market.
Key Features:
100% nylon outer shell
Water-resistant
Reversible interior
3 pockets
Multiple color options
Small to XXL
Specification:
Brand

Levi's

Model

LM1RN039

Weight

2.05 Pounds
Goodthreads Men's Bomber Jacket
If you haven't seen this brand before, it's because they're only on Amazon. In fact, they're one of Amazon's own menswear brands. That means you get the best service in the way of delivery, returns, and everything else. But are the clothes any good? Well, we think the Goodthreads Men's Bomber Jacket definitely deserves a place on this list. It's made from the same materials as most of the jackets on this list: the outside of the jacket is 100% polyester, giving it a slightly shiny look. Other than that, it's pretty standard.
It has two slash hand pockets on each side of the jacket and a useful zip pocket on the left arm. Plus, it has the same ribbed collar, rib knit cuffs, and a ribbed hem as most standard bomber jackets for men. This model is kind of like Levi's jacket in terms of style. It looks like an aviator jacket, but it doesn't have any patches or writing on the outside. You're not going to look like you just climbed out of the cockpit, but we know that some folks prefer more subtle jackets and are not looking to stand out in the crowd.
If you need a waterproof jacket, check out our guide to the top rain jackets.
Key Features:
3 pockets
Machine washable
X-Small to XXL
Specification:
Brand

Goodthreads

Model

MGT10000SP18

Weight

1.2 Pounds
Amazon Essentials Men's Lightweight Bomber Jacket
Amazon Essentials is Amazon's budget line of clothing, but they still have some really great products. If you look around the internet, Amazon Essentials has some pretty great reviews. It's not a really cheap brand, but they make simple style pieces that are more affordable because they don't feature one of the big name brands.
This Amazon Essentials Men's Lightweight Bomber Jacket is a simple black bomber jacket that is much slimmer than most of the flight jackets on the market. It has ribbed collars, cuffs, and a ribbed waistband, which makes it fit perfectly around your body. The fact that it doesn't have a thick lining makes it suitable for cooler weather, but you'd want something more heavy-duty for the winter or extra layers underneath. This lightweight bomber jacket has two slash pockets on the outside, but unfortunately, they don't have buttons or zips.
Find more great products like this by checking out our guide to the best Columbia jackets.
Key Features:
100% polyester
2 pockets
Machine washable
X-Small to XXL
Specification:
Brand

Amazon Essentials

Model

AE201482

Weight

1.06 Pounds
Why Trust Us
I've got a longstanding background in apparel; from technical apparel to high fashion. My experience as a model, athlete, and tech rep comes in handy in all of our apparel guides. I've also been wearing bomber jackets since middle school when I adopted my mom and stepdad's models from the 80s until I eventually got my own. We love apparel here at GearHungry, whether for outdoor adventures or streetwear.
Who This Is For
This guide is for anyone looking for a bomber jacket, and we have a huge variety of styles, colors, and materials in our guide so that there's an option for everyone. Whether you're into the classic bomber style or want a lightweight, modern bomber jacket, there are plenty of options for all.
How We Picked
Selecting the best bomber jackets started with our favorite models from our closets. After that, we looked to our favorite brands and best sellers. Then, we ensured we had a solid variety of materials, construction, fit, and colors, and if we found any gaps, we found products to fill them in.
How We Tested
To test the best bomber jackets, I wore them mostly as streetwear around Portland. These jackets got tested mostly in spring and summer in conditions varying from 50 and raining to 90 and sunny. I wore models to picnics and friend gatherings and while running errands. I also took some of these jackets camping and hiking for some durability tests.
Features To Look For In Bomber Jackets
Construction - There are so many types of bomber jackets for men and women on the market, from leather to nylon, merino wool to polyester, suede bomber jacket models, and everything in between. When looking at bomber jackets, look for high-quality construction, such as durable materials and reinforced stitching. Also look for other features that suit your needs best, like utility pockets, water resistance, etc.
Fit - Most men's bomber jackets have a boxy or wide fit, but there are many options out there. If you're looking for a slim fit or fitted waist, you'll be able to find those models as well. If you're planning for this to be a winter jacket, you'll want to leave room for layers underneath. Alternatively, you can go for a slim design that can fit underneath your winter coat. Ultimately, the fit of your jacket is really up to you, be sure it fits your personal style and needs though.
Material - There are so many different material options out there for modern-style bomber jackets. The leather bomber jacket is still popular, but there's now suede, nylon, polyester, quilted, satin, and more! We love the variety in colors and material options because it means that there is something for everyone. Each material has its considerations. Bomber jackets generally aren't great for rain due to the lack of a hood, but the suede bomber jacket can also become damaged from too much water. A leather bomber jacket may provide better water resistance but will need more upkeep. Polyester, nylon, and quilted bomber jacket models can be worn in various seasons, and each material has its own strengths and weaknesses.
Bomber Jacket FAQ
Q: Are bomber jackets warm enough for winter?
A: Bomber jackets are the perfect midseason style piece, but they can be worn in any season really. For example, if you buy a thick bomber jacket as an outer layer for the winter and make sure you wear plenty of layers underneath, you'll be plenty warm. The only problem is that most bomber jackets are not normally waterproof, so if the weather's really bad, you might need a better winter coat. However, many are water-resistant, so they do provide some light protection against rain.
While some models may be too heavy in warmer weather or early fall, there are so many options available that a thinner bomber jacket is easily acquired.
Q: Are bomber jackets waterproof?
A: Some bomber jackets are water-resistant, but not all are. We've included in the 'key features' section of each review whether they're waterproof or water-resistant. Different materials will offer different levels of protection. For example, nylon has some water resistance so it works well in mild, rainy conditions. However, bomber jackets are traditionally designed without a hood, so they're generally not the best jackets to take out in the rain.
Q: How do you style bomber jackets?
A: Styling a bomber jacket is entirely up to you. This will also depend on whether you've got a classic style option, a sleek silhouette, or a modern silhouette. Are you trying to highlight the jacket or other accessories? We're a fan of casual and minimalist looks: a solid white or black tee and jeans with a good bomber jacket. But the thing about fashion is you should have fun and get creative! We want to see you add the cool factor of this fashion staple blossom in your wardrobe.
Q: Are bomber jackets easy to clean?
A: New bomber jackets are easier to clean than their wartime predecessors. Many models can be machine washed these days. However, you should read and follow the manufacturer's care instructions closely. A leather bomber jacket will require different care than a quilted bomber jacket or durable polyester model.
Q: Why do they call them bomber jackets?
A: Bomber jackets were initially a military issue to keep pilots warm in the cockpit as temperatures dropped at higher altitudes in WW1 bomber planes. Both World Wars saw advances and upticks in aviation. Planes were used in warfare more often than before; this continued into the Vietnam and Korean wars.
Q: Why are bomber jackets orange inside?
A: Modern bomber jackets don't have this feature, at least not all of them. However, the original classic bomber jacket featured an orange lining to be reversible and allow better visibility in rescue scenarios. Much like a bright rain jacket, a down jacket or a shell can be a helpful rescue tool should the situation arise for hikers, climbers, skiers, and more.
Sources:
History Of The Bomber Jacket - Museum Of London
Flight Jacket - Wikipedia
Bomber Jacket Styling: 5 Ways To Wear A Bomber Jacket - MasterClass
Sign Up Now
GET THE VERY BEST OF GEARHUNGRY STRAIGHT TO YOUR INBOX