Wroom! The Best Kids Electric Cars In 2022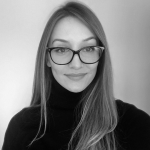 This product guide was written by Jovana Dosenovic
Last Updated
January 13, 2022
Jovana Dosenovic
Jovana is a writer and copy editor living with her lazy calico cat and thousands of (mostly unread) books. She has worked as a copywriter, fact-checker, QA analyst, and librarian, but this has been her favorite gig so far. A bit of a bookworm since she was tiny, she loves nothing more than curling up with a giant cup of coffee or tea and a good book. When not hunched over a keyboard or book, Jovana enjoys going on long walks, short hikes, and occasional camping trips. She also has an unfinished novel she'd like to publish one day. No, really.
GearHungry may earn a small commission from affiliate links in this article.
Learn more
Who's the king of the playground? The kid with an electric car. Incredibly fun, undoubtedly cool, and best of all, great at helping your little one develop coordination and spatial awareness, an electric vehicle for children is entertainment and education wrapped up in one really cool, thrilling toy (definitely leaning more towards entertainment though, but nothing wrong with that!).
From F1-like cars for tiny racers, to miniature tractors for budding farmers, all the way to electric Lamborghinis for fancy kiddos and more, these battery-powered rides for children are the next best thing to real cars. But with so many electric cars for kids available, how do you choose the right one for your lucky boy or girl?
To make the selection process a bit easier for you, we've rounded up the absolute best kids electric cars on the market, paying special attention to safety features (does it come with a parental remote or power lock system?), batteries (how long does it take to charge them and how long do they last?), weight limit (important if you're buying for an older kid) and overall durability (kids tend to be rough on their toys). No matter what your future driver is looking for, we have the perfect electric toy car right here!
Best Electric Car For Kids
Peg Perego John Deere Gator XUV Kids Electric Car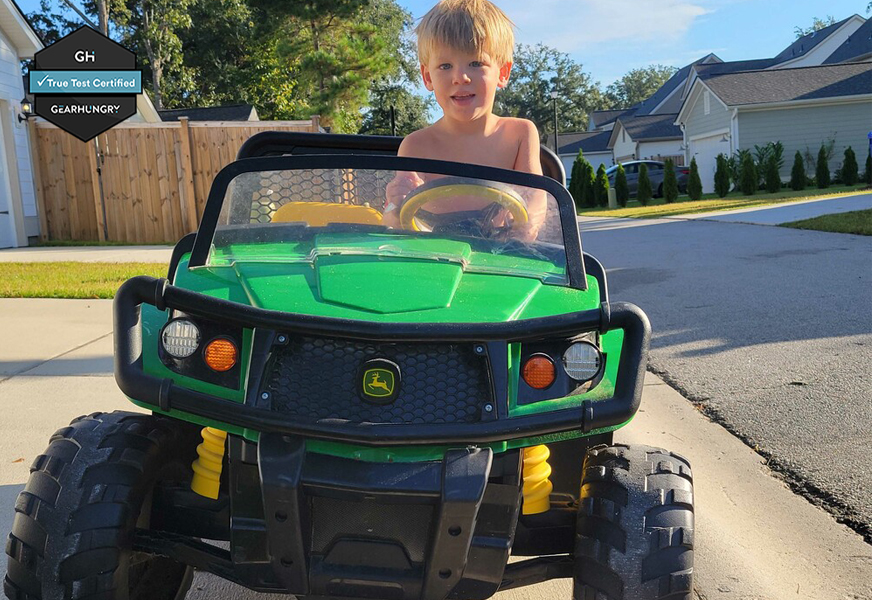 The Peg Perego John Deere Gator XUV is the perfect choice for kids who like to play rough and get stuff done. Our tester's sons have used this particular model every day for a year and while the Gator has taken a major beating, it still is working well.
Charging the battery takes a few hours to get a good charge, which is pretty good when it comes to rechargeable batteries of kids electric cars. The battery tends to last several days when used for short periods of time, which is definitely more than pretty good – according to our tester, this is excellent (they've been through a few electric vehicles for kids and this one definitely takes the cake). As for the traction, it's described as "good but nothing too crazy", which is exactly what you want for a kiddo learning how to drive his first toy car. The Gator can go fast enough that an adult can walk next to it comfortably. Overall, this is one of the best kids electric cars in this price range.
You may also like to check our guide to the best electric dirt bikes for kids for more great products like this.
Key Features:
Ages 3-8; weight cap. 130 lbs
2-Speeds: 21/4 – 41/2 mph
12-volt rechargeable battery and recharger
Large traction wheels & dump bed with tailgate
Adjustable seat for two
Cup holder
Specification:
Brand

Peg Perego

Weight

61 lbs
Kidzone Lamborghini Kids Electric Car
Shopping for a kid with expensive tastes? They'll love the Kidzone's Ride On Lamborghini, a seriously cool-looking children's electric toy car that's bound to make them the envy of all other kids in the neighborhood. The Lambo comes equipped with unique features that include hydraulic powered doors, LED headlights, and horn and engine sounds so the lucky boy or girl can enjoy that sports car feel.
Reaching up to 3 Mph, this electric car does not hold back on the fun, and also offers a running time of up to 40-50 minutes at a time. For the sake of safety, this car also comes equipped with an emergency brake as well as a seat belt ensuring your child is safely strapped while they drive. Note that this has been designed to carry only one child at a time. Your kids will also love some of the best Lego cars from our list. Check them out.
Key Features:
Ages: 3 to 6; weight cap. 55 lbs
2-speed options: 2-3 mph
Scissor doors, LED headlights, horn sound
2 25W motors & 12V rechargeable batteries
Parental remote control, adjustable seat belt
Specification:
Brand

Kidzone

Weight

33.7 lbs
Honey Joy Police Kids Electric Car
Is your little one obsessed with police officers? Well, now he can pretend to be one, chasing after the bad guys in his or her very own electric police car! Packed with fun features, such as siren flashing lights, intercom, headlights, music and volume controller, this cool children's electric toy car is guaranteed to keep your little one entertained for hours!
The fun is never-ending with this toy, but the brand also keeps your child's safety in mind; the car comes with a seat belt, separate parental control, safety lock and has a slow start design, preventing your kiddo from getting alarmed when the car starts (a welcome feature for very young children). After being charged for up to 8-12 hours, the car runs for up to two hours thanks to its 12v rechargeable battery. But while the manufacturer recommends the car for kids ages three to eight, the weight limit is 66 lbs, so it's better suited for younger children.
Key Features:
Ages 3 to 8; weight cap. 66lbs
Rechargeable 12V 4.5 AH battery
Speed: 2 to 3km/hr
Seat belt, safety lock, parental control
Flashing lights, intercom, headlights, music
Specification:
Brand

Honey Joy

Weight

27.5 lbs
Kid Trax Dodge Viper SRT Kids Electric Car
The Dodge Viper is undoubtedly one of the most famous American supercars. It's synonymous with speed and has the racing stripes to prove it. So, it's about time your kids could get a piece of the action. The Kid Trax Dodge Viper SRT really looks the part with a stunning blue finish and working viper snake eyes & fang LED running lights.
Capable of both forward and reverse speeds of 2.5 to 5 Mph, the Dodge Viper is perfect for little kids. The snazzy ride-on comes with a working FM radio, a horn, and rubber traction strip tires that make it suitable for most terrains. The real-time engine sound gives a really authentic feel to the experience that your little one is sure to love. As for the battery, it's the usual 12V, requiring about 10 to 12 hours of charging time and running for up to two hours at a time (depending on terrain). For more fun options your kids will love, be sure to browse our list of the top stepper scooters.
Key Features:
Ages:3 to 7; weight cap. 130 lbs
2 speeds: 2.5 to 5 Mph, plus reverse
12v rechargeable battery
FM radio, MP3, working horn and lights
Seats 2 riders
Specification:
Brand

Kid Trax

Model

KT1124WM

Weight

76 lbs
Power Wheels Jurassic World Jeep Wrangler
This electric car will be a hit for Jurassic world fans. The Power Wheels Jurassic World Jeep Wrangler is roomy enough for two children to fit comfortably and even houses a storage area for snacks or extra toys. What's more, it is not called the 'Jurassic World' for nothing – this toy car comes with a radio with realistic dinosaur roars and driving sounds. It can even go up to speeds of 5 mph over hard surfaces, making it ideal for slightly older and more adventurous kids.
Other snazzy functions include two openable doors, a working light bar, a power-lock brake system, and lots of legroom for both driver and passenger. The battery-powered four-wheeler is also durable, built with a sturdy frame and good quality plastic. It runs for enough time to ensure that fun is not cut short and is designed so that children of different ages can enjoy it all the same. It makes a really cool gift for boys and girls.
Key Features:
Ages: 3 to 7; weight cap. 130 lbs
Pretend radio with dinosaur roars and driving sounds
Battery voltage – 12V
Max speed of 5 mph 
Power-lock brakes
2 seats
Specification:
Brand

Power Wheels

Model

FRC33

Weight

48.4 lbs
Best Choice Products Kids Ride On Truck Car
Looking for electric toy cars for kids who love pink color more than anything? Look no further than this Best Choice Products Kids Ride On Truck Car. Sporting a Barbie-pink paint job, this adorable truck is ideal for all children who love bright, happy colors; which is to say, most kids and not just girls! 
Rugged and equipped with large plastic wheels that won't ever deflate, this truck car can tackle practically most terrains, concrete, grass, hardwood floors, you name it! Its max speed is 3.7 mph, and there's a parental remote control so you can take over if you need to. And, it has Bluetooth speakers so your kids can jam to their tunes all day long. 
Key Features:
Ages: 3 to 8; weight cap. 65 lbs
Max speed – 3.7 mph
12V battery
Bluetooth speakers
Bright LED lights 
Seat belt, lockable doors, parental remote control
Specification:
Brand

Best Choice Products

Model

SKY2858

Weight

50 lbs
Costzon White Mercedes Benz ML350
Maybe the black series Mercedes Benz wasn't to your kiddo's liking? Not to worry, there's a white (and a more affordable) one available. Based on the SUV ML series, the Costzon ML350 for kids looks just like the real thing and comes with realistic working doors and headlights to nourish your child's imagination.
It has a super comfy seat with a seatbelt and is equipped with an MP3 & USB & TF input for maximum fun. And when you feel like you need to take over, there is a parental control mode, while the auto power-off protection increases safety. Since the carrying capacity is less than 50 lbs, this car is best suited to younger kids. You may also be interested in some of the best-rated remote control cars from our list. Check them out.
Key Features:
Ages: 3 to 6; weight cap. ~ 44 lbs
6v battery
MP3 player 
Parental remote controller, seat belt
Movable wing mirrors, horn, LED headlights
Specification:
Brand

Costzon

Model

CZFWAM-00171

Weight

22 lbs
Best Choice Products Ride On Kids Electric Car
If you are looking for something a bit beefier, check out this electric ride-on truck by Best Choice Products. Clearly based on a Jeep Wrangler, this little monster will let your kid tower over the other kid cars on the block. Its large off-road tires and spring suspension let it glide over the rougher terrains, and the 3-speed gearbox gives your kid plenty of room to grow as a driver.
This 12v ride-on has an MP3 player and a great interior. It also comes with a remote controller, giving you the power to take over whenever you want to. This is a great little truck with a high-quality finish, available in various colors. Make sure you also check out our guide to the best kid's bikes for more great items like this.
Key Features:
Ages: 3 to 8; weight cap. 128 lbs
2 speeds: 1.75-3. and 75 mph
12V battery
Bluetooth speakers
LED headlights
Parental control, seat belt, lockable doors
Specification:
Brand

Best Choice Products

Weight

63 lbs
Why Trust Us
To give you and your little ones the very best kids' electric cars the market has to offer, we spent three days on research for this guide. We also chatted with parents-members of our team about their kids' preferences when it comes to electric toy cars. One of our testers has also had his boys use their electric car for over a year so we have a pretty clear picture of how battery-powered vehicles perform long-term.
Who This Is For
This guide is for anyone looking to get their kids interested in cars and trucks! Whether you're shopping for a boy or girl, a child that's already interested in a particular style or model, or one who knows nothing about kids battery-powered vehicles, we have a great ride-on for you.
How We Picked
Our main criteria for choosing the electric vehicles for this guide were safety, comfort and fun because electric toy cars shouldn't just keep your little one busy and entertained, but safe and comfy while he or she explors the outdoors as well. We tried to include as many different vehicles as possible too (race cars, tractors, police cars and more) so that every car and truck-obsessed kid could have their fun.
How We Tested
Aside from reading hundreds of customer reviews, we've also tested some of the electric cars in this guide. One of our testers' boys have used the Peg Perego John Deere Gator for over a year so he can testify to its durability and performance. Here's what he had to say about this little but mighty tractor: "My sons have used it every day for a year and it has taken a major beating and it still is working well. It lets the kids learn how to drive and the parents get a break from carrying the kids!"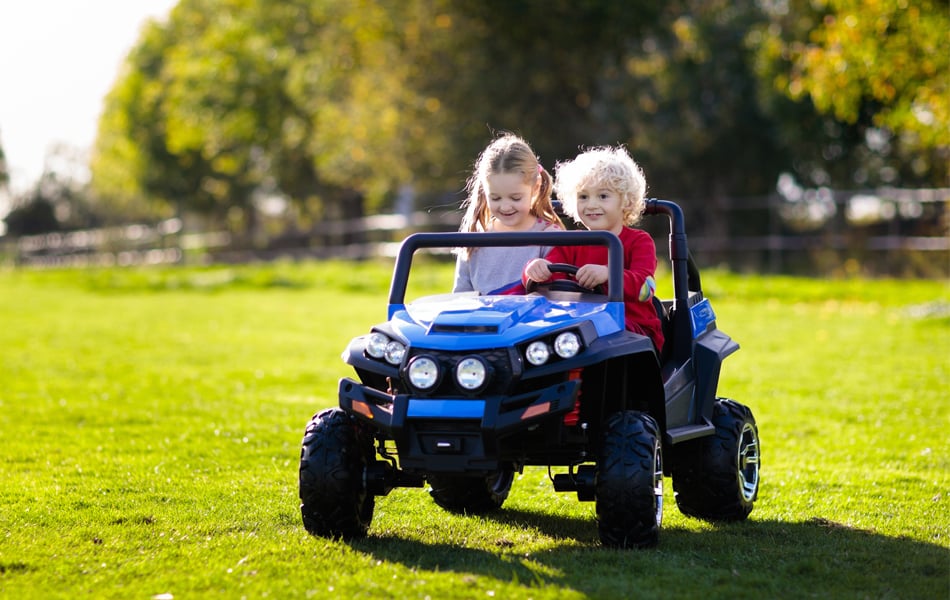 Features To Look For In Kids Electric Cars
Battery – We know how upsetting it can be to spend all day charging a toy only for it to work for 10 minutes. That's the kind of stress you can do without. Battery life is important. While all of the vehicles we reviewed take a long time to charge, most provide a couple of hours or at least an hour of run time for the kids to enjoy. If you are looking for the best battery life, stick to 12V cars. Almost all vehicles in this guide use a rechargeable 12V battery except one - Costzon's  Mercedes Benz ML350, which is also the most affordable model on the list.
Age range – You don't have to take the age range as gospel, but it's a good indication. Of course, all children grow at different rates, and you will know better than anyone if a product is suitable for your child. Most of the products have dimensions of the interior which you can use to know for ceratin if your little one will fit in the car.
Safety – Safety is everything when you are buying something for your children. You want to know that there are no sharp edges, no exposed electronics, and no other potential dangers. When it comes to buying a kid's motorized car, there are additional safety concerns. For example, you don't want your children to be able to go too fast and hurt themselves. That's why all the cars on this list are limited to 6 mph or below. Also, some of these products are remote control ride-on cars, which gives you the added safety measure of being able to take over the controls whenever necessary.
Safety belts – With top speeds of 5 or 6 mph, there is actually no need for safety belts on your kid's electric ride-on toy. The reason most manufacturers include them is to teach children about road safety. After all, this is your kid's first chance to be a responsible person by buckling in and ensuring their own safety. It gives an element of education to the battery-operated ride-on toys that is important for child development. Still, it's not a must-have, it's just a nice addition.
Remote control – Some of the best battery-powered ride-on toys come with remote control for parents to use. This means that when your kids have ventured a little too far down the road, you can take over and bring them back. The other function is to actually drive with your children around and make the experience a bonding session. Or, if those reasons don't do it for you, you could keep the remote control a secret and mess with them by putting the car in reverse (don't ask us how we know this).
Design – You don't want to end up with an ugly-looking product that becomes an eyesore as soon as your kids have stopped playing with it. The manufacturers featured in this article have carefully designed their products to look and feel as close to full-sized cars and trucks as possible. Some cars are remarkably close to the real thing, which will really stimulate your kid's imagination.
Additional features – Some of these ride-on cars for toddlers have better specs than some cars on the road! You can get a ride-on car loaded up with MP3 players, FM radios, aux inputs, microphones, sound effects, working doors, working headlights, neon kits, and more. Wait 'till you see your kid's face when they can put some tunes on and drive around the garden with their friends, or even make announcements as they drive past.
Quality - Battery-powered ride-on toys can be pretty expensive so you should do your best to ensure you're getting your money's worth. All of the battery-operated cars on this list are made by trusted manufacturers. They use high-quality materials and electronic components to ensure that your kid's electric ride-on isn't going to break down or fall apart as soon as they start it. These products have gone through rigorous testing to make sure they stand the test of time.
Benefits Of Electric Cars For Kids
It might seem like a ride-on electric car is just for fun, but there are actually quite a few benefits:
Helps kids develop coordination – It seems obvious, but your kid will pick up a lot of driving skills from having their first go behind the wheel. These toys aren't fast enough to cause any danger but will still teach children the coordination and spatial awareness that is needed for driving. It will give them a head start when they are old enough to get a real car.
Helps kids build self confidence – Being behind the wheel of a vehicle takes confidence, even when that wheel is behind an electric toy car. Your kiddo might be a little scared at first, but they'll soon get used to the controls and build up their confidence. Before you know it, they'll be racing around without a care in the world.
Supports exploration and adventure – With children having more and more indoor and screen time available, it can feel difficult to instill a sense of adventure. Ride-on cars are an excellent way of encouraging them to explore their surroundings.
Promotes independent and group play – Everyone who's read a parenting book knows how important play is in child development. Your kid won't be able to wait until they can get out and play with their electric car, whether they're riding solo or with their friends.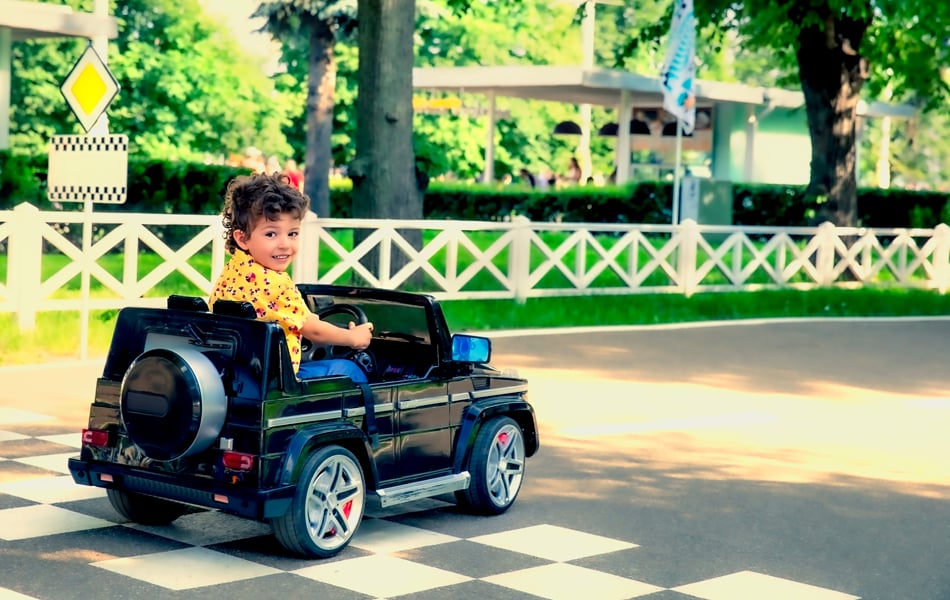 Kids Electric Car FAQ
Q: What is a kid's electric car?
A: An electric car for children is a small motorized vehicle made to look like a real car. They are often designed to look like models of real vehicles to provide children with the feeling of driving around like an adult. They first came around in the late 1980s and have since become hugely popular, selling in the millions. Modern electric ride-on cars are packed full of features to make the driving experience fun and realistic.. They are normally powered with a 12V or 6V battery.
Q: Are kids electric cars safe?
A: Electric toy cars are limited to speeds of 6mph or slower and don't have any awkward parts or jagged edges for children to hurt themselves on, so yes, they're perfectly safe. As with all toys, they have to pass certain safety requirements to be sold in the USA or UK. However, children should still be properly supervised by an adult at all times and kept away from open water or roads.
Q: How long do the batteries last?
A: This depends on the size of the battery and the manufacturer. You can expect 6V batteries to last for around 45 – 60 minutes of continuous use, while 12V batteries can last up to 4 hours. Check the specifications of the car before buying.
Q: What's the difference between 12V and 6V?
A: The higher the number of volts, the more powerful the car will be. Cars with 6V batteries are less powerful and tend to have shorter run times while 12V cars are more powerful and tend to last longer. It is important that you use the correct battery with the motor of your car – for example, a 12V battery won't work in a 6V car.
Q: How to care for kids electric cars?
A: When you first get your ride-on car for kids, make sure to charge the battery until it is fully charged. Otherwise, you could end up damaging the battery, causing its life to shorten or simply not work at all. Also, you should try to avoid letting the battery run out completely, for the same reasons. Aside from the battery, you should keep the car stored inside or under a cover. It's also a good idea to wipe down the vehicle from time to time, especially if your kids eat or drink inside it.
Q: On what surfaces can my child ride?
A: This depends on the specific vehicle you choose. Some kids' electric ride-on cars are built specifically for rougher terrains whereas others are much better on flat and smooth surfaces like pavement. Most cars can be driven over any flat surface, as long as it is not too wet or loose. They don't have enough power to do any serious off-roading, so try and keep it to the garden or pavement.
Sign Up Now
GET THE VERY BEST OF GEARHUNGRY STRAIGHT TO YOUR INBOX