Best Remote Control Cars in 2022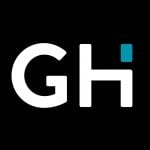 This product guide was written by GearHungry Staff
Last Updated
July 30, 2018
GearHungry Staff
GearHungry Staff posts are a compilation of work by various members of our editorial team. We update old articles regularly to provide you the most current information. You can learn more about our staff
here
.
GearHungry may earn a small commission from affiliate links in this article.
Learn more
RC cars are one of the cheapest and safest ways to get a fast thrill. You don't have to spend thousands and put your life on the line to get your heart racing! They used to have a bit of a stigma of being over-complicated and – let's face it – a bit geeky. But that's all changed.
Nowadays, they are much simpler, much faster, and a lot more fun. We've featured 12 ready-to-run RC cars that barely require any setting up, so you can charge them up and start racing!
Whether you're buying it for your kids or for yourself, this list has everything you need. We've got fast-paced monster trucks, awesome rock-crawlers, and even an RC car that can drive on the roof!
The Best Remote Control Car
Laegendary Remote Control Car
The Laegendary Remote Control Car is ultra-tough, lightning-quick, and easy to set up and use. It's everything you want from an RC car, without all the pain of having to build it from scratch. With this awesome little machine, you'll be able to hold your ground with even the most impressive modified RC cars at the track. It has a unique dual-battery system that gives you around 30 minutes of runtime off a single charge (which takes 90-120 minutes). Plus, if that's not enough, you can buy aftermarket batteries and keep the fun going. 
The performance of this truck is guaranteed to blow your mind. It can reach speeds of up to 30mph and comes with oversized off-road wheels and clearance of two inches that allow the truck to go pretty much anywhere. Whether you're on tarmac, gravel, or grass, this truck will show no signs of slowing down. It also has oil-filled metal shocks and a tough plastic body that withstand a huge impact. Another impressive feature on the Laegendary Remote Control Car is that you can control it from 250 feet away. If you've got good enough eyesight, you can really put some distance between yourself and the car.
Key Features:
2 x Li-Po 7.4V 1600mAh Rechargeable Batteries 
Max speed – 30mph 
30 minutes run time 
Takes 90 – 120 minutes to charge 
Large off-road wheels 
2.4GHz radio remote control car 
Works up to 250 feet away
Specification:
Brand

Laegendary

Weight

2.2 pounds
Prextex Pack of 2 Cartoon RC Police Car and Race Car
The Prextex RC Pack comes with easily fixable action figures to give your kids more play instances. A police vehicle, a racing vehicle a policeman and a racing character make up a typical Pretexx RC Pack. Play action with this gadget is made even better with the really cool sounds and lighting effects it makes. From sirens to honking sounds, this kid-friendly RC pack is designed to bring the curious genius out of your child. The pack also features a remote controller which has a steering wheel design, to give your kids the flexibility of steering well and for better control.
Another exciting feature about the Prextex RC Pack is that your child can control two cars at the same time, as both remotes, all long-range, operate using different frequencies that do not interfere with each other whilst in use. To get the pack up and running you'd need 5 AA batteries, 3 for the cars and 2 for the remotes. So whether it's taking on a racing challenge with friends or chasing the bad guys, give your kids the joy of playing with this exciting pack, to aid their creativity and cognitive development.
Key Features:
Comes in a colorful pack with two vehicles, two action figures and 2 remote controls
Features colorful flashlights and sound effects
Both vehicles use different frequencies so can be used at the same time
Lightweight construction, durable and child-friendly
Specification:
Brand

Prextex

Weight

5 ounces
Amicool RC Cars Stunt Car Toy
Imagine your kid having their own AWD vehicle built stunts and for racing. Cool right? It's rugged rubber wheels make stunting easy with the controls including a spin, 360-degree tumble and flips to keep your kids entertained for hours on end. The car itself is firm on the ground, not easily movable and is easy to control. Designed with safe and certified environmental ABS plastic, this toy is very safe for your kids as it does not contain toxic elements. A powerful racer with a 2.4GHz powered control, the Amicool Stunt RC operates at a top speed of 7.5 km/h, and with the extra stunts and maneuvers that have made it such a popular toy, it is a complete all-round play buddy for indoor and outdoor games.
It also features a shockproof and collision-proof build, to add to the many features that made it one of our top picks. What's more, its stylish controller is ergonomically designed to fit into the hand and is pretty lightweight too. It can be used together with other RC cars as well, so no need to worry about interfering frequencies. Overall, the Amicool Stunt RC is not the fastest compared to similar products, but is versatile and performs really well too.
Key Features:
Performs various maneuvers – forward, backward, left and right turns, 360 degree flips, etc
Stylish remote controller fits into your child's hand easily
Needs 6 AAA batteries to function, 4 for the car and 2 for the remote
Made with child-friendly and safe plastic and does not contain harmful toxins
Specification:
Brand

Amicool

Model

NB2801B

Weight

1.3 pounds
BEZGAR Remote Control Car
The BEZGAR Remote Control Car is designed to take big impacts. If you're not a seasoned RC car racer, you're probably going to spend half of your time crashing into stuff, so you need something that can take the hit. With its strong alloy frame and shockproof body, it's super resistant to collisions. It's also got large crash-proof bumpers on the front and rear that stop it from getting damaged if it crashes or rolls over. 
Underneath the hood, there's an electric motor powered by two 6V 800mAh Ni-MH batteries. This system gives you about 20 minutes of runtime (at full power) and takes around 180 minutes to fully charge. The max speed is around 20-25 km/h, so it's not the fastest RC car on this list but it's still got enough pace to compete. We were also impressed by the wireless control system that runs on a 2.7GHz frequency. You can control the car anywhere within 50 meters and it has a non-jamming function that lets multiple users run on the same frequency.
Key Features:
Two 6V 800mAh Ni-MH batteries
Anti-collision design 
20 minutes of runtime 
Takes 180 minutes to charge 
Max speed – 20-25km/h
Runs on 2.7GHz frequency
USB charging
Specification:
Brand

BEZGAR

Model

8817E

Weight

2.2 pounds
Traxxas Stampede Monster Remote Control Car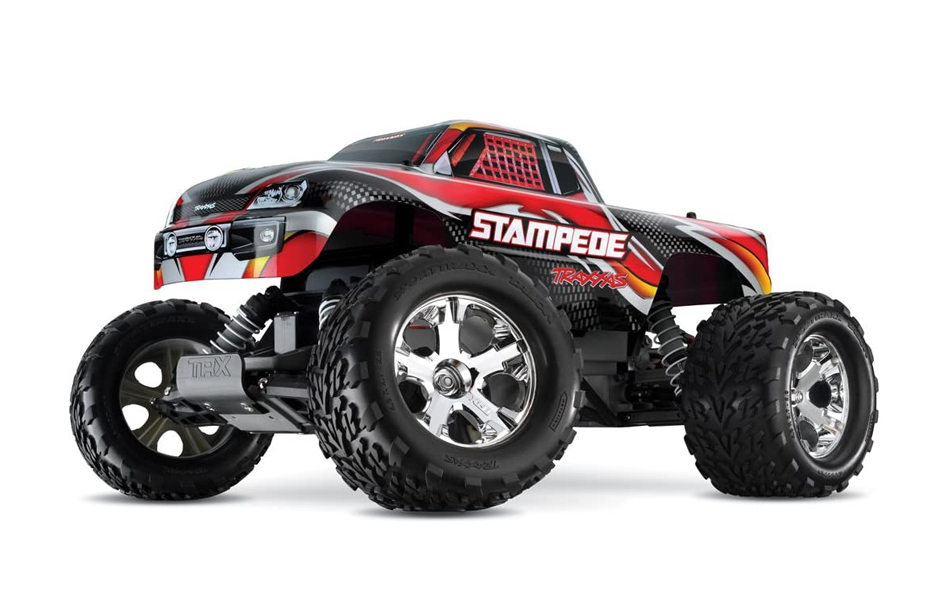 Type – Monster Truck
This one's a bit of a beast. Another great RC car from Traxxas, this truck is a bit more heavy-duty than the Rustler. It's got 4 studded, off-road tires making it slower on tarmac, but an absolute machine on gravel, or any other rough surface. The body is well-built too. Due to the four-pronged suspension and flexible chassis, this truck will take an impact well.
Under the hood, it's got a Titan 12-Turn 550 modified motor, with a Revo-Spec Torque-Control slipper clutch. If you're not a complete RC nut, then you'll have no idea what that means. Basically, it will push the Traxxas Stampede Monster Truck to over 30 mph, even on rough ground. That's pretty impressive for a monster truck!
Like the Rustler, it's got waterproof electronics and controls, so you can take it out whatever the weather. Both of these cars are great value for money;for the price of these Traxxas RC cars, you will struggle to find a better performing and more durable RC car! Need more toy ideas? Our Lego Technic sets review features some great toys.
Key Features:
Ready-to-run
1/10 scale
Top speed 30mph+
Waterproof controls
Specification:
Brand

Traxxas

Model

36054-1 BLK

Weight

2.2 pounds
HBX All-Terrain RC Car 18859E
Type – Stadium Truck
The HBX All-Terrain RC Car 18859E is one of the best ready-to-run RC cars for beginners and kids. It's cheap at only $69.80 and has some pretty impressive stats for its price. The manufacturer claims it will hit 30mph+ and has a radio distance of 280 feet. It's not as well-waterproofed as its more expensive rivalsbut will still stand a few splashes.
You get around 10 minutes driving from a 60-minute charge, which really isn't bad considering how other RC cars perform. And, you can charge it using a USB charger which makes it convenient, if you are out in the car. For the price, you really can't beat this one! Our handy guide to the amazing educational toys features more great products like this. 
Key Features:
Ready-to-run
1/18 scale
Top speed 30mph
All-terrain
Specification:
Brand

BBM HOBBY

Weight

2.1 pounds
JEYPOD Remote Control Car
This product is built to perform relatively well on rough and smooth-surfaced roads alike, using its rugged tires to give it a firm grip to the road while in use. It also uses shock-resistant springs to shield the car against rugged terrains. The JEYPOD Remote Control car is tough on durability, and its perhaps one of the best you can find on the market today, with a crash-resistant obstruction designed to shield the front of the car from the impact of collision and when the car runs into walls.
The features of this product are exciting as they are functional, and is the reason it made it to our list in the first place. First is it's powerful 2.4GHz remote for controlling movements of the car. The remote comes with four batteries to keep the car running for long. With an ergonomic design that makes for firm holding, the remote is also lightweight and easy to use too. It can be used within a distance range of up to 80 meters and can race at up to 20 km per hour. What's more, the remote also features an interference-resistant feature that allows it to be used within the same range as other remotes and still function. The RC also features a robust motor that propels the car into motion and to perform various maneuvers and we absolutely love the waterproof feature; so you needn't worry about your kids playing with their car in wet weather conditions. Lastly, the car itself built with healthy parts to ensure your child's safety while playing.
Key Features:
Rugged and gripping tires for various surfaces
Comes with 4 rechargeable batteries, with a charge duration of up to 90mins
Materials made of non-toxic and healthy plastic
Water-resistant, durable and built for prolonged use
Specification:
Brand

JEYPOD

Weight

1.55 pounds
Safety Tips When Using a Remote Control Car
Choose a suitable area – you should never operate your RC car on a public road, or near children and pets. It's really important to find somewhere quiet and safe to operate your RC car. They might be little, but at speeds of 30+ mph, they can pack a punch.
Insert the right fuel –if you put the wrong fuel in your RC car, it could be disastrous. Read the instructions and check the label on your fuel.
Always have fresh batteries – you don't want your RC controller batteries to run out when your car is hurtling down a hill! Make sure your batteries are fully charged.
Regularly service – it might not be the most fun part of owning an RC car, but you should service it after every use. Ensure it's clean on the inside, the bolts are tight, and everything is in working order.
Let it cool down after use – never open your RC car and touch it after use. The engine can be extremely hot and cause severe burns.
Don't put your fingers near moving parts – if you are doing any maintenance on your RC car, check that everything has stopped moving before you put your fingers in!
Don't let children play – RC cars might be toys, but they can be dangerous. Only let children play if it is safe to do so.
Sources:
9 Safety Tips to Operating Your Nitro RC Car - RC Models Wiz
Sign Up Now
GET THE VERY BEST OF GEARHUNGRY STRAIGHT TO YOUR INBOX