The Best Duck Calls For a Successful Hunt In 2022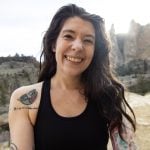 This product guide was written by Tuesday Kirby Kahl
Last Updated
November 3, 2021
Tuesday Kirby Kahl
Tuesday Kirby Kahl is a contributor at Gear Hungry. Her fierce love for the outdoors fuels everything she does. Her professional pursuits include writing, creating art, and photography. These professional passions allow her the time to live life outside as a rock climber, skier, runner, backpacker, paddle boarder, swimmer, and explorer. When Kirby is indoors, she enjoys tea, whisky, old films, cooking, and baking. Her product testing and feedback have shaped the design of everything from climbing shoes to candles.
GearHungry may earn a small commission from affiliate links in this article.
Learn more
Anyone hoping to be the World's Most Successful Duck Hunter in History™ needs the right duck call as part of their arsenal. Without one, you're likely to be left sitting at the bank woefully whistling into your fingers as mallards, goldeneyes, wigeons, and wood ducks glide past looking uninterested in anything you have to offer.
Duck calls, just like the correct gear like wading pants and bucket hats are a perfect tool for a successful adventure outdoors. Whether you want to emulate the success of the Duck Dynasty boys or dive into something new, topping off your equipment with the finest duck calls will strengthen your odds of coming home with something to show for your efforts. Considering duck season is fast approaching, we thought there was no better time than now to find a selection worthy of wading into the marshes. Read on to discover the best duck calls.
The Best Duck Call
Duck Commander Triple Threat Duck Call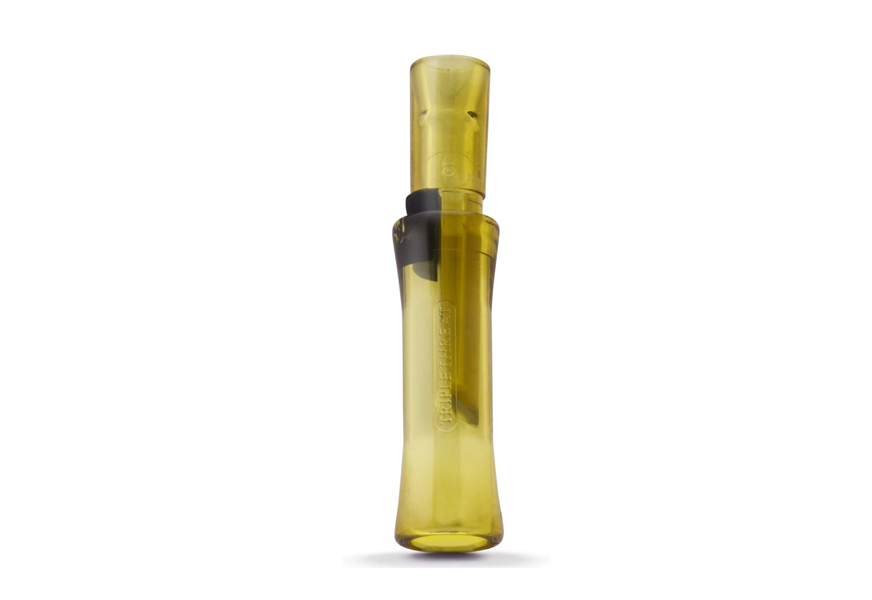 Our top pick for the best duck call is the Duck Commander Triple Threat Duck Call. This triple reed option boasts a rare construction that isn't just easy to use but also versatile, giving you an all-around call perfect for different environments and situations when duck hunting.
The unique tones are unlike anything else you've come across, and it mimics the mallard hen calls like few other options on the market. With this new duck call, you can match the quack, feed, and hail for easy attraction and a successful day out. Suitable for all levels as one of the easiest calls to use, the only real issue is the lack of a suitable lanyard attachment, but we're sure you're resourceful enough to figure something out. Hunting enthusiasts will also like some of the best hunting blinds from our list.
Key Features:
Triple reed
Easy to blow
All round call
Tough and durable
Unique tones
Specification:
Brand

Duck Commander

Model

DCCALL2011

Weight

2.4 Ounces
Loud and versatile duck calls
Ideal for all levels
Suitable for mallard hen calls
No great place to attach a lanyard
Duck Commander Wood Duck Call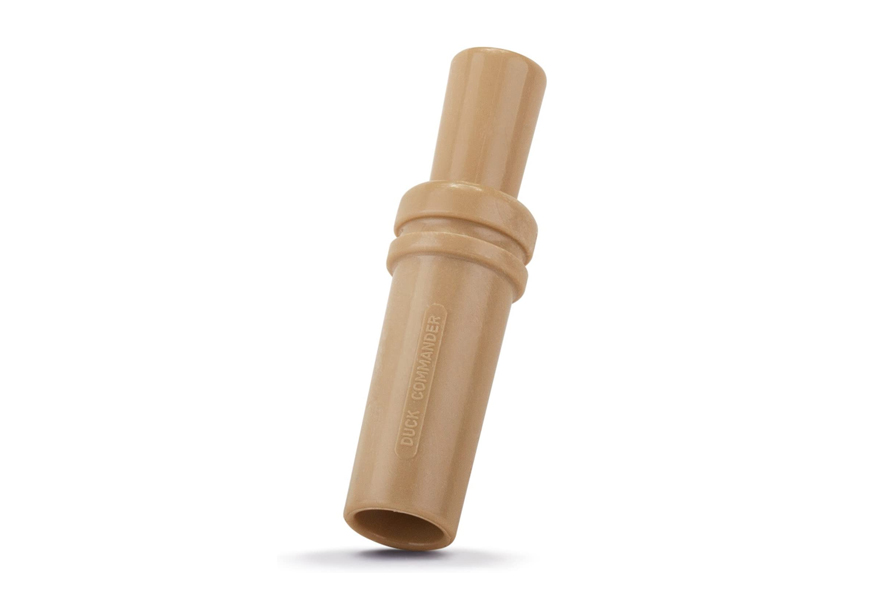 If you're a hunter on a budget or someone still unsure if this way of life is the one for you, the Duck Commander Wood Duck Call is a risk-free option to get you started. Boasting three sound levels and some of the most realistic duck calls around, you're getting an absolute bargain that feels too good to be true. This single reed duck call offers versatility, while the durable construction means it'll last through this season and be your go-to for the next one and beyond. It's easy to use, loud, and effective, so even if you're a more experienced hunter, you'll love the quality sounds that emanate from this device.
Despite all this, though, we don't advise using it in cold weather (around 55℉ / 12℃). This wood call has an unfortunate habit of freezing, and when you're just about to lure in your chosen duck, that is the last thing you want. Regardless, it is one of our favorite single reed duck calls. Be sure to always have it in your hunting backpack.
Key Features:
3 sound levels
Most realistic duck calls
Single reed
Easy to use
Durable
Specification:
Brand

Duck Commander

Model

DCCALLWD

Weight

2.1 Ounces
Suitable for beginners and seasoned callers
Excellent call mimicking
Loud and effective
Freezes around 55 degrees
Duck Commander Camo Max Duck Call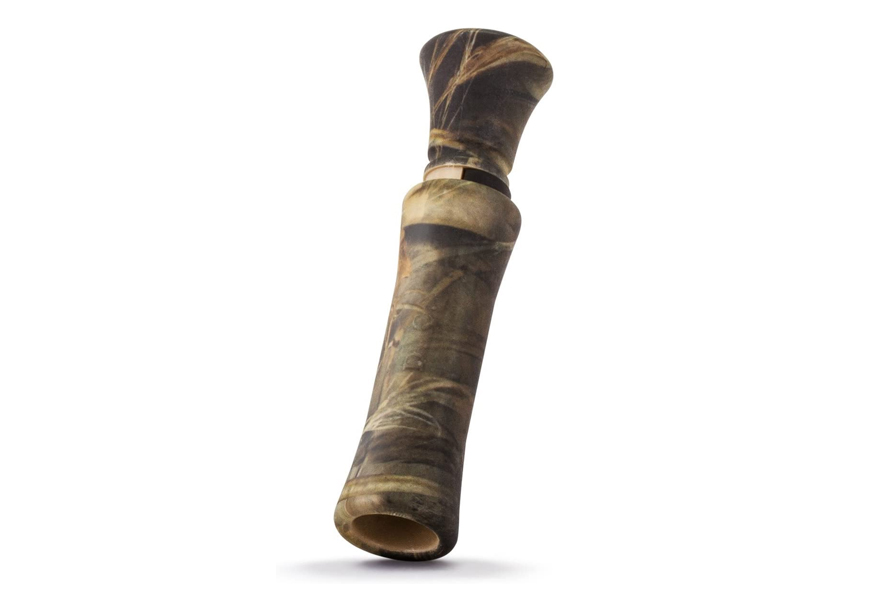 The Duck Commander Camo Max is perfect for anyone who needs to keep hidden during their outings. The camouflage design is essential for seamless disguising, while the quality of the call speaks for itself in this double-reed call.
Used best as a close-in finishing call, the mid-to-low range tones exude perfect sound and excel when you need them the most, making it perfect for experienced hunters looking for a hassle-free performance every time when attracting mallard ducks. The double reed ensures easy use, and the custom tuning potential gives you an extra layer of quality. However, for all its wonders, it struggles to blow when wet, so keep it out of the way of rain, ponds, lakes, and be vigilant about drying it between uses.
Key Features:
Realtree camo pattern
Close-in finishing call
Custom tuned calls
High impact plastic
Mid-to-low-range tone
Specification:
Brand

Duck Commander

Model

DCCALL2006
Perfect for hardcore hunter
Double reed Duck Call
Suitable for mallard calls
Haydel's Game calls Inc. DR-85 Mallard Duck Call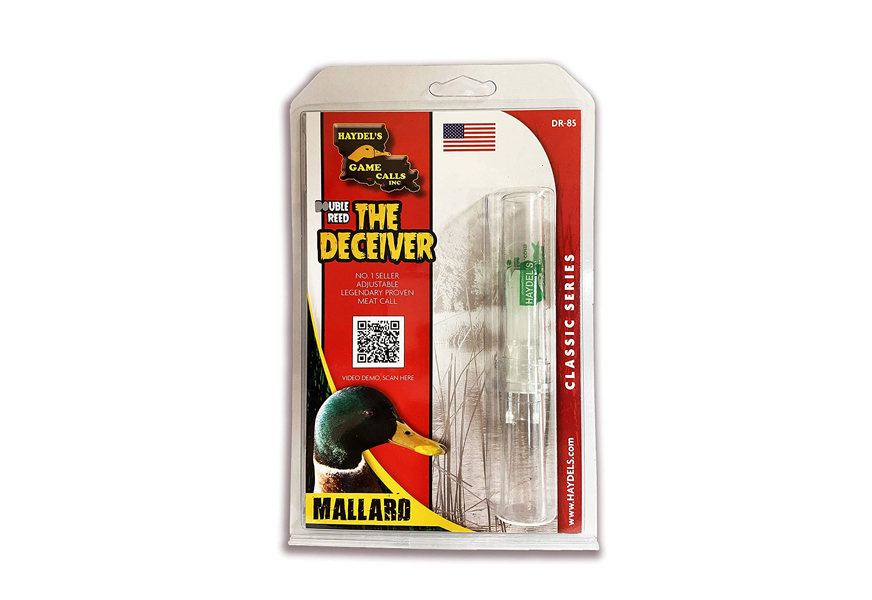 Nicknamed 'The Deceiver', Haydel's Game Calls Ha-Yardel-Feets DR-85 Mallard Call D Reed is a fantastic choice for beginners while also offering excellent performance for experienced hunters every time. It covers the full chromatic scale and provides personal tuning options for easy customization wherever you are.
It's lightweight and therefore easy to carry, giving you plenty of extra weight allowance for snacks and your fancy new hunting binoculars, while the ease of use makes it feel more welcoming than other, more advanced duck calls. The long-lasting design also represents superb value for money, however, while it's useful for casual personal use, there are too many features lacking to use it in world-class competition. As an easy everyday choice, though, you'll find a lot to love about this double reed duck call.
Key Features:
Adjustable floating wedge
Covers full chromatic scale
Personal tuning
Lightweight
Suitable for beginners
Specification:
Brand

Haydel's Game Calls

Model

DR85

Weight

1.92 Ounces
Affordable price
Easy to use
Long-lasting design
Not suitable for world class competition
Duck Commander Pintail/Widgeon Call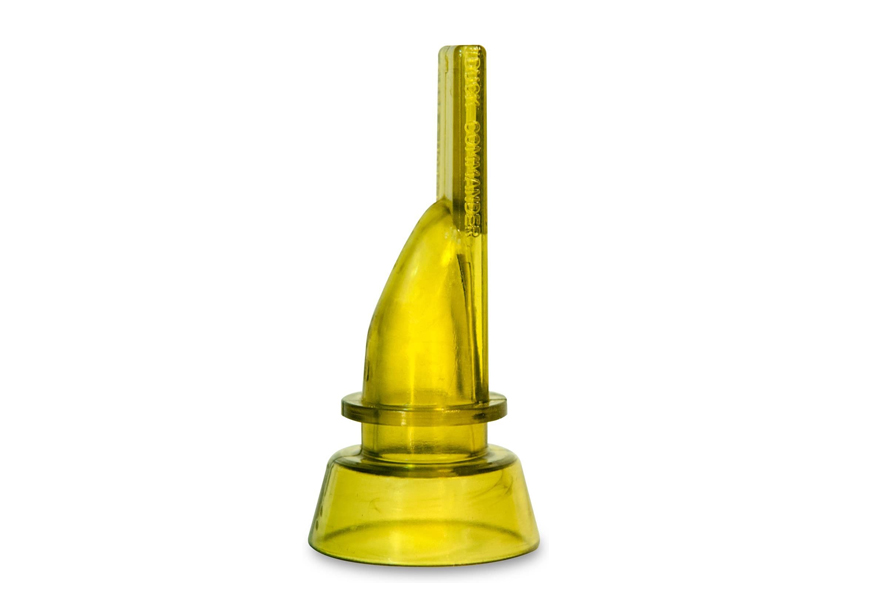 The Duck Commander Pintail/Widgeon Call delivers a remarkable six calls all in one to appeal to a variety of ducks including Teal Drakes, Mallards, Doves, and Quail. For those living in areas dense with variety, this is a fantastic choice and it is suitable for both beginners and expert hunters.
This product is designed to appeal to even the shyest ducks with its versatility in producing different sounds. This model is forgiving and easier on the throat even with aggressive calling so you can use it for longer. Despite this, when you produce sound, it is still sharp and loud. With almost unlimited potential, this is one of the top-rated duck calls available. To be able to protect yourself from larger animals while hunting ducks, be sure to pick one of the reliable bear sprays from our list.
Key Features:
Easy to blow
6 calls in 1
Forgiving call
Attracts the most call shy ducks
Place to attach lanyard
Specification:
Brand

Duck Commander

Model

DC-CALL-PW

Weight

1.44 Ounces
Sharper sounds
Great design
Durable high-impact plastic
Feels a little cheap when compared with other calls
Primos Hunting High Roller Duck Call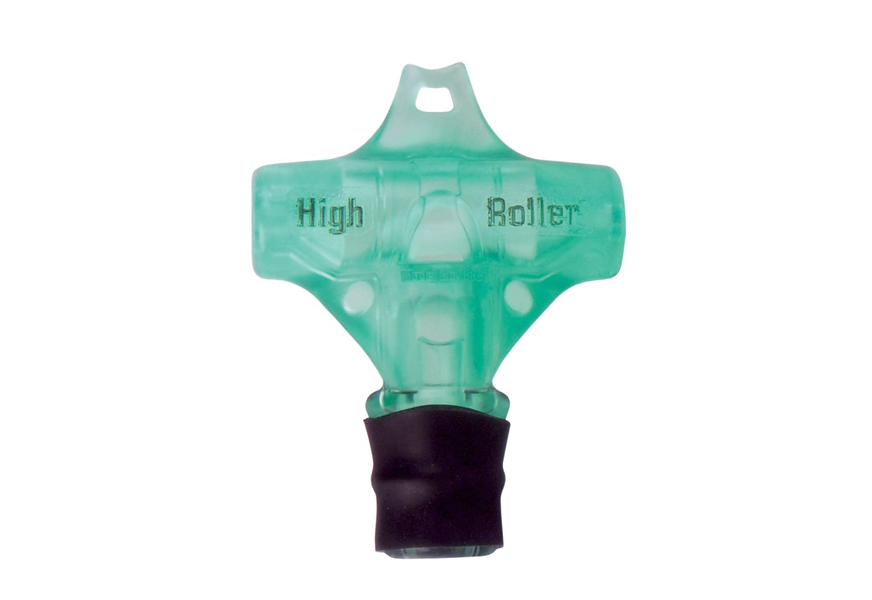 The Primos Hunting High Roller Duck Call can produce four duck calls including Pintail and Mallard sounds. This unique-looking model has a built-in roller ball which makes the fluttering whistle sound instantly and automatically. This feature makes it easier to use and more satisfying to blow. While there is no included lanyard, there is space to attach one.
In humid, or wet conditions the ball will occasionally stick but a quick knock or two and you'll be back in business. Be sure to also check out our guide to the best-selling hunting knives that features more amazing products you can add to your hunting gear collection when duck hunting or otherwise.
Key Features:
Built in roller bar
4 duck calls
Easily identifiable design
Excellent price
User friendly
Specification:
Brand

Primos Hunting

Model

838

Weight

1.12 Ounces
Easy to use
Great value for money
Easy to attach to lanyard
Ball sticks from time to time because of moisture
Buck Gardner Double Nasty II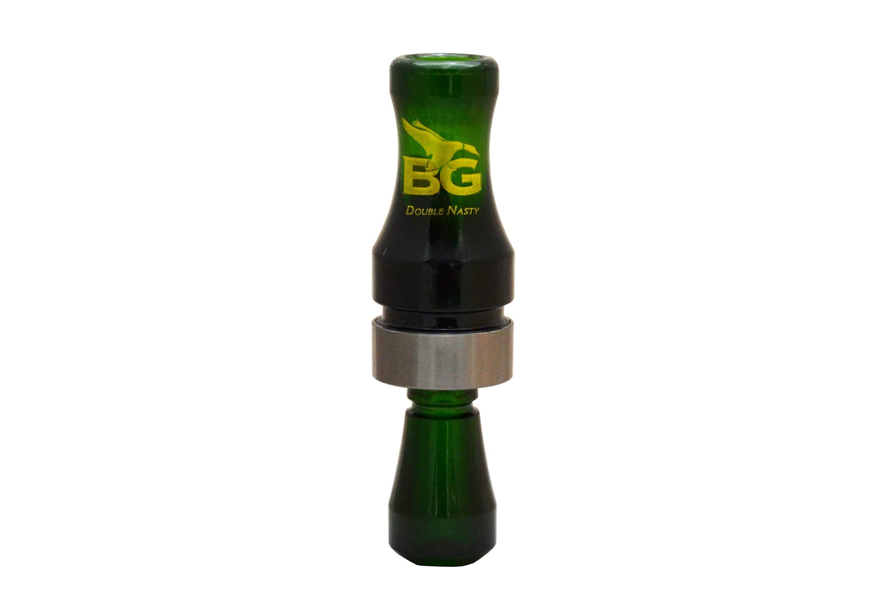 Made from acrylic for a dense, loud sound, the Buck Gardner Double Nasty II is a no-nonsense choice for serious duck hunters. The double reed style makes it easy to master, while the special Spit Technology ensures consistent, high-quality performance even when the call is full of spit, making it easy to use. When it comes to acrylic calls, this is our favorite.
In cold weather, this acrylic call does have a chance of freezing, so be mindful in the winter months. This double reed call is hand-tuned for excellent sound quality to improve your hunt. You may also like some of the best tomahawks from our list, so be sure to check them out.
Key Features:
Acrylic construction
Double reed
Spit technology
Hand tuned
Easy to use
Specification:
Brand

Buck Gardner

Model

DNP-CG

Weight

3.2 Ounces
Suitable for beginners and experts
Tone board reed
High gloss finish
Will occasionally freeze after heavy use
Duck Commander Jase Robertson Pro Series
Our final pick for the best duck call comes signed and sealed (but not delivered) by Jase himself. The Duck Commander Jase Robertson Pro Series is an upper-range option for serious competitors that mimics the mallard hen so well you'll wonder if you've turned into one overnight.
The wide vocalization range and ease-of-use ensure total satisfaction, while the riveted double reed provides suitable sounds and tones that can get as low as they can high. There are two models available – a wood and acrylic call – so you can choose your preferred material, and its unique design ensures easy identification. Like other Duck Commander calls, though, it'll freeze up in the cold, but if you're a summer duck hunter, this won't be an issue and you can enjoy all the benefits throughout the season. If you prefer hunting in winter, be sure to always have a hand warmer while outside in the cold.
Key Features:
Sounds exactly like mallard hen sound
Wide vocalization range
Easy to use
Riveted double reed
High and low end tones
Specification:
Brand

Duck Commander

Model

DCPROTW

Weight

2.4 Ounces
Unique design
Easy to use
Choose from either wood or acrylic model
Will freeze up in colder environments
Why Trust Us
Putting in the work to research the best duck calls is no easy feat, and that's why we've done it for you. You can rest assured that we spent the time finding the information on what separates single-reed calls and a triple reed system and what makes a good duck call. We read hundreds of product reviews to ensure we found design flaws and concerns directly from the consumer. An experienced hunter may already have a strong knowledge base but we wanted to ensure even the novice hunter can make educated decisions and bring home the best product for their needs.
Who This is For
This guide is for duck hunters of all levels. While it is geared mostly towards beginner and intermediate hunters, we feature a huge range of products and systems to serve many needs. Many of the products featured here are highly versatile and allow you to allure many types of ducks. If you are a winter hunter, you may need gear not featured on this guide as many calls are prone to freezing.
How We Picked
Curating a selection of the best duck calls started with looking at bestsellers; which products are most popular and why? From there, we read hundreds of reviews, consulted respected online duck hunting publications, and researched various reed systems to ensure we had a little bit of something for everyone and a guide comprised of the top duck calls.
Features To Look For In Duck Call
Reed - Choosing between a single, double, or triple reed duck call can be tough. A single reed boasts a greater range than double reed duck calls and also ensures a more versatile tone and result. However, they are tougher to get right, and hunters often prefer double reeds to minimize the learning curve, which is useful if you or someone you know is a beginner.
Material - There are a variety of different duck call materials to be found on the market, but typically, you'll find a call made from acrylic, wood, or molded plastic (which you might see written as polycarbonate). There is no definitive material that's 'better than the other, and each material has its own list of advantages and disadvantages.
Acrylic is denser than the other options and so produces a sharper tone. Wood offers a more mellow, easier sound, and considering it is the 'traditional' material, is something many duck hunters still like to use. Polycarbonate wood calls are the cheapest around and also the easiest to blow while still creating a realistic sound which makes them great for novices and those of any skill level.
Use - The way you use your duck call will determine how much joy you get from your purchase. If you're unsure of how to use it when it arrives, we recommend speaking with experienced friends or checking tutorials online, so you can better master the art of the duck call until it is extremely easy to do on a whim.
Remember, different ducks demand different calls, so finding a versatile product will maximize your luring potential and give you options you can't get with more restrictive products while out duck hunting.
It's also important to think about carrying it with you so it's easy to reach whenever needed. For this, a product with the option to attach a duck call lanyard will save you time and also make your outings more successful.
Weather - One of the biggest concerns with many options, even the best duck calls, is that they will freeze in the winter. If you are a winter hunter, you should choose your call carefully.
Maintenance - Duck hunting often means spending countless hours in the outdoors and near water. Nature and water can be hard on duck calls and other gear so it is critical to practice proper maintenance to keep your call from warping, freezing, or becoming dirty. Cleaning each call is a bit different so always check the manufacturer's recommendations.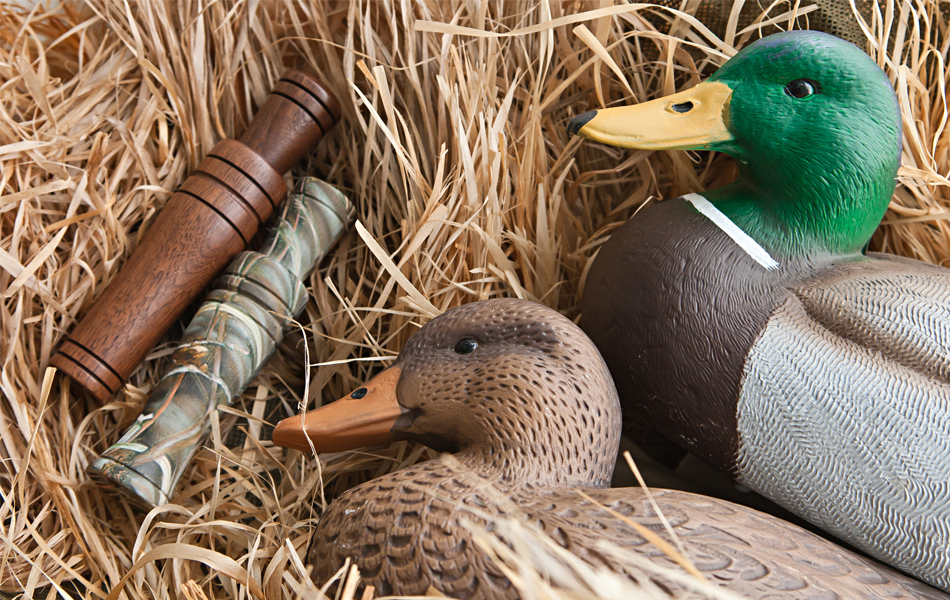 Duck Call FAQ
Q: What is a duck call?
A: A duck call is a device that duck hunters use to mimic and imitate the call of ducks in their area. Previously, like way back when before hunters figured out how to craft one from wood, a duck call referred to actual duck sounds the hunters would make with their mouths or hands, however, as knowledge increased, duck calls became physical instruments that use reeds and allow you to adjust the volume, tone, and pitch to appeal to different ducks.
Using duck calls, hunters can lure the duck towards them (usually with the help of a decoy to add to the realism) making them ripe for capture. When used correctly and when the call does not freeze, a duck call can accurately mimic the quack of a variety of duck species.
Q: What is the best duck call for beginners?
A: The best duck call for beginners is a duck call which is easy to master. It's also important to consider which type of ducks the beginner is working with. Double reed calls often have a lesser learning curve. It's important to find a balance between quality and affordability to ease into the sport before graduating to upper-range options.
Q: What is better: single reed or double reed duck calls?
A: There's no hard and fast rule for single reed or double reed being better than the other, and as with many things in life, it all comes down to whatever you prefer and which style of duck call works best for your situation.
If you're an experienced duck hunter, we can assume you've done a fair bit of research into which reed works better for you, but if you're a beginner, we'd recommend trying both single reed and double reed options to find out which one feels more comfortable.
Q: How does a duck call work?
A: Modern-day duck calls are similar to a woodwind instrument and vibrations from air being pushed into the reed by the blower. The blower can combine certain notes to imitate a hail call quack, comeback call, or feed call. The best duck calls can imitate all calls for multiple birds to provide excellent versatility.
Q: What makes a great duck call?
A: What makes a duck call great truly varies. It is critical that you have a durable product but more importantly, it is important to get a call suited to your needs. Before purchasing your call, consider what types of ducks you will be hunting, where you will be, and what you truly need. From there, you can find the features that will make a great duck call for your local area and needs.
Sources:
Choosing a Duck Call - Ducks Unlimited
What To Consider When Choosing a Duck Call - Outdoor Canada
Calling Game - Texas Parks & Wildlife
Sign Up Now
GET THE VERY BEST OF GEARHUNGRY STRAIGHT TO YOUR INBOX