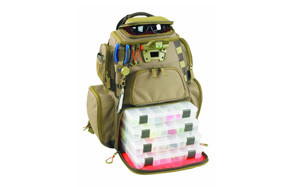 Wild River Nomad Fishing Backpack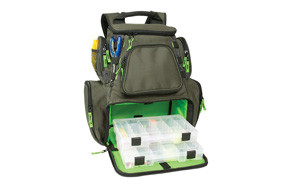 Wild River 3606 Multi-Tackle Large Backpack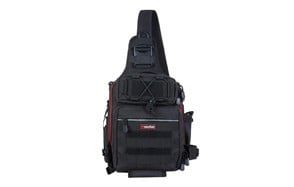 Piscifun Water-Resistant Outdoor Tackle Bag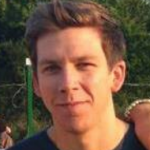 Taking off for a fishing trip this weekend? Looking for an ingenious way to store your baits, hook removers, knives, landing nets and much more? Look no further than the help of a quality fishing backpack. Most are equipped with significantly more compartments than conventional backpacks to help keep your valuable fishing equipment in one safe space. Our tested and curated list offers some of the best fishing backpacks currently available.
The Best Fishing Backpack
Fishing Backpack Buying Guide Information
How We Chose Our Selection of Fishing Backpacks
Brand - There are many brands and manufacturers of the best fishing packs on the market. In curation, this selection, a combination of well-known and lesser-known brands was compiled to provide readers with several options.
Quality - Quality was analyzed regarding materials and construction methods employed when creating the best tackle backpacks. All bags selected are made from high quality and durable materials that ensure their longevity.
Durability - Our selection also paid attention to the strength of the fishing pack. Durability saves you from continuous spending on either repairs or the purchase of a new bag altogether.
Reviews - Before the creation of our list, we looked through all reports on the various fishing tackle backpacks, analyzing each into detail to provide you with only the best of the best in the market.
Price - We believe that our list must appeal to all markets and budgets; thus, we were mainly in the creation of this selection, providing quality bags that are affordable for everyone, no matter their budget.
Don't forget to also check our guide to the best fishing shirts.

Features to Look for In Fishing Backpacks
All fishing trips require different needs and gear thus, not all fishing backpacks will be suitable for you. This isn't the case for only fishing but with all other products, which is why we've provided you with some things to consider before your next purchase.
Weight - The weight of your fishing backpack is mainly dependent on the brand and how long you're going to wear it. You can opt for lightweight bags if you love walking or trekking to your favorite fishing spot, or a heavier option if you are less likely to be seen carrying your backpack for long periods of time.
Storage Space - The best fishing bag is one that offers you with several storage compartments, specially designed and designated to your various types of fishing gear. It is a bonus if your backpack provides you with space for your electronics and other non-fishing valuables. You will also need space for your sunglasses and extra lines in case of an emergency.
Comfort & Support - One of the most vital points every fisherman pays attention to is the comfort when it comes to searching for the perfect bag. Comfort means there is less struggle while carrying this bag around, especially if it's for more extended hours. Support is provided through the type of material, and design of the shoulder straps.
Water Resistance - Fishing is almost synonymous with water, and as such, your backpack must have a high water or weather resistance. If your bag is made from waterproof materials, you don't have to worry about your valuable items getting soaked. Apart from waterproof bags, some bags are made to be mudproof which prevents the onset of mold or the hassle of cleaning.
Zippers - Make sure you opt for bags with waterproof zippers. Many bags are made with waterproof fabric, but their zippers do not prevent the entry of water into its interior. Look out for zippers made of anti-rust materials like stainless steel.
Straps - The straps of your fishing bag must be designed to give you with ultimate comfort no matter how long you keep the bag on. Look out for breathable mesh or padded straps, as these will ensure comfort and convenience.
Pockets - The locations of pockets on a fishing backpack must be done smartly to provide you with easy access, without water being able to enter quickly.

Fishing Backpack FAQ
Q: Who needs a Fishing Backpack?
A: Fishing requires a lot of tools and supplies. For a successful and enjoyable fishing trip, there's no doubt that a useful tackle storage and organization system is necessary or a successful and enjoyable fishing trip.
Q: What Should I Pack In The Fishing Backpack?
A: The trick to avoiding excess weight on a fishing trip is to pack only the essential fishing gear you need.
Q: Why should I bring a pocket knife with me on a fishing trip?
A: Having a solid tactical knife at hand is very vital to fishing; thus, having a folding pocket knife is an excellent idea as it can help in the cutting of extra line.
Q: Why are polarised sunglasses a must-have on a fishing trip?
A: To reduce the amount of glare your eyes have to endure while you fish, especially during, the day, having a polarised pair of sunglasses is very important. It also helps you see through the water to identify fish that have been made invisible by glare.
Q: Why should I pack a waterproof bag inside the fishing backpack?
A: Having a waterproof bag in your fishing backpack reduces the chances of your gear getting wet. Even though many bags are designed to be waterproof, their fabric has a water-resistant capacity limit beyond which water can easily seep through.
Q: Is it ideal to pack shelter and sleeping bags on my fishing backpack?
A: Packing a sleeping bag on a fishing backpack is allowed, especially when you're going for multi-day fishing. Everybody has to sleep; thus, there's absolutely nothing wrong with keeping your sleeping bag near.
Related Post: External Frame Backpacks