Precise Cutting Made Easy: The Best Craft Knives Of 2022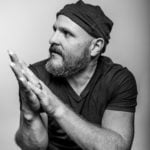 This product guide was written by Andrew Marshall
Last Updated
November 9, 2021
Andrew Marshall
Andrew Marshall is a writer, painter, photographer, and filmmaker. He primarily writes about the outdoors, though like most writers he's interested in just about everything. Andrew is a long-distance athlete with a passion for running and walking up and down mountains. Born and raised in the southeast, he now lives high in the Sierra Nevada with his wife and a freakishly large orange cat.
GearHungry may earn a small commission from affiliate links in this article.
Learn more
A craft knife is a tool all creative minds and hands should have, whether you're embarking on a DIY project or working as a full-time artist. These dainty but powerful pieces of equipment have helped many people cut out intricate shapes for projects of all kinds. Their precision is what makes them powerful. There are so many hobby knives on the market, so having a bit of direction on where to start can start your next project off on the right foot. Read on for our guide to the best craft knives for projects both big and small.
The Best Craft Knife
X-ACTO #1 Z Series With Safety Cap Craft Knife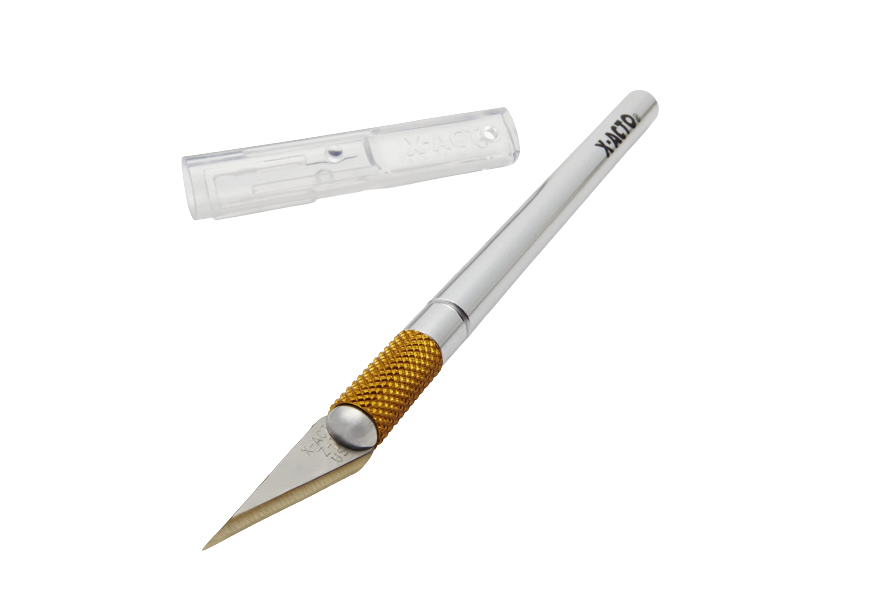 The X-ACTO #1 Knife, Z Series offers an accurate precision knife in a lightweight offering with an included safety cap and aluminum handle. This knife is well-loved by professionals and hobbyists alike. The sharp, crisp #11 fine point zirconium nitride-coated blade produces professional lines, angles, and results every time. The bad boy is sharp, especially straight out of the box. Please exercise care while changing the blade and using this tool; always cut away from yourself!
The lightweight aluminum shaft gently rests in your hand without fatiguing you after hours of use, making it easy to make fluid and exact cuts on practically any material, including paper, fabric, thinner fabric, and plastic. Near the tip, you'll find a grooved ergonomic handle for slip resistance even when your hands get a bit sweaty after hours of use. Lastly, the safety cap can help you avoid accidents like the unexpected stabbing when you reach in a drawer to grab this bad boy after you forgot to cap it. You may also like to check our guide to the best box cutters.
Key Features:
Number 11 fine point blade
Easy-change blade system
Lightweight aluminum handle
Safety cap for safe storage
Specification:
Brand

X-Acto

Model

XZ3601

Weight

0.8 Ounces
Fiskars 167110-1001 Heavy Duty Die Cast Craft Knife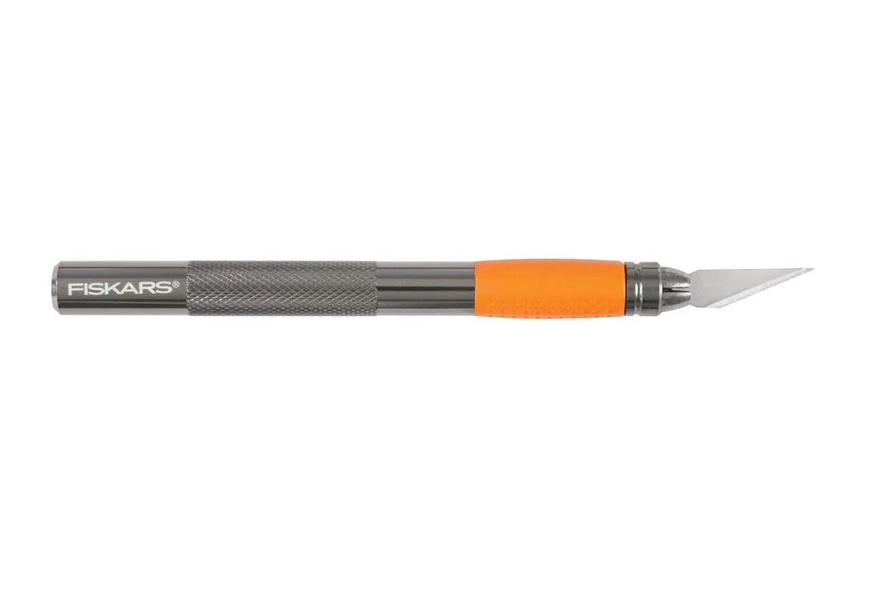 Fiskars knows a thing or two about cutting implements, from axes to scissors and knives—few brands are as well known in the world of sharp objects. The Fiskars Heavy-Duty Diecast Craft Knife boasts the same quality and durability that comes with the Fiskars name. The features of this pen-shaped knife make all the difference. Weighing slightly more than other craft knives, this cylindrical 8-inch knife boasts a die-cast barrel that fits more comfortably in your hand. Furthermore, what's great about the size and design of this Fiskars knife is it's smooth on the hands, with a textured middle that prevents slippage while cutting paper or making agile cuts.
Just below the collet is an equally textured rubberized soft-grip touch point that provides more control over the hobby knife when carving. This feature ensures that the knife doesn't slip due to sweat or fatigue during cutting, engraving, and trimming tasks. The collet is sturdy enough to prevent wobbling or bending, adding additional security. This is the go-to knife for guaranteed clean, accurate, and professional projects, from cutting intricate details on soft paper or cardboard to carving through overlays and making a scale model. You may also like some of the best-selling glue sticks from our top list.
Key Features:
Comfortable rubber grip
Die-cast metal body
Sturdy collet for a secure hold
Included safety cap
Specification:
Brand

Fiskars

Model

167110-1001

Weight

1.6 Ounces
Cricut TrueControl Craft Knife Kit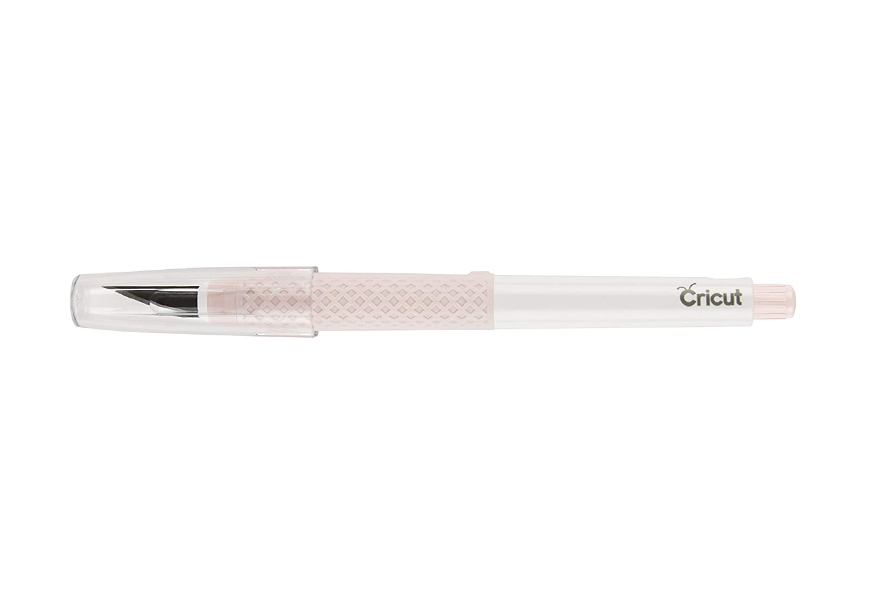 Most kids learn how to make pretty decorative paper arts with a pair of craft scissors, some ribbons, and paper. But advanced techniques require more precision and cuts than a pair of scissors may be able to perform. That's why precision knives like Circuit TrueControl Knife Kit are among the few products that can be trusted for professional quality work. This set offers more than a blade and a comfortable grip; this value pack has five additional blades. This particular knife was made for crafts, from scrapbooking to making stencils, modeling, and other DIY projects. Plus, there's that rose pink design that gives it some extra style points and flair. However, while this product looks cool, it also offers impeccable quality and durability.
When changing the blades, there's no touching required. Simply insert the bottom of the blade into the collet without removing it from the protective plastic packaging. Once in, lock it in place, and you're off to the races. This system provides additional safety and limits the risk of injury when changing blades. This hobby knife can cut through faux leather, foil acetate, matboard, sparkle iron-on, balsa wood, craft foam, and more. And with the pre-sharpened stainless steel blades included in the set, users are assured of fast, clean jobs. Additionally, the anti-roll feature that keeps the knife from wobbling off the table when not in use – which many craft enthusiasts appreciate. The rubber-grip handle promises a firm grip even when your hands are moist or sweaty, with a cushioning feeling that keeps the fingers and hands at ease and reduces fatigue.
Key Features:
Premium steel blades for precision cutting
Blade lock system
Protective cap
Storage cartridge to track and dispose blades
Specification:
Brand

Cricut

Model

2005032

Weight

2.4 Ounces
Excel Blades K1 Hobby Knife with Safety Cap Craft Knife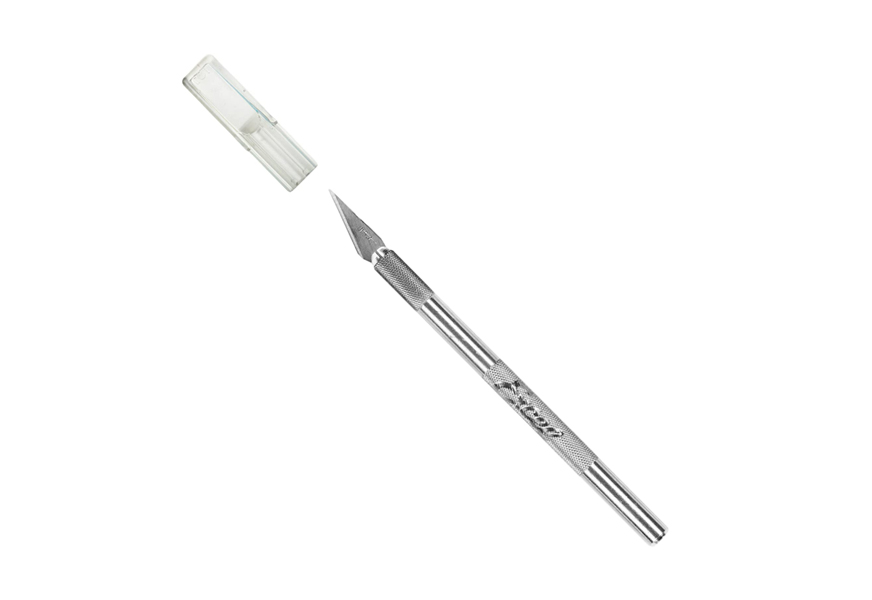 For 25 years, our next brand has been delivering top-notch knives and the Excel Blades K1 Hobby Knife is no exception. It is one of the most popular and lightweight hobby knives on the market, fitted with a carbon steel straight edge blade that you can easily use to trim materials such as wood, plastic, paper, and even leather. It has an aluminum body that fits with all standard-size craft knives and X-acto blades. Additionally, it is fitted with a 4-jaw aluminum chuck with a front blade release, enabling you to have a firmer grip and be less likely to injure yourself.
This product is excellent for beginners due to its weight and size but can also serve professionals. The sharp end of this stellar device is double-honed for a stronger ultra-fine point and less flex to avoid any breakage during your work sessions. The cherry on the top of all this is the shatter-resistant safety cap which will ensure that you are safe. So, if you are thinking about picking up a hobby in the line of arts and crafts, this is definitely one of the best options out there. Find more great products like this by checking out our guide to the top Benchmade pocket knives.
Key Features:
Durable pre-sharpened blades
Replaceable blade
Lightweight and sturdy
Safety cap included
Specification:
Brand

Excel Blades

Model

16001

Weight

0.64 Ounces
Fiskars 163050-1001 Finger Loop Craft Knife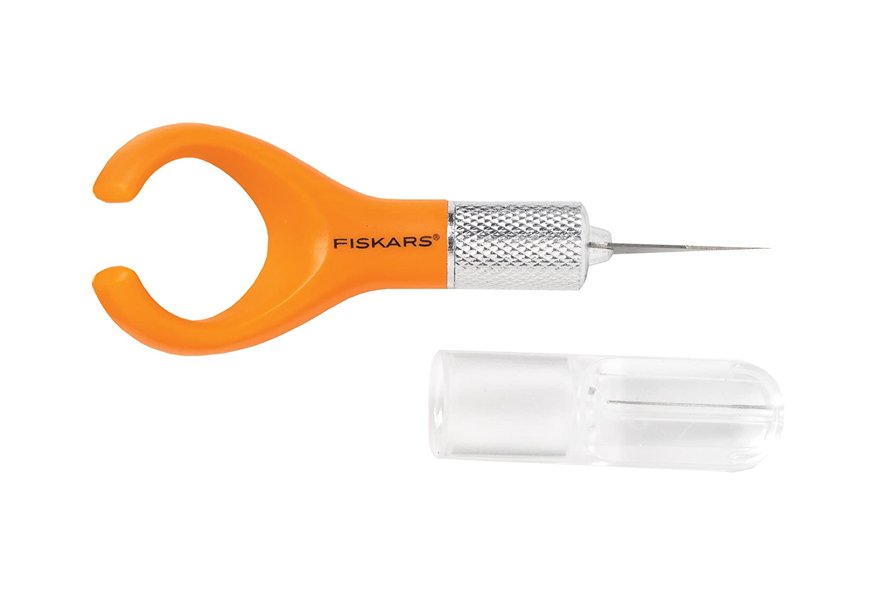 The Fiskars 163050-1001 Fingertip Craft Knife is an innovative hobby knife with a unique design and impressive durability. This product is sure to give you the polished and professional look you desire from a craft scalpel while prioritizing safety on your work table. The replaceable blade functions much like any other of the best craft knives out there. While the design changed, the business end of things didn't.
In addition to all that, its overall design's purpose is to give you optimum cutting precision and maximum dexterity for intricate and accurate cuts. This art knife has an ergonomically sculpted finger loop handle that will provide you with all the control you need to produce superior work quality. The handle is accompanied by a sharp, thin metal blade, perfect for cutting designs in confined spaces as well as trimming straight edges for your next craft project. Find more blades you can always have at hand by checking our selection of the best keychain knives.
Key Features:
Ergonomic finger-loop handle
Flat handle to prevent knife from rolling off surfaces
Safety cap for protection of blade during storage
Five packs of replacement blades are available
Specification:
Brand

Fiskars

Model

163050-1001

Weight

0.96 Ounces
Fiskars 195210-1001 Comfort Loop Rotary Craft Knife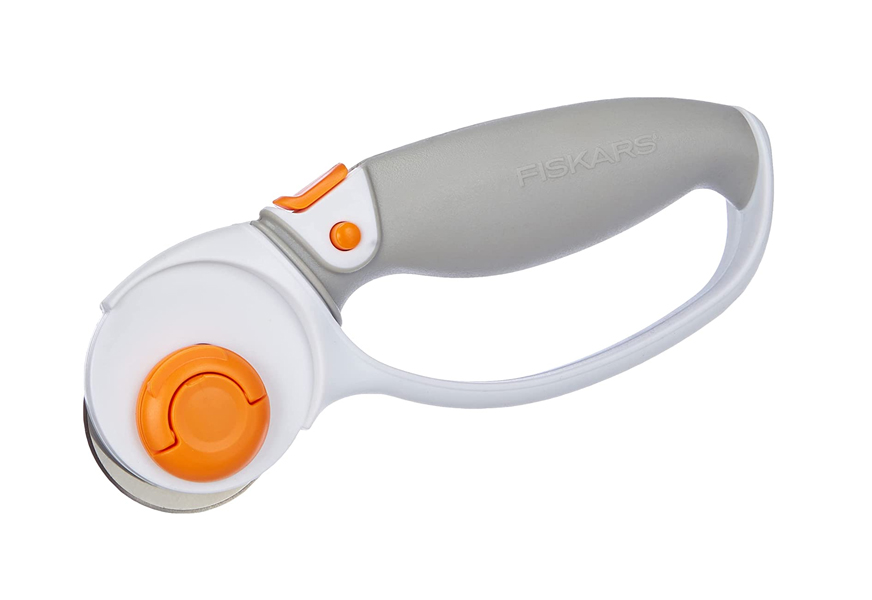 Cutting stuff up has never been as fun as it is with the Fiskars 195210-1001 Comfort Loop Rotary Cutter. The attention to detail in this product is easy to see. High-grade, precision-ground, 45-millimeter premium steel offers durability and lasting sharpness. It has a unique design that is characterized by a curved yet looped handle which will provide a perfect fit for any hand and as such, you will have optimum control over the cutter itself. The sleek sliding button controls the length and position of the blade; it can elongate the blade during use, lock it in the position you desire as well as retract it completely so that no one gets hurt. All in all, you have total control of the business end at all times while you work.
This product is an excellent retractable knife and truly shines when cutting multiple layers of fabric, paper, felt, or other materials. The cherry on the top is that the blade can be assembled to either side. Gone are the days where left-handed folk have to struggle with products solely meant to be used by their right-handed counterparts. Make sure you also browse our list of top-rated utility knives.
Key Features:
It has a 45 mm premium steel rotary blade
Has a curved handle for better grip
Sliding button for blade control
Durable construction
Specification:
Brand

Fiskars

Model

195210-1001

Weight

3.2 Ounces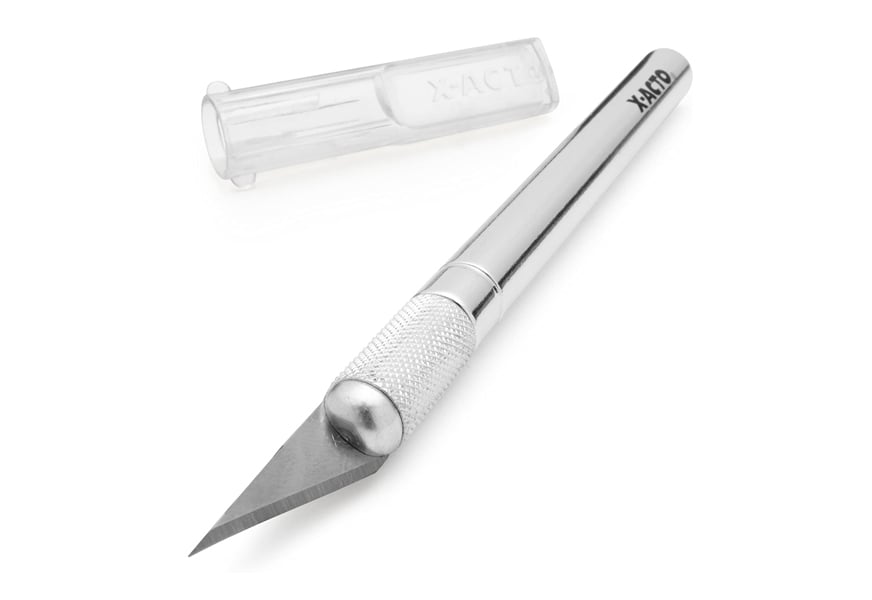 When it comes to naming the best craft knife, the X-ACTO #2 Knife With Safety Cap is a top contender. With this knife you can easily make accurate and precise cuts into light, medium, and heavyweight materials including paper, plastic, metal, film, acetate, and even wood. We love the easy-change blade system that enables any user to swap blades quickly so you can get back to work faster. Another attractive aspect of this knife is its medium-weight aluminum handle which makes for agile and precise cuts without bending too much or weighing you down.
This x-acto basic knife is a fundamental tool for all crafters. You can change the sharp blade quickly to many different sizes depending on your next craft project. A quick guide to blade shapes lives on the back of the packaging. For more handy tools like this, check out our list of the most popular pen knives.
Key Features:
Easy-change blade system
Fitted with a safety cap
Has a #2 large fine point blade
Medium-weight aluminum handle for easy handling
Specification:
Brand

X-Acto

Model

X3602

Weight

0.8 Ounces
Mlife Precision Carving Craft Knives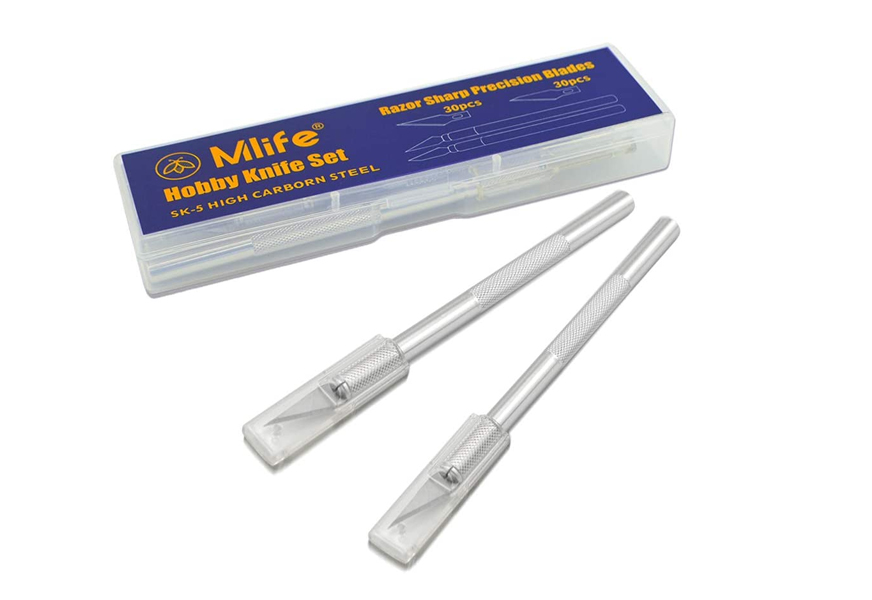 The Mlife Precision Carving Craft Knife Stainless Steel Knives Set offers two handles and sixty replacement blades, offering you a one-stop shop for your next project. Sixty replacement blades in two shapes lessen your trips to the store or online orders as you dull blades on your next big craft project. The average blade lasts a professional 30-60 minutes of work time before it starts to catch and drag on your paper project, making replacement blades a valuable asset.
This hobby knife is versatile and well suited for a wide range of projects such as models, artwork, precision cutting, detailing, trimming, and even stripping. To achieve all this, the precision knife itself employs the use of a lightweight metal handle with a textured grip, reducing fatigue and also making it easy for you to control it while cutting. Take a look at these handy whittling knives from our list, and find the right one for your artwork.
Key Features:
Comes with a lightweight metal handle and textured grip
Fitted with a safety cap
Can cut through soft and hard materials
Two handles and 60 replacement blades
Specification:
Brand

Mlife

Weight

2.4 Ounces
OLFA Cushion Grip Art Knife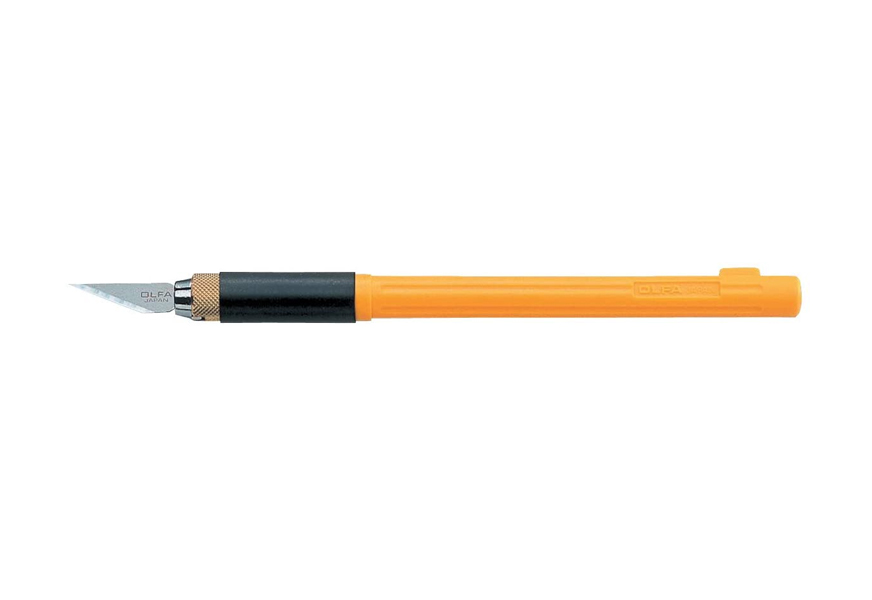 When it comes to any craft, it is not just about having lots of supplies or having the most expensive ones, it is more about finding the right products for the results you desire. The OLFA Cushion Grip Art Knife offers comfort exceptional grip, balance, and features for excellent results every time.
How does this product offer efficiency hand in hand with comfort? First, the bottom of this craft scalpel is slightly weighted making for improved balance and stability. In addition, it features a unique anti-roll device that is built-in solely for your safety. No more freely rolling knives, sliced toes, or losing your things. Lastly, you have the option of changing blades while working with the use of a strategically placed blade holder; all you have to do is spin it, and you will be working with a whole new blade. For some top-quality blades ideal for outdoor adventures, be sure to browse our list of the best-rated camping knives.
Key Features:
Has an anti-roll device
Comes with the option of quick-spin blade change
Anti-slip handle
Cushion grip handle
Specification:
Brand

OLFA

Model

9164

Weight

1.76 Ounces
Fancii Precision Craft Knife Set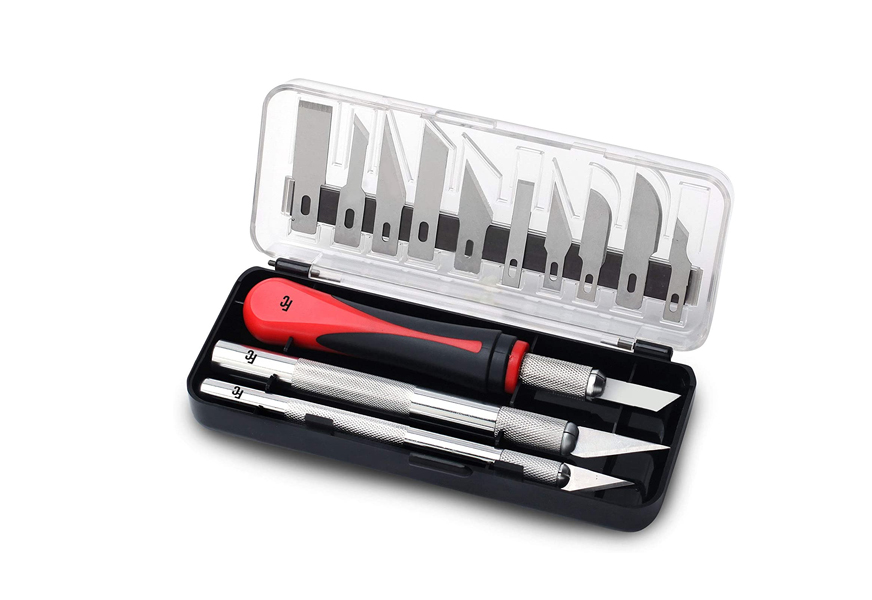 This 16-piece Craft Knife Set is the ultimate tool for new hobbyists. While the quality may be lacking slightly, this will mostly matter to professionals. For beginners who need plenty of options and want to experiment, this is a great product. In the pack, there are three handles – two thin aluminum handles and a more ergonomic plastic handle. This gives you the versatility to choose the correct handle for the task you're completing.
You also get 13 different blades with different edges and thicknesses and shapes which are designed for various cutting jobs. The blades and handles are made from aircraft-grade aluminum, making them tough and resistant to rust and corrosion. Plus, everything comes with a handy plastic box, ideal for keeping all the parts organized. For more amazing wood-cutting knives, check out our reviews of the best bushcraft knives.
Key Features:
Made from aircraft-grade aluminum 
Three handles
13 blades
Carrying case included
Specification:
Brand

Fancii

Weight

5.8 Ounces
Why Trust Us
As a lifelong crafter and now professional artist, I've used a lot of craft knives. Most recently, to cut mattes and make boxes for shipping artwork. I have these precision knives in my hand weekly and spend a lot of time bending blades, losing safety caps, and dropping tools, and through the process have learned what makes an excellent precision knife and what leaves them lacking.
Who This Is For
This guide is for anyone and everyone looking for a craft knife, whether for your next craft project, cutting mattes, fabrics, or leather. These tools have endless possibilities, and their users have a wide range of needs. We've curated a selection of versatile, durable, and precise art knives for any project or task, big or small.
How We Picked
When gathering a selection of the best craft knives, we first looked to the professionals. Being an artist myself, I know plenty of them and started with their recommendations alongside my personal favorites. Next, we read hundreds of reviews to see what precision knife the beginners, the amateurs, and professionals across the globe preferred. Lastly, we looked into which products were selling best. The result was this carefully curated guide to the best craft knives.
Features To Look For In Craft Knives
Type of blade - Blades come in many shapes and sizes for a huge variety of crafts, projects, and uses. Blade shape generally determines its use. Most blades listed here are #11 blades but you can interchange them with other shapes.
Blade material - Most blades are made out of stainless steel or aluminum. Aluminum is more flexible but lacks the same durability as steel. Carbon steel or stainless steel is your best blade material option.
Blade durability - As mentioned above, steel provides excellent durability which is a key feature in nearly any product. Having to replace blades all the time can be dangerous and eventually, expensive. While each individual blade may not be so expensive, they really do begin to add up especially with regular use.
Handle safety - When working with sharp objects, safety is paramount. Safety features in a handle can save you from unwanted cuts and nicks. Many handles have an aluminum body (but different materials are possible) that can have dots, ridges, or grooves to create texture and increase grip. Some products will also feature a rubber cushion to reduce fatigue in your hands while offering excellent grip.
Flexibility - Some flexibility in the blade of your crafting knife is key for cutting different shapes other than straight lines. However, too much flexibility and your blade will be harder to make straight lines with when you add pressure. The best knife will have just enough flexibility to create smooth flowing lines.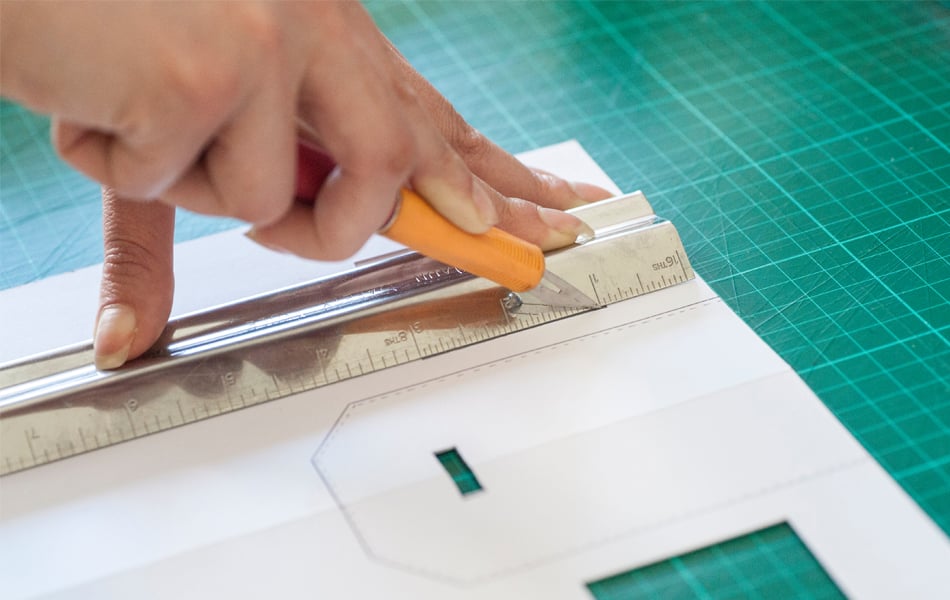 Craft Knife FAQ
Q: Does the craft knife have a retractable blade or a safety cap?
A: Some craft knives have retractable blades. However, most on this list do not. Personally, I like to have fewer points of failure in a product, and in my experience retractable blades often bend easier, which lessons their durability, strength, and precision. All knives on this list have safety caps, so you don't have to worry about accidentally stabbing yourself when you reach into your toolbox or drawer.
Q: Does the craft knife come with spare blades?
A: Many art knives come with spare blades already. Some don't, but packs are often available for purchase. Most of the products we listed have similar-sized blades making replacements easy to find and install.
Q: Is it easy to change the blades?
A: Generally, blades should be easy to change. However, you need to be careful not to cut yourself during the process. Some knives like the Cricut TrueControl System have processes to make changing blades safer.
Sources:
Utility Knife - Wikipedia
GSA Guide to Safe Use of Craft Knives - The Glasgow School Of Art
Sign Up Now
GET THE VERY BEST OF GEARHUNGRY STRAIGHT TO YOUR INBOX