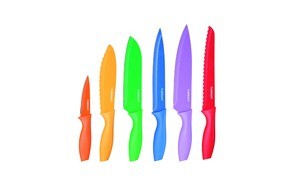 Cuisinart Advantage Color Collection Ceramic Knife Set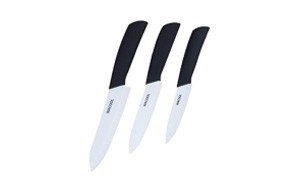 WACOOL 3-Piece Ceramic Knife Set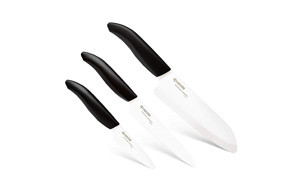 Kyocera Advanced Ceramics Ceramic Knife Set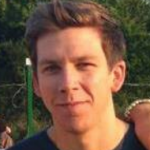 There's nothing worse than a blunt knife in the kitchen. It might seem safer to have blunt blades, but in fact, they are much more prone to slipping and you can easily cut yourself. Nowadays, more and more people are choosing a ceramic knife set over your classic steel. The reason? They're much more durable, sharper, and require sharpening less. In this article, we've selected the ten best ceramic knives that money can buy. There's also a Buying Guide & FAQ section at the bottom to answer any questions you might have.
The Best Ceramic Knife
Ceramic Knife Buying Guide & FAQ
How We Chose Our Selection Оf Тhe Best Ceramic Knives
Price – Not everyone has hundreds of dollars to spend on the best ceramic knife set. We get that. That's why we make sure to include products from across the price range. And they all have one thing in common – they're great quality. Check out our Best Value and Premium Products for the two ends of the spectrum.
Reviews – When we're picking the products for these Buying Guides, we always check out the customer reviews. That's because it's the best place to get an honest opinion about a product. Customers don't have any incentive to lie about a product, so they'll tell you what they really think. Then, we check out other expert reviews to see what cooking masters think about the knives in our list.
Brand – When it comes to cooking products, there are hundreds of big-name brands. We like to check them all out and see what they've got to offer. But we don't just make a decision based on the brand – we take everything into consideration including quality, features, benefits, and more.

Ceramic Knife FAQ
Q: What are ceramic knives?
A: Ceramic knives are kitchen knives made from a durable ceramic called zirconium dioxide. They're harder than steel knives and don't rust or corrode, thanks to their resistance to acidic and caustic substances.
Q: What is the difference between ceramic and steel knives?
A: Ceramic knives don't rust or corrode. Also, they are more brittle than steel knives, which allows them to hold their sharp edge for longer.
Q: How to sharpen your ceramic knives and care for them long term?
A: There are a few basic rules to follow to keep your ceramic knives in good shape:
Always use a wooden or plastic cutting board.
Hand-wash your knives.
Don't ever throw them or drop them because they chip easily.
Don't use them on thick, tough, or frozen foods.

Q: Is a ceramic knife dishwasher safe?
A: Most manufacturers say that you can wash them on the top shelf of a dishwasher. However, it's much better for the knife to wash it by hand. The reason is that the high-pressure water can cause the blades to chip, especially if the knives are in a full dishwasher.