Best Latte Machines In 2022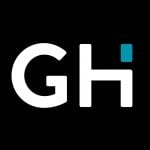 This product guide was written by GearHungry Staff
Last Updated
June 30, 2020
GearHungry Staff
GearHungry Staff posts are a compilation of work by various members of our editorial team. We update old articles regularly to provide you the most current information. You can learn more about our staff
here
.
GearHungry may earn a small commission from affiliate links in this article.
Learn more
A well-made latte is just what you need to get your day started, and some people find it challenging to handle a day without it. However, making the perfect cup with the right amount of milk and foam isn't as easy as professional baristas make it look. What if you could gain that perfection with the help of an excellent tool? Well, that's the beauty of latte machines. Yet, merely purchasing a latte machine is not enough; it has to have the chops to make a perfect latte. For this reason, we'll run through a list of the best latte machines on the market to ensure sufficient options when picking the best latte machine for you.
The Best Latte Machine
Breville The Barista Express Latte Machine
Our top choice is the Breville the Barista Express Espresso Machine, which is without peers in the latte-making world. With a brushed stainless steel exterior, this coffee machine looks like a behemoth and isn't out of place in formal environments. It has incredible features that raise its profile as one of the best latte machines you can purchase. For instance, it has an integrated grinder that delivers the right amount of coffee into the portafilter every time.
It pushes the precise amount of water through the portafilter at the right temperature with the help of its digital temperature control. The machine features an excellent steam wand, which allows you to create some fantastic latte art to give your creation visual appeal.
Lastly, it comes with a fantastic grinding cradle that offers the ability to grind directly into the espresso portafilter with no stress at all. Suitable for both commercial organizations and at home, the Breville Espresso machine is a product to reckon with, and it deserves all the praise it gets.
Key Features:
Excellent brushed stainless steel exterior
Digital temperature control delivers water at the right temperature
One year limited warranty
Useful in both commercial and domestic settings
Specification:
Brand

Breville

Model

BES870XL

Weight

23 Pounds
Keurig K-Cafe Latte Machine
The Keurig K-Cafe Coffee Maker is undoubtedly one of the best latte machines for home because of its many abilities, all of which combine to brew the perfect coffee cup. It simplifies the process of making an excellent latte with its easy three-step process.
Firstly, you have to brew a coffee shot with any K-cup pod, before frothing your choice of milk. Once done, sit back and enjoy an excellent latte. It is efficient as it heats up and brews coffee in one smooth operation, which means you aren't left waiting for your cup of coffee.
Additionally, it sports an auto-off function, shutting the machine down two hours after your last brew, saving energy. It is a travel mug friendly and can take on containers as tall as 7.2 inches.
If that isn't enough to convince you, the brewer maintenance reminder function should do the trick. The coffee maker alerts you when it is time to descale the machine; therefore, elongating its life. If you want a portable option as well, check out our list of the best manual espresso machines.
Key Features:
Accommodates mugs as tall as 7.2"
Alerts you when it's time for maintenance
Very easy to use
Dishwasher-friendly frother
The Mr. Coffee Espresso and Cappuccino Maker allows you to brew house-grade coffee from the comfort of your home. A powerful 15-bar pump system works efficiently to froth milk for the perfect cappuccino or latte, giving you the freedom of choice. Its smooth operation means you don't need barista skills to create an excellent cup of coffee. What's more, it comes with a recipe book, helping you make incredible coffee drinks you are sure to enjoy.
The milk and water reservoirs are convenient to fill and are free of any challenges. It has a programmable cleaning cycle, meaning you won't have to stress yourself when it comes to maintenance. Just in case you get confused, there is a user manual with easy to follow instructions to understand all the details and functions of the machine. Its design and functionality make it a perfect, unique gift for coffee lovers. 
Key Features:
An excellent 15-bar pump system
Accompanied by user manual to ease usage
Programmable cleaning cycle makes maintenance easier
Automatic milk frother that enhances your experience
Specification:
Brand

Mr. Coffee

Model

BVMC-ECMP1000-RB

Weight

10.37 Pounds
DeLonghi EC702 15-Bar-Pump Espresso Maker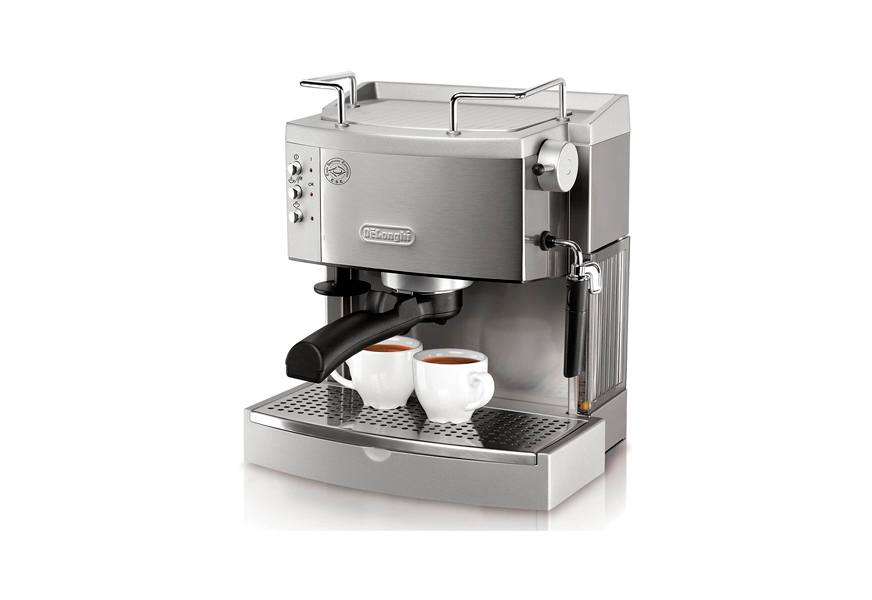 The next coffee maker on our list is the DeLonghi EC702 15-Bar-Pump Espresso Maker, a product you would do well to consider. For one, it has a 3-in-1 filter holder that enables you to choose between one or two espresso shots at a time. Its double-wall filters provide high-quality crema whenever you want. It comes with a manual frother that cedes all control to ensure you create froth to suit your personal preferences.
It is a self-priming machine that doesn't take long to heat up, so you can get to the important stuff faster. But that's not all as it features two thermostats that enable you to control water and steam pressure separately.
It comes ready with a removable drip tray that is easy to wash and keeps the coffee maker's surroundings clean. Overall, you'll love the professional design with a clean, grey exterior.
If you prefer cold coffee, here are some amazing cold brew coffee makers you will love.
Key Features:
Two thermostats to control water and steam separately
Manual frother ensures you create foam how you want
Double-wall filters deliver high-quality cream
Beautiful design that fits in anywhere
Specification:
Brand

DeLonghi

Model

EC702

Weight

11.5 Pounds
Nespresso by De'Longhi EN520SL Lattissima Plus Espresso and Cappuccino Machine
If you want a delicious cup of espresso, then the Nespresso by De'Longhi Lattissima Plus Espresso and Cappuccino Machine is the product for you. Nespresso latte machines aren't the most common on the market, but this is undoubtedly one of the best you can get. The kit includes Nespresso capsules, and the coffee capsule system prevents messes. You don't have to worry about getting the measurements correct to produce the best cup of coffee for you.
Overall, the Nespresso by De'Longhi is straightforward to use and features a single-touch system that grants you the power to craft the most delicious coffee from your home. This machine is backed by an impressive Thermoblock heating system, which reduces heating time so that you can enjoy your coffee in no time.
Lastly, we can't forget to mention this product has an auto turn-off feature that helps save energy and prevents the bills from racking up.
If you are looking for a more straightforward option, here are some quality coffee percolators you might also like.
Key Features:
The kit that includes Nespresso capsules
Coffee capsules ensure you don't have to worry about measurement
Single touch system for greater ease
Impressive Thermoblock system speeds up heating time
Specification:
Brand

Nespresso by De'Longhi

Model

EN520SL

Weight

9 Pounds
De'Longhi America EN750MB Lattissima Pro Original Espresso Machine
We've already examined a couple of De'Longhi coffee makers, which shows they are well deserving of their trusted status in the coffee-making space. It's no surprise the De'Longhi America EN750MB Lattissima Pro Original Espresso Machine is also on this list thanks to its many great qualities.
For instance, it comes equipped with an innovative auto clean system that makes maintenance more manageable. It has a dishwasher-safe milk container that simplifies cleaning.
It features a user-friendly system that is easy to use and doesn't require any complicated procedures or extra steps. And, with a removable carafe that stores in the fridge, you can easily prevent waste.
With its advanced systems and incredible design, the De'Longhi Lattissima espresso machine creates memories in a cup that will serve you, friends, and family for a long time.
For more handy kitchen devices like this, check out our list of the top pour over coffee makers.
Key Features:
A user-friendly system that's easy to use
The removable carafe that can be stored
Features an awesome auto clean system
Dishwasher safe milk container
Specification:
Brand

De'Longhi

Model

EN750MB

Weight

12.6 Pounds
Breville BES810BSSUSC Duo Temp Pro Espresso Machine
The Breville BES810BSSUSC Duo Temp Pro Espresso Machine pulls together several processes to craft the ideal cup of coffee you are sure to enjoy. It features low-pressure pre-infusion, guaranteeing you taste the awesome flavors, deepening your experience and enjoyment. It possesses a high-quality 1600W element that provides the right amount of steam for micro-foam while enabling some nifty latte art.
The machine alerts you of required maintenance, ensuring that you don't forget to empty the drip tray or descale the coffee maker, helping increase the longevity of the device. This machine also has a function that automatically purges the heating system after steaming, which allows for pulling the following espresso shots at the right temperature. Finally, it is backed by a one-year warranty that lets you have peace of mind in your investment. If you are the type of person who is always on the go, make sure to always have a coffee thermos with your favorite brew at hand.
Key Features:
1600W element creates the right amount of steam
Auto turn off feature
One-year warranty
Maintenance reminder
Specification:
Brand

Breville

Model

BES810BSSUSC

Weight

18.9 Pounds
Mr. Coffee One-Touch CoffeeHouse Espresso Maker and Cappuccino Machine
The last machine on our list is the Mr. Coffee One-Touch CoffeeHouse Espresso Maker and Cappuccino Machine, but don't let its position on our list fool you, this is an incredible product.
It is powered by a 19-bar Italian pump that delivers the right amount of pressure, which, in turn, deepens the coffee's flavor and extracts all the nuances available. It is easy to operate, requiring one push of a button to activate most of its features. Most importantly, it comes with a thermocouple heating system that evenly heats the water to ensure consistency in your latte experience.
Longevity is assured with this Mr. Coffee product as it sports a convenient drip tray that minimizes messes. A cup tray is added and adjustable to ensure that it handles both tall and short mugs. The milk frother is automatic, and the milk reservoir is removable, so your remaining milk doesn't go to waste.
If you want to have your favorite coffee on your outdoor adventures too, make sure to check out these convenient camping coffee makers.
Key Features:
19-bar Italian pump for correct pressure
Removable milk reservoir for easy storage
Simple one-button operation for all processes
Automatic milk frother
Specification:
Brand

Mr. Coffee

Model

BVMC-EM6701SS

Weight

15.18 Pounds
Latte Machine Buying Guide & FAQ
Features To Look For In Latte Machines
As mentioned at the beginning of the article, you can't merely buy any latte machine and expect it to do things exactly how you want. You should keep your eyes peeled for a couple of functions and features before picking out your next coffee maker. To help with this, we'll list out a few features to consider before making a purchase.
Size - The size of your coffee maker is of great importance and depends on your lifestyle. For instance, if you live alone with no friends or family, it would be best to purchase a single-serve coffee maker or latte machine. Not only to fit your way of life but also to take up less space in the kitchen.
If you are a family person with multiple coffee lovers in the house, then a larger coffee maker will serve you better. Also, some of these products feature removable carafes that can be stored in the fridge to prevent waste.
Features - The features are perhaps the most important thing to consider when buying a latte machine. Some of them possess automatic frothers, which takes away the hassle of creating the right foam. On the downside, this wouldn't serve you well if you like your foam made in a particular way. Features such as the auto turn-off function is a must for every user to prevent wasted energy. There are various other functions some machines have that others don't, which is why you should research what each latte machine can do before pulling the trigger and buying it.
Maintenance - This is important as it directly involves the longevity of your machine. If your latte maker is difficult to maintain, it discourages you from cleaning and could shorten the lifespan. However, if you get a machine that is easy to maintain, this bodes well for everyone. For instance, cleaning up is easier with latte makers that have drip trays, while those with maintenance alerts are even more popular.
Capacity - Tied to the latte maker's size, the capacity is also essential to avoid waste and potential damage. You should carefully consider the capacity of your latte machine before making a purchase. If you have large coffee mugs, you should check to ensure the machine can handle it, and if you'd rather deal with one large carafe, you should think of the pros and cons. An example is how much space a large-capacity latte maker takes compared to a smaller one.
Grinder - Some machines feature a built-in grinder that does all the work for you, simplifying the coffee-making process. However, they are more expensive and might not be within the budget of some consumers. Carefully consider your budget and whether you are in love with the coffee-making process. If you decide that you won't mind doing some grinding yourself, then getting a separate grinder would be best. Lastly, always ensure that with built-in mills, if the machine automatically dumps the ground coffee into the basket.
Latte Machine FAQ
Q: What is a latte machine?
A: A latte machine is a tool used in making lattes. The machine forces pressurized water through ground coffee to produce the finished product, and then with the help of a frother, you can froth milk to add to the drink. Some machines come with automatic frothers, which eases the process significantly.
Q: What is the difference between an espresso machine and a latte machine?
A: While they are quite similar, there are a few differences between an espresso machine and a latte machine. To fully understand the difference, you first have to understand the nature of the two drinks. An espresso is a coffee that uses pressurized water to produce a viscous, strong, 2oz coffee drink.
Because of the strength and taste of espressos, people like to add some milk to make cappuccinos and lattes. The latter requires a lot of milk and little espresso. A latte machine can be a regular coffee maker with a built-in milk frother while an espresso machine, with the need for high pressure, are more complicated and expensive.
Q: Do all espresso machines make lattes?
A: No. However, this is rare as most machines can make lattes. But as mentioned before, the essential ingredient in a latte is milk, so if an espresso machine can't froth milk, then it can't produce lattes.
Q: What's the difference between a latte and a cappuccino?
A: Cappuccinos and lattes are the same basic ingredients: espresso and milk. What makes them different is the volume of milk each drink needs. Cappuccinos require little milk, which doesn't completely offset the taste of the espresso. Lattes use potentially twice the amount of milk, so it is ostensibly an espresso diluted in milk. Additionally, lattes infuse more flavors and are milder on the tongue while retaining the energy kick from espresso.
Sign Up Now
GET THE VERY BEST OF GEARHUNGRY STRAIGHT TO YOUR INBOX