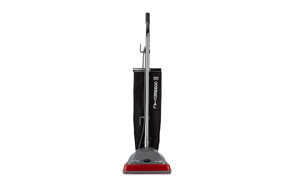 Sanitaire SC679K Upright Commercial Vacuum Cleaner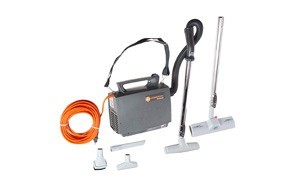 Hoover CH30000 PortaPower Commercial Vacuum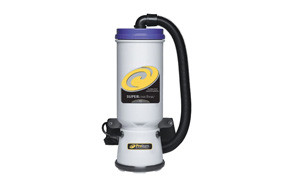 Super CoachVac Commercial Backpack Vacuum Cleaner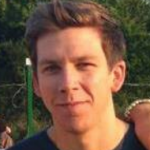 Residential vacuum cleaners are excellent tools to clean your house with, but what if you need to clean a much larger space with tougher surfaces and deeper nooks? This is the purpose of the commercial vacuum cleaner. They are typically used in the office and other large areas to suck up dirt and dust, and aid in the cleaning process. What's more, they differ from the residential cleaner in that they are generally larger and sturdier and also tend to have a longer cord. So, if you are inclined, we have an excellent list of the best commercial vacuum cleaners below. Let's have a look!
The Best Commercial Vacuum Cleaner
Commercial Vacuum Cleaner Buying Guide
So, you need a new vacuum cleaner for your workplace or business? Don't worry; we have listed the best commercial vacuum cleaners on the market. However, your experience with the cleaner will be colored by the features that are pertinent to you. Therefore, to ensure that you enjoy the full experience of your purchase, here are a few things to look out for when getting your next commercial vacuum cleaner.
Features To Look For In Commercial Vacuums
Capacity - This refers to how much dirt or dust the cleaner can hold. Depending on the type of space you are cleaning, you should pay close attention to the capacity of your vacuum cleaner. For example, if the space you are cleaning up is large, opt for a cleaner with a large capacity as this will mean you'll need to empty it out less. However, if you use a smaller capacity vacuum, this could lead to more downtime and more stress. This is also the same with using a bagged system as smaller bags need to be replaced more often.
Cord/Cordless - A lot of commercial-grade vacuum cleaners make use of long cords, with some reaching as far as 50 feet! This is useful as it allows you to maneuver easily without an alternative power source. But, there is only so far a cord can go, which is why some people opt for cordless cleaners. These cleaners run on batteries and can be recharged, giving you maximum flexibility. Nevertheless, they also have their own shortcomings, and you should be careful when getting them. So, the best advice would be to consider what you want the vacuum cleaner for and choose the option most suitable for you.
Bag/Bagless - A common question on the lips of potential buyers is whether they should go for a bagged or bagless vacuum cleaner. Well, the answer is not that simple as they both have advantages. For instance, the bagged cleaners are a lot safer, especially for those with allergies or asthma, and they tend to seal in dust with great efficiency. That said, the bags also need to be replaced regularly, which is a problem the bagless vacuums don't have. Therefore, first, determine which system works best for you before purchasing it.
Portability - Cleaning could be a tasking job, but the burden can be eased if you have a lightweight and portable vacuum cleaner. What's more, backpack cleaners have become quite popular because of how portable they are and easy to carry. Portability also influences storage as a smaller vacuum cleaner is typically easier to store.
Surface Types - Ideally, a decent vacuum cleaner should be good with all surfaces; however, this is not always the case as some vacuums aren't so great with some surfaces. As a result, you need to check out the strengths of the vacuum cleaner you want to buy. Can it handle hardwood floors? How does it do with above-floor cleaning? These are some of the questions you need to ask before shelling out your hard-earned cash to get a vacuum cleaner.
Hose Diameter - You might not know it, but the hose diameter of your vacuum cleaner is very important. Most commercial vacuum cleaners have hose diameters with the sizes listed on them. Therefore, what you need to determine is the nature of the job you have on your hands before getting a cleaner. This is because machines with smaller hose diameters are excellent for light cleaning jobs and small areas as they are easier to maneuver. On the other hand, larger hose diameters can handle heavy-duty jobs and take care of debris with a lot more ease.
Attachments - This is where the versatility of your vacuum cleaner comes into play. Ensure that you get a cleaner with high-quality attachments as they are usually better equipped to deal with different surfaces and corners. What's more, variety is also a consideration, and the more variant attachments a vacuum cleaner has, the more suited to different jobs it is.
Dry/Wet - This refers to your vacuum cleaners ability to clean up solids and liquids. Generally, it is assumed that vacuum cleaners are used for dust and dirt or other substances that are dry. But there are a couple of brands that cannot handle liquids, as such, they are useless on wet surfaces. So, this means that before you make that purchase, ensure that the item is just as effective with liquids as it is with solids.
Power - When it comes to power, most users concentrate on the suction power as this is tied directly to the usefulness of the machine. With that in mind, most decent vacuum cleaners run on about 250-480w, which can be deployed to cleaning surfaces. Also, higher suction power ratings are necessary for those with allergies, but it may wear out your carpet. Ensure that you check out how much power your vacuum uses before making a purchase.
Types Of Commercial Vacuum Cleaners
Upright - This is the most common type of vacuum cleaner for cleaning residential and commercial spaces. They usually have a bag/canister on the handle along with a long power cord, which allows for a great deal of maneuverability. They are great for general purpose cleaning and are very popular for their convenience.
Backpack - These vacuums are typically lightweight and easy to carry about. They also possess an ergonomic design that makes them very easy to use. As a consequence, they are usually used for lengthy cleaning jobs as you won't use up too much energy while working with them. Furthermore, some units even come with an in-built blower, which makes them even more versatile.
Canister - These are not as common as the upright cleaners, but they are also quite efficient. They typically feature a cleaning head attached to a motor by a long wand and an equally lengthy hose, which is usually flexible. Generally, they are quieter than other vacuum cleaners, which makes them ideal for an office environment.