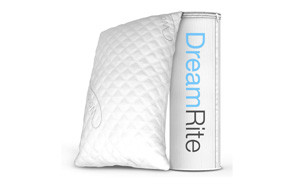 Dream Rite Wondersleep Series Cooling Pillow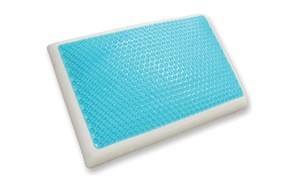 Classic Brands Cooling Pillow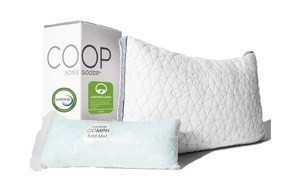 Coop Home Goods Eden Adjustable Cooling Pillow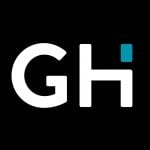 Cooling gel pillows are a must-have for anyone who suffers from night sweats. If you just can't seem to get cool and comfortable, even with ceiling fans and the air conditioner on full-blast, cooling pillows can keep you from waking up drenched in sweat. The best cooling pillows combine optimal temperature control with superior head, neck, shoulder, and spine support. With a wide range of memory foam firmness and plenty of cool gel action to choose from, there's a cooling pillow for everybody on our list. They say that you spend one-third of your life asleep; why not make it as comfortable as possible?
The Best Cooling Pillow
Cooling Pillow Buying Guide & FAQ
Features To Look For In Cooling Pillows
Before deciding which of these cooling pillows is right for you, here are the essential features to look for when shopping for the ideal fit.
Material - The material used is key to a successful pillow. There is a wide range of materials that various manufacturers can choose from, so knowing which combination of those materials will meet your needs is key to finding the pillow of your dreams.
A cool gel layer is arguably the most effective for cooling. If your basal temperature is less-than-toasty, a standard memory foam cushion may suit your sleep. Sure, this type of pillow may not offer the same degree of cooling but are notably more breathable than other foam-crafted competitors.
For you somewhat-toasty dreamers out there, a dual-sided pillow promises a pleasant balance of breathability and coolness overnight.
Fiber-Fill Type - Memory foam fills are popular due to their optimal support. However, not all memory foam designs are equal. Some fiber fills are shredded, which can feel lumpy. Conversely, there are also blocks of memory foam, which are only for those looking for something on the firmer end.
Ideally, a fiber-fill will distribute adequate support to your head, neck, and shoulders throughout the night.
Another option for firmness fans is the adjustable fill pillows, which allow you to add and remove additional fiber filling to best suit your needs.
Size - Cooling pillows range from Standard to Queen to King sizes, giving you the support you need while offering suitable mattress coverage.
Shape - The shape of your cooling pillow can have a direct effect on the overall comfort.
Most pillows come in the standard rectangular shape. However, contoured options, while sharing many similarities, will have indentations and ridges that offer better support for certain people. If you're looking for support rather than cooling, these could benefit you the most.
Sometimes, the shape will adjust to you over time, as the memory foam adapts to the shape of your head and neck for a more personalized and comfortable sleep. B

Cooling Pillow FAQ
Q: What is a cooling pillow?
A: A cooling pillow uses gel or breathable material to regulate the body heat generated when you sleep. Unlike traditional down pillows that retain heat throughout the night, a cooling pillow will circulate the air more efficiently. By releasing any heat and distributing it away from you, you can enjoy a more comfortable sleep.
Most cooling pillows will stay cool just long enough for you to fall to sleep, which will eliminate much of your tossing and turning as you try to get comfortable. Higher-quality cooling pillows will remain cool for much of the night, which is ideal for light sleepers.
Most cooling pillows also come with breathable memory foam. Aside from providing a brisk and comfortable night's sleep, they also offer essential neck, shoulder, head, and spine support to relieve pressure and prevent aches and pains the next day. This, combined with the cooling design, encourages a refreshing sleep, giving you the chance to wake up feeling energized every day.
Ideally, cooling pillows are useful for hot sleepers as they eliminate the need to flip to the cool side of the pillow every half hour. As they provide supportive properties and features, they are also great for improving posture overnight.
Q: Do cooling pillows work?
A: What works for some people may not work for you, and vice versa. There are a variety of options for every kind of sleeper out there, but it may require some digging. In the end, the answer is "yes, they do," but one option may be better than another.
When choosing a cooling pillow, it's best to understand what you need from it. Otherwise, you may be disappointed. Factors including temperature neutrality, support, and pain or pressure relief will all impact how successful a specific cooling pillow is for you. If you find you have purchased a cooling pillow that doesn't suit your needs, don't give up hope, there remain a plethora of cooling pillows from which to choose.
When looking for a cooling pillow, it is best to consider your general sleeping needs and sleeping position. Sleeping on your side could mean a different pillow style than those who sleep on their stomachs or backs.
Sources:
Do Cooling Pillows Work Work? - Smartify Life