The humble beer koozie has a lot of pseudonyms including candom, bottle jacket, beer sleeve, can cooler and more. But whatever you call them you have to admit that summertime just wouldn't be as cool and refreshing without them. As with all products there are great beer koozies and ones you shouldn't waste your time on. Below are the 14 coolest beer koozies for 2018.
Our Top Picks Of The Coolest Beer Koozies
1. Thermos Stainless Steel Beverage Can Insulator
See More Reviews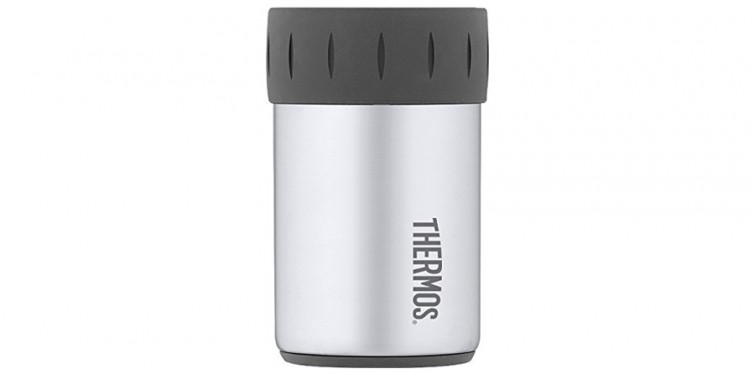 Thermos knows a thing or two about keeping drinks hot and/or cold. Their products have been staple items on construction sites the world over for decades. So it only follows that their Steel Beverage Can Insulator would be up to the task of making sure your brew doesn't turn into 12 oz of lukewarm lager. The Steel Beverage Can Insulator will keep a single 12 oz can icy cold for up to 3 hours and it's sweat proof design means it won't leave water rings on your furniture in the process. Whether you're on an epic road trip, tailgating before the big game or kicking back in the campground on a lazy July weekend this beer koozie with its double wall stainless steel design and insulated lid will deliver the chills.
Specification:
Brand

Thermos

Model

2700TRI6

Weight

4.2 ounces
2. YETI Rambler Vacuum Insulated Stainless Steel Colster
See More Reviews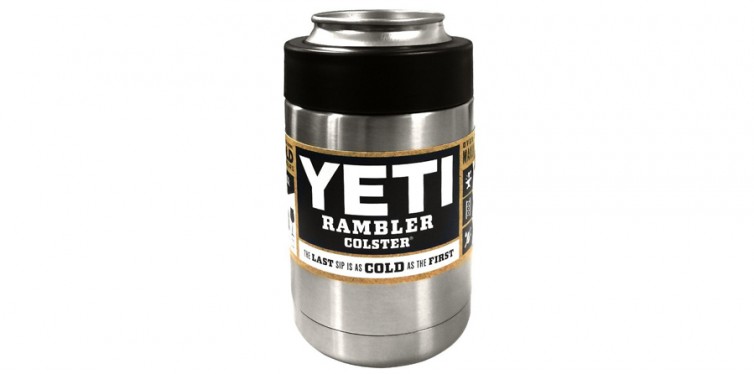 YETI makes some outstanding insulated water bottles and they've taken the expertise they've developed there and applied it to the beer koozie. The result? The Rambler Vacuum Insulated Stainless Steel Colster. The lock-and-load gasket grabs hold of your brewski and doesn't let go until you want it to. And like the Thermos the YETI features sweat free design so you don't have to worry about water rings all over your backyard deck. But unlike most other koozies this one is also designed to fit into any standard size cup holder. That sleek design, 18/8 stainless steel throughout and the ability to keep your drink cold for hours make the YETI Rambler a koozie to be reckoned with.
Specification:
Brand

YETI

Model

colster

Weight

6.4 ounces
3. RTIC Stainless Steel Can Cooler 12oz
See More Reviews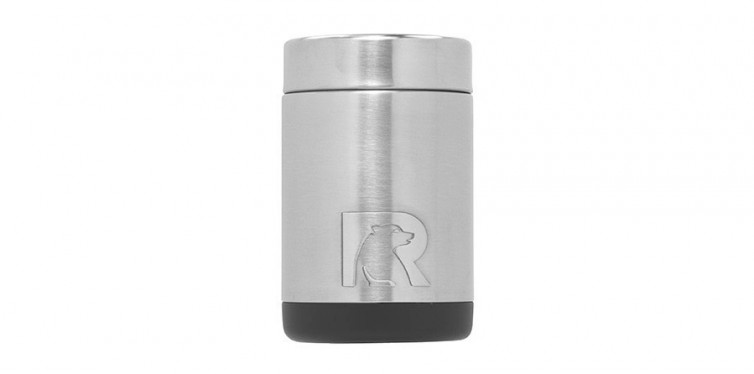 The final frontier when it comes to beer koozies has always been the top. RTIC addresses that historical weak link in koozie design with their Stainless Steel 12 oz Can Cooler. The lid locks down to create an effective seal against heat transfer, which means this 18/8 double walled insulated beer koozie is also an outstanding vessel for transporting small amounts of hot liquid. You can search the world for a lidless koozie that will keep your beer cold during the 4th of July picnic this year, or you can cut to the chase and pick up the RTIC Stainless Steel Can Cooler. With its airtight seal and no sweat design your drink will stay frosty and your hands will stay dry while you watch the rockets' red glare.
Specification:
Brand

RTIC

Model

KZE

Weight

10.1 ounces
4. BigMouth Inc Red Cup Kooler
See More Reviews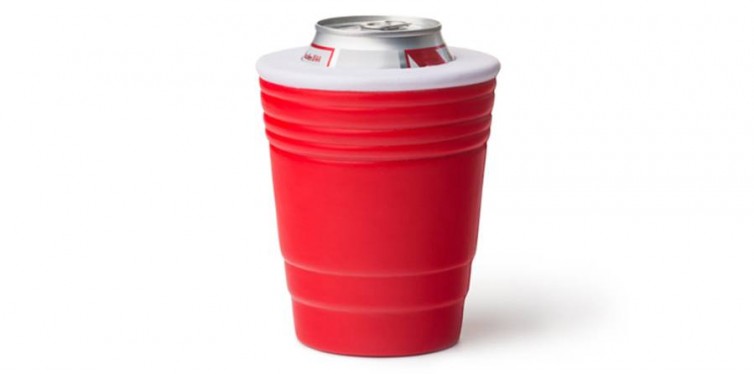 There's nothing wrong with lightening up a bit and that's exactly what the BigMouth Inc Red Cup Kooler allows you do to. Designed to mimic the appearance of the all too familiar red plastic cup of party and bbq lore the Red Cup Kooler is not just a minor hoot you can share with your buds it also happens to do a really nice job preventing your brew from turning into puddle water. Sure the insulation is not as robust as you'll get on some of the more, let's say, serious beer koozies but it's surprisingly effective and will provide your beer with that tasty cool edge for well over an hour. BigMouth also produces a range of other gag koozies. If you're hosting a kegger you might want to look into them.
Specification:
Brand

BigMouth Inc

Model

BM1508

Weight

1.6 ounces
5. ORCA Rocket Bottle Cup and Can Holder
See More Reviews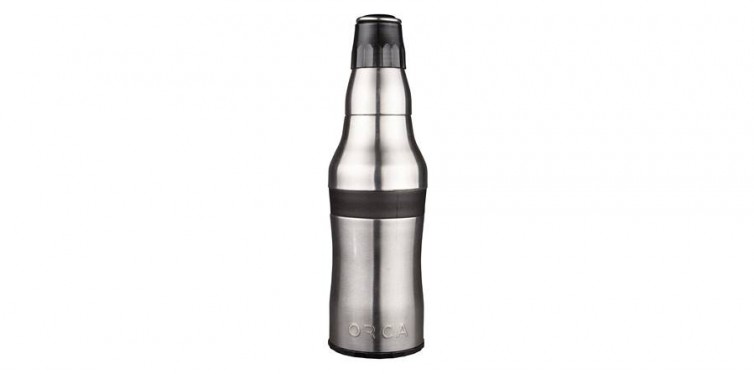 At nearly 11" tall the ORCA Rocket Bottle Cup and Can Holder is a pretty big device but you're not likely to mind because it does such an outstanding job keeping your bottled beer cold. It's crafted from 18/8 stainless steel with neoprene strips that line the inside and produce a nice snug hold for your glass-bound beverage. The koozie features double-wall vacuum insulation from bottom to top along with a durable polymer cap. It will keep your bottled beverage icy cold for up to 12 hours. For good measure there's a bottle opener built into the base of the ORCA. And if you're offered a can of beer the ORCA can handle that too. Just screw off the upper section and slide your can into the lower.
Specification:
Brand

ORCA Coolers

Model

ORCA Rocket

Weight

1.1 pounds
6. Asobu Frosty Beer 2 Go Stainless Steel Cooler
See More Reviews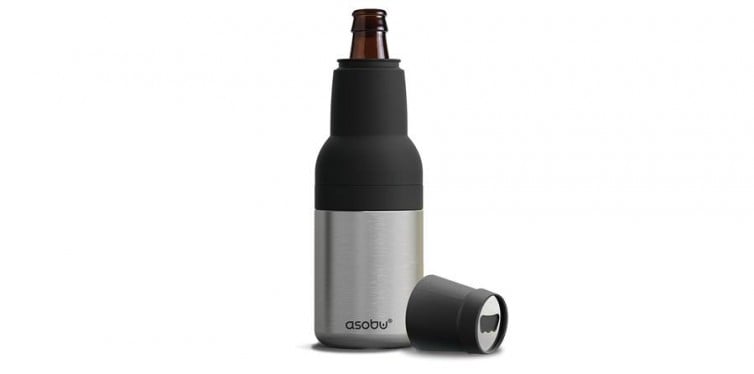 Like the ORCA the Asobu Frosty Beer 2 Go is a 3 piece stainless steel cooler that is built to accommodate both bottles and cans. The Asobu however is designed to accommodate a wider variety of bottles than the ORCA and that's good no matter how you cut it. The FB2G is built to fit snugly into all standard sized cup holders and with its double walled stainless steel construction will keep your drink nice and cold for 8 – 10 hours at a pop. It also features a built in beer bottle opener and is available in an array of attractive colors. If you enjoy heading to the beach on those long hot summer weekends the Frosty Beer 2 Go is a must have. As an added bonus it's also great for taking hot cocoa or coffee to the football game when the weather turns cold.
Specification:
Brand

Asobu

Model

fc2go

Weight

11.2 ounces
7. Corkcicle Arctican Stainless Steel Insulated Can & Bottle Coozie
See More Reviews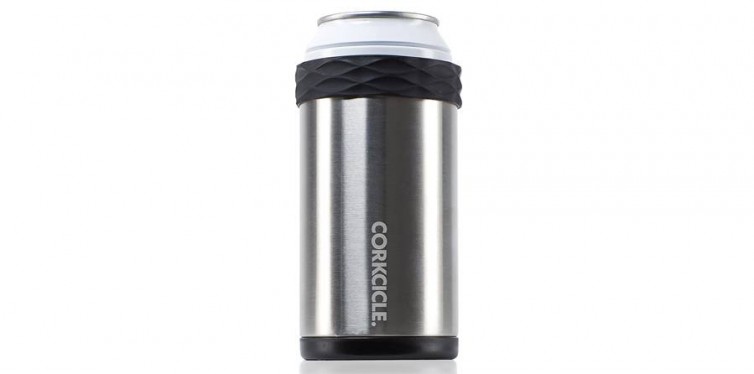 Sometimes you want maximum cooling power like you get with the FB2G or ORCA and sometimes you want minimalist convenience like you get with the Corkcicle Arctican Can and Bottle Coozie. The secret of how this pocket rocket gets off the ground is the twist on bottom that contains freezing gel to keep your drink cold for long stretches of time. Where the double walled vacuum design causes beer koozies to plump up, the freezing gel design allows this one to slim down. As a result you always get a nice firm hold. The Corkcicle Arctican is a no-sweat koozie and includes a removable felt sleeve to accommodate bottles.
Specification:
Brand

Corkcicle

Model

C3101S

Weight

9.9 ounces
8. Homitt Stainless Steel Can Cooler
See More Reviews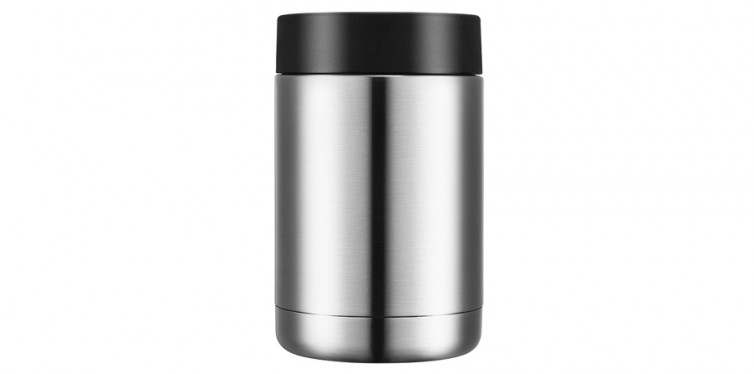 The Hommit Stainless Steel Can Cooler is, thankfully, also a stainless steel bottle cooler. And a fine one at that. It sports a screw-on gasket/cap that secures your can or bottle and seals off the inside of the cooler from hot air leaking down from above. The food grade 18/8 stainless steel, the BPA free lock-tight gasket and the no sweat properties of the Can Cooler make it a great addition to your camping kit, bbq kit or tailgating kit. Keep a bunch in the outdoor kitchen and guests will never again complain that their beer got warm while you were talking. The Hommit is decidedly low tech but it's also undeniably effective for such a simple device.
Specification:
Brand

Homitt

Model

HT-CC01

Weight

9.9 ounces
9. Thermos Stainless King Can Insulator
See More Reviews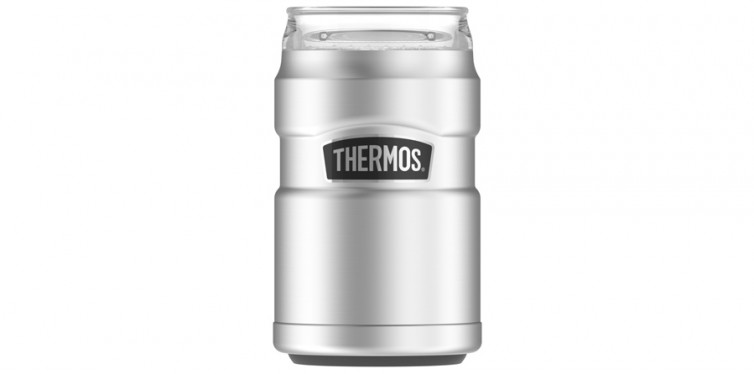 Thermos makes their second appearance on our list (which shouldn't surprise anyone) with their Stainless King Can Insulator. Like a lot of insulated koozies the King Can is a bit bulky. But unlike most insulated koozies this one addresses that situation by engineering a recessed horizontal channel into the design that allows you to get a much better grip on your brew than you otherwise would. The unique 360 Degree lid allows you to close your eyes and drink from anywhere on the lid; essentially funneling liquid from the mouth of the can to wherever you are. It's built the way you expect a Thermos product to be built and backed by a manufacturer's warranty.
Specification:
Brand

Thermos

Model

SK1500ST4

Weight

6.4 ounces
10. 22below Sub-Zero Foldable Can Cooler
See More Reviews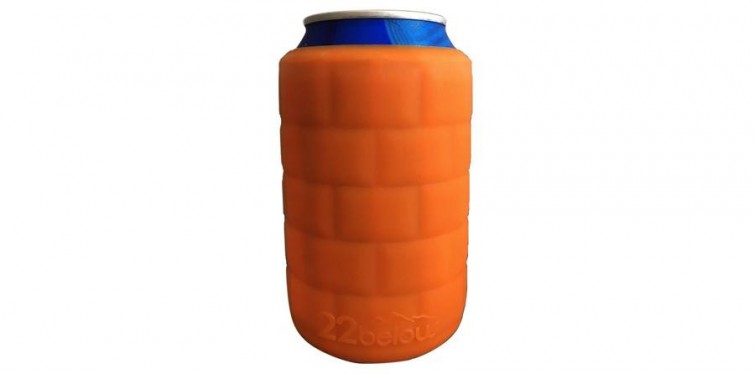 The 22below Sub-Zero Foldable Can Cooler is aggressively old school. It's the kind of thing you take with you because you just never know where you're going to encounter an ice cold brew. While it's not as bulky as some of the double wall, vacuum insulated koozies profiled above it also won't keep your beer cold as long as them. Still, it does a serviceable job in a pinch and it's hard to beat the convenience. The Foldable Can Cooler accommodates any 12 oz can and features what the company calls its "cryo-lock" system to maximize its cooling potential. That system will keep a beer cold for up to 30 minutes. For most guys that's more than enough time. Made in the USA.
Specification:
Brand

22below

Weight

3.36 ounces
11. ThinkGeek Kegzie Beverage Cooler
See More Reviews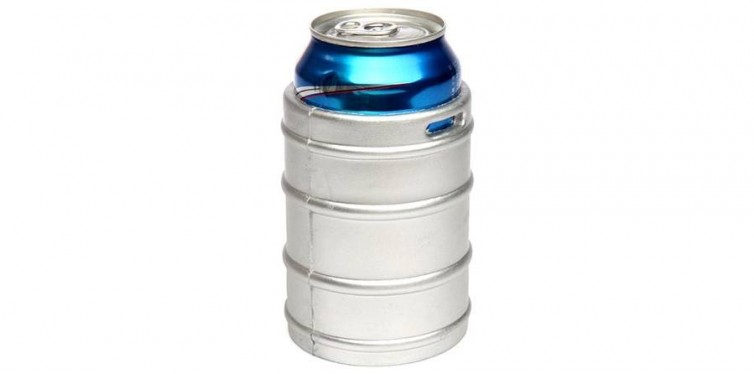 The ThinkGeek Kegzie Beverage Cooler occupies a grey area between eye-catching novelty and efficient beverage cooling device. Somehow the geeks at ThinkGeek have managed to squeeze around a half hour of cooling out of a very skimpy keg-shaped koozie that doesn't look like it could keep something cold in the arctic. The keg shape is sure to be a hit – there's little doubt about that – and the ribbed design actually makes the Kegzie remarkably easy to hold. It's light, fun and effective. What it isn't is particularly cheap. Still, it isn't every day you come across a novelty act that actually works, so the Kegzie earned a place on our list for that reason alone.
Specification:
Brand

ThinkGeek

Model

181

Weight

1.76 ounces
12. Scorzie Beverage Cooler
See More Reviews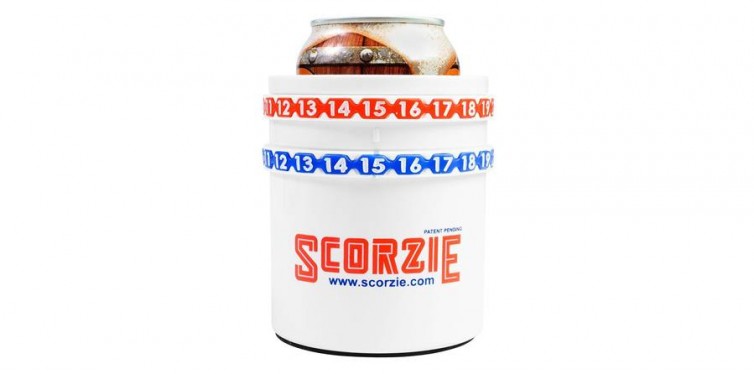 The Scorzie Beverage Cooler is another novelty koozie that makes the list because of the audacity of its premise and the fact that it does a good job keeping your drink cold. Promoted as a way to keep score while you enjoy your brew the Scorzie has two numbered loops that click off in 1 point increments. In theory, this enables you to keep track of the score while you sip contentedly on your favorite beverage. Why you wouldn't just glance at the TV screen or your smartphone to obtain the score is question we'll leave to another day. Mostly, we think this puppy is just too silly and too effective at keeping your drink cold to ignore.
Specification:
Brand

Scorzie

Weight

1.6 ounces
13. Bonz Hunting Camo Beer Can Koozie
See More Reviews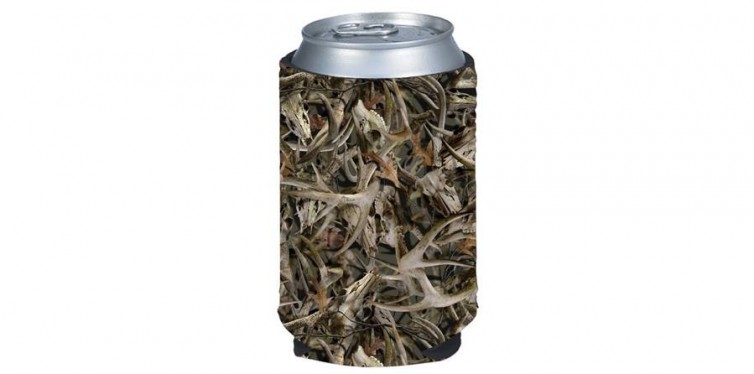 It's difficult to imagine why one would need a camouflage beer koozie. Perhaps 12 point bucks have become adept at identifying hunters by the temperature of their beer. But whatever the reasons the Bonz Hunting Camo Beer Can Koozie is a neoprene wetsuit for your favorite brew and will keep a 12 oz beverage chilled to perfection for about half an hour. Most cans fit snugly into the koozie and the insulation isn't so thick that it disrupts your grip. The camouflage motif is interesting, but the real reason you'll want one of these is because it collapses down into virtually nothing, which is also what it weighs. So you can take it just about anywhere those pesky bucks will lead you.
14. USA Thin Blue Line Flag Black Miniature Tactical Vest Beverage Holder
See More Reviews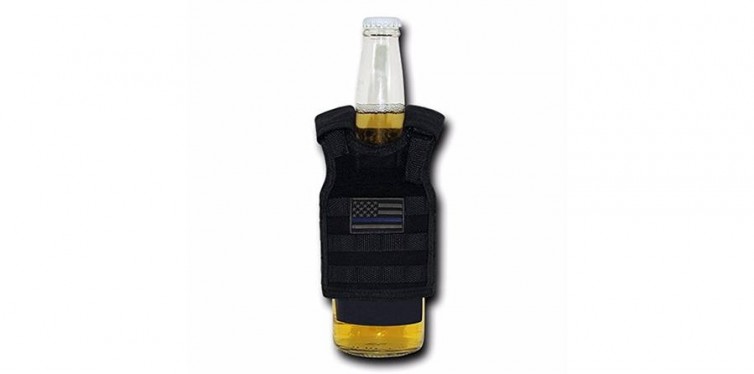 Bringing up the rear on our list of coolest beer koozies is this novelty item that adopts the profile of the tactical vest. The attention to detail on this novelty koozie is pretty impressive with shoulder pads, MOLLE webbing, an adjustable hook and loop cummerbund and loop fields on both front and back. Throw in the 1000D polyester material and you've got a koozie after Ant Man's heart. It makes a great gift for the beer lover who has everything but don't buy it expecting it to keep your beer cold for 12 hours. It's a nifty nick-nack for beer aficionados and should be viewed and appreciate as that. Keep it in mind at birthdays or Christmas time.
Specification:
Brand

RescueTees

Model

T99-TBL-BLK

Weight

2.4 ounces