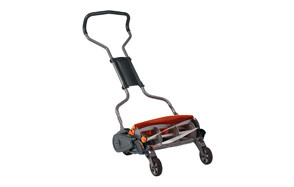 Fiskars StaySharp Max Reel Push Mower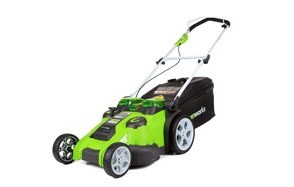 Greenworks Cordless Push Lawn Mower
Sun Joe Mow Joe MJ401E Push Mower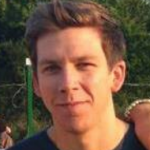 A freshly cut lawn is an instant way to make a house more home-like. It neatens up the appearance of your yard and also helps to keep little unwanted creatures and critters at bay. Yes, the effort requires some elbow grease but with the right mower and just a bit of manual labour, you'll have the job done in no time – even with a push mower. Yup, push mowers do need a manual nudge in the right direction but if your yard isn't too large and inclines are not too steep, then they are an economical option to invest. In fact, they are one of the most popular types of grass cutters on the market. To help you find the best push mower that meets your requirements, we have compiled the following list that has been narrowed down to our top 10 recommended models.
The Best Push Mower
Push Mower Buying Guide & FAQ
How We Chose Our Selection Of Push Mowers
Price – We've strategically narrowed down our list to ensure that you do not have to skimp on quality even if you are on a tight budget. Our team managed to efficiently compare price with performance and rounded up a selection of mowers that offer their money's worth, if not more.
Brand – We look at the brand behind a product because that's often where the reputation lies. When choosing our favourite push mowers, we looked at companies who are renowned for manufacturing quality products that come with excellent customer service. 
Reviews – We never fall for a good advertising campaign. Instead, we like to base our final decisions on feedback from the consumers themselves. This way we can weigh the good reviews with the bad and come to unbiased conclusions and that hold true to their worth.

Features To Look For In Push Mowers
Power source – Lawn mowers can either be powered by gas, battery or by an electrical cord. Corded electric machines give you unlimited running time but it can be quite a hassle keeping the cord safe while you manoeuvre your way around the yard. Gas motors, on the other hand, can easily last the full duration of your cutting session on one full tank. Their disadvantage, however, is that they rely on a start pull-cord to work and this can sometimes be hard to use. They are also not very eco-friendly. Battery operated machines tend to be less powerful but give you a cordless option that doesn't pollute the air with fuel emissions.
Mulching Ability – If you are looking for a push mower that will nourish your grass without any additional labour, then a machine with mulching functionality should be considered. Mulching mowers use blades to finely cut grass before returning it to your lawn. The mulch then acts as a natural fertilizer by feeding nutrients back into the soil.
Side Discharge – A Side-discharge mower is generally the least expensive option. The grass is discharged back onto the lawn as you cut. These cuttings are expelled via the side of the machine and leave a trail as you push forward. If the cuttings are released evenly, they can act a s a natural fertilizer but if the machine leaves large clumps along the way, then be aware that they could damage your lawn. Another option is to rake up all of the cuttings once done.
Bagging – Many mowers come with a bagging option where grass cuttings are collected and contained by the machine as you cut. Bagging devices are generally found on the side or at the rear of the mower and help to give your lawn that clean-cut look. Generally, rear bagging mowers give you more manoeuvrability as you push your way around trees and flowerbeds.
Cutting deck – In essence, a bigger deck means bigger blades. Wider decks can cut lawns quicker since they cover more space, this makes them more practical for large gardens. Smaller cutting decks are easier to navigate, however, and are preferable for smaller yards with many obstacles, like trees and flowerbeds.
Weight – Even self-propelled mowers require you to push and steer them in the right direction. This means that the lighter the machine is, the better. Heavier machines work will for flat terrains but if you have a yard that slopes or has many obstacles, then you want to avoid bulkier models.
Purpose – Do you intend on cutting your grass regularly? How big is your lawn? Do you prefer a mulch-free lawn? Each push-walk mower comes with its own features and depending on how customised you want your lawn to be, you need to decide which functionalities you are willing to forgo and which you simply cannot do without.

Push Mower FAQ
Q: What is a push mower?
A: A push mower is a grass cutter that requires a person to walk behind the machine and manually push it along while the blades turn and cut the grass. These mowers tend to be very easy to manoeuvre and while they do require you to put in some good elbow grease, the effort can be minimal (depending on how flat your yard is as well as the thickness of your grass). Self-propelled push mowers move forward themselves but still need to be steered manually.
Q: How do you clean a push mower carburettor?
A: Regular cleaning and maintenance of your lawn mower's carburettor will help to ensure that your machine remains efficient and also increases its lifespan. You can clean your carburettor by implementing the following steps:
Remove the deck - Before you remove the deck, make sure that there is no power connection or make sure that the fuel line has been switched off. Push your grass cutter onto a flat surface and then remove the deck, setting it to one side.
Remove the carburettor - Use a spanner to remove the nuts that secure it in place (remember to keep the nuts and bolts in a safe location). Take out the carburettor and lay it down onto a flat surface that has been covered with old newspapers.
Use a carburettor cleaner - Spray a carburettor cleaner onto the surface area, making sure you get the cleaner into all corners and crevices. Wipe sprayed areas with a warm and damp cloth to remove dirt, grease, and grime.
Compressed air - Do not apply the carburettor cleaner onto any plastic components since the harsh chemical might cause these parts to corrode. Instead, use an air compressor to blow away dust or wipe the parts clean using a warm damp cloth.
Dry thoroughly - Remember to dry out the parts before reassembling all of the pieces.

Q: How to change push mower blades?
A: Lawn mower blades can be prone to wear and tear and do not remain sharp forever. This means that on the odd occasion, they will need to be replaced. Luckily, changing blades isn't too hard to do. Simply follow these easy steps:
Safety first - To avoid nasty injuries, make sure that the cord is not connected and empty the gas from gas mower tanks. We also suggest that you unplug the spark plug – just to be on the absolute safe side.
Remove the bolts - Use a socket wrench to remove the blade mounting bolts and then the blade itself. Remember to pay attention to how each blade has been positioned so that you can remount the new one the same way.
Install the new blade - You can purchase new blades from hardware stores or home improvement departments. You might want to take the old blade with you so that you can compare blades and make sure you buy the correct ones. In some instances, you can salvage blunt blades by sharpening them again. Install the new blades, positioning them as per the older ones, and then remount them accordingly, tightening the bolts into place.
Check the blade for play - Before using the mower to cut the lawn, make sure that the blades have all been mounted correctly and do not wobble in their sockets.
Wait at least an hour before use - Once you have replaced the blades, reposition your mower in an upright position. If it has a fuel-powered motor, you will want to wait at least an hour so that the fuel can return to the motor. You can then continue to cut your grass and monitor the blade performance.
Sources:
How to Buy a Lawn Mower - Wiki How