Landscaping Made Easy: The Best Riding Lawn Mowers In 2022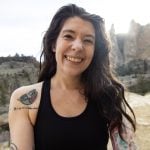 This product guide was written by Tuesday Kirby Kahl
Last Updated
March 29, 2022
Tuesday Kirby Kahl
Tuesday Kirby Kahl is a contributor at Gear Hungry. Her fierce love for the outdoors fuels everything she does. Her professional pursuits include writing, creating art, and photography. These professional passions allow her the time to live life outside as a rock climber, skier, runner, backpacker, paddle boarder, swimmer, and explorer. When Kirby is indoors, she enjoys tea, whisky, old films, cooking, and baking. Her product testing and feedback have shaped the design of everything from climbing shoes to candles.
GearHungry may earn a small commission from affiliate links in this article.
Learn more
Aren't ride on mowers fun? They're big, tough, and fast (well, faster than push mowers, anyway). They make you feel so much like a man you expect to see Bald Eagles descend and land on your shoulder, bears emerge from the woods to give you high fives, and even gorillas to stroll uncharacteristically past and give you an approving nod. The best riding lawn mowers feature powerful engines and space for attachments that make your life easier.
If you want to invest in a new riding mower, then you've come to the right place. We've put together a list of the fastest, toughest, and most versatile options available, which are sure to offer you something for lawns and yards of all sizes, for all environments, and able to tackle any terrain. So stop waiting around and jump on, we're going for a ride.
The Best Ride On Lawn Mower
Ryobi Electric Riding Lawn Mower
The Ryobi Electric Riding Mower is a step in the environmentally-friendly direction for riding mowers. Its battery operation means it's almost maintenance-free and requires no spark plugs, belts, or filters. With it, you never have to deal with clogs, failure to start, or sputtering or refilling the gas tank – because there isn't one. The only thing you must remember is to charge it via USB when you're not using it.
If you're worried about a lack of power, know that this mower can run for up to two hours on a single charge, covering 2 acres of grass, all while running silently. So if you want to mow early on a Sunday morning or even in the middle of the night, you're more than able to do that. It also offers cruise control, giving you greater precision over the lawn and guaranteeing an exceptional cut, every time.
Despite all these benefits, you still have to take its size into account. While it can mow up to two acres, it will struggle to do any more than that, and some types of grass may prove too tough for it to handle. This is a shame, but for anybody with a small-to-medium-sized yard, it's the perfect battery-powered riding mower option for switching over to something a little less loud and a little more environmentally conscious. Find more great products like this by checking out our guide to the best hedge trimmers.
Key Features:
38-inch 2 blade cutting deck
3 brushless motors
Battery operated
Low maintenance with no spark plugs, belts, or filters
Can run for two hours and cover 2 acres
Cruise control
Specification:
Brand

Ryobi

Model

RM480E

Weight

595 Pounds
Environmentally friendly
USB charging and cordless operation
No need to refill gas tank
Quiet cutting
May not have enough power for some types of grass
Cub Cadet New Enduro Series XT1 LT42
The Cub Cadet New Enduro Series XT1 LT42 is one of the best lawn tractor models out there. With a 19.5 HP/541 cc Kohler engine, it's perfect for medium to large lawns as it's powerful enough. It comes with a durable AGM battery for improved starting capabilities and slower discharge so you don't have to worry about the mower going dead in the off-season. The Enduro also features optimized steering system for highly responsive handling.
For extra comfort while you mow, this standard riding lawn mower features cruise control, a 15 inch seat with a 10-degree incline, and a responsive steering wheel that maneuvers the 42-in mowing deck with a 16-inch turning radius. You can cut at night with the LED headlamps and there are 12 cutting height selections. Lastly, there's a three to five-year warranty depending on the part and plenty of optional attachments to tackle nearly any job.
Key Features:
19.5 HP/541 cc Kohler engine
42 inch stamped deck
Cruise control
12 cutting height options
LED headlights
Specification:
Brand

Cub Cadet

Model

XT1

Weight

532 Lb
Tight turning radius
LED headlights for night mowing
Comfortable seat
May not be quite big enough for three acres or more
Ariens Edge 34 inch 20 HP (Briggs) Zero Turn Mower
The Ariens Edge 34 inch 20 HP Zero Turn Mower is a medium-sized mower with a powerful engine and impressive turning capabilities, great for oddly shaped fields and lawns that require careful maneuvering. With a 34-inch mower deck, this zero-turn lawn mower is great for medium-sized yards and lawns. The 20HP Briggs and Stratton Intek Engine is powerful enough to offer exceptional cutting between 1.5 inches and 4.5 inches.
This mower has a zero-turn radius, making it ideal for curved spaces and otherwise non-standard lawns. Some reviews state that the deck doesn't float as well as it could in quick elevation changes, so this may not be the ideal zero-turn riding mower for superbly hilly areas. Nevertheless, if you're looking for quality gas mowers, the Edge 34 is definitely a mower to consider. We like it for medium sized lawns, oddly shaped yards and tall grass. There are plenty of accessories available for this product, as well as a two-year or 150-hour warranty.
Key Features:
Gas powered mower
Briggs and Stratton Intek 20hp ​engine
Zero-turn radius
34-inch cutting deck
Specification:
Brand

Ariens

Model

Edge 34

Weight

700 Pounds
Zero turning radius
Powerful engine
This mower can struggle with quick elevation changes and doesn't float as well as we'd like
Husqvarna YTH18542 42 Inch Riding Mower
Next up in contention for the prize of the best riding mower is the Husqvarna YTH1852 42 Inch Riding Mower. This model also features a Briggs and Stratton Intek engine with 18.5 HP and a hydrostatic transmission for smooth operation in both drive and reverse. We also love the wide 42-inch deck that offers a 16-inch turning radius.
Other features of this gas-powered riding lawn mower are the ergonomic steering wheel and the adjustable seat that is comfortable even on very long rides. You'll find a 2.5-gallon tank and a cupholder for that cold water (or beer) on a hot day too. If it gets late on you, the headlights will illuminate your path so you don't have to stop mowing. Lastly, there's a two-year warranty if you purchase one of these riding lawn mowers. For more top-quality options like this, check out our selection of the top cordless lawn mowers.
Key Features:
18.5 HP Briggs and Stratton Intek engine
Hydrostatic transmission
Adjustable seat
Ergonomic steering wheel
16-inch turning radius
42-inch deck
Specification:
Brand

Husqvarna

Model

YTH18542

Weight

490 Pounds
Comfortable ergonomic steering wheel and adjustable seat
Smooth operation thanks to the hydrostatic transmission
Pedal powered operation
Not quite as powerful as other comparable models
Husqvarna Z248F 48 Inch Zero Turn Riding Mower
With a smooth and reliable 21.5 HP Kawasaki engine, the Husqvarna Z248F boasts some impressive turf-cutting muscles. Aside from being powerful, this zero turn riding mower is also pretty easy to control thanks to its intuitive and comfortable features such as the ergonomic control panel, a comfy seat, and a park brake system that automatically activates or deactivates as the steering levers are moved inward or outward.
Husqvarna's hydrostatic transmission is maintenance-free and worry-free, allowing it to take on various cutting conditions with ease. Its ClearCut deck offers a 48-inch cut and excellent bagging thanks to the deep design. We also like the high-performance blades and superior airflow. When it comes to quality zero turn mowers, this is a fantastic choice: it's powerful, smooth and quiet, with great maneuverability. Here are some top-rated robot lawn mowers you may be interested in. Be sure to check them out.
Key Features:
21.5 HP Kawasaki engine
Worry-free Hydrostatic transmission
Automatic park brake system
48-inch deck
Ergonomic control panel
Comfortable seat and anti-slip foot area
Specification:
Brand

Husqvarna

Weight

770 Pounds
Smooth and relatively quiet, yet with lots of power
Ergonomic, easy to use control panel
Beautiful, professional-looking cut
Does come with a bit of a learning curve
Troy-Bilt  Pony 42K Riding Lawn Mower
The Troy Bilt Pony 42K Riding Lawn Mower is a durable and dependable rear engine riding lawn mower with an affordable price tag. Troy Bilt has a strong brand reputation for well-built machinery and this Troy Bilt mower is no exception. The rear engine leaves plenty of room for you to see in front of you as you cut. The 42-inch cutting deck offers a clean, wide cut and an 18-inch turning radius, a little wider than other options at the same size.
This is one of our favorite rear-engine riding lawn mowers due to its adjustability. The deck has multiple heights that are easy to switch between and also offers five cutting heights and a seven-speed manual transmission. Overall, this rear engine mower is one of Troy Bilt's best riding lawn mowers and is a great addition to our list of the best lawn tractors. Our selection of the most popular reel mowers offers more useful tools to help you keep your lawn in perfect shape. Be sure to browse them.
Key Features:
42 inch deck
Rear engine riding lawn mower
17HP Kohler engine
Durable steel housing
Highly adjustable
Specification:
Brand

Troy-Bilt

Weight

520 Lb
Durable and dependable
42-inch cutting deck
Seven speed transmission
Best for predominantly flat areas
Larger turning radius than comparable lawn mowers
Greenworks 42-in. 60V Battery Electric CrossoverT Riding Lawn Mower
Last but not least, the Greenworks 42in 60V Battery Electric CrossoverT Riding Lawn Mower scoots into our list as one of the electric mowers of your dreams. Ya know, if you dream about electric rear engine riding lawn mowers. The 42-inch deck is comparable to any other gas-powered riding lawn mower, so you aren't sacrificing mowing deck size or power when you opt for a battery-powered riding mower.
There are six batteries and three chargers included that give you enough juice to mow up to two acres (or one hour of mowing time) with this eco-friendly piece of lawn equipment. This electric riding lawn mower still boasts LED headlights, a high back, a padded seat, and plenty of attachment options so going eco-friendly doesn't mean you have to sacrifice features you'll usually dine on all your favorite riding lawn mowers. For more fantastic grass cutters, be sure to check out our selection of the best-selling push mowers. 
Key Features:
42-inch cutting deck
Enough battery for two acres
Onboard charge indicator ensures you never get stuck out in the field
60V battery
Specification:
Brand

Greenworks

Weight

515 Lb
Comparable to other gas-powered options
Powerful 24HP motor
Bright headlights
Comfortable seat and steering wheel
Not suitable for areas bigger than 2 acres
Riding Lawn Mower Buying Guide
Why Trust Us
Having lived on a farm for a year and using a ride-on mower daily to deliver hay, even out pastures, cut grass and remove snow, I know a thing or two about these beasts. Large lawns ain't got nothing on a 10-acre farm.
Who This Is For
This guide is for folks with medium, large and expansive lawns that need riding lawn mowers to be efficiently managed. Farms and other commercial lands can utilize riding lawn mowers for many purposes to make their lives so much easier.
How We Picked
Selecting a collection of the best riding mowers started with my personal experience and consulting our research and testing team to get the down-low on their favorites. From there, we looked at best sellers on Amazon and beyond and read hundreds of reviews to craft a selection of riding lawn tractors and riding lawn mowers for all needs and types of lawns.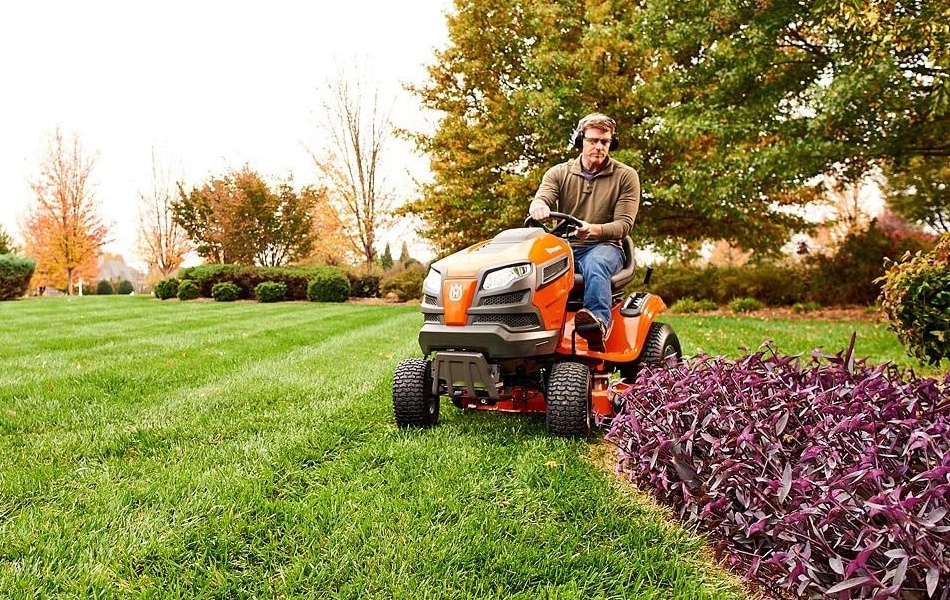 Features To Look For In Riding Lawn Mowers
Buying any new product is always exciting and it can be tempting to purchase the model that has all the bells and whistles even if you don't need them. Riding mowers are a considerable purchase, though, so it's crucial that you do more than a little research before you hit Confirm Order. You don't want to receive the mower only to find out that it's not suitable for what you want or need, and if you think it's a hassle trying to return a smaller (much smaller) product that was wrong, imagine how much hassle it will be to return and exchange something as mammoth as a riding mower. So, before you purchase your new mower, we recommend you consider the following things.
Tank size - The tank size of your mower will determine a couple of things. For one, it will give you an indication of how much mowing you can do before needing to replenish the tank. The larger the tank, the fewer refills it will take between mows. Smaller riding mowers will have smaller tanks, but these are typically ideal for smaller lawns. Not all riding mowers have a fuel tank, though, and there are some models that rely on electricity or hybrid technology to power the mower (electric riding mowers and battery-powered mowers). In this instance, a fuel tank will not matter, but you should still consider how long the charge will last.
Warranty - A long warranty for heavy, expensive machinery is always something to consider, and riding mowers are no different. You can expect a top-shelf warranty to be as long as 10 years although other parts warranties may not be as long. Not all mowers will offer this though, and it's always smart to check (and double-check) with the manufacturer before buying.
Horsepower - Referred to on specifications and features as HP, the horsepower of your riding mower gives you an idea of how powerful your engine is. Aside from being able to show off just how fast this baby can go (hint: it won't be much, but it's something), and give you a little flex to the neighbors as you rip around your yard, it will also help you work with the right-sized lawn. The horsepower will also contribute to the distribution of fuel and energy to components of the motor such as the transmission and blades. This can come in useful if you have thick grass or it is too bushy for regular walk behind mowers and will help make your mowing activities much easier and straightforward. If you live in an area where standard horsepower mowers just cannot cut it, then seeking more powerful options may be the way forward. In general, for small to medium sized lawns, you don't need to be too picky, but if your yard is larger than 2 acres, we recommend going for a model with a powerful V twin engine.
Wheelbase - The wheelbase of your mower refers to the amount of distance between the front and back axle. This is important as it determines the position of the driver's seat and the placement of the engine. For the engine, you need it to be large enough to suit your mower and lawn, but also not be too obstructive for your view. For this reason, a longer wheelbase will give the engine more room to sit comfortably in between the axles. If you want to have the most control possible over your mowing, then finding a mower with an adequately sized wheelbase for the size of your lawn and required engine size is essential, otherwise, you may soon discover that your dreams of simpler and more enjoyable mowing are still some way away.
Reverse - Not all riding mowers will have a reverse feature, but those that do can save hours of time and energy when trying to get your lawn into the very best shape possible. If you have a yard that isn't the most spacious for turning, then this could be an extremely useful feature that prevents you from going through the hassle of switching it on and off, wasting charge and fuel, and helping you get the yard mowed as efficiently as possible.
Traction control - The thought of an uncontrollable mower, even the best riding mower, conjures up images of slapstick comedies or cartoons - however, it's always something to think about when purchasing heavy machinery. If you're unable to control the mower, whether that be due to giving it too much power or because of the difficult or uneven terrain, you could end up damaging the mower and causing injury to yourself and others. Traction control contributes to fuel savings and battery power. When cutting in conditions other than dry weather (because sometimes you don't have a choice) you want to make sure that your wheels can properly grip to the grass and provide an even and satisfactory cut. Furthermore, good traction control will help with turning and reversing.
Attachments - Besides your standard riding lawn tractor, you might want to purchase extra attachments to better improve your mowing experience or deal with other tasks with fewer tools. Some mowers will come with bonus attachments that help to sweeten the deal while you will need to buy others separately. If you have any specific extra needs for your mower, then knowing that it is compatible with these attachments could help you decide which mower you want to buy. Consider the following attachments:
Bagger - Because who wants to deal with bagging themselves, right? Attachable baggers are an awesome timesaving solution for collecting grass that you can then use for mulching, composting, or throwing around like makeshift confetti at celebrations in your backyard. Unlike push lawn mowers, baggers are not built into riding mowers, so you will need to purchase this as an attachment, but there's no guarantee that your specific mower will accommodate it. To make sure you're not left disappointed, make sure you check with the manufacturer or specifications (and check out existing reviews too) before purchase if you feel you will need a bagging attachment.
Snowblower - If you live in a snowy area, this is a critical attachment. This will save you hours of time when shoveling snow and allow you to plow your driveway. When it snowed at the farm I lived on, plows wouldn't plow our roads and this attachment was a lifesaver and allowed us to get to work and run errands.
Spreader - Spreader attachments are ideal for when you don't just need to mow the lawn, but also to put down a large number of seeds if you're planning on doing planting and farming in the coming year. They're typically best used just before the farming season begins, and will, again, save you time in doing everything by hand, while also saving money on hiring someone to do the job for you. The best spreaders will come with easy-to-use controls and large volume and spreading capabilities - sometimes as much as offering a 12-foot spread - to ensure you can cover as much ground as possible with no need to refill.
Cart - Attached to the back of your mower, these heavy-duty and durable additions are primarily used for dumping and transporting many garden tools, equipment, and debris to make your lawn mowing and beautifying much less strenuous. They are easy to assemble, typically only having a few individual parts to put together, giving you the option to get your yard cleaned sooner than you might expect. Though more often believed to operate merely as tow carts, more modern designs allow you to attach it to the front of the riding mower which offers versatility for a multitude of requirements. Although they're strong and durable, they're also remarkably light, so even if your mower isn't that powerful, you still shouldn't need to worry about not being able to tow or push around the yard. Carts can be great for moving grass clippings and other debris from place to place easily.
Aerator - If your lawn isn't as healthy as you'd like it, then invest in an aerator to help promote and encourage better growth, drainage, and bring worms and similar garden insects to help provide nutrients to the soil. While you can buy handheld aerators, purchasing an aerator attachment can save you lots of time that you otherwise may not have. Not all lawns will need an aerator, especially if it is healthy all year, but it might come in handy in the event that your lawn's condition declines.
Safety first - No matter which riding mower attachment you purchase, always be sure to follow the manufacturer and product instructions to guarantee you install it correctly. This includes being aware of any safety gear requirements both during installation and while the attachment is in operation as otherwise, you could cause yourself (or others) serious injury.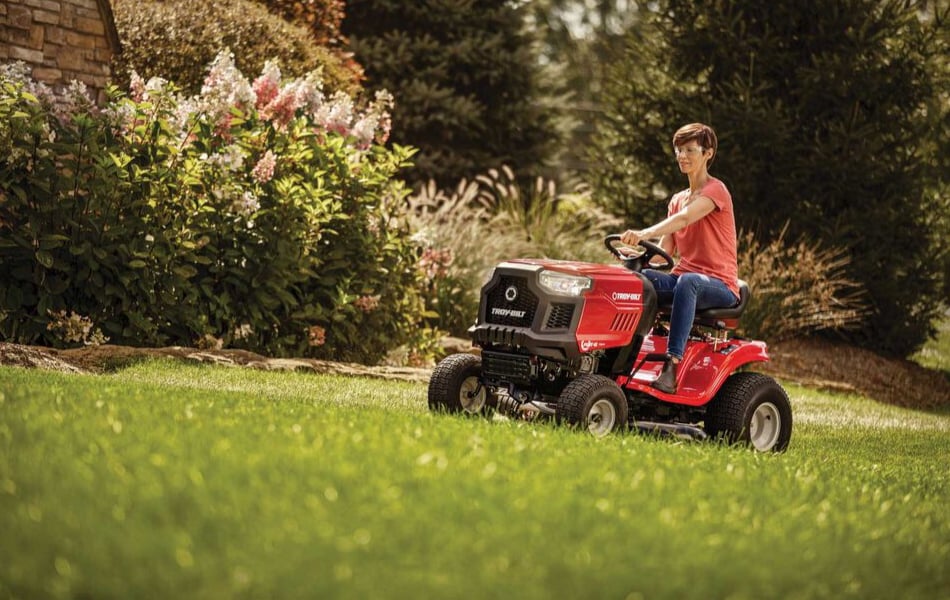 Riding Lawn Mower FAQ
Q: What is the average life of a riding lawn mower?
A: The average life of a lawn mower is between 7 and 10 years but this is only possible if you take care of it and complete proper maintenance and store it in the proper conditions when not in use. If you neglect to take good care of your affordable riding mower, then you can expect it to last much less, perhaps as little as half the time. Sometimes, mowers will not base their life expectancy on years, but instead 'mowing hours'. Here, you will find statements anywhere between 200 hours for inexpensive, lower-quality riding mowers, and 500 hours for the top of the line models.
Q: What would cause a riding lawn mower not to start?
A: Despite how much you might take care of your mower and how carefully you ensure that it's always in the best shape possible, sometimes things just don't work like you want them to. There is a variety of reasons this might happen, so if your mower does not start on a day you've set aside for a substantial cut, make sure you go over these easy-fix methods before you panic.
Disconnected, dirty, or loose spark plug - Remove the spark plug from the mower and give it a quick clean. If it's disconnected or loose, then reattach it.
Blocked air filter - You must clean it, or, if this is a few years of build-up, you might need to replace it altogether.
Fuel isn't reaching the engine - Give the side of the carburetor a quick knock or tap to help encourage the flow of the fuel.
If none of these methods work, then you should check your manufacturer's warranty and organize replacement parts. You may have to save your big day of mowing time for next week.
Q: What causes a lawn mower engine to sputter?
A: You need not be a riding lawn mower expert to understand that engine sputtering is not a good thing. Luckily, it's not the end of the world (not yet, anyway), and you won't need to worry about running out to the store - or Amazon, more likely - to order a new mower for immediate delivery. That being said, if your engine is sputtering, then you should fix it as soon as possible, as leaving it will only exacerbate the issue. To solve it, there are several things you can try.
Check for water in the gas tank, possibly from wet weather or moisture. Tip the gas tank over and empty it into a container.
Change the oil by turning the oil case over so it's under the carburetor. Drain the oil from the mower and replace it with the specified oil in your owner's manual.
Replace the filter if it's dirty, as this hinders ventilation and can lead to a build-up of dirt and debris. You can also wash the foam filter with soap and water and allow it to dry.
Check for caked on and dried grass as this is also a cause of sputtering due to blockage. Use a scraping tool to remove it, but make sure you remove the spark plug to stop the mower from turning on while you're doing it.
Q: What size riding mower do I need?
A: The size of the riding mower that you need will depend on how large your yard or cutting area is. If you have a large cutting area, then a larger, more powerful riding mower will be needed as they will complete a whole cut of your lawn in one go as opposed to needing to stop halfway through to refill the tank. The best riding mowers will show the total cutting area from one fuel tank or charge, so make sure you know the size of your yard before purchasing.
Q: How long does it take to mow an acre with a riding mower?
A: The time taken to mow an acre with a riding mower will depend on how powerful your mower is and the length and condition of the grass before cutting. If you have a mower designed for medium-sized lawns (which are, on average, around 1 acre at the most) you can expect the activity to take around half an hour to an hour, meaning you will only cut for around 11 to 22 hours of cutting time annually if you mow your lawn twice a week during the summer months. This is only an average time, though, and this could change depending on your speed, if your lawn features uneven terrain or rough terrain, and whether there are any obstacles that hinder simple mowing possibilities.
Q: What is the fastest way to mow a lawn?
A: There's no 'fastest way' to mow a lawn, but there are several ways that will cause you to cut the lawn faster than others - although, this depends on the size, style, and design of your lawn. The most common method is to cut in straight-lined rows. Cutting your lawn in rows ensures that you get every inch of grass you need, missing no patches and reducing the number of times you need to turn (or reverse). There are several zero-turn mowers on this list that can help you cut efficiently.
However, this doesn't always work for some people due to the shape of their lawn. Another option is to cut in concentric circles. Aside from being more fun (unless you're prone to bouts of dizziness), it also reduces the number of turns you need to take and is in fact simpler than rows as you are always turning in the same direction. If there are obstacles that interfere with straight and simple mowing, do them beforehand so you can get on with the longer, more arduous mowing tasks and feel complete once you finish everything.
Q: When's the best time to cut grass?
A: Some people expect that it's fine to cut your grass whenever the heck you feel like it and, we guess, you absolutely can, it's a free country after all. However, there are many reasons wrong with this. Cutting the grass on a warm, dry summer's day may seem like something you'd rather not do, but this is in fact the best time to cut your grass.
You can't always predict when this excellent weather will arrive, though, and so instead of waiting around for the good weather to come, you should at least know what the best time of day to cut your grass is. Considering you're trying to avoid dew, damp, and still cool enough not to break a sweat, experts determine that the best time of day to mow your lawn is in the mid-morning, which isn't so great for those who work full time (there is always the weekend, though), but good for anyone who wants to take a day off and complete chores around the house.
If you're unable to get it cut in mid-morning, you can always wait until you get home from work and cut the grass on late afternoon - as long as it hasn't rained too much during the day - as it will be as cool, if not cooler than the mid-morning, and there will still be enough sunlight for your grass to recover and repair itself before nightfall.
Q: Why should you not cut grass when it's wet?
A: The simple fact is that wet grass doesn't cut as cleanly, putting more pressure on your mower than necessary. This is because wet grass cuttings are longer and clump together which hinders your blade's ability to cut efficiently and may even mean you'll be cutting for longer than you'd normally like. If you're using an electric mower, there are obvious reasons you shouldn't mow the lawn, unless you're auditioning for the latest edition of the Darwin Awards.
Sources:
Sign Up Now
GET THE VERY BEST OF GEARHUNGRY STRAIGHT TO YOUR INBOX